SPOTLIGHTS
Tremendous Tirades 3.21.13: TNA Impact Wrestling
Posted by Larry Csonka on 03.21.2013

Bully Ray breaks the magician's code and shows off the greatest trick of all time; making the Aces and 8s angle make sense…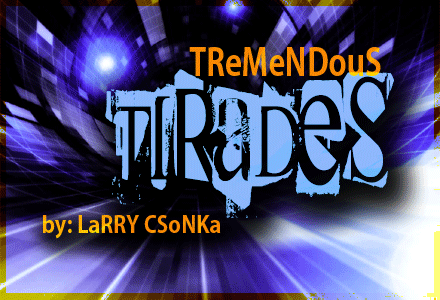 Introduction
It's the road to WrestleMania, and with that being the case, I have dusted off the old Tremendous Tirades name for new alternate recap to the main shows that will air each week (Raw, Impact and Smackdown). This will not be another traditional recap, but instead it will be a mash up of the Rs, Instant Analysis and my usual Twitter ramblings I would do during the shows; completely uncensored and as the ideas flow unfiltered to the old keyboard.

I felt that last week's show was a good show. Some solid wrestling, some good angle advancement, some funny moments and the stuff I didn't enjoy was the usual stuff I tend not to like. For a show after the PPV, I felt that they accomplished good things, and it was an easy show to sit through. I also liked the feel of the live show in Chicago, the crowd was into the TNA product, and that always reflects well on the show.






Tonight's edition of the show comes to you live via tape from Chicago and the Sears Centre Arena…



Hulkamania is Limpin Wild: The show kicked off with Bully Ray narrating a video package, giving a small sample of the explanation of how he fooled everyone and how the Aces and 8s have worked over the last nine months. He promised to, like a magician, show you how the trick was done. This led to Hulk Hogan coming to the ring, discussing how he was fooled and then he sent the TNA roster to a massacre last week. He now knows that this is a war and then put over Angle, Joe, Hardy and Magnus, whom he said are the real leaders of the pack. He them called them to the ring. One ting I hate is, when you intro a guy, play his music, not some generic stock music to make guys feel not important. Hogan said that they need the TNA title back; Hogan asked if Hardy was ready for the title rematch. He said yes, but then suggested he was beat up and said they should have a four-way tonight for the #1 contendership. Um… ok. Not the hottest start to things, Hogan simply could have come out, out over the guys and announced a four way. Instead, they made it last longer than it had too, the other three guys got to come out and stand there with their dicks in their hands. Keep it simple.

Rating (1-10): 6.0



Bully Ray explains, via video, how Plan A was supposed to go. He was going to win the BGF series and then win the title. They started with Sting and took him out; they implicated James Storm, and pissed Roode off enough to help him, all while Ray stacked up on points. Unfortunately Hardy was tougher than he thought, and he had to go to Plan B. He's so good he almost makes you believe that they had it planned that way the entire time.


TNA Tag Team Title Match: Roode & Aries © vs. Chavo and Hernandez: Chavo and Hernandez were supposed to get their title shot last week, but due to those dastardly Aces and 8s attacking them, the match never happened. Roode and Aries are such great performers, and even though they haven't tagged for a long time, they are individually so good and have enough history in tag team wrestling that they work extremely well together. They simply do everything so well. They are good talkers, good workers, they do the little things and they also allow them selves to look foolish at the right times. Chavo and Hernandez are fine; they are over well enough just not enough to lead the division. The crowd in Chicago reacted well enough to them, and Hernandez got a great reaction on his hot tag. Overall they had a good match, Aries and Roode retained when Bad Influence ran in and distracted the referee and tosses Chavo from the top. They then attacked the champion sent a message that they want a title match, and I am perfectly fine with that. That is the program that will deliver the best matches, and will actually make me care about the titles. Also, those men cutting promos on each other will be fun. Overall this was a good segment.

Rating (1-10): 7.5



We get a video package for the X-Division. The big changes are that there will be a 230-pound weight limit and that all title matches will be three-way matches. Also, the guy that takes the pin or submission is out of the mix, while the guy that did not get pinned will be in the next three-way match. The X-Division's slogan used to be, "It's not about weight limits, it's about no limits." Now, "It's about weight limits, and some limits."


Kenny King says that he should be pissed about this, but it's fine because he's had to fight the odds his who life. And he tosses in a plug for 5-Hour Energy Drink.


X-Division Title Match: Kenny King © vs. Sonjay Dutt and Zema Ion: I still have no clue why Sonjay Dutt ha snot been brought back full time. He was gone for the longest time, came back last year for the X-Division stuff and then disappeared. With the division being so thin, they need a guy that can go and also can interact with the audience as well as Dutt does. The overall match was fun and had good energy, but was also a bit sloppy at times. I also didn't like the fact that they didn't have the rules presented before the match in front of the live crowd to make it feel like a big deal. Anyway, not bad, and hopefully they are serious about this new generation of the Division.

Rating (1-10): 6.8



Brooke Hogan arrives earlier today and said she was here to do business, and not to discuss Aces and 8s, Bully or her dad.


Bully Ray discusses Plan B, and the fact that Hardy ruined Plan A. he then explained how Hogan played into it all, including how he used Joseph Park and how Devon was the mystery man in the clubhouse that set up the Bound for Glory tag, where Bully tagged with Sting. Bully then lost at Bound for Glory, at the hands of his own brother. He then moved onto Brooke, and he knew Hulk would react badly to Brooke being attracted to the bad boy. And he got in… and there is nothing Hulk can do about that. Again, Ray is great in these videos, even if it is coming off like revisionist history.


Sting meets with Hogan again, and wants to set things right. Hogan says to do what he does best, go sit in the rafters for a few years and stay to himself. Hulk suggests he disappears. Sting wants Bully Ray, and Hogan says he is not the only one.


Highlights of the recent issues between Gail Kim and Taryn Terrell.


Brooke Hogan Returns to Work – Fires a Referee, Hires a Wrestler: We first got highlights of the recent issues between Gail Kim and Taryn Terrell. Terrell made her way out to the ring, and said she knew she was on probation and should not be creating chaos, but Gail Kim put her hands on her multiple times (oh yeah) and she retaliated, and will now accept her punishment. Gail Kim came out to stir the shit, claiming that she started the division and was the greatest female wrestler of all time. She now wanted to watch Brooke fire Taryn. Brooke then made her way to the ring. She fired Taryn because she broke her probation. She said she did this because she had to be fair. And then, she turned around and hired Taryn as a wrestler, which meant that she could get physical with any one she wants anytime she wants (hey now). Tayrn attacked and ran Gail off. As Brooke laughed about what happened, Bully Ray snuck out and has a stand off with his wife. Brooke said she loved him, and when Ray showed he still had his ring on, she repeatedly said she hated him. I liked this, the knockouts angle, because it was simple and made sense. Kim constantly harasses Tayrn, Taryn snaps, Taryn gets on probation, she breaks that and she gets fired. But then in true wrestling fashion, she right away is hired as an in ring performer so that she can get her proper revenge on Brooke. Simple, clean, and it worked. I just hope she gets to keep the little black shorts. The Bully Ray stand off was fine, because we had to have a confrontation between the two sometime, and it is another way for him to keep getting under Hulk's skin.

Rating (1-10): 8.0



More of Bully Ray discussing the evolution of Aces and 8s, and how he recruited Garett, Knux, Brisco, DOC, Devon, Anderson Taz and D'Lo. Once again, Ray is spectacular here, and the video packages are well done.


Matt Morgan vs. Joe Park: Sorry guys, I wasn't a fan of it. It wasn't a good match, and I really do not care about either guy. This is TV time that could have been better used for something else that mattered.

Rating (1-10): 2.0


Answers From AJ?: Mike Tenay was in the ring for this segment to be the interviewer, so shit got real as he almost never does that. It isn't a big thing, but is a nice change of pace for the segment. AJ was silent as Tenay grilled him about rumored drug and alcohol abuse. Taz then busted in and said he talked with Aces and 8s, and they had a cut for him to join Aces and 8s. He said AJ should jump on with the real boys, and get a real bike. James Storm them came out. Storm said AJ may be anew man, but Storm is the same he always was. And if AJ ever touched him again, he would kick his teeth down his throat. AJ remained silent and left. As has been discussed, it is apparent that they are setting AJ up to be the savior of TNA and to play the Sting vs. the nWo role. I don't think that is the worst thing that they could do, especially if it leads to a real redemption story and AJ winning the title at Bound for Glory. So far I like the angle, and feel that it has a ton of potential.

Rating (1-10): 8.0



More of Bully explaining the Aces and 8s, and how he lured Hogan in and used Brooke to do so. Bully Ray is a great man, discussing how he played Hogan's ego.


#1 Contenders Match: Jeff Hardy vs. Samoa Joe vs. Magnus vs. Kurt Angle: I really liked the main event, it was a good match and the crowd was really into it, which is a good thing because they seemed as if they were dying out during the taping. But they were into this really well, and it added to the match in a big way. While he didn't win, I loved that Magnus was in there. This is a guy I have said many times can be a big player for the company, and getting into matches like this and having the chance to look good will only up his stock within the company. The crowd really seemed to be into Joe and Angle in particular. Anyway, a good match to close out the show with Hardy coming away with the win to go for revenge against Bully Ray. Joe took the pin, but did the respect handshake with Hardy to close the show.

Rating (1-10): 8.0




The Tirade


This was a big "story telling" episode, and that isn't a bad thing. I have said time and time again that if they want Aces and 8s to be anything that they have to do a lot of rehab work for them, and I feel that is what this episode was all about. While the lack of wrestling does bother me at times, I will say that I do appreciate the fact that they worked really hard to make it all make sense, and the main event did deliver. The video packages were very well done, some of TNA's best work really, and Bully Ray was excellent as the magician revealing the secrets of his trick.

Now I know that some are going to love the Aces and 8s explanation by Bully Ray, but I do want to say that it is easy to go back and explain things once they have happened to make them make sense. You can do that with a lot of things, that still doesn't make the first 8 months and 29 days of the angle a good one. Ray as the president will do a lot to save things because he draws real heat, he can work and he is a great pro wrestler; but he cannot fully erase the things that have been done. They still need to continue to rehab the image of the group as a whole as the angle continues, and if they do that, then it will be fine. But again, just because they can go back and rewrite things to make it make sense, doesn't make it all right all of the sudden. But I did appreciate what they did.

We also had the launch of the "next generation" of the X-Division on the show, with a weight limit and all title matches being three ways now. I don't have the best feeling about this, because whenever TNA relaunches something with a bunch of contrived rules, it always gets messed up and then goes away. Instead of a bunch of contrived rules and such, how about booking the division like it matters and get some fresh faces in there? I hope it works out, but history tells me to be hesitant with my optimism.

One thing of note, and a problem I feared they would have, is that the energy of the crowd seemed to die (but thankfully came back for the main event) as the show went on, which is the other side of the coin when you do double tapings. Yes you save money, but you may burn the crowds out after taping one live show and moving onto the second.

Bully Ray was the star of the show, and that's not a bad thing. Overall this was another good show following Lockdown, and I think that the company actually feels like it has more of a direction now.

Show Rating: 7.5

As a reminder, I will be going by the 411 scale…

0 - 0.9: Torture
1 - 1.9: Extremely Horrendous
2 - 2.9: Very Bad
3 - 3.9: Bad
4 - 4.9: Poor
5 - 5.9: Not So Good
6 - 6.9: Average
7 - 7.9: Good
8 - 8.9:Very Good
9 - 9.9: Amazing
10: Virtually Perfect




---
BONUS COVERAGE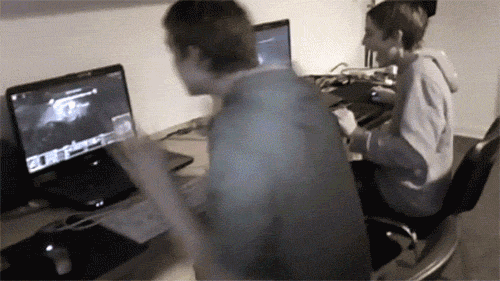 Some days…
Your heart is free. Have the courage to follow it…TO CSONKA'S TWITTER!

http://www.twitter.com/411wrestling
http://www.twitter.com/411moviestv
http://www.twitter.com/411music
http://www.twitter.com/411games
http://www.twitter.com/411mma

Have you checked out the Csonka Podcasting Network? If you haven't, you should We run anywhere from 15-20 shows a month, discussing pro wrestling, the world of MMA, the NBA, general sports, popular TV series of the past, bad movies, battle rap, interviews, MMA & Wrestling conference calls and more! Around 10 different personalities take part in the various shows, which all have a different feel; so you'll likely find something you like. All of the broadcasts are free, so go ahead and give a show a try and share the link with your friends on the Twitter Machine and other social media outlets! Running since May of 2011, there are currently over 270 shows in the archive for you to listen to.

Larry Csonka is a Pisces and enjoys rolling at jiu jitsu class with Hotty McBrownbelt, cooking, long walks on the beach, Slingo and the occasional trip to Jack in the Box. He is married to a soulless ginger and has two beautiful daughters who are thankfully not soulless gingers; and is legally allowed to marry people in 35 states. He has been a wrestling fan since 1982 and has been writing for 411 since May 24th, 2004; contributing over 3,000 columns, TV reports and video reviews to the site.
comments powered by