SPOTLIGHTS
Tremendous Tirades 3.28.13: TNA Impact Wrestling
Posted by Larry Csonka on 03.28.2013

Jeff Hardy gets to play with all of his toys en route to his title rematch…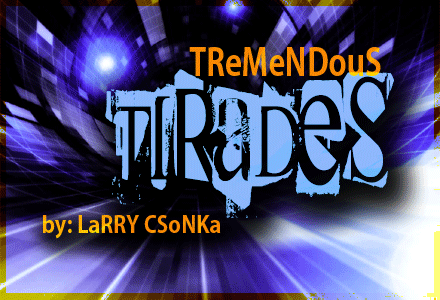 Introduction
It's the road to WrestleMania, and with that being the case, I have dusted off the old Tremendous Tirades name for new alternate recap to the main shows that will air each week (Raw, Impact and Smackdown). This will not be another traditional recap, but instead it will be a mash up of the Rs, Instant Analysis and my usual Twitter ramblings I would do during the shows; completely uncensored and as the ideas flow unfiltered to the old keyboard.

I felt that last week's show was a big "story telling" episode. I have said time and time again that if they want Aces and 8s to be anything that they have to do a lot of rehab work for them, and I feel that is what this episode was all about. While the lack of wrestling does bother me at times, I will say that I do appreciate the fact that they worked really hard to make it all make sense, and the main event did deliver. The video packages were very well done, some of TNA's best work really, and Bully Ray was excellent as the magician revealing the secrets of his trick. He was the star of the show and this was the second good show in a row following the disappointing Lockdown PPV.




Tonight's edition of the show comes to you live from Jonesboro, Arkansas…
According to reports, the show is legit sold out tonight. If that is the case, I think that is great news for the company after they drew well in Chicago.

Jeff Hardy Talks – Bully Ray Gives No Fucks: Jeff Hardy kicked off the show, which ended up being the right choice because the crowd responded really well to his entrance. He discussed being unsure about getting a title shot last week, but once he won and made it official, he felt as if everything was right. He was about to call someone out, but Bully Ray came out and put a stop to that, telling Hardy that he better not be calling him out because he would destroy him. Mr. Anderson they mocked Hardy always getting second chances, noting that he sells merchandise and that the rules don't apply to him, while guys like himself and Ray never get the chances that Hardy does. Hardy tried to attack, but the entire Aces and 8s group swarmed him and proceeded to beat him down. Angle, Joe, Magnus and Eric Young made the save and ran them off. Hey, it only took two weeks after Lockdown, but they got Eric Young, the guy that won the Lethal Lockdown match, back on TV. Hardy called out Anderson for a match, since it was open fight night. This was a fine opening to the show, with a hot crowd. Hardy has the title shot coming, but also wants revenge against the group and looks for that tonight.

Rating (1-10): 7.5



Replays of last week's tag title match. We also see Chavo and Hernandez talking backstage before they came to the ring.


Chavo and Hernandez Call Out: Chavo says they got cheated out of the titles last week. But that is fine because tonight is all about payback, since it is open fight night, so they are calling out Daniels and Kazarian. The match will also crown the #1 contenders for the tag team titles. Chavo and Hernandez did stereo dives off of the entrance ramp into the ring at one point to a big pop from the crowd, who is into everything thus far. Daniels and Kazarian used a lot of double team moves and shenanigans to try and win the match, while Hernandez shined with his power game. In the end, Chavo and Hernandez scored the victory, over coming he odds and getting revenge from last week. I personally would have had Daniels and Kazarian win, but the match was good and the crowd has been great thus far. Chavo and Hernandez earn a tag title shot with their victory.

Rating (1-10): 7.75



Tayrn Terrell is getting ready backstage, and is excited to debut in the ring on open fight night.


Tayrn Terrell's ring gear is awesome… oh yeah, she calls out Gail Kim: Following all of the recent drama, Tayrn came to the ring in her outstanding ring gear, and called out Gail Kim. Kim stated that Tayrn was a fool for calling her out, and noted that Tara was pissed at her as well and wanted to take her out. Tara came out, along with Jessie, and they beat down Tayrn. Velvet Sky would make the save, and clean house on the heels. This was a perfectly acceptable segment, building off of the actions of the last few weeks, and I would guess setting up a tag match for next week between the four ladies. The show is going well thus far.

Rating (1-10): 7.0



Backstage, Sky defends Taryn, but as Sky talks Taryn sees Tara and Gail and chases them down the hallway and attacks. Tara and Sky have to separate Kim and Taryn.


Gutcheck returns next week. We get a video package about past Gutcheck contestants.


Jeremy Borash is backstage, plugging Gutcheck, and next week it will be ADAM FUCKING PEARCE facing off with Magno.


Sting walks, and Atlas Security says he is not allowed to meet with Hulk Hogan.


Hulk Hogan reveals to Jeff Hardy that on April 11th, Hardy will get his title shot that he earned last week. Hogan praised Hardy for fighting through three men last week, and that the Aces and 8s stole the title; and Hogan takes blame for that. Hardy says he lives for the future, and that they'll make mistakes, but he will get the title back. Hogan also says Hardy can select the stipulation for the title match.


Sting Comes to the Ring – Hulk Hogan is Not Happy: Sting spoke about Bully fooling him, and that he wants to make things right. But to do that, he had to be on the same page as the Hulkster, so he called him out. Fair enough. Hogan limped out to the ring, and reiterated that he knew Bully was a bad man all along, but Sting talked him into it and he blamed him for it all. Sting countered by saying that Hogan makes all of the final decisions and that he needs to own it. Hogan got fired up and told Sting to get the hell out of the ring, and Sting told him to make him leave. Atlas Security hit the ring as Hogan ripped off his short and Sting got escorted from the ring. The crowd was into it, and for the most part it was fine, but I have an issue with Sting and Hogan being such a "main part" of the company's main angle. It is something that TNA always does, and it is another reason why they wonder that they have no real top baby faces. Also, we've now gone about 40-minutes since we had a match, and you can tell that while the crowd likes what is happening, they aren't quite responding as they once were due to that. You have to mix things up.

Rating (1-10): 5.0



Matt Morgan claps as Sting leaves and says it is another example of a Hogan mistake.


We get a video package of the AJ Styles saga.


James Storm Calls Out AJ Styles – We Get Storm, Young and Angle vs. Aces & 8s Instead: James Storm came out after the AJ Styles video package, and called AJ Styles out for open fight night. After a bit of a delay, AJ appeared in the crowd. Storm said he knew how AJ was feeling, because he lost the big one last year and took his ball and went home. But he then said AJ had to pick his self up and be a man. Storm then said that they could drink about it or fight about it; and left the choice up to AJ. AJ continued to give no fucks as Doc, Bischoff and Brisco hit the ring to beat down Storm. Eric Young and Kurt Angle made the save, and it led to a six-man tag. When the bell rang for he match the crowd reacted well, because as I said, they were waiting for something to break up the wrestling drought. First off, it is a smart move to keep Bischoff and Brisco in tag matches with good workers on the other team to hide their inexperience. This was a good tag match overall, and the crowd loved the hot tag to Angle, as he came in and was simply suplexing fools everywhere. D'Lo Brown came out to distract Angle, leading to Brisco rolling Angle up with the tights and stealing he victory. We're building to Angle vs. D'Lo, in a battle of former Euro-Continental Champions based on D'Lo costing Angle two matches in a row. Also, Aces and 8s had to win here, because Hardy is likely beating Anderson in the main event to set up their title match in a few weeks. Like most of the show so far, it is nothing "great," but we're getting good wrestling and everything seems to be making sense and building to something else, which is always appreciated.

Rating (1-10): 7.5



Bully Ray and Devon praised the troops for their victory, and then turned his attention to Anderson's match with Hardy tonight. Bully was upset that Hardy gets to name their stipulation, and Anderson went nuts, and stated that he was going to go crazy and take Hardy out before his title match.


They hype next week's taped X-Division PPV. Sonjay Dutt will face Mason Andrews and Petey Williams in a X-Division qualifying match on next week's Impact. The winner will move onto a title match.


Mr. Anderson vs. Jeff Hardy: One point that I want to make is that while it is very popular these days to mock wrestling commentators for their lack of quality work, and I really do not disagree, I really liked Tenay making the Hardy vs. Anderson PPV history a good talking point in the match. They had a good match as Anderson seemed motivated all show, and I actually liked the non-finish. Hardy looked to be in trouble as Bischoff brought the hammer to the ring, Hardy fought back, took out both men with the hammer and lost via DQ. No loss for Aces and 8s, and it makes sense, because Hardy wanted revenge on the group for losing his title. Afterwards, Hardy wiped out Anderson with a chair shot, and then got a table and a ladder. Hardy looked to put Anderson through the table, but Bully made the save. Looks as if we're headed to full metal mayhem as the title stipulation. Hardy then grabbed the mic and made it official, he stated no rules, no DQ, tables, ladders and chairs; full metal mayhem with the title on the line. This was a good way to end the show and build excitement for the title match.

Rating (1-10): 8.0




The Tirade


Overall another good show from TNA, and that makes three in a row after what I felt was a disappointing Lockdown PPV. The show seemed focused tonight, building some stuff for next week, keeping Aces and 8s strong, and also building to next week as well as the next live show with two title matches. With only four PPVs, TNA can now afford to give away a match like Bully vs. Hardy in full metal mayhem.

The one big criticism I have of the show is that they did one match in hour one, and then went through over forty minutes of promos, brawls and tons of other talking and video segments. You need to break that up better and balance out the show. It takes the viewer at home out of it, but also, it takes more of a toll on the fans live in the arena. And with a crowd as hot as this one was, you cannot waste that. I understand that taping back to back that they do not want to burn out the crowd or the crew, but they need to find a balance.

But with that being said, I have to repeat that the TNA product seems very focused right now, and that is a very good thing to see.

Show Rating: 7.25

As a reminder, I will be going by the 411 scale…

0 - 0.9: Torture
1 - 1.9: Extremely Horrendous
2 - 2.9: Very Bad
3 - 3.9: Bad
4 - 4.9: Poor
5 - 5.9: Not So Good
6 - 6.9: Average
7 - 7.9: Good
8 - 8.9:Very Good
9 - 9.9: Amazing
10: Virtually Perfect




---
BONUS COVERAGE
Your heart is free. Have the courage to follow it…TO CSONKA'S TWITTER!

http://www.twitter.com/411wrestling
http://www.twitter.com/411moviestv
http://www.twitter.com/411music
http://www.twitter.com/411games
http://www.twitter.com/411mma

Have you checked out the Csonka Podcasting Network? If you haven't, you should We run anywhere from 15-20 shows a month, discussing pro wrestling, the world of MMA, the NBA, general sports, popular TV series of the past, bad movies, battle rap, interviews, MMA & Wrestling conference calls and more! Around 10 different personalities take part in the various shows, which all have a different feel; so you'll likely find something you like. All of the broadcasts are free, so go ahead and give a show a try and share the link with your friends on the Twitter Machine and other social media outlets! Running since May of 2011, there are currently over 270 shows in the archive for you to listen to.

Larry Csonka is a Pisces and enjoys rolling at jiu jitsu class with Hotty McBrownbelt, cooking, long walks on the beach, Slingo and the occasional trip to Jack in the Box. He is married to a soulless ginger and has two beautiful daughters who are thankfully not soulless gingers; and is legally allowed to marry people in 35 states. He has been a wrestling fan since 1982 and has been writing for 411 since May 24th, 2004; contributing over 3,000 columns, TV reports and video reviews to the site.
comments powered by