SPOTLIGHTS
411's WWE Main Event Report 4.03.13
Posted by Michael Benjamin on 04.03.2013

The Miz battles The Prime Time Players in a handicap match, there's Wrestlemania hype aplenty and more! Check out 411's full Main Event Report for all the details!

Hello and welcome! We've arrived at the final Main Event before Wrestlemania. Scroll down to check out the most read (and only) Main Event report on 411! Sit back, stick with me, and you'll get the results. That's the Winger Benjamin guarantee!

SHOW... ON.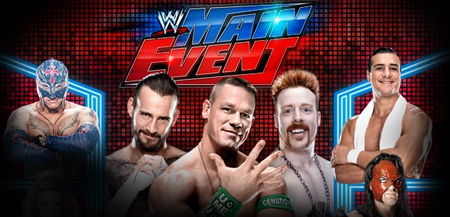 WWE Championship Roll Call:
WWE Champion: The Rock
World Champion: Alberto Del Rio
IC Champion: Wade Barrett
US Champion: Antonio Cesaro
Unified Diva's Champion: Kaitlyn
WWE World Tag Team Champions: Daniel Bryan and Kane



WWE MAIN EVENT 4.03.13



- Then. Now. Forevz.

- Wade Barrett's music hits before the match starts. He says that he's going to sit next to his good friends JBL and Michael Cole. This entire feud is built around them calling each other's matches.



Handicap Match: The Miz vs. The Prime Time Players


Alright, well this is your Main Event. The Miz starts off with Darren Young. Miz whips him into the ropes but Young hits a shoulder block. Miz recovers and attempts to lock in the Figure Four early. Young escapes and rolls to the outside as we head to our first commercial break.



-Commercial Break-



We're back as Miz dodges a punch from Titus before getting clotheslined out of his boots. Titus lifts him up for a scoop slam and Miz escapes. Miz attempts a sunset flip but that doesn't work out. Titus delivers the scoop slam on second try and tags in the fresh Darren Young. Young locks in a headlock and Miz is quick to escape. Miz corners Young and delivers ten punches while taunting Barrett. Barrett doesn't understand why Miz is so obsessed with him. Miz goes for a back body drop but Darren catches him with a huge boot and tags Titus back in. Titus chokes him on the bottom rope before quick tagging Young back in. Miz returns Young's boot from earlier with one of his own. Young rolls back to the outside for another breather. Miz hits the inverted back breaker FOR TWO before we get some more commercials.



-Commercial Break-



We're back! Titus is delivering a pummeling to Miz upon our return. Miz gets caught and body slammed down after attempting a running splash that he probably shouldn't have tried. In comes D-Young with a pair of leg drops for TWO. He locks in a side headlock as the crowd mildly rallies behind Miz. Miz gets a rush of adrenaline and begins unloading on Young but he can't maintain control and gets hit with a clothesline. Quick tags aplenty from the heels. How did Miz get stuck in this match anyway? Titus charges at Miz in the corner and there's nobody home! He manages to crawl to Young and make a tag. Miz is starting to feel it though. He hits Young with his patented corner clothesline. He hits an axe handle off the top rope and gets TWO! He plants Young with a DDT and Titus breaks up the cover. Miz sends him to the outside and walks into a great looking German suplex with a bridge by Young! TWO! Miz manages to dispose of Titus again and takes control! He locks the Figure Four on Young and it's over! This was a pretty crisp match. Everything looked good and the handicap psychology worked well. They told the story well, without making the Prime Time Players look all that weak. I mean, don't get me wrong. They did lose a handicap match to Miz but at least it took close to 19 minutes.

OFFICIAL RESULT: The Miz @ 18:45 via submission
RATING: **3/4



-Commercial Break-



- They air a replay of the closing segment on Raw featuring Undertaker, CM Punk, Paul Heyman and a plethora of druids. They could have thrown us a bone and not aired the entire druid entrance, but alright. I'm surprised they didn't edit out the chants for Punk either. How strong do you suppose those will be at Wrestlemania? Anyways, I think Punk standing over the Undertaker, both men covered in ashes, was a pretty powerful image to close out Raw. It got people talking so it did it's job.

- Next up, they air the Shawn Michaels and Triple H segment from Raw. I'm pretty stoked that Michaels got in on the angle last minute. Given their altercations around Summerslam, it's fitting that he'll be there. Plus, HBK being at ringside makes the match far more exciting (for me at least). Seeing both of these segments back to back made me realize how great they've been doing at having Paul Heyman managing two men with no ties. That's something we haven't seen in a long while.



-Commercial Break-



- They replay the Jack Swagger and Zeb Colter promo from Monday. Swagger still can't cut a promo for shit. I'm surprised they let him talk for so long here. It's going to be interesting to see where he goes after Wrestlemania. Ziggler's leaving with the World Heavyweight Championship, right?

- Matt Striker is backstage with Big Show. Striker asks Show if he's turning over a new leaf. Show says that's the last thing Randy Orton and Sheamus would want him to do. They want him ruthless and vicious. The only leaf Big Show's going to be turning over is his fist. I don't know if comparing his fist to a leaf was the most intimidating way to close a promo.



-Commercial Break-



- Last but not least, they air the Rock/Cena video package. It's the same one we've seen a few times already.

OVERALL: Main Event was pretty boring tonight. Especially if you watched Raw on Monday. The Prime Time Players vs. The Miz was actually far better than I would have expected though. So there's that. The rest of the show was all Mania hype. At this point, you know if you're watching or not. So let me know in the comments. Will you be watching this Sunday?

- Thank you for reading! I'll see you guys on Friday with the Smackdown report!



411 ON TWITTER~!
http://www.twitter.com/411wrestling
http://www.twitter.com/411moviestv
http://www.twitter.com/411music
http://www.twitter.com/411games
http://www.twitter.com/411mma
comments powered by