SPOTLIGHTS
411's WWE Main Event Report 4.10.13
Posted by Michael Benjamin on 04.10.2013

Jack Swagger battled Yoshi Tatsu, The Shield was in six man tag action, Big E Langston wrestled Zack Ryder and more! Check out 411's full WWE Main Event Report for all of the details!

It's Michael Benjamin, it's Main event, and it's the first Main Event after Wrestlemania! Follow me at @MikeBenjamin411 on Twitter! I love to live chat the shows with other wrestling fans. With that said…

SHOW… ON!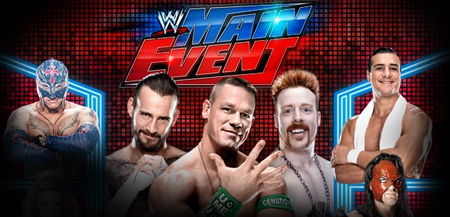 Championship Roll Call:
WWE Champion: John Cena
World Champion: Dolph Ziggler
US Champion: Antonio Cesaro
IC Champion: Wade Barrett
Unified Diva's Champion: Kaitlyn
WWE World Tag Team Champions: Kane & Daniel Bryan

---


WWE Main Event Report 4.10.13

- Then. Now. Forevz.



The Shield vs. Tons of Funk and Kofi Kingston


Dean Ambrose and Kofi Kingston start us off with some back and forth action. Kofi misses a sliding dropkick beneath the bottom rope and both men end up inside. He forces Kofi into his team's corner and tags in Rollins. In comes Brodus and he begins to dominate Rollins. He tags in his partner, Sweet T, and he proceeds to decimate Rollins. He hits an impressive rolling senton into the corner before The Shield pulls Rollins out for a breather. In comes Reigns to dominate Sweet T. The announcers have called him Sweet T the majority of the time, so I assume that's a permanent change.




--Commercial Break--



We're back with Rollins and Tensai in the ring. Rollins has a side headlock applied and he pulls Tensai back to his corner before tagging Reigns back in. Reigns hits a HUGE clothesline for a two count. Quick tags from the heels ensue on as they dismantle Tensai. Sweet T hits an AMAZING looking slam before reaching for a hot tag. Kofi is in and he cleans house! Dean Ambrose is the legal man! Kofi hits a crossbody and only gets TWO! Tag in to Rollins. Rollins hits a sick spear and gets three for the pinfall. Victory!

OFFICIAL RESULT: The Shield @ 8:11 aired via pinfall
RATING: **

- Josh Mathews is with Big E Langson backstage. He remembers losing at Wrestlemania but he also remembers being with Ziggler as he cashed in his MITB contract and won the World Heavyweight Championship.



Big E Langston vs. Zack Ryder


YAY! Big E got his NXT theme! He even got a decent reaction too. HERE WE GO! Big E dominates right out of the gate with power offense. He hits a nice belly to belly suplex and doesn't attempt to win via pinfall. Zack fights back but Big E hits his finisher for the pinfall victory. This was a complete squash and I loved it. Ryder is pretty much pointless beyond squashes at this point.

OFFICIAL RESULT: Big E Langston @ 1:14 via pinfall
RATING: SQUASH



--Commercial Break--



RAW REBOUND: We get a recap of John Cena beating Mark Henry in the main event of this week's Raw before succumbing to Ryback's post match beat down.

Zeb Colter cuts a promo with Jack Swagger. Typical xenophobic shit before Yoshi interrupts and Zeb asks where Yoshi's name originates from. He guesses that Yoshi had rice and fish heads for dinner. He's also confused about the use of chopsticks. Zeb offers Yoshi a handshake and YOSHI ACCEPTS! Zeb bows to Yoshi before Swagger delivers a pre-match low blow.



Jack Swagger (w/ Zeb Colter) vs. Yoshi Tatsu


GRAPPLE TO START! Are you surprised? ME TOO. Here we go! Yoshi corners Swagger early and delivers a flurry of blows (GIGGITY) before he charges Swagger with a running plancha and Swagger catches him and delivers a huge bodyslam!



--Commercial Break--



We're back as Swagger has Yoshi locked in a side headlock. Yoshi makes it to his feed and hits the ropes but Swagger delivers a HUGE big boot. JBL says that he doesn't respect Paul Revere. Swagger locks in a front face lock to maintain control as Colter cheers him on. Where is Swagger going after his feud with Alberto? Is he just going to wrestle every wrestler that's not American? Yoshi fights back with a flurry of kicks after a bevy of suplexes from Swagger. Yoshi climbs upstairs and misses a spinning dropkick! Swagger follows through with the Swagger Bomb! Swagger locks in the Patriot Lock! TAP OUT!

OFFICIAL RESULT: Jack Swagger @ 5:48 aired via submission
RATING: **1/4

OVERALL: WWE delivered a solid, yet unspectacular episode of Main Event tonight. Watching the show, you can definitely get a feeling of who they're giving the spotlight to on the road to Extreme Rules! Is that even a thing? Whatevz.

- As always, thank you for reading and follow me on twitter! @MikeBenjamin411

- Don't forget to follow all of these 411 Twitter accounts for instant news on what's going on in the world of entertainment (but most importantly, wrestling).



411 ON TWITTER~!
http://www.twitter.com/411wrestling
http://www.twitter.com/411moviestv
http://www.twitter.com/411music
http://www.twitter.com/411games
http://www.twitter.com/411mma
comments powered by