SPOTLIGHTS
411's WWE Smackdown Report 4.12.13
Posted by Michael Benjamin on 04.12.2013

Chris Jericho wrestles Dolph Ziggler in the main event, Big Show takes on Sheamus and Randy Orton in a handicap match and more! Check out 411's Smackdown Report for all of the details!

Welcome to another official 411 Smackdown Report! As always, scroll down and you'll get the results. That is the Benjamin guarantee (and Csonka's rules...) after all. With that said...

SHOW... ON!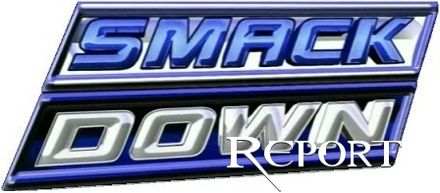 Championship Roll Call:
WWE Champion: John Cena
World Champion: Dolph Ziggler
US Champion: Antonio Cesaro
IC Champion: Wade Barrett
Diva's Champion: Kaitlyn
WWE World Tag Team Champions: Kane & Daniel Bryan

---




WWE Smackdown Report 4.12.13



Then. Now. FOREVZ.

- Lillian Garcia introduces Big E Langston, who steps through the curtain and introduces Dolph Ziggler. It's weird, because he has no grasp on what type of character he's supposed to be playing yet. He's scary and serious one second and a complete goof off the next. So, his introduction was an attempt to mock Ricardo in this instance.

- Josh Matthews, JBL, and Michael Cole will be manning the commentary booth tonight.

- Dolph Ziggler says that he's the most gifted athlete the business has ever seen and that it's an understatement. His World Heavyweight Championship proves that future is now. Dolph's voice sounds extremely raspy for some reason. He says that he didn't win the title because of the fans, he won it in spite of the fans. He's doing his best to make sure the crowd boos him.

- Here comes Jack Swagger alongside Zeb Colter (who has a microphone in hand) to cut off Ziggler's promo. Zeb thanks Dolph Ziggler for being a real American. He makes a solid point about Dolph's cash in being successful due to Dolph Ziggler being an American. Ziggler says that Jack blew his shot at Mania and that as far as he's concerned, Swagger is at the back of the line. Swagger steps on the apron for a moment before retreating, as the numbers aren't in his favor. Zeb says that it's in Ziggler's best interest for Ziggler to tell Swagger what he wants. Swagger and Colter leave and Ziggler puts his MITB win over some more before Alberto Del Rio's music hits to a pretty obvious canned pop.

- Dolph says that Alberto came out to steal his spotlight. Del Rio is favoring his injured leg. ADR says that he came out to say congratulations and that he understands how great it feels to cash in the Money in the Bank contract. He says that when he does get his rematch, Dolph will be crying like a little baby after losing. Dolph's voice is really grating at this point. Dolph says that this is his night before Chris Jericho makes his way down. Chris calls AJ crazy before she nearly loses her shit. Ziggler proceeds to calm her down. This leads to them setting up a match for tonight's main event. Hopefully Jericho puts Ziggler over better than he did Fandango at Wrestlemania.

- Kane and Daniel Bryan ARE WALKING. They're walking at the same pace and they really have this whole walking thing down pat.

OFFICIAL RESULT: Team Hell No @ 0:24 via perfect timing
RATING: *****



--Commercial Break--





Team Hell No vs. The Prime Time Players

The two big men start the match off and Kane quickly hits a top rope clothesline to give his team the early advantage. In comes Titus and Bryan and apparently, it wasn't an early advantage, as D-Bry quickly locks in the No Lock for a quick submission victory!

OFFICIAL RESULT: Team Hell No @ 1:37 via submission
RATING: SQUASH



--Commercial Break--





Wade Barrett vs. Santino Marella


HERE WE GO! The Milan Miracle takes a quick shoulder block down to the mat. Barrett delivers a quick bevy of elbows and gets a two count! Barrett hits the Winds of Change for TWO! He follows that up with the Bull Hammer and it's over! Wait, it's not! Santino hits a hip toss and covers for TWO! He sets up for The Cobra! He ends up walking into the Bull Hammer and it's over!

OFFICIAL RESULT: Wade Barrett @ 1:48 via pinfall
RATING: SQUASH

- STILL TO COME: Chris Jericho wrestles Dolph Ziggler in the main event!



--Commercial Break--



- They air a video covering all of the Wrestlemania 29 hype. It's nothing you haven't seen if you watch one show a week.

- Backstage, Sheamus and Orton are having a meeting in front of the interview set with Booker T and Teddy Long. Booker tells them that they'll be wrestling Big Show in a handicap match as the announcers question his decision. THAT WAS A HEEL DECISION!



--Commercial Break--





The Bella's and Tamina Snuka vs. The Funkadactyls and Kaitlyn


Here we go! Kaitlyn hits a DDT on Brie out of nowhere! TWO COUNT! Naomi hits the "Rear View" for a two count. The Bella's pick up a win via heel shenanigans early and so far we have not had a match crossing the three minute mark. Tamina had basically no part in this match whatsoever.

OFFICIAL RESULT: The Bella's and Tamina Snuka @ 1:57 via pinfall
RATING: N/A



--Commercial Break--



- Triple H comes out and says that the ass kicker is back! Shortly thereafter, 3MB interrupts. Heath Slater tells Triple H to shut up and listen. He says that around here, he needs to jump a big dog to get noticed. 3MB surrounds the ring as The Shield's music hits! So now there's six men surrounding Triple H! The Shield quickly disposes of 3MB outside of the ring before focusing their attention on Triple H! Team Hell No runs down to Triple H's aid and sends The Shield packing! We're going to cut away from this segment, proving that the majority of you were right in predicting that the Triple H/Team Hell No segment was just for the live crowd.

- Backstage, Booker T and Teddy are arguing before Big Show interrupts. He bitches about being in a handicap match against Sheamus and Orton. Booker T says that his handicap match is up next.



--Commercial Break--





Randy Orton and Sheamus vs. Big Show


This match will be contested under tag rules. Big Show comes out on top to start things off by thrusting Orton into the corner and delivering some overhand chops. Big Show steps on Orton's stomach before working over the mid-section some more. Big Show attempts a huge cross elbow off the top rope! Orton tags in Sheamus and he delivers a series of clothesline before ending up on the receiving end of a spear by Big Show! Big Show lifts him up and delivers some headbutts to maintain control! Orton delivers an RKO out of nowhere, despite not being the legal man. BROGUE KICK BY SHEAMUS! Big Show rolls to the outside to avoid getting pinned. Big Show walks out at four minutes and takes a count out loss. We have not received a single competitive match yet tonight. I suppose it makes sense as new feuds need to be established.

OFFICIAL RESULT: Sheamus and Randy Orton @ 3:59 via count out
RATING: *3/4



--Commercial Break--



- Backstage, Renee Young tries to interview Orton and Sheamus and says it took two of them to take down the giant. Sheamus said that "revenge was pretty sweet." Mark Henry attacks Sheamus mid-promo and a bunch of referees come to break it up. Looks like they're setting up Sheamus vs. Mark Henry at Extreme Rules like the reports had suggested. I'm okay with that. It looks like a good power match.



Kofi Kingston vs. Antonio Cesaro


Cesaro with an early arm wringer. Kofi quickly kips out before Cesaro takes advantage of Kofi with an ambush of elbows. He continues with the elbows as Kofi makes it to his feet. Cesaro attempts to back body drop him but Kofi hits a roll-up attempt. TWO COUNT. Cesaro dead lifts Kofi up for a near fall. Cesaro tosses Kofi head first into the top turn buckle and gets a two count. Cesaro locks in a rear naked choke but Kofi makes it to his feet. Cesaro attempts another stomp and Kingston fights it off with an elbow. Kingston hits all of his signature moves and dives at Cesaro and Cesaro hits an elbow out of NOWHERE. Kofi is struggling to get to his feet and hits a kick out of the corner as Cesaro charges at him. Kingston climbs to the top but Cesaro catches him and goes for a powerslam. Kingston slips out and hits a Trouble in Paradise for the win. Another short match. It looks like Kofi is going to get a championship match at Extreme Rules.

OFFICIAL RESULT: Kofi Kingston @ 3:19 via pinfall
RATING: *1/4



--Commercial Break--





Chris Jericho vs. Dolph Ziggler



Jericho applies the side headlock to start things off. Their trunks are surprisingly similar. Dolph whips him off and gets chopped down. Jericho continues with a nice suplex. He taunts to the crowd as Ziggler fights back. He corners Jericho and delivers a huge Stinger Splash. Dolph Ziggler slows the match down and takes heel control. He charges at Jericho in the corner and Jericho gets his boot up. Jericho climbs to the top and delivers a dropkick for two. Fandango is standing at ringside, not looking happy at Jericho's dominance. Jericho is choking Ziggler on the second rope as Michael Cole questions Jack Swagger's involvement in the title picture... meaning Jack Swagger isn't going anywhere anytime soon. AJ distracts Jericho by grabbing his foot and Ziggler hits the Fameasser as we go to break.



--Commercial Break--



We return from commercial as Ziggler is in control. Fandango is still watching at ringside. During the commercial break, Fandango nailed a nice big boot to Jericho's face on the outside of the ring. Back in the ring, Ziggler locks in a side headlock while standing on his head and then bridges down. It's basically a German suplex bridge but Jericho had one shoulder up. Jericho fights to his knees but is still in the side headlock. AJ is looking good at ringside. Jericho fights out but Ziggler delivers a knee to the gut. Jericho gives a bunch of shoulder tackles dodged by Ziggler. Jericho goes to the top rope and delivers an Axe Handle. The crowd goes crazy! Jericho goes for a cover and gets TWO! Jericho climbs up top and delivers a cross body for two. Fandango looks a little scared. Jericho delivers a stomping to Ziggler. Jericho gets hit with a dropkick out of nowhere. Ziggler does not know what it's going to take to finish up Jericho. He goes for his finisher but Jericho reverses. Jericho goes for the Walls but Ziggler counters. Jericho hits a Lionsault for two. He delivers an assisted dropkick off the ropes to Fandango on the outside. Big E Langston gets in the way of Jericho on the apron and Ziggler gets a quick roll up for the win.

OFFICIAL RESULT: Dolph Ziggler @ 7:04 aired via roll up
RATING: **1/2

- After the match, all of the heels circle Jericho. Ziggler hits the Zig Zag. Big E lifts Jericho up and hits the Big Finish. Fandango delivers a beat down as the crowd sings his song. He goes to the top rope and delivers the Alabama Jam to Jericho while touching and rubbing himself. He grabs a mic and says his name before his music hits. Fandango stands above Chris Jericho as we head off air.

OVERALL: WWE delivered a pretty good Smackdown tonight. They did a good job building up their rivalries moving forward to Extreme Rules. I'm most interested in seeing how the writing team books Fandango and The Shield. Lets see if they can keep their new acts strong in the new wrestling year. My biggest disappointment was that they cut the most entertaining part of the Triple H segment from the show, but I understand that it was for the live crowd and that they couldn't fit it in the show due to time constraints. With that said, follow me on Twitter @MikeBenjamin411 and thanks for reading. I'll see you guys next week for Main Event!




TWITTER
http://www.twitter.com/mikebenjamin411
http://www.twitter.com/411wrestling
http://www.twitter.com/411moviestv
http://www.twitter.com/411music
http://www.twitter.com/411games
http://www.twitter.com/411mma
comments powered by