SPOTLIGHTS
411's WWE Main Event Report 4.17.13
Posted by Michael Benjamin on 04.17.2013

A battle royal is held to determine the new #1 contender for Intercontinental Championship before the winner battles Wade Barrett immediately after! All of this and SO. MUCH. MORE! Check out 411's official Main Event report for all of the details!

Welcome to another official 411 Main Event Report! Per usual, scroll down and you'll get the results. That is the Benjamin guarantee after all. With that said...

SHOW... ON!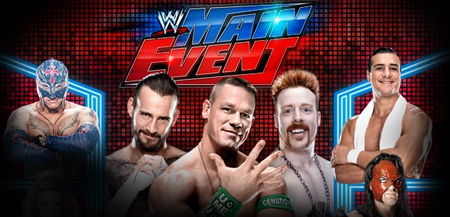 Championship Roll Call:
WWE Champion: John Cena
World Champion: Dolph Ziggler
US Champion: Kofi Kingston
IC Champion: Wade Barrett
Diva's Champion: Kaitlyn
WWE World Tag Team Champions: Kane & Daniel Bryan

---




WWE Main Event Report 4.17.13



Then. Now. FOREVER!

- Wade Barrett steps atop the ramp and says that he doesn't think its fair that he has to defend his Intercontinental Championship again. That was until he saw the talent involved. He gives an arrogant laugh before The Great Khali's music hits. He passes up Barrett on the ramp and enters himself into the battle royal. If it's that easy, I want to enter the next battle royal.



Intercontinental Championship #1 Contendership Battle Royal


The participants include Justin Gabriel, The Great Khali, Epico, Primo, Santino Marella, Drew McIntyre, Jinder Mahal (WHERE THE HELL IS SLATER? INJURIES BE DAMNED.), The Usos, and Alex Riley. What a lineup… We get about three minutes of punch/kick battle royal action. The only substance to it is Khali chopping everybody. He tosses out Jey Uso, Epico, and Jinder Mahal before we head to our first commercial break!



Commercial Break



We return as Wade Barrett watches on backstage as Khali dominates the competition. Four men attempt to eliminate Khali to no avail. All six men grab ahold of Khali and finally toss him out! Why is he still around again? Just because he's big? Wade Barrett continues to watch on the monitor backstage with a smile on his face, as Khali gets eliminated! Riley gets Jimmy Uso on the apron and delivers a huge missile dropkick that sends him to the outside! A-Ry finds himself on the apron shortly after before Primo delivers an explosive dropkick that eliminates Riley! McIntyre and Primo work together to assault Gabriel. Santino joins the action and hits Primo with The Cobra before McIntyre sends him to the floor! Primo goes through the middle rope and is still in the match! Gabriel finds himself on the apron and skins the cat before a close elimination! He gives Drew a rana over the top and doesn't realize that Primo is still in the match! Primo charges at Gabriel and Primo gets tossed to the outside!

OFFICIAL RESULT: Justin Gabriel @ 13:37
RATING: *1/2



--Commercial Break--



- We get a recap of CM Punk's interview on Raw that he walked out on fairly quickly. I'm crossing my fingers for a return sooner than Summerslam like the rumors suggest.

- Next up, they show us a replay of Brock Lesnar absolutely demolishing 3MB by himself. Those F5's to Slater on the barricade were SIIIIICK. With that said, using a wrestler who can only wrestler three times a year in a feud that requires three matches is simply idiotic. Why does anybody think these guys need a rubber match? That's not going to sell a single show. ESPECIALLY in a cage. Okay, it may sell some shows but surely they can do something better with him than a third match with Triple H.

- Matt Striker joins us backstage with Wade Barrett. Wade calls him a mediocre teacher, turned mediocre wrestler, turned mediocre interviewer. After making fun of Gabriel's hobbies, Wade says that the Barrett Barrage is going to take a turn for the better tonight.



Intercontinental Championship: Wade Barrett vs. Justin Gabriel


It's like they're throwing darts at a board filled with random mid-card names. Why is this happening? Gabriel locks in a side headlock before being shoved into the ropes and knocked down with a shoulder block. I should have that copy and pasted considering it's how EVERY match starts. Barrett delivers a bevy of strikes to Gabriel's face. Gabriel ducks a big boot and grabs some offense. He attempts a roll up before Barrett rolls to the outside for a breather. Barrett steps back in at three and fares better this time around. JBL and Cole are too concerned with Gabriel's hobbies to call the action. Barrett delivers a nice reverse neck breaker for TWO. Gabriel's offense has looked ridiculously sloppy and fake the entire match. The two men end up on the outside as Barrett delivers a clothesline on the mat! Commersh time.



Commercial Break



We return from commercial break with Wade Barrett in control. Barrett dodges a clothesline and delivers a side kick to the stomach of Gabriel. Now it's time for him to focus on the mid-section. He hits a pump handle slam for TWO! He lifts Gabriel up and lays him on the top rope stomach first before nailing him with a series of kicks to the gut. He gets a two count off of that and quickly hits a snap suplex for another two count. Wade locks in a headlock and Justin Gabriel is quick to battle out. He ends up taking a high knee to the gut before getting caught up in the ropes and attacked with a bevy of knee strikes. Back in the ring, Gabriel and Barrett exchange blows (giggity) to the face before Gabriel hits a super loose roundhouse kick. He's looking awful in this match. Barrett catches a charging Gabriel and throws him up for the belly flop for TWO. He attempts Wasteland but Gabriel escapes. He runs to the top rope and hits a cross body for a two count. He tries for the 450 but Barrett moves out of the way! Gabriel gets caught in the Winds of Change for another near fall. Barrett attempts a second pump handle slam but Gabriel escapes! He hits an awesome looking assisted moonsault off of the top rope for two. He catches Wade with a boot and attempts the 450 again! Barrett rolls out of the way and JG is beginning to lose his temper. Barrett rakes the eyes of Gabriel and delivers the Bull Hammer for the win.

OFFICIAL RESULT: Wade Barrett @ 10:11 via pinfall
RATING: **1/2



-Commercial Break



- They air a recap of Ryback's promo from Raw. It's far more effective with all of the sound effects in the background.

OVERALL: Tonight's show was middle of the road at best. The battle royal was nothing short of boring and the Intercontinental Championship match was marred by Gabriel's weak looking offense. They really need to get back to their old format for this show. At this rate, it's turning into Superstars 2.0. Check out FoF tonight because yours truly will be participating! With that said, I'll see you guys on Friday for the Smackdown report!



TWITTER
https://twitter.com/MikeBenjamin411
http://www.twitter.com/411wrestling
http://www.twitter.com/411moviestv
http://www.twitter.com/411music
http://www.twitter.com/411games
http://www.twitter.com/411mma



comments powered by