SPOTLIGHTS
411's WWE Main Event Report 07.10.13
Posted by Michael Benjamin on 07.10.2013

Dolph Ziggler faced off with Antonio Cesaro, Heath Slater teamed with Team Rhodes Scholars against Tons of Funk and The Great Khali and more! Check out 411's full Main Event Report for all of the details!

Oh sheesh ya'll. It's time for Main Event again. I'm bringing some major results tonight. ALL OF THEM. They're all going to be here. Scroll down and I'll hook you up with every damn result. That's the Benjamin Guarantee.

(By the way, how about the frickin' Wyatt Family debut? It's been awhile since I've had chills watching wrestling.)

SHOW... ON!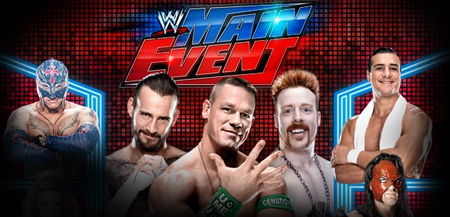 WWE Championship Roll Call:
WWE Champion: John Cena
World Champion: Alberto Del Rio
IC Champion: Curtis Axel
US Champion: Dean Ambrose
Unified Diva's Champion: AJ Lee
WWE World Tag Team Champions: Seth Rollins and Roman Reigns



WWE MAIN EVENT 7.10.13



- Miz is on commentary with Josh Matthews. (Damn, I was hoping for Cody again.)

- Colter leads the stable down to the ring.and cuts a typical Colter Promo. Antonio Cesaro or Jack Swagger will bring the briefcase home this Sunday in the World Heavyweight Championship Money in the Bank match. They are a cohesive unit. If you're a real American stand up, put your hand over your heart, and say WE THE PEOPLE.



Dolph Ziggler vs. Antonio Cesaro (w/ Jack Swagger and Zeb Colter)

We get a few stalemate grapple attempts to start before Cesaro locks in an arm wringer. Ziggler is quick to escape and lock in his own arm wringer. They exchange a few side headlocks before Cesaro gets in control with stiff shoulder block. Ziggler makes it to his feet, hits the ropes and leapfrogs Cesaro before taking him down with a nice high dropkick. He drops ten elbows! Cesaro slides to the outside to regroup as we head to commercial break.



-Commercial Break-



We're back with Cesaro in control. Ziggler is quick to fight out of arm wringer with an arm drag. Matthews mentions that Antonio was on the outside for the most part during the break. Cesaro is quick to fight back and chokes Ziggler on the bottom rope. He delivers some boots and uppercuts. He delivers a pair of elbows before Ziggler hits a dropkick out of nowhere. Ziggler couldn't capitalize though, as Cesaro dead lift gut wrenched Ziggler before hitting the stomp for a two count. He pummels Ziggler in the corner and hits a beautiful running uppercut. TWOOOO. Cesaro locks in an abdominal stretch. He lifts Zigglers leg up and wraps it around his body while in the hold. It looks pretty brutal. Ziggler sneaks out and rolls Cesaro up twice. Both two counts. He charges at Cesaro before getting tossed into the air and NAILED with an uppercut. Awesome match so far.



-Commercial Break-



We're back as Cesaro delivers a gut wrench suplex for a two count. He corners Ziggler and delivers a bunch of elbows. He gives Ziggler a hard Irish Whip into the adjacent corner for a near fall. Ziggler fights back with a reverse neck breaker for two. FAMEASSER! TWO! Cesaro tosses Ziggler onto the apron, He lifts Ziggler UP OFF THE APRON AND DELIVERS A HUGE SUPERPLEX! That was ridiculous strength. ONE... TWO... THREE? Nah, twas a dream. Just two. Cesaro locks in a sleeper and swings Ziggler in circles while choking him! Antonio goes for the uppercut again but Ziggler counters into a tremendous DDT. TWOOOO. Ziggler splashes him in the corner and goes for the ten count punches! Colter distracts the ref and Swagger tries to get involved! Ziggler dropkicks him off the apron and Antonio hits a huge uppercut for two! Ziggler reverses the Neutralizer and hits a Zig Zag! ONE.. TWO... SWAGGER PULLS ZIGGLER OFF! DQ! This was a great match. The action was well mapped out, stiff and could have ended clean at the Zig Zag and been just fine. The finish shows that Swagger and Cesaro ARE on the same page however, which is fine by me. Good business.

OFFICIAL RESULT: Dolph Ziggler @ 16:00 aired via DQ
RATING: ***1/2

- Swagger locks in the Patriot Lock on the outside after the match. Ziggler fights him off and tosses Cesaro to the floor before jumping off the ring steps over Colter and leaving the scene.

- Henry/Cena hype video. The match has been built up great. I just wish that the result wasn't so obvious. Luckily, the MITB matches will bring the surprise factor on Sunday.



-Commercial Break-



- Team Rhodes Scholars want to go on record and make an official statement on the way to the ring. They claim that they are a cohesive unit. You're welcome. Lets get one of these heel teams both grabbing the briefcase at the same time. Maybe not. It'd be fun for a few weeks though.



Heath Slater, Cody Rhodes and Damien Sandow (w/ Jinder Mahal and Drew McIntyre) vs. Tensai, Brodus Clay and The Great Khali (w/ Natalya and The Funkadactyls)

There's a lot of fucking bodies here. Tensai starts off with Rhodes. Rhodes ducks a punch and taunts. He ducks another punch but eats a punch to the jaw. Cody tries to monkey flip Sweet T to no avail. Tensai hits a splash and Cody rolls to the outside. BREAK.



-Commercial Break-



- Cody Rhodes is in the ring with Brodus as we come back. He beats him up and in comes Sweet T. McIntyre and Mahal are arguing with the three girls at ringside. Rhodes hits the Disaster Kick and tags in Slater. Slater hits a few jabs and beats down Tensai. In comes Sandow. He aggressively beats down a fallen Tensai with knees. ELBOW OF DISDAIN~! TWOOOOOOOOOOO! That nay got her done. HEADLOCK. Tensai fights out but eats a neck breaker. He battles back with some strikes and end comes Brodus as the crowd is actually clamoring for Khali. SPLASH IN THE CORNER~! In comes Slater. 3MB isn't happy about this. Team Rhodes Scholars walks out. Slater is in the ring with Khali now. Brodus jumps off the apron onto 3MB. Slater eats a chop over the head from Khali and gets covered for three. This match was actually really fun. There were so many moving parts and different characters that it was a nice contrast to the first match.

OFFICIAL RESULT: The Great Khali and Tons of Funk @ 6:56 via pinfall
RATING: *3/4

- They air a Wyatt Family promo mixed with their Raw debut. This was VERY well put together video package. They're here.



-Commercial Break-



RAW REBOUND: We get a recap of Vickie's job evaluation. I thought the segment was absolute shit but I'm VERY excited to see what they do with Maddox. He did color commentary on one of the first Main Events that I reviewed and absolutely stole the show while making me a fan in the process.

OVERALL: This was a great episode of Main Event. Cesaro and Ziggler delivered a great wrestling match and the six man tag was a pretty fun attraction match. Stop watching before the Raw Rebound and you have good television.
comments powered by