SPOTLIGHTS
411's Total Divas Report 08.04.13
Posted by Ryan Byers on 08.04.2013

In this episode of Total Divas, the Bella Twins conspire to tear down Daniel Bryan's childhood home. Literally.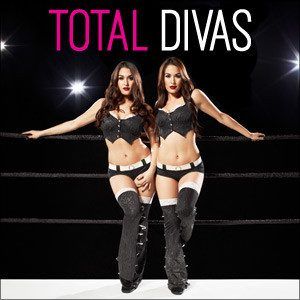 And we're back for week two of 411mania's Total Divas report!

Dear god, what has become of my life . . .

Previously on Total Divas, there was some exposition.

We are TAPED in Roanoke, Virginia, where rookie divas JoJo and Eva Marie act like Total Marks when they hear some pyro go off. The pyro is followed by the entrance of Fandango, whose name Eva mispronounces. I'm not just saying that to be cute about his gimmick, she actually mispronounces his name in a taped sit-down interview, and nobody bothered to go back to reshoot it. To further show that Eva hast no real clue, she refers to Fanny as one of the biggest stars currently in WWE.

Eva decides the fast track to the main roster is to become Fandango's valet. Well, it's either that or fondle Johnny Ace's "Dynamic Dudes."

We cut to the Funkadactyls, who are backstage complaining about the fact that they have nothing to wear. Is that going to be their gimmick on every show? Ariane complains about Sandra the seamstress and contemplates going to somebody on the outside. YOU DO NOT MESS WITH SEAMSTRESS SANDRA! They mention that they didn't get their gear until the list minute at Wrestlemania. Yeah, about that . . . I went back and rewatched the first episode. Do you know what I saw when I did that? If you watch carefully, you can see the Dactyls wearing the gear that they supposedly didn't get until minutes before their match several days before the show. They're clearly wearing the same gear they were wearing the night of Wrestlemania during the rehearsal skit during which Ariane's boyfriend proved himself to be one of the dumbest knuckle-draggers alive.

In other words, Sandra was framed.

Now it's the Bellas' turn on screen, and they explain that they and their respective boyfriends (John Cena and Daniel Bryan) are going to be visiting each other's houses, with Cena going to Bryan's place in Aberdeen and Bryan going to Cena's place in Tampa. Uhhh, didn't they just establish last week that everybody lives in California?

The new girls and Nattie Neidhart are now in catering, where JoJo eats a brownie and tells Nattie that she's still young enough to have the metabolism to do so. Based on last week's episode, Nattie will be complaining about that slight for the next month and a half.

We're still doing the hyperactive cuts. Now we're backstage with the Bellas before their Raw match, where they get approached by everybody's favorite road agent, the Road Dogg. He reminds them that they are villains and suggests that they use "Twin Magic" tonight. This means that either the Road Dogg is the least helpful agent ever or the Bellas are so bad at their jobs that they need to be reminded of the most basic parts of their act on a weekly basis.

TALENT RELATIONS JANE~! is back and meeting with Eva Marie. Eva says she has a dance background to try to get paired up with Fandango. They say the decision is Fandango's to make and that she will need to impress him at rehearsals at the next Raw. At this point, I'm pretty sure he'll be happy with her if she can get him through the routine without giving him a concussion.

After another cut, Eva and JoJo talk to Fandango backstage. Fanny asks Eva how he did, and her response is, "I think you need me." If I were in his shoes, my response would be, "Wow, what a total bitch. She just said I wasn't any good at my job!"

Eva then reveals that she does not have any experience with ballroom dancing. Between this and the hair thing last week, I'm beginning to think they just lifted all of Eva's storylines for the season from old episodes of I Love Lucy.

We're back from a commercial, and the Bella/Bryan/Cena crew is headed to Tampa on a chartered flight. There's some complaining about Eva Marie sending out a tweet about Cena. How and why would anybody care?

That basically goes nowhere, and then we shoot to Eva Marie's hotel room, where her boyfriend Jonathan shows up. They make out, while poor JoJo stands in the background, which is becoming par for the course for her. Eva tells JoJo that she needs to play music tonight. Brown chicken brown cow.

Eva and Jon have a totally serious conversation about their relationship on her hotel room bed, and he proposes to her over a box of donuts, which I think is also how Homer and Marge Simpson did it. No, wait, that was an onion ring. She accepts, and Eva within five seconds of having the ring put on her finger decides she has to go tell JoJo. Much like the people who edit this show, Eva apparently sees no purpose in reveling in a moment to let it seek in. Nope, immediately off to the next plot point! No thinking necessary!

After another cut, Ariane is with her boyfriend Vincent the Brodus Killer. Ariane makes a call to "Michael," who is apparently a dude that designs ring gear. She gives him the world's least helpful rundown of what she wants her gear to look like. It essentially boils down to a generic description of every outfit that every woman has ever worn on a professional wrestling television show, except she mentions that it should be yellow. I'm sure he'll get right on that.

It's been fifteen seconds with that plot, so it's time to switch to another. The Bellas and Daniel Bryan are touring Casa de Cena, which looks quite a bit like the mansion from The Beverly Hillbillies, complete with ce-ment pond. Bryan and Brie are taken aback by the whole thing and note that the guest house is larger than Bryan's home in Aberdeen, which is the house he grew up in.

It's back to Eva. Her new fiancé tells her that the ring looks "hot" on her and takes off to . . . wherever it was he came from. If you were going to fly across the country to propose to your girlfriend, wouldn't you set the whole thing up for a time where you could stay for more than eight hours?

Eva starts to get ready for her rehearsal with Fandango, and JoJo criticizes her for not wearing her new engagement ring to the meeting. They try to play it up like Eva Marie is being a bit of a skank, but she's actually in the right here. If you're rehearsing or auditioning for something, you should do it like it's the real thing, and how many WWE performers wear their wedding rings as part of their act?

More commercials.

It's time for swimming with the Bella/Cena/Bryan crew. Brie compares the whole situation to a rap video, which prompts Daniel Bryan to beatbox. It's true, Daniel Bryan really can save any wrestling show.

Ariane asks her new costume designer if the outfit he's put together is "the bomb dot com." Somebody get this tart to Henry Higgins so he can straighten out her vocabulary, stat. Oh, and she likes the clothes.

Fandango and Eva are having lunch together, which I'm sure is how all great duos in wrestling decided how they would team up. Little known fact: The Roadwarriors, Hawk and Animal, decided to form their legendary tag team after spending two hour staring longingly into each other's eyes over glasses of pinot noir. Fandango then invites Eva out to the club later for some dancing, which I think is how Brian Knobs and Jerry Sags founded the Nasty Boys. Fandango is pretty unmercifully flirting with Eva Marie, again just like Knobs and Sags. (Knobs was the aggressor, in case you're curious.)

After three days in Tampa, the Cena/Bryan/Bella combo is flying to Aberdeen, where they challenge each other to a wood chopping challenge. The losers have to give the winners massages every week for a month, which sounds like something that a couple should be doing for each other anyway, but I write about professional wrestling on the internet, so what do I know about intimate relationships?

We eventually arrive at D-Bry's fairly modest digs, where Cena immediately notes that there is no TV and Nikki complains about the size (typical) while Bryan shows off his antiques. While Bryan is away, Cena asks Brie if she's "happy with this" and Nikki joins in, basically implying that this house - which is a very nice albeit modest house - is beneath Brie's standards.

Now we're with Trinity, whatever Uso she's dating, and background JoJo. They get a voicemail from Ariane about the new gear, and everybody's upset because Trinity's ass probably won't fit into outfits that Ariane has had designed. No, seriously, that's the storyline.

Speaking of the lower halves of women, we now move to the wood chopping contest, where a Bella proclaims that she has "hit herself in the vagina" with an ax. Well, that brings new meaning to the word "gash." They've agreed that the Bellas have a three-to-one handicap, and that actually results in the women wining when Danielson can't even chop through one piece of wood. Big Josh is spinning in his recently-dug grave.

Now the girls head out to get some wine, and they stop literally in the middle of their trip to go walk through a field. While in the field, they complain about the copious amounts of feces in it. What is the weird obsession that reality TV shows have with animal poop? It started in The Osbournes and seems to have been a consistent thread ever since. In any event, once they get over all of the (literal) shit, they talk about the possibility of Brie moving into the Danielson home, with the girls seemingly agree that the perfectly-acceptable-by-anybody-else's-standards house should be - and this is a quote - TORN DOWN. They decided that Brie is going to have a talk with Bryan about the situation. I have no idea how this scene got the green light. How are viewers supposed to like either one of these sisters when they go behind the back of one sister's fiancé to trash his entire lifestyle, a lifestyle that is probably a heck of a lot more comfortable than the one that a lot of the viewers have themselves? AND WHY COULDN'T THEY HAVE THIS CONVERSATION WHILE THEY WERE DRINKING THEIR WINE?! WHY DID THEY HAVE TO STOP AND TALK IN A RANDOM SHIT FIELD?!

This whole thing is making the Bella Twins and to a lesser extent John Cena to be the most obnoxiously materialistic, money grubbing people on the face of the earth.

Now we're back at another Raw taping, the site of Eva Marie's audition. Eva still hasn't told anybody that she's not a ballroom dancer, nor has she taken the time to find even the most rudimentary of instruction on dancing in the SEVEN DAYS that she's had since the last episode of Raw to figure out how to dance.

Eva says hello to Brodus Clay as she's walking backstage, and I think I can see part of Vincent's cheek on his knuckles.

Talent Relations Jane calls for Eva to do her audition, and, after a commercial, she completely botches it in front of the entire women's division. Talent Relations Jane is piiiiiiiissssssseeeeeed, walks off, and is never seen again for the rest of the episode. Talent Relations Jane's flunky whose name I can't be bothered to remember calls Eva out on the fact she's not a dancer. You know what's odd? Nowhere during the episode was it shown or mentioned that Fandango and Eva had ever worked on their routine together before this "rehearsal" in front of the crew. Even if she was legitimately a trained dancer, how was she supposed to get the routine correct when they had never actually worked on it together?

Trinity and Ariane get together about their new gear, and Trinity is not happy because her "cookies" might fall out of it. Ultimately, they go crawling back to Seamstress Sandra to try to get things fixed in time for their match. Ariane totally lies to her, claiming that WWE told her to go elsewhere for gear. Sandra demands an apology for the Dactyls going behind her back, which is perfectly reasonable. Ariane first refuses to apologize, then says "my bad" instead of "I'm sorry," and then finally gives her an apology so disingenuous that the Great Khali would call her a lousy actor. If she tried this shit back when she was on Tough Enough, Stone Cold would have chewed her out for forty-five minutes straight. So, in a completely reasonable and respectable move, Stone Cold Seamstress Sandra tells the Funkadactyls to go get bent. Sandra is officially the most likable character on the show.

In another part of the locker room, Stephanie McMahon of all people confronts Eva Marie about her lies. Eva essentially begs for her job and says nothing like this will happen again. Stephanie lets her know that, if anything else like this happens, she's going to be fired . . .

. . . and that's the end of the episode. This is the second week in a row where the finish has come almost completely out of nowhere. It's like the producers keep throwing content at the wall until they've got the bare minimum necessary to complete the show, at which point they just end immediately, regardless of the story.

Overall: The second episode of Total Divas had all of the same problems that I found with the first episode of Total Divas. This is supposed to be "reality," but the men and women on the program act in ways that I cannot imagine any real person acting, to the point that it's completely unbelievable and I wind up feeling insulted that somebody expects me to take this more seriously than a scripted television program. To top it all off, when these characters are acting in ways that no real person would act, they're acting like the dirt worst human beings out there short of rapists, murderers, and thugs. JoJo and Nattie were non-factors on this episode, but the rest of the crew came off like huge bitches. You couldn't like Ariane and Eva Marie because they were both huge lairs for no justifiable reason. You couldn't like Trinity because, even though she was better than Ariane, she still winds up at least implicitly condoning a lot of Ariane's actions. You couldn't like Nikki Bella because she was burying her sister's fiancé's lifestyle. Brie Bella was actually the worst of the lot because, while her sister was making fun of her fiancé's lifestyle and upbringing and arguing that his childhood house should be torn down, she didn't stick up for the poor guy and instead wound up falling in line with her sister's comments. I'm glad this show is fake because, if these people were real, they'd be slowly killing my faith in humanity.

comments powered by