SPOTLIGHTS
411's WWE Main Event Report 08.07.13
Posted by Michael Benjamin on 08.07.2013

The Shield faced the Usos and Mark Henry in six-man tag action, Curtis Axel battled Sin Cara, Natalya wrestled Aksana and more! Check out 411's Main Event report for all of the details!

Hello and welcome to another Main Event report written up by yours truly. We have The Shield in six man tag action tonight so this episode is already looking a lot better than the effort from last week. Shall we? Lets hold hands and take a journey together.

SHOW... ON!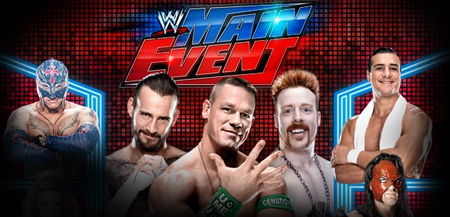 WWE Championship Roll Call:
WWE Champion: John Cena
World Champion: Alberto Del Rio
IC Champion: Curtis Axel
US Champion: Dean Ambrose
Unified Diva's Champion: AJ Lee
WWE World Tag Team Champions: Seth Rollins and Roman Reigns



WWE MAIN EVENT 8.07.13



- Miz and Matthews are on commentary tonight.



The Shield vs. The Usos

U! SOOOO! U! SOOOO! Big pop for Henry's entrance. The faces chase the heels out of the ring before the match starts. The bell rings and Seth Rollins starts off with Jimmy. They exchange side headlocks and shoulder blocks. Rollins leapfrogs Jimmy twice but gets taken down again for a quick near fall. Jey's in next. Rollins takes control with a series of uppercuts and tags in Ambrose. Jey goes to work on the arm of Ambrose and grounds him. Ambrose fights out of that and delivers a few jabs to the face of Jey, followed by a few shoulder thrusts in the corner. Jey fights back with a hip toss. He goes back to work on the arm and tags in Jimmy. Jimmy yanks at the arm and tags in Henry quickly. Ambrose runs away and tries to make a tag but Henry mauls him. The Shield distracts Henry from the apron and Ambrose shoulder blocks his leg. In comes Roman Reigns with some clotheslines before eating a boot to the face. Henry sends Reigns to the outside. He headbutts Ambrose off the apron! Rollins goes for a kick off the top rope but Jey catches him. The Usos throw him the corner and attempt to Irish whip Henry into a cornered Rollins. No go! Ambrose and Reigns pulls him to the outside. Very fun and fast paced match so far with a hot crowd.



-Commercial Break-



We're back with the faces in control. Jimmy hits a splash on Reigns in the corner! Reigns immediately fights back with a huge clothesline and tags in Ambrose. Miz calls The Shield "rabid wolverines" as Vince screams into his headset. Ambrose goes to work on the arm for a moment and tags in Rollins. Rollins snapmares him over and kicks him in the back of the head followed by a headlock. The crowd is quick to clap their hands together for some Uso revival time. Rollins cuts Jimmy off as he gets to his feet and gives him a suplex. He fights back though and tags in Jey. Jey hits a few clotheslines and an uppercut to Rollins. The crowd starts a "we want Mark" chant Reigns tags in and delivers a sideslam. Reigns delivers an Irish whip and hits a huge clothesline for two. In comes Ambrose and Jey. The heels take turns tagging in and beating up Jey. The crowd is very hot for this match. Ambrose dominates with stomps and knee drops. In comes Rollins who chokes Jey in the corner. Jey fights back with a series of rights and tries vaulting over Rollins for a tag. Rollins catches him and drops him throat first over the top rope. In comes Reigns. Reigns keeps Jey grounded and the crowd wants Henry. The Shield is doing a great job of keeping Jey isolated. In comes Rollins and they hit a nice double suplex on Jey. TWOOO. Stomps by Rollins follow up. A decent sized "Tyler Black" chant actually starts up. Jey dropkicks Ambrose and Rollins. Jey makes the tag to Henry and the crowd loses their shit. He hits a double shoulder tackle on both men and dominates both men. He tosses them both into the corner and hits a running splash onto both men. He scoop slams Ambrose. Reigns tugs Mark to the outside. Jimmy delivers a splash off the top rope! Rollins kicks him in the back of the head from the top rope and Ambrose crawls on Jimmy for the win! This was an energetic match that was entertaining throughout. The Shield utilized the numbers game, as they do so well, for the win. Good match.

OFFICIAL RESULT The Shield @ 13:57 via pinfall
RATING: ***



-Commercial Break-



- The Shield cut another fantastic promo from backstage. They run over their accolades and say that everybody on the roster is so far behind them. There is no ending to justice. BELIEVE IN THE SHIELD.



Natalya vs. Aksana

Here we go. They lock up to start. Natalya goes for the quick roll up to no avail. Aksana slaps Natalya and gives her a headlock takeover. Natalya escapes with the leg scissors. Aksana escapes but ends up eating a few elbows followed by a modified headlock. Natalya takes her down and locks in the headlock. Aksana retaliates with her own leg scissors. She tries to kick Nattie but Natalya catches her leg and tries to lock it in for a submission but Aksana reaches the ropes. Miz is being an unlikable douche to Josh on commentary. It's grating. Natalya goes for the Sharpshooter but Aksana reaches the ropes. Aksana chops Natalya in the back of the legs to take her down. She goes to work on the leg now. She eventually lets go of the leg lock and smashes her face against the mat. Natalya takes Aksana down and locks in the Sharpshooter. Aksana crawls for the ropes but Natalya drags her back to the middle of the ring. Aksana has no choice but to tap. This wasn't as bad as the reports made it out to be. While being a little plodding, it was a fundamentally sound affair.

OFFICIAL RESULT: Natalya @ 5:02 via submission
RATING: *1/2



-Commercial Break-



RAW REBOUND: They air a video package glossing over the Punk/Lesnar brawl on Monday. Awesome stuff. This brawl managed to get me even more excited for their showdown at Summerslam.



-Commercial Break-





Curtis Axel (w/ Paul Heyman) vs. Sin Cara

Paul Heyman joins the commentary booth. MOOD LIGHTING~! Axel stalls to start things off. They finally lockup and Axel pushes him into a corner before slapping him in the face. We get another lockup. There's an audible Curtis Axel chant. Here comes Sin Cara with some arm drags. Axel is quick to battle back with some clubs to the arm. They exchange some wrist locks before Sin Cara hits another arm drag. The camera is shooting to Paul Heyman so much that it's almost a bit hard to call the action right now. Axel chops Cara a few times. Another corner, another set of chops. Miz is listing all of the championships he's won again and it's so obnoxious at this point. The commentary team is absolutely ignoring the action as Sin Cara hits a nice rana/arm drag combo. Axel goes to the outside off of a dropkick and Sin Cara dives through the ropes and takes him down.Back in the ring and Axel tosses Sin Cara to the apron. He spears him to the outside as we go to break. The camera has been on Heyman almost as much as the match and the commentary is all over the place. The match itself is decent so far but it's hard not to be distracted.



-Commercial Break-



We're back with Axel in control. He has a headlock applied as Sin Cara fights to his feet. Before Cara can gain any momentum he gets taken down with a dropkick. More chops from Curtis. He hits a modified neckbreaker and covers Sin Cara for two. He stays on him with a few elbow drops to the sternum. He misses on the third attempt! Cara fights back with a few kicks to Axel. Axel cuts a clothesline attempt off and clubs him down to the mat. He gets aggressive and pummels away at him with rights and lefts to the head and torso. Sin cara floats over a standing Axel after making it to his feet. Sin Cara jumps to the top rope and hits a dropkick. Both men are down. They both make it to their feet at five and Cara hits a handspring back elbow followed by a huricanrana. He goes upstairs again and hits a crossbody for TWO. Sin Cara goes back to work and hits a standing Sliced Bread for two. Axel goes upstairs for an ax handle after recovering but gets caught with a dropkick to the face. TWO. Sin Cara drags him to the corner. Cara sets up for a moonsault! Axel gets his knees up and hits a nice back suplex though. He lifts Sin Cara up and hits a neck breaker for the victory.This was a pretty good match between the two. Sin Cara seems to be adapting to the WWE Style slowly but surely. I gotta wonder if it's too late for a push at this point though.

OFFICIAL RESULT: Curtis Axel @ 11:47 aired via pinfall
RATING: **1/2

OVERALL: Tonight we had a great six man tag, a passable divas match, and a solid bout between Axel and Sin Cara to cap off the show. I can't complain about a good chunk of quality wrestling. Thumbs up this week.
comments powered by