SPOTLIGHTS
411's Total Divas Report 08.18.13
Posted by Ryan Byers on 08.18.2013

Natalya and Tyson Kidd have relationship problems, the Bellas argue over their weight and more! 411's Ryan Byers checks in with this week's episode of WWE Total Divas!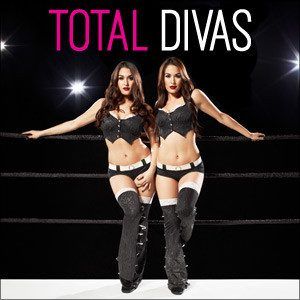 Do you like Ryan's exasperated ranting about Total Divas? If so, check out his exasperated ranting about numerous other wrestling-related topics on Twitter.

We are TAPED for Total Divas, which is beginning right in the middle of the Brock Lesnar/CM Punk Summerslam match. Damn each and every one of you who is watching that match instead of this show.

We start off with Nikki Bella and Nattie Neidhart walking by a lingerie store together, even though they're supposedly mortal enemies. Nikki sees a pair of panties with a giraffe printed on the crotch and says that it would be perfect to turn on John Cena. He's got a thing for giraffes? Does that make him a neck-rophiliac?

They go into the panty barn, and Nattie acts like she's embarrassed to try on the lingerie and wear it in front of the camera even though, you know, she wears wrestling gear on national television virtually every week and has been involved in numerous bikini photo shoots throughout her professional life. She mentions that she's been with her boyfriend "TJ" (a.k.a. Tyson Kidd) for the past ten years and that a recent injury has lead to their sex life going downhill. Sounds like a concussion of the other head, ifyaknowwhatimean.

All of the women are backstage for Raw in Kansas City, Missouri, and they're talking at length about their boobs. You know, like women do in the real world. Brie points out that Nikki's are fake, and Ariane gets jealous. Then they go to an autograph signing where they get ogled by a bunch of creepy redneck fans. One guy manages to get his "Feed Me Smores" sign on camera, which I'm guessing is the highlight of his life.

Ariane says that, in WWE, you make more money if the fans like you and buy your merchandise. She thinks she can increase her popularity and her merchandise sales if she gets breast implants. What merchandise are you going to sell based on having implants? Are they going to start selling Cameron-endorsed foam boobs that audience members can wear over their fists?

Bryan Danielson and Brie Bella (or, as I've taken to calling them, BriBry) are laying in bed, and Brie talks about the fact that she needs to get into shape for a Summerslam photo shoot. She says - and I am not kidding - that she thinks she needs to be "juicing" going into Summerslam. I'm sure that's not an uncommon sentiment in the WWE locker room. Oh, wait, she's talking about drinking juice. She bemoans her inability to eat pancakes and that's it for the segment.

The fact that the plot of this show revolves around Summerslam is just rubbing the fact that I'm missing the PPV into my face.

Nattie and Tyson Kidd are hanging out in their apartment. She attempts to flirt with him but he ignores her to watch wrestling, leading to Nattie delivering the line of the series when she says, "Do I have to dress up like Daniel Bryan to get his attention?" Okay, THAT I would tune into watch. She parades around in her underwear to try and get his attention further but it doesn't work, as he picks up the cat instead. (As die hard Nattie twitter followers know, the cat's name is Gizmo, but it doesn't get mentioned here . . . perhaps a trademark issue with the creators of the Gremlins movies.)

I bet you all thought I was going to go for a tasteless "Tyson handles the wrong pussy" joke there, didn't you? I've got news for you, readers. I'm better than that.

Wait a minute . . . I'm being informed that making a joke about how I am too classy to make the joke is, in fact, worse than just coming out and making the joke.

There's another jump cut, and now Nikki is having an unidentified meal with Eva Marie and JoJo. They talk about their addictions to Instagram and Eva Marie, ever the heartless bitch, points out a comment on a photograph that calls Nikki "sooooo the fat twin." Nikki in her voiceover is horribly offended not only by the fact that she was called fat but even more so by the NUMBER OF O'S that the commenter used. And here I thought that CM Punk was WWE's resident Grammar Nazi.

After a commercial break, the Bella Twins and Daniel Bryan are having yet another meal. Brie bemoans the fact that she and Nikki don't look identical anymore because of Nikki's implants and further tells her sister that she needs to stop eating so many desserts so that they can remain identical. Note to Brie: Eating dessert isn't what resulted in her getting breast implants. It's not as though a few too many strawberry shortcakes causes you to pass out and attracts a rogue plastic surgeon to drop some silicone sacks in your chassis. The fake boobs are going to make you non-identical no matter how much weight she loses. Anyway, the conclusion is that Nikki is going to try to not eat dessert or drink alcohol for twenty-one days leading up to the photo shoot.

The Funkadactyls and Jon "Am I Jimmy or Am I Jay?" Uso are going to the plastic surgeon so Ariane can check out her breast implant options. Ariane's Chihuahua vomits in the back of her SUV, which causes her to say, "dogs like to eat their own throw up." I swear, as the series progresses, Ariane becomes more and more like Ralph Wiggum.

They get to the doctor and meet with a "breast implant consultant," basically a woman with fake boobs whose job is apparently showing off her fake boobs to prospective customers. I was getting ready to say that there's no way in hell that this could possibly be a real job, but the world of plastic surgery is so foreign to me that I can't even begin to discern the real from the bullshit. There are a bunch of wacky shenanigans at the surgeon's office, including the consultant showing her breasts to Jon and Ariane dancing with implants stuffed into her bra, causing them to fly across the room. Somebody call her momma.

The Bella Twins are at a smoothie shop. Brie tells Nikki they're drinking five of the smoothies a day. Nikki doesn't like the smoothies. Riveting television.

Nattie and TJ go out to a restaurant. Do these people do anything other than eat when they're not wrestling? TJ notes that he's been here with Christian before. Hopefully that meal was also preceded by Tyson's dinner partner walking around in a bra and panties in front of him. Nattie tells TJ that she wants to get married and wants to have a 150 person wedding because she needs to stuff all the Hart family members in there. TJ says no, even though I'm fairly confident that they were engaged well before this series started filming.

We've got another commercial break, and the Bellas are driving in an SUV. Nikki is driving and says she's hungry, so Brie produces a smoothie for her. Nikki says she hopes it's spiked. Yes, WHILE SHE'S DRIVING. And here I thought Ariane was the problem child in that area. Nikki's conclusion is that she is so hungry she plans to slaughter a cow and eat its flesh. Much like Nattie Neidhart dressing up as Bryan Danielson to pleasure her boyfriend, that is something I would actually like to see on a reality TV show.

Now it's off to a swimming pool, where the Funkadactyls and Jon are hanging out. Ariane is wearing her fake boobs between her real boobs and her bikini. Somebody tell me that's not really a thing that plastic surgeons do for "test drive" purposes. This is, of course, the scene that's been in every preview of the show where Ariane's implant falls out and floats in the pool. It's no longer, more detailed, or more entertaining than what you've seen in the trailers.

Now the Bella Twins are at home, and Brie notices Nikki is acting a little guilty. Because their lives are essentially a sitcom, the first thing Brie does upon smelling even the slightest hint of guilt is opening up the garbage can to find a bottle of wine and a muffin wrapper. They just happened to have this conversation in the kitchen within arm's length of the trash? How convenient. Brie flies into unbearable harpy mode and delivers the other oft-previewed line, "No wonder people call you fat on Twitter." And here I thought Instagram was the problem. At least LinkedIn remains blame-free for the time being. The twins fight, and Brie storms out, again claiming that they need to do the cleanse to make themselves look identical. AGAIN, LOSING NO AMOUNT OF WEIGHT WILL MAKE THE TWO OF YOU LOOK IDENTICAL BECAUSE OF NIKKI'S PLASTIC SURGERY.

Hey, Ariane's boyfriend Vincent is back! I hope this week he challenges Brock Lesnar to an arm wrestling match. There's a fashion show as Ariane displays various sizes of fake boob for him to get his feedback. Needless to say, he likes the biggest one, which he names "Janice." If he names the other one "Carter," I'm out of here. I just realized that there is an uncanny resemblance between a breast implant and the top of Vincent's head.

Nikki and Brie are at the beach for the Summerslam photo shoot, and they basically get into the same fight that they got into in their kitchen, except this time it's Nikki who storms off. I'm sure that, off camera, Brie complained about the skits not being identical.

Some ads run, and we're still on the beach when we come back. Nikki's gone to her trailer, where Brie finds her. Nikki complains about how she's sick of Brie judging her and how she loves having curves. Wouldn't she have to have one in order to love having it? Ultimately, they agree that they're both insecure, and Brie apologizes. Then they take some pictures on the beach. Great, the a-plot has been wrapped up! Time to close the sh . . . wait a minute, we've got twenty minutes left. The hell?

Brie says that it's OK if the Bella Twins aren't identical. Good, because it was never going to happen.

Nattie and TJ are together again, and TJ takes her on a drive to a surprise location. Nattie notes that the neighborhood is getting more and more sketchy, despite the fact that there are still palm trees everywhere and not a single indication of garbage or grime on camera. Ultimately, the big surprise turns out to be . . . the local courthouse! Tyson says he's ready to get married to Nattie right there and right now, but Nattie is pissed off by the lack of romance shown and says that she's never going to marry Tyson, no way, no how. She even slips an f-bomb (dot com) in there for good measure.

Again, this show is an exercise in putting women in contrived situations and having them react to those situations in the manner that makes them as unlikable as possible. Okay, maybe the Nattie character wouldn't want to get married at the courthouse, but clearly Tyson's heart was in the right place even if his methods weren't the best. Wouldn't the more rational reaction be to have a mature conversation about how this really isn't what she wants instead of flying off the handle and storming away? Isn't that what most people would do if this contrived situation were somehow to manifest itself in their lives? How are we supposed to care about these people when they spend most of their screen time acting like the personification of rage comics?

The argument is still going on after the commercial break, and TJ accuses Nattie into turning into a "Bridezilla." For what it's worth, that is a much better reality show.

That's all we get before we cut to another episode of Monday Night Raw, where the Dactyls are trying to get their gear modified so that Ariane can try out her implants without actually having them, um, implanted. This leads to the triumphant return of Stone Cold Seamstress Sandra, who, in the manner that only she can, confirms that Ariane's boobs are just too small and agrees to sew the implants into her gear. Sandra dispenses sage wisdom, namely that she doesn't want to see no "flat chested" woman if she's at home watching television. Was Sandra hired under the Jane Geddes regime?

Flash forward and, after the show has started, Ariane returns to her gear to find that one of her implants is missing. She immediately comes to the conclusion that it has been stolen and, of course, nameless production guy tells them that they're needed for the very next segment. Based on this series, the Funkadactyls have the worst luck when it comes to wardrobe-related-timing issues. Ariane has an epic meltdown, as she jumps in circles looking for tata number two. I don't know how the jumping helps.

So, word is Bryan Danielson just won the WWE Title, and I'm watching this. Screw you all.

We're back from commercial, and Ariane is stuffing to compensate for her missing implant. She walks by the Bella Twins on her way to the ring, and a Bella says, "I haven't seen it." Wait a minute . . .

Tons of Funk and the Great Khali are wrestling the Three Man Band, and the Bellas watch on the monitor. As if I needed another reason to hate this show, I just realized that it required me to watch a Tons of Funk and Great Khali vs. Three Man Band match on an episode of Raw a few months ago. Thanks, Total Divas. John Cena walks up to the Bellas, and Nikki immediately tells him that they're the ones who stole the breast implant. Damn, and I was hoping that would be a season-long mystery that paid off as part of the build to a PPV. Cena says it's awful and almost literally says that he's going to go back to the babyface locker room so as to not be associated with these heel tactics. The Dactyls get done with their segment, and Nikki immediately reveals that she's the perpetrator. Don't worry, though, nobody's actually mad at each other. Well, so much for something that could've built some tension.

Ariane says that she is not going to get implants after all because she wants to be a role model.

Yes, ladies and gentlemen, World Wrestling Entertainment: For over fifty years the worldwide leader in promoting healthy body images.

Yes, ladies and gentlemen, Ariane Andrew: Role model with a big ole' scandalous DUI.

Oh, hey, we almost forgot about Nattie! She walks into her house and TJ has thrown rose petals all over the floor and has some wine for her. He says, "I can't read your mind," and says that, if she thinks he's not being romantic enough, she just has to tell him. SHE DID TELL YOU. IT'S ON FILM. Nattie admits that she may have been somewhat irrational (hallelujah) and apologizes to Tyson, ultimately suggesting that they get married on the beach. Gizmo is now mentioned by name, which puts him one up on Sara Del Rey in this series.

And that's a wrap.

Overall: I missed CM Punk vs. Brock Lesnar and Daniel Bryan vs. John Cena for this. I don't think I have to say any more than that this week.

Do you like Ryan's exasperated ranting about Total Divas? If so, check out his exasperated ranting about numerous other wrestling-related topics on Twitter.

comments powered by