SPOTLIGHTS
Tremendous Tirades 8.26.13: WWE Monday Night Raw
Posted by Larry Csonka on 08.26.2013

Daniel Bryan vs. Game Inc…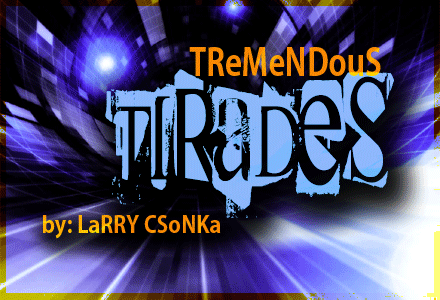 Introduction
As a reminder, this will not be another traditional recap, but instead it will be a mash up of the Rs, Instant Analysis and my usual Twitter ramblings I would do during the shows; completely uncensored and as the ideas flow unfiltered to the old keyboard. Remember, this is a review; and I am here to review the show. As always, I encourage discussion and even disagreement, just do so in a respectful manner. I will be doing the review for Raw and most PPVs and iPPVs going forward.
---
WWE MONDAY NIGHT RAW


FEAR THE BEARD




GAME INC.: With the Shield standing guard in front of the ring, Triple H came to the ring to talk about what he did at Summerslam as well as to relive the end of last week's Raw. After using that to kill time, because this is a three-hour show. They do this a lot these days instead of getting to the point, which makes the promos feel as if they last forever. After bragging about ratings and social media buzz, he introduced the new face of the WWE, Randy Orton. Triple H gushed over Orton and gave him a brand new Escalade, which had its own theme music (Triple H's). That car is so getting trashed tonight. This was the douche bag version of the mutual admiration society and I mean that in a good way. This led to Bryan coming out, and delivering some good lines that were dripping with sarcasm (especially the one where he said Orton worked really hard to get the title). He then cut the big baby face promo, thanking the fans, Cena, God, Jesus and Mr. McMahon. Ok, he didn't go all Iron Sheik on us, because he then turned his attention to Triple H; noting that he was a rebel in a leather jacket who turned it in for a suit. He then vowed to regain the WWE Title at Night of Champions to the delight of the crowd. Ok, this thing just took a turn for the better as Triple H called Bryan Jiminy Cricket and sang, "When you wish upon a star." Triple H then continued to be a dick and set up Bryan vs. The Shield in a gauntlet match. This was a good opening segment, they set that car up to fail hard later in the show, but most importantly they set up Orton and Triple H as people with no redeeming qualities. The gauntlet match has a chance for quality, but they have to be careful how they book it because as much as you want to build Bryan, you don't want to damage the Shield. Overall I liked that opening, but it was a bit longer than it needed to be, which hurt it a bit. Also, the one thing that I don't like in a way is that this comes off as more about Triple H vs. Bryan, which makes the Champion (Orton) come off as a bit of an after thought.

Rating (1-10): 7.5



Cody Rhodes vs. Fandango: Damien Sandow was on commentary. They wrestled for approximately two minutes, and then Miz came out to Fandango's music and danced with Rosa Mendes. This caused a distraction, and led to Brad Maddox coming out and making a tag match. Maddox was horrible here as he tried to be funny with dance puns. Anyway, that led to…

Cody Rhodes and The Miz w/Rosa Mendes vs. Damien Sandow and Fandango w/Summer Rae: So since Miz is horrible as a face, and couldn't thrive after Flair endorsement with the figure four, they are now trying to fix this with Rosa Mendes? They worked for a bit, it was fine, Fandango bailed on Sandow who then got pinned by Miz. Fandango said his name. It was fine and played off of last wee, but I cannot say that it did anything to make me care about any of them. This simply existed as a segment.

Rating (1-10): 6.0



We get a promo for Los Matadores.


- "So I have a fantastic idea for those Colon kids. FUCKING MATADORS!"









- "Sir, you do realize that they're Puerto Rican, not Mexican, right?"









- "Toe-may-toe, tah-mah-toe… by the way, do you have Tito Santana's number? I have a hell of an idea..."









Christian cut a promo about remembering the McMahon-Helmsley era, and noting that he has the scars to prove it. I guess those were the scars he and Edge got before they turned heel and joined the faction. But I digress. Randy Orton cut him off and started that he will beat him once again.


Paul Heyman was not happy about tonight's fan vote. Curtis Axel tried to make him calm down by stating that he has it. Nobody is buying it.


Non-Title Match: CM Punk vs. Curtis Axel ©: The fan stipulation voted for was that if Punk beats Axel, he gets Heyman in the ring tonight. One thing I loved about this is that Punk and Heyman were true to their characters here. Punk constantly was staring down Heyman, and even went after him because he still has that tunnel vision as far as revenge goes. Heyman is a coward, especially when his beast is no around, so the way he got closer and backed from the ring at different times was subtle, but also effective. I thought that the match was generally good, and that they worked it to make Axel look competitive. That's all well and good, but the guy does need to win someday against a top tier guy of we're to take him at al seriously. So Axel loses, and Heyman of course is a chicken shit and tries to escape. But geek squad security was there to toss him back into the ring. Unfortunately for Punk, Axel was still around, low blowed Punk and spoiled his revenge. Handcuffs were introduced, and as Axel held Punk, Heyman talked shit and slapped Punk repeatedly. After a brief Punk comeback, Axel would retrieve a kendo stick and allow Heyman to beat down Punk while screaming, "I LOVED YOU! I CARED ABOUT YOU! I FATHERED YOU! I DID EVERYTHING FOR YOU! YOU BROKE MY HEART" Paul was simply fantastic here, and Punk took quite the beating as his back was busted open a little from the shots. I hate that Axel is such a secondary player here, but this is really all about Punk and his revenge against Heyman. This had good intensity, great emotion and this made me want to see him get it.

Rating (1-10): 9.0


Brie Bella w/Nikki Bella and Eva Marie vs. Natalya w/Cameron and Naomi: Short match, Natalya controlled almost all of it, the other chicks got involved and that led to Natalya losing. AJ came out and ran everyone down that was involved by mocking Total Divas. She called then expendable and useless, and that they only did reality TV because they were not good actresses or good competitors. AJ then claimed to do more in one year than they have done in their combined careers, as the others bickered. The crowd loved AJ for this promo. And that was your Total Divas plug for the week. The match was nothing, but the promo was interesting and solid work overall by AJ (even if she did come off as more of a face than a heel). I am willing to see where it goes, hopefully to a title match of some kind at Night of Champions. I know that some loved this, which is fine, but I would likely care more if I actually cared about the divas, and WWE hasn't given me a real reason to do so at this time.

Rating (1-10): 6.0


Non-Title Match: Alberto Del Rio © vs. RVD w/Ricardo Rodriguez: It was announced during the match that Brad Maddox stated if RVD won he gets a title shot at Night of Champions. I wish that they wouldn't have mentioned that as I felt it telegraphed the finish too much. If he won they should have played it up on commentary and then made it official later in the show. They had a good little TV match, Ricardo started t chant for RVD, distracting Del Rio and allowing RVD to get the pin and the title shot. Overall this was good, and did set up a title match for the PPV, which is appreciated.

Rating (1-10): 7.0



Josh Matthews interviewed Ryback about his recent bullying. Ryback grabbed Matthews and promptly made him shit his pants. BE A STAR BROTHER!


Renee Young tried to interview Heyman about what happened with Punk, and called Punk a petulant child that needs punishment. Heyman feels like a man who put his prodigal son in his place. He humiliated Punk, and now, Punk will learn that Heyman is the last person he should come up against.

Non-Title Match: Randy Orton © vs. Christian: You know, you really cannot go wrong with Christian vs. Randy Orton if you're looking for a quality, extended TV match. If you remember, these two had quite the series of matches a couple of years ago on TV and PPV. They have history, they have good chemistry, I am all for this. I liked the match, it was a good one, but also played off of the fact that they knew each other well with a lot of countering of trademark spots early. WWE crowds also seem to love Christian, as I said in the Summerslam Tirade, "Christian is a guy that is so easy to cheer for, and also knows how to work a very good match. You can debate him being a world champion guy all you want, but he can flat out deliver." And that's what he did here, played his role perfectly. I always appreciate good wrestling, and we got some here. Orton looked good here, slightly changing up some things to reflect the new heel persona, and it suits him. Christian, in terms of booking, has nothing going on here, so this was a great use of him. He goes toe to toe with Orton, looks great, the crowd was into it, but he ultimately loses because Orton is a dick. This was a welcomed addition to the show.

Rating (1-10): 8.0


AND THEN, Daniel Bryan appeared on the TRON and celebrated Orton's victory. He had vandalized Orton's new ride by spray-painting YES all over it. It wasn't the destruction I had hoped for, but that'll do pig…




Brad Maddox had to break the bad news to Orton and Triple H that everyone loves vandalism. Maddox now has to get all of the locker room to the stage to watch The Shield destroy Daniel Bryan. And if anyone gets involved, they will get fired by Triple H. Sounds like a good way to get Show, Henry and Ziggler involved after last week's show. At the very least Big Show, he has an iron-clad contract, right?

Titus O'Neil w/Darren Young vs. Jack Swagger w/Colter and Cesaro : This is a follow up from last week where the PTPs won on Raw, and then Young won against Cesaro on Smackdown. Zeb did a promo about welfare, noting that, "if you can't feed them, don't breed them," and said Mrs. Young and Mrs. O'Neil should have learned that, so we wouldn't have this inferior tag team. This was a match that felt too long, even though it was only around three minutes long. O'Neil got the win, and I hope that they just move on as the PTPs have now swept the Real Americans. And speaking on Swagger and Cesaro talk about two guys on the booking yo-yo. One week they win, then they lose, then they win and look to have an actual angle, and then they go back down. They have no idea what to do with these guys other than they exist so that Zeb can cut promos.

Rating (1-10): 5.0



We get a Wyatt Family promo, discussing Sister Abigail.


Brad Maddox booked CM Punk vs. Heyman and Axel at Night of Champions after some polite prompting from Punk.

Gauntlet Match: Daniel Bryan vs. The Shield (Rollins, Ambrose and Reigns): Renee Young tried to get comments from Show, Ziggler and Miz about the reign of Triple H and such. They refused to comment because they feat Shield attacks and firings. We started with Bryan vs. Rollins, which is always a fun time when they face off. They simply work so well together and can control a pace for a long time that not many in the company can match. Damn this was great, and Bryan hit this SICK release German off the top that turned Rollins inside out. Bryan would pin Rollins, but that led to Ambrose attacking. Bryan would get the YES lock, but Reigns hit the ring and we got a DQ. Bryan would fight, but the Shield continued their attack. This led to Triple H making an appearance, and giving the Shield the nod to deliver the Shield bomb on Bryan as the roster gave Triple H dirty looks. Randy Orton then appeared to get some revenge. Orton hit an RKO as the crowd chanted for Big Show to help.

Rating (1-10): 8.0


Orton and Triple H posed to close the show, daring the roster to laugh.




The Tirade


Overall I felt that this was a good show. We had a good match (Orton vs. Christian) and a great segment with Punk and Heyman. They also went a long way to work the Daniel Bryan angle. I know that some are saying that Austin never got left lying all the time, but Bryan isn't a Steve Austin character. He's the underdog battling the corporate machine, not the rebellious beer swilling redneck. Bryan is still being made to look good, it is only the numbers game and corporate manipulation that is keeping him from success. I am very willing to see where things go.

I will say that I did still have some issues with the length and pacing of the show. The three hours feels long at times still, and the constant replays and promos being long to cover time hurt the flow at times. But overall this was a good effort this week.


Show Rating: 7.0

As a reminder, I will be going by the 411 scale…

0 - 0.9: Torture
1 - 1.9: Extremely Horrendous
2 - 2.9: Very Bad
3 - 3.9: Bad
4 - 4.9: Poor
5 - 5.9: Not So Good
6 - 6.9: Average
7 - 7.9: Good
8 - 8.9:Very Good
9 - 9.9: Amazing
10: Virtually Perfect

The final rating is not simply an average of the rated segments above. The rating takes them into account as well as the segments that are small but not scored, the flow of the show, the overall booking, build to PPV, crowd reactions, and so on and so forth.




---
Have you checked out the Csonka Podcasting Network? If you haven't, you should We run anywhere from 15-20 shows a month, discussing pro wrestling, the world of MMA, the NBA, general sports, popular TV series of the past, bad movies, battle rap, interviews, MMA & Wrestling conference calls and more! Around 10 different personalities take part in the various shows, which all have a different feel; so you'll likely find something you like. All of the broadcasts are free, so go ahead and give a show a try and share the link with your friends on the Twitter Machine and other social media outlets! Running since May of 2011, there are currently over 350 shows in the archive for you to listen to.



Larry Csonka is a Pisces and enjoys rolling at jiu jitsu class with Hotty McBrownbelt, cooking, long walks on the beach, Slingo and the occasional trip to Jack in the Box. He is married to a soulless ginger and has two beautiful daughters who are thankfully not soulless gingers; and is legally allowed to marry people in 35 states. He has been a wrestling fan since 1982 and has been writing for 411 since May 24th, 2004; contributing over 3,000 columns, TV reports and video reviews to the site.


Your heart is free. Have the courage to follow it…TO CSONKA'S TWITTER!

http://www.twitter.com/411wrestling
http://www.twitter.com/411moviestv
http://www.twitter.com/411music
http://www.twitter.com/411games
http://www.twitter.com/411mma
comments powered by