SPOTLIGHTS
411's WWE Main Event Report 08.28.13
Posted by Michael Benjamin on 08.28.2013

Curtis Axel faced Cody Rhodes, Kofi Kingston battled Fandango, the Prime Time Players took on the Real Americans and more! Check out 411's full WWE Main Event report for all of the details!

Hey, what's up, hello! [/Vaughn] It's Mike Benjamin, it's Wednesday night, and this is 411's Main Event report. Stick with me for the results.

SHOW... ON!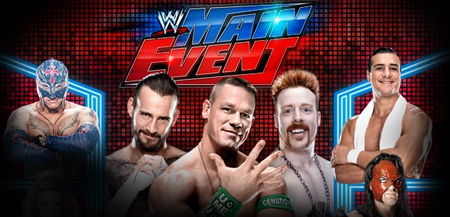 WWE Championship Roll Call:
WWE Champion: Randy Orlom
World Champion: Alberto Del Rio
IC Champion: Curtis Axel
US Champion: Dean Ambrose
Unified Diva's Champion: AJ Lee
WWE World Tag Team Champions: Seth Rollins and Roman Reigns



WWE MAIN EVENT 8.28.13



- A video package recapping the Punk/Axel/Heyman angle on Raw.

- Alex Riley and Josh Mathews are on commentary.



Curtis Axel (w/ Paul Heyman) vs. Cody Rhodes

Both men have been having pretty good matches lately so this should be a fun encounter. They circle to start. They feel each other out for a little while. A minute in they've already had a couple of fun reversal sequences as both men struggle for control. Cody is the first man to get sustained offense with a hammerlock. Axel escapes the hold and rolls outside for a breather. Axel punches Cody in the face shortly after getting back in the ring and he gets on offense with strikes. He tosses Rhodes to the outside. On the outside, Axel whips Rhodes back first into the barricade.



-Commercial Break-



Curtis Axel is in control as we return from break. He hits a snap suplex and applies a headlock. The crowd erupts with a large Cody chant. Rhodes makes it to his feet but immediately falls victim to a clothesline. Axel stays on him. He hits a nice elevated dropkick for two. Axel follows up with a strong whip. Cody hits the turnbuckle chest first. Axel delivers a scoop slam to Rhodes and delivers an ax handle from the top rope. That nets him another near fall. He goes right back to the headlock. Axel goes for the McGullicutter but Rhodes evades. Rhodes goes upstairs and hits a moonsault! Rhodes gets some adrenaline and delivers a couple of clotheslines. Axel ducks the disaster kick! Axel goes for the perfect-plex but Rhodes escapes and delivers an Alabama Slam! !... 2... NO! Axel goes upstairs and Cody delivers a muscle buster! Heyman isn't pleased. TWOOOO. Axel kicks Cody's leg out from under him. He hits a neckbreaker and gets the three count.

These guys have pretty good chemistry. They built a lengthy match from the ground up with good pacing and storytelling. This was a great example of two men who use the WWE style to their advantage and get the crowd invested in full by the climax.

OFFICIAL RESULT Curtis Axel @ 12:36 via pin fall
RATING: ***1/4



-Commercial Break-





The Prime Time Players vs. The Real Americans (w/ Zeb Colter)

Cesaro starts things out with Darren Young. The faces take control with simple offense and quick tags. Young finds himself on the outside of the ring with Swagger and eats a clothesline. Back in the ring, Swagger breats on Young a bit and follows up with a Swagger Bomb. Cesaro then tags in and leapfrogs over Swagger for a stomp onto Young. He powers Young up and gutwrenches him around. The heels continue to make quick tags between one another. WE THE PEOPLEEE. Cesaro goes for a cover and O'Neil breaks it up. Cesaro quickly applies a headlock on Young. Young hits an enziguri on Cesaro and dives into his corner to take O'Neil. Titus cleans house. He hits Swagger with a big boot for the near fall. Things break down in the ring for a moment. Swagger walks into a sit out powerbomb by O'Neil. Cesaro tries to make the save but is unable to make it on time. That's all she wrote.

Formulaic but solid tag action. It was entertaining for the entire duration.

OFFICIAL RESULT: Prime Time Players @ 5:34 via pinfall
RATING: *3/4



-Commercial Break-



- They air a video package of the Bryan/Orton segments on Monday.

- Kofi Kingston makes his way down to the ring.



-Commercial Break-





Kofi Kingston vs. Fandango (w/ Summer Rae)

Big pop for Fandango. They exchange wrist locks to kick things off. Kofi comes out on top of the first exchange. Kofi zeros in on the arm of Fandango with knee drops. Kofi lands on his feet after a catapult and delivers one of his own to Fandango. They find themselves on the outside and Kingston connects with a springboard plancha off the second rope to the outside. Summer Rae attempts to distracts Kofi for just a moment. That's enough for Fandango to gain control and send Kingston shoulder first into the ring post.



-Commercial Break-



Fandango is in control as we return from break. Fandango is returning the arm psychology to Kofi. He dissects Kofi's arm and manages to get several near falls in between each hold. Fandango connects with a nice kick to the head for two. Fandango delivers a suplex and floats over for a pinfall attempt. That only gets two. Fandango goes right back for a headlock. Kofi gets Fandango down and goes for Trouble in Paradise. Summer Rae grabs Kofi's leg and the ref sees it. The ref calls for the bell.

This was a decent little match until the abrupt finish. I don't really see the point of going with a DQ finish but what are you gonna do?

OFFICIAL RESULT: Kofi Kingston @ 6:33 aired via DQ
RATING: **

OVERALL: Not a bad episode of Main Event. Curtis Axel vs. Cody Rhodes was a really solid match and the rest was average.
comments powered by