SPOTLIGHTS
411's Total Divas Report 09.01.13
Posted by Ryan Byers on 09.02.2013

John Cena goes on a purse shopping spree, Daniel Bryan gets caught in fuzzy pink handcuffs, and the majority of the cast goes to Las Vegas and get plowed. God, the teasers for this show are starting to read like Mad Libs.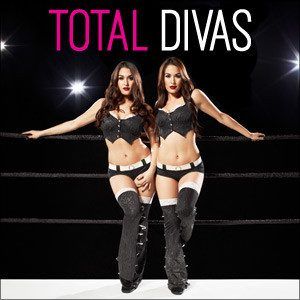 Do you like Ryan's exasperated ranting about Total Divas? If so, check out his exasperated ranting about numerous other wrestling-related topics on Twitter.

The show opens with a chance backstage meeting between rookie diva JoJo Offerman and Justin Gabriel, who I could've sworn was fired two years ago. JoJo develops an insta-crush on him, and CHRIS GODDAMN JERICHO is there to instantly become the greatest character in the history of this show, as he goes off about JoJo "liking him" in such a completely ridiculous, cheesy manner that it's apparent he knows how phony this show is and that, in response, he's going to make his performance phony enough to match.

We are live and . . . somewhere . . . for Raw. Team Hell No is wrestling the Shield, as always seems to be the case when we get men's wrestling on the card. It's like the war between Eastasia and Eurasia. Backstage, D-Bry kisses Brie-Bell, and she puts him over in an interview. Not as a wrestler, as a lover.

JoJo is hanging out with Gabriel backstage, and she mentions the "love of her life" Sebastian from a couple of episodes ago. I'm sure Sebastian is so bitter that he'll download this episode on Xtreme Wrestling Torrents and writing a scathing review of it that will serve as his application to write for this website. (Hire him, Csonka, and get me out of this hell shift.) Eva Marie appears and talks about being worried for JoJo as she pursues Justin Gabriel because . . . reasons. Seriously, there's no indication of why she cares. Maybe she's afraid that JoJo will be sucked into the black hole of WWE Superstars and never seen again, just like Justin. Anyway, JoJo decides she's going to invite Justin to a housewarming party that they rookies are having at their new place.

The rookie divas watch Justin Gabriel have a match from backstage, and for the second time in as many weeks they're watching it on the WWE interview set while standing next to each other, in a Totally Natural manner. To end the scene, Michael Hayes runs into the camera shot and shouts a nonsensical syllable at Eva and JoJo. I don't know what that had to do with anything or why it made the show (there wasn't even an explanation of who Hayes is), but I laughed.

We're at the NXT gyms, where the Bellas and the Funkadactyls work through spots despite the fact that last week we were talking about all of the matches like they were shoots. Nattie Neidhart shows up, and the five of them have a Totally Organic conversation how they need to throw Nattie a bachelorette party. Nattie talks about how she's worried something will happen at the party TJ won't approve of, and Nikki makes sure she knows that "nobody will put their private parts on you." Of course, they're pro wrestlers, so nobody having their private parts on them is a sure sign that they're off work on vacation. Nattie also recaps the Single J Jaret (that's J-a-single r, e-single t) situation from last week, so apparently we have a continuing storyline for once in on this program.

To end the scene, Nikki does a random spot with Trinity, Nattie pins her, and Trinity kicks out at the one count. That's the only comparison you can make between Trinity and Bob Backlund. (Obscure wrestling references FTW!)

We cut to the housewarming party for the rookies, and the guest list includes the Bellas, TJ Wilson, Trinity, the Usos, and, hidden in the background for just a moment, Primo Colon (or, as you will soon know him, "Matador Dos"). They start talking about "Brie Mode," which is apparently what occurs when Brie gets plowed, though it hasn't happened in a while because Bryan Danielson does not approve. Justin Gabriel shows up. This somehow transitions into a Nattie/Nikki conversation in which she notes that she's only ever been with TJ. Scheming bitch Nikki makes it sound like she's ready to change all of that. Rapid-fire conversation mode continues, and Ariane discloses the fact that she dated a 40 year old man at age 20. Somehow this is compared to the prospective JoJo/Justin Gabriel romance, even though he's 32 and not 40. They make out in a closet. As a 31 heterosexual year old man, I have a hard time seeing any problem with this. They literally crammed five conversations into about seventy-five seconds here.

After a commercial, JoJo and Justin are on their first date, and Justin makes the faux pax of trying to order her wine. JoJo talks about her pet bunny. I hope this goes somewhere, because I haven't seen a good rabbit-based angle in wrestling since Evad Sullivan and DDP feuded over his bunny buddy Ralph in WCW. Anyway, Gabriel shows about as much interest in holding a conversation with JoJo as fans show in watching his matches.

John Cen and Nikki Bella are out shopping, looking for a gift for Nattie's bachelorette party. Nikki tells Cena that Nattie has only ever been with TJ Wilson, and Cena's reaction is exactly what any rational human being's should be, "Okay. What do you want me to say in response to that?" essentially acknowledging that it's none of his damn business and whatever makes the couple happy is fine. Nikki says she can't believe he's only been with one guy. Cena subtly points out the fact that this makes her sound like a whore. This show continues to make John Cena out to be the nicest, most down-to-earth man who has ever been in a professional wrestling ring. I don't know how anybody who watches this show could continue to boo him.

Ariane and boyfriend Vincent are packing for Ariane's trip to the bachelorette party. Vinny can't believe that she's going to celebrate her friend's wedding instead of spending time with him, and he storms out of the room.

Aaaaand now we arrive in Vegas, for what is essentially a joint bachelor-bachelorette party for Nattie and TJ. Bryan Danielson is there, looking completely out of place. Curt Hawkins is there for a split-second in his most-watched WWE television appearance since he was an Edge-head. Everybody decides to go out to the pool, where Jon Uso begins complimenting girlfriend Trinity on her body. This had no connection to anything else on the show.

Nikki and Nattie are hanging out again when the latter gets a text message from Single J Jaret. (Hey, aren't Nattie and the Bellas supposed to be mortal enemies?) Jaret is Totally Flirting with Nattie, and Nikki is disapproving. Yes, despite being shocked and appalled by the fact that Nattie has only been with one man during the course of her life, she can't believe she's sending vaguely flirtatious text messages to another guy. Nikki explains that Nattie has inadvertently told Jaret that she wants to bang him. Why? Because she used a smiley face emoticon in her text messages and, as everybody reading this knows, that is the international symbol for "come violently make love to me now." Don't even ask what the emoticon with its tongue sticking out means. :-P

Nikki also tells Nattie that Jaret "wants to see your pink . . . and I don't mean your ring gear." Okay, I have to give credit where credit is due. That was actually a pretty good line.

After the break, we're still at the pool, and we see an Uso giving another wrestler a powerslam into the water. I love the fact that wrestlers apparently use their moves on each other in real life situations on a regular basis.

After the pool party, the wrestlers make Nattie take a shot of an unidentified substance, and TJ leads a toast in her honor. This is the first episode in which he's done something romantic without being portrayed as a moron for half an hour beforehand. Good on him. The girls go to a Chippendale's show, which was really confusing to me at first when I heard the name and then there were no chipmunks on stage, just naked men. Speaking of the stage, Nattie gets pulled up on there and lassoed, apparently having a good time.

In one of the hotels, JoJo is bemoaning the fact that she can't drink or gamble in Vegas, and then they see Justin Gabriel with another woman. JoJo complains for a split second, but a commercial interrupts her.

When we come back, we learn JoJo is gravely offended . . . so offended that she eats a Blow Pop. She's driven to the point of tears . . . while eating a Blow Pop. Maybe I've forgotten what it's like to be 19, but she went on one date with the dude. She should get over it . . . and enjoy her Blow Pop.

We cut away, and the Bellas, the Funkadactyls, and Nattie are at a club, with Nikki telling us that we have reached "Brie Mode." Brie Mode apparently includes her crotch getting blurred while she's dancing. Aside from that, she literally does nothing scandalous.

Now we're in the girls' hotel room, and Nattie starts telling the entire group about Jaret. Brie, who in the last scene was supposed to have been so Totally Drunk Off Her Ass that she had abandoned all reason, decides that she's going to go dispense sage advice to Nattie. The really weird part is that she actually succeeds, making it clear that a guy like Jaret might make you feel special for a moment, but none of it can compare to a fifteen year long relationship with somebody like TJ Wilson. Silly me . . . I'd thought "Brie Mode" would've involved Ms. Bella getting all wild and out of control but apparently what really happens when she gets drunk is that she turns into an infinitely hotter version of Yoda.

Look but not touch, you can. Dreaming on the stars above, you keep.

With that task accomplished, Brie can now go back to pretending to be Totally Sloshed, and she explains that she needs to go back to the room she's sharing with Bryan Danielson without waking him up or otherwise indicating to him that she's hammered, because he won't approve. She forgets her key and has to wake him up by ringing the doorbell. Then, as he attempts to go back to sleep, she starts putting pink fuzzy handcuffs on him. We cut away before anything fun happens.

The next morning, Bri-Bry are awake, and Brie is hung over. Brie admits she was drunk last night, and Bryan tells her that it was readily apparent. He's not mad at her, but he decides that he is going to aggravate her headache a little bit by putting her in the Iron Claw. In a perfect world, that would become his new finisher next week, based solely on this Total Divas segment.

We're at another dinner, where Nattie thanks the entire crew for coming out and celebrating with her. Next JoJo confronts Justin Gabriel. She tells him she's head over heels for him, just like he's head over heels when he does a 450 splash. Okay, I added the line about the 450 splash. Justin tells her she's hot but that he's not going to get involved in anything serious with her because of their age difference. Imagine how different the indy wrestling landscape would be today if Rob Feinstein had a similar mentality. JoJo gets angry and leaves, as if that wasn't an obvious issue everybody was pointing out to her from the very beginning of their flirtation.

The Bellas are hanging out in more ways than one, as Brie is reading a magazine for a minute before finding Nikki's vibrator laying next to her. Maybe I'm overthinking things, but, if I were WWE, I wouldn't want to imply that the girlfriend of my top babyface needs sex toys to keep her happy. Again, this had nothing to do with anything that happened in the rest of the episode.

The Funkadactyls (or, if you believe my unfortunate typo from last week's recap, "the Fuckadactyls") meet up, and Trinity is jealous of the nice room that Ariane got. Ariane informs her that Vincent is on his way to Vegas to join the party. Trinity says "that's great" in a tone that makes it readily apparent that she knows he's trouble. As if on cue (because it was on cue), Vinny bangs on the door the second his name is mentioned. Normally you have to say his name into a mirror three times to get that reaction. He is so obnoxious that Ariane gets fed up with him. Yes, ARIANE thought somebody's behavior was over the top.

Another cut, another dinner, another toast. Brie talks about how great TJ and Nattie's relationship is. Again, I could've sworn they were supposed to be mortal enemies. The Bellas get Nattie a cake shaped like a man's abdomen and crotch, and Vincent gets offended when Ariane starts handling the cake's fake penis. Yes, he's jealous of a dessert. Next the chef brings by giant plates of cotton candy out to the table, like they do in all five star restaurants, and Vinny uses it to annoy Ariane. He also spills his drink. I'm not used to subtly on this show, but this scene is heavy-handed even by Total Divas standards.

In the final scene of the show, we are at Ghost Bar, the only club or restaurant mentioned by name on the episode, which makes me wonder how much cash they handed over to WWE and/or E! TJ and Nattie talk about how much they love each other, and Vincent orders something in the neighborhood of five million drinks. Ariane tries to calm him down. Again, the fact that she is trying to be the voice of reason is amazing. Drunk Vincent tells all the wrestlers that he loves them, and then Ariane starts yelling at him because he spilled a drink on her. So you've already noted that your boyfriend is horrifically intoxicated and you're worried about him embarrassing you in front of your coworkers, and your response is to provoke him by screaming at him? Ariane eventually just pulls him out of the club, and he is drunkenly obnoxious.

Back at Ghost Bar (please send me my product placement cheque), everybody is still having a good time, and Nattie talks about how now she's devoted to TJ and ready to marry him. Wait, what happened to the Jaret issue? Yes, I know Yoda Bella gave her the "stand by your man" pep talk, but I don't know how or why five seconds of advice would resolve that issue, and we certainly had no indication of whether Nattie (who had also been drinking heavily) internalized any of it.

Oh well, that's the end of the episode. I just hope that, when the series gets to the TJ/Nattie wedding, we have Jaret showing up and screaming Nattie's name at the top of his lungs a la Marlon Brando in A Streetcar Named Desire.

Overall: This episode wasn't quite as bad as the normal Total Divas show. I think the big difference for me was the fact that, even though they still had far too many plots crammed into an hour-long show, the fact that they all had a common setting and all tied into the larger story of "Nattie's bachelorette party" helped to combat the feeling that the show moves at a breakneck pace. That alone was a huge improvement for me. However, there was still plenty of stuff that made no sense and plenty of stuff that, even though it made sense, was so staged and superficial as to be insulting. I'm not that worked up about it, though. Who knows, maybe I've just reached a point with the show where now I'm numb to it all. Hopefully that callous continues to grow, because, from what I can tell, I've still got over a month of this left to go.

comments powered by