SPOTLIGHTS
411's WWE Main Event Report 09.04.13
Posted by Michael Benjamin on 09.04.2013

Damien Sandow battled R-Truth, Fandango faced Justin Gabriel, The Wyatt family were in action and more! Check out 411's full WWE Main Event report for all of the details!

Michael Benjamin here with your favorite Main Event report on the internet! Let's do it.

SHOW... ON!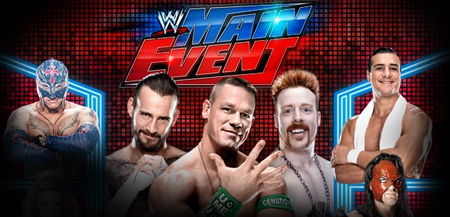 WWE Championship Roll Call:
WWE Champion: Randy Orlom
World Champion: Alberto Del Rio
IC Champion: Curtis Axel
US Champion: Dean Ambrose
Unified Diva's Champion: AJ Lee
WWE World Tag Team Champions: Seth Rollins and Roman Reigns



WWE MAIN EVENT 9.04.13



- A video package recapping the Punk/Axel/Heyman angle on Raw.

- Alex Riley and Josh Mathews are on commentary.



Fandango (w/ Summer Rae) vs. Justin Gabriel

This is an interesting match up in my opinion. Circle to start. Gabriel delivers a clothesline and Fandango rolls to the outside. Fandango's back in and they chain wrestle a bit. Alex Riley says that he's going to Cody's wedding and can't buy him a crock pot because Cody is unemployed. I don't follow that logic. They both escape power moves and end up lobbing punches at each other. Fandango finds himself back on the outside. They circle again. These guys are stalling a shitload. Headlocks and shit. Gabriel hits a dropkick that sends Fandango back to the outside. Gabriel dives over the top onto Fandango before commercial break.



-Commercial Break-



Fandango is taking control as we return. He delivers a plodding beating on Gabriel. Mostly punches, knees, and some dirty choking. Giggity Goo. Fandango hits a nice dropkick for two. He goes right back to a chinlock. Gabriel uses a back suplex to escape. Fandango misses a clothesline and Gabriel comes back with roundhouse kicks. Gabriel misses a moonsault but lands on his feet. He rolls Fandango up for two. Fandango hits a nice spinning heel kick for two. I'd like to see him do that more often. Fandango goes upstairs and hits the Alabama Jam for the win.

Tons of stalling and predictable progression. Fandango controlled a huge portion of the match and then picked up a victory with little momentum or build to the near fall. I didn't enjoy their match.

OFFICIAL RESULT Fandango @ 11:36 via pin
RATING: **1/4



-Commercial Break-



- Recap of Daniel Bryan/Big Show angle from Raw.



-Commercial Break-



- Damien Sandow cuts a promo on the way to the ring about Cody being fired and him being an uncrowned world champion.



R-Truth vs. Damien Sandow

Truth starts off with a collar and elbow. They exchange headlocks for a bit. They follow that up by exchanging roll ups. No clear winner results in a momentary stand off. They go back and forth with punches before Sandow ducks a right and rolls to the outside. Truth follows him out because he's learned nothing over his career and gets beaten up by Sandow upon re-entering the ring. Sandow locks in a side headlock. Truth delivers a leg drop and clotheslines Sandow to the mat as we head to break.



-Commercial Break-



Sandow delivers a neckbreaker as we return from break. He follows up with headbutts. Truth fights back with punches. Sandow fights back with kicks and shoulders. Sandow tosses Truth onto the apron and tackles him off into the barricade. Sandow brings a stomping down on Truth followed by a snap suplex. Two. More kicks from Sandow. Sandow Grapevines his legs around Truth. Truth quickly escapes and Sandow continues the beat down. Truth charges at Sandow. Sandow sidesteps and tosses Truth back to the outside of the ring. Back in. More knees from Sandow. Elbow of Disdain. Two. Sandow hits a back breaker and goes for a moonsault. Truth rolls out of the way and Sandow plants his face on the mat. Truth fights back with clotheslines and a rana. Heel kick gets two. Truth misses an ax kick and Sandow rolls him up for two. Truth hits hit on second try and covers him for two. Sandow with a modified neck breaker for two. Truth rolls him for two. He hits the lie detector for the pinfall.

Much like the first match, this just felt like an overly long wrestling move exchange. They didn't build any heat or buzz from the crowd through the match. Not very good for the time allotted but better than the opener.

OFFICIAL RESULT: R-Truth @ 10:14 via pinfall
RATING: **1/4

- Cody Rhodes/Randy Orton angle video package.



-Commercial Break-





The Wyatt Family (w/ Bray Wyatt) vs. The Prime Time Players

Rowan starts with Titus. They exchange elbows and forearms. Titus knocks him down with a big boot. Rowan's pants always ride up his ass. Rowan delivers a plethora of headbutts before tagging in Harper. Harper drops an elbow and delivers some wild punches to the face of Titus. Harper keeps it going with stomps. He covers for two. He locks in a headlock. The PTPs manage to get on offense for a hot second before things break down. Young finds himself on the end of the discus for the loss.

This was a squash for the Wyatt Family. Not too much more.

OFFICIAL RESULT: The Wyatt Family @ 4:00 aired via pinfall
RATING: SQUASH

OVERALL: Two matches under-delivered and the third was too quick to hurt or help. The talent wasn't what you'd call "top tier" in terms of popularity and the crowd reactions reflected it. Suggestion to skip.
comments powered by