SPOTLIGHTS
Tremendous Tirades 9.07.13: Ring of Honor TV
Posted by Larry Csonka on 09.07.2013

The hunt for the gold continues with three title tournament matches…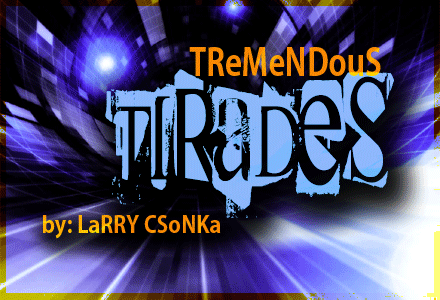 Introduction
As a reminder, this will not be another traditional recap, but instead it will be a mash up of the Rs, Instant Analysis and my usual Twitter ramblings I would do during the shows; completely uncensored and as the ideas flow unfiltered to the old keyboard. As always, I encourage discussion and even disagreement, just do so in a respectful manner. I will be doing the review for Raw and most PPVs and iPPVs going forward.

---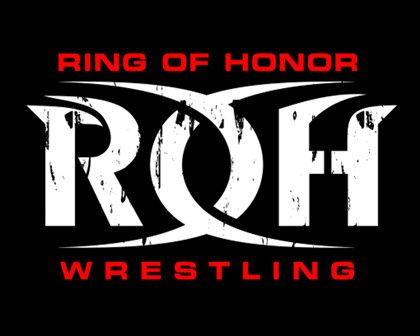 ~ROH TV~
~9.07.13~
~EPISODE 103~
~The hunt for the gold continues…~
Matches are taped from the All Star Extravaganza V event in Toronto.

ROH World title Tournament Match: Silas Young vs. Tomasso Ciampa : I thought that Silas Young vs. Tomasso Ciampa was a really good power match. Two guys that just want to beat the piss out of each other, and do so well. The best part of it was that this is exactly what the ROH fans wanted to see from these guys, because they were into what the guys delivered. I do want to say something, and I will say it again later, but I do think that some of guys are taking too many chances. Do not get me wrong, I love great matches and cool spots, but I am not exactly sure that the suplex to the floor spot was needed. But that's just me, I think that those sort of things need to be saved for bigger matches. Some hard-hitting exchanges near the finish, which led to Project Ciampa ending Young's hopes for the ROH Title at around 11-minutes.

Rating (1-10): 7.25



ROH World title Tournament Match: BJ Whitmer vs. Michael Bennett w/Maria: This is the match where Whitmer got injured on the apron piledriver spot. Now while I understand that this is a title tournament match and that the guys are fighting for the title, this is something I felt at the time, and still feel was not needed. This was like the fourth match on the show (when it was taped), and when you throw all of these sort of moves out there, what's left for the main event to do? Know what I mean? Some will say that "they do these things all the time," but that also doesn't make it right. Unfortunately I have to say that it was only a matter of time in regards to Whitmer, the man has taken so many scary bumps over the years that it was going to catch up with him someday. I really hope that he has a full recovery, an accident like this could end his career and can really take away from your enjoyment of wrestling. You don't want to see guys getting hurt for real, at least I don't.

The booking of the match made sense, as commentary played up that these guys are 1-1, and that not only was this a tournament match, but the rubber match for their feud. I really enjoyed the method behind the booking there. Maria got tossed for trying to get involved in the match, and Nigel carried her to the back and spanked her ass while doing so. ABUSE OF POWER and I do not blame him one bit. We got about 9–minutes of action when the accident happened, and up to that point I thought that they were having a really good match. It looked as bad as the reports said, and completely took me out of the match. Bennett moves on in the tournament.

Rating (1-10): No Official Rating



We get a video package of London's ROH return, and the injury due to the double stomp.

ROH World title Tournament Match: Paul London vs. Michael Elgin: I loved the booking of this match. They were supposed to meet in May, but London got a concussion in the Richards match. Also, Elgin is the guy that could have accepted the title when Briscoe went down, but wanted to fight for it. What better way to continue the build of Elgin? Have him face and defeat an "ROH Founding Father." I have really come to appreciate Nigel on commentary, especially in main event matches. The way he explains things as a former in ring performer, setting the stage for the power vs. speed battle was very good work. Also, the discussion of how a concussion may change how London approaches his offense was well done. Overall a good showing by London, who has proven that while he is a step slower, that he can be used as a special attraction for ROH. This was really good, not an all time classic due to some small hiccups here and there, but another very strong tournament match. Elgin continues to deliver, and has been for some time, and that is always a positive. They had a great rundown the stretch where London had near falls and the crowd bought that he was going to win. Elgin killed London with a superbomb, a buckle bomb, a spinning back fist and then the Elgin bomb for the win. He looked like a beast and London was booked super strong here that he loses nothing in defeat.

Rating (1-10): 9.0




The Tirade


I am not going to lie, the Whitmer injury took me out of the show, and I had to pause and then come back to review the main event. One may question ROH airing the match and injury without providing some form of context or update right away. I love wrestling, but something like that reminds us that we're always very close to a serious injury.

The good news was that as far as the TV show goes, this was another good and focused effort. They have everything invested into the title tournament right now, and it gives the show a must see feel due to that. In my opinion that is what ROH needs, the feel that the TV show has to be seen or you'll miss something important.

I suggest you skip the Bennett vs. Whitmer match, and you'll really enjoy the show.

Show Rating: 8.0

As a reminder, I will be going by the 411 scale…

0 - 0.9: Torture
1 - 1.9: Extremely Horrendous
2 - 2.9: Very Bad
3 - 3.9: Bad
4 - 4.9: Poor
5 - 5.9: Not So Good
6 - 6.9: Average
7 - 7.9: Good
8 - 8.9:Very Good
9 - 9.9: Amazing
10: Virtually Perfect

The final rating is not simply an average of the rated segments above. The rating takes them into account as well as the segments that are small but not scored, the flow of the show, the overall booking, build to PPV, crowd reactions, and so on and so forth.




---
Have you checked out the Csonka Podcasting Network? If you haven't, you should We run anywhere from 15-20 shows a month, discussing pro wrestling, the world of MMA, the NBA, general sports, popular TV series of the past, bad movies, battle rap, interviews, MMA & Wrestling conference calls and more! Around 10 different personalities take part in the various shows, which all have a different feel; so you'll likely find something you like. All of the broadcasts are free, so go ahead and give a show a try and share the link with your friends on the Twitter Machine and other social media outlets! Running since May of 2011, there are currently over 350 shows in the archive for you to listen to.



Larry Csonka is a Pisces and enjoys rolling at jiu jitsu class with Hotty McBrownbelt, cooking, long walks on the beach, Slingo and the occasional trip to Jack in the Box. He is married to a soulless ginger and has two beautiful daughters who are thankfully not soulless gingers; and is legally allowed to marry people in 35 states. He has been a wrestling fan since 1982 and has been writing for 411 since May 24th, 2004; contributing over 3,000 columns, TV reports and video reviews to the site.


Your heart is free. Have the courage to follow it…TO CSONKA'S TWITTER!

http://www.twitter.com/411wrestling
http://www.twitter.com/411moviestv
http://www.twitter.com/411music
http://www.twitter.com/411games
http://www.twitter.com/411mma
comments powered by