SPOTLIGHTS
411's Total Divas Report 09.08.13
Posted by Ryan Byers on 09.08.2013

Nikki Bella suffers a big injury, Eva Marie hits the pages of Maxim, and Nattie buys the wrong kind of peanut butter, causing Tyson Kidd to walk out on her. One of these plots if a fake! Find out which one by reading the report!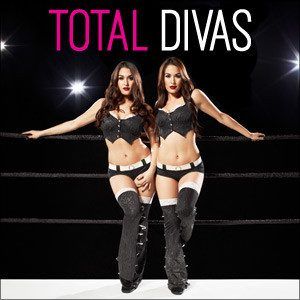 Do you like Ryan's exasperated ranting about Total Divas? If so, check out his exasperated ranting about numerous other wrestling-related topics on Twitter.

Welcome, ladies and gentlemen, to YOUR 411mania Total Divas report for September 8, 2013. Before I begin the play-by-play for this episode, I want to let you know about a little extra that I have coming up at the end of the column. For those of you who aren't aware, next week's episode of Total Divas is the "mid-season finale" for the show, with the idea being we're going to have a several week hiatus before we get more TD. Believe it or not, some people inside the professional wrestling industry have started reading these recaps of mine, and they've given me exclusive leaks regarding what the show's storylines will be after the mid-season break. So, after I wrap up this episode, I'll be bringing the SCOOPS~! to 411mania and reporting the top ten storylines for the second half of the first season of Total Divas.

Before we get there, though, let's hit the show . . .

Apparently the lead-in show for Total Divas this week isn't the normal E! reality crap but rather a special about some new sitcom with Al Bundy. I'm interested to see if that affects the Total Divas rating.

Dear god, I just said I was interested in something related to Total Divas. Forgive me, Gabe, for I have sinned.

Anyway, in Tampa, Eva Marie is driving and gets a cell phone call from some WWE office employee named Kristina. She tells Eva that, of all the WWE girls, she has been selected for a spread in Maxim magazine. Yes, I'm sure Maxim was just begging for a complete unknown scraped off the bottom of WWE's proverbial barrel. Eva's response is that she's always dreamed of being in Maxim. That's the problem with America, right there, young girls dreaming of being in a men's magazine for fifteen seconds of fame instead of dreaming about doing something productive with their lives.

The Bella Twins talk about how happy they are to have returned to WWE. Yup.

Ariane and Vincent are arguing in her bathroom, with the subject being his jealousy over not being able to attend a red carpet event with her because he "has to do his papers for the sheriff." This isn't expounded upon, and leaving it that way makes me immediately think the worst about Vincent's past . . . like "he needs to put his name on a registry" worst. They bring up Vince's drunken rampage from last week and Cameron literally yells so loud that her dog runs away from her.

John Cena is so goddamn rich that he can have men called "stretch therapists" visit his home to work on him, and they work on Nikki Bella as well. Or hell, maybe it's not a house call; the place is so goddamn big that they could be living there without Cena even knowing. At the end of the adjustment, the therapists say "you can learn anything on YouTube." So they WERE just random drfiters living in Cena's house after all.

At a Totally Unscripted lunch, Eva tells Nattie, JoJo, and Cameron about the Maxim spread. All of the girls are jealous, and Ariane notes that this spread could lead to Eva Marie being the face of the company. Yes, that's right, it's entirely possible that a couple of semi-nudie pics could've lead Triple H to have Eva Marie pin Daniel Bryan at Summerslam to become the new WWE Champion and face of the company.

Back at Eva and JoJo's apartment, JoJo is singing the national anthem, and we are told that singing is her passion. She's so passionate about it that she admits she has never trained to sing or done it professionally. Some passion. Despite not really having any relevant background, JoJo is going to try to get some kind of singing gig with WWE, even though they've got a perfectly serviceable Lillian Garcia on the payroll. Eva criticizes JoJo in a sit-down interview, asking if she wants to sing or be a WWE performer. I don't know, Eva, do you want to be a bikini model or a WWE performer?

The whole cast aside from Trinity has another lunch, and the new girls are briefly given flack for not dressing up. Eva reveals the news about the Maxim spread to them again and the Bellas, who weren't around for the last announcement, are also jealous. In other words, according to this show, no woman is ever happy for another woman's success. They're all catty, conniving she-demons. Also, did they really need two separate scenes of Eva making her announcement? Just shoot it all in one. Anyway, Ariane immediately changes the subject and says that Vinnie wants his parents to meet her parents. Yes, because that's what every red-blooded American male dreams of, getting his family to intermingle with his girlfriend's family. Ariane is afraid that Vincent is pushing her towards marriage, and she outright admits that she doesn't love the guy despite having dated him for ten months. I was just getting ready to compliment Ariane for wanting to get away from the walking train wreck that is Vincent, but, after that comment, I think the two deserve each other.

We're in Hartford, Connecticut for Raw, with Kaitlyn and the Funkadactyls against the Bellas and AJ Lee in tag action. Kaitlyn whips the Bellas into each other, and Nikki flies off the apron and to the mat. She immediately has some pain in her shin, which she previously broke eleven years ago. The Bellas argue about whether Nikki should seek medical attention, with Brie taking the position that she should while Nikki wants to hide the injury because she doesn't want it to take her off television. Yeah, because god knows if you're a woman and can't perform in the ring, WWE has no use for you. Isn't that right, Eva Marie and JoJo? Brie threatens to tell John Cena about the injury if Nikki doesn't see the doctor. Hell, they should tell Cena anyway. Based on his portrayal on this show, he could just lay his hands on Nikki's shin and it would immediately be healed.

Now Eva Marie is at her Maxim shoot, and . . . nothing happens. Just an excuse for some gratuitous T&A on the show. That's not to be confused with gratuitous TNA, which would involve the show coming up with a concept for a months-long storyline, realizing that they mistimed it halfway through, and then rushing to the conclusion with no real explanation as to why.

Back in Tampa, Cena and Nikki go to a coffee shop, and she tells him about her shin. He immediately tells her to go to the doctor. She's still afraid of having to take time off of television, as there's no way her career will survive it. Yeah, because if there's one person in WWE who has to worry about job security, it's JOHN CENA'S GIRLFRIEND, who currently derives most of her star power from a REALITY SHOW FOCUSED ON HER DOING ANYTHING BUT WRESTLING.

Ariane, Vinnie, and her Chihuahua go out to get a manicure. Yes, all three of them. Ariane insists that the dog's nails need to be painted, and the poor thing looks so embarrassed as this is happening. Bite this woman. Bite her now. You were descended from wolves, you poor pseudo-canine bastard. Vinnie brings up Ariane meeting his family, and, showing no signs of the reservation she showed at her lunch with the girls, she says yes. I'm still trying to figure out why Vinnie would want to watch his woman get her nails did.

Eva Marie returns to the apartment after the photo shoot, and JoJo is a little bit cold to her, which Eva interprets as jealousy and walks off.

Jon Uso is working out with JoJo and Trinity, and JoJo says she wants to "step up" to compete with Eva by pressing forward with her singing idea. Trinity encourages her to do it, after Jon tells her to shut up and she threatens to hit him in the balls. This show can't go for more than half an episode without talking about a penis in some way. Ultimately, Trinity suggests that it would help JoJo with her nerves if they worked together on the project, i.e. JoJo signing the Dactyls' theme music . . . which is not sung by a woman. Somewhere, Ernest "The Cat" Miller is shaking his head and saying, "it could've been me . . . it could've been me."

Nikki and Brie are at the doctor, with Nikki getting a bone scan of her bum leg. Apparently nobody at the clinic can tell Nikki anything about the scan, and she has to wait for word from the WWE doctors about what the scans reveal. This is despite the fact that Nikki, who in the show's canon is so dumb that I'm amazed Brie doesn't have to remind her to breathe, is capable of interpreting the scan herself as displaying a fracture.

On the ride home, Nikki is a Total Bitch to Brie, and they argue. Brie mentions that this injury could take her off TV as well as Nikki. AGAIN, YOU ARE DATING THE TOP TWO BABYFACES IN THE COMPANY. YOU ARE FINE.

Now Nattie and Eva Marie are driving somewhere, and Nattie compares her relationship with TJ to Eva's relationship with JoJo. Yes, I'm sure your thirteen year relationship with your fiancée is a lot like these two teeny boppers who have known each other and lived together for two months. Nattie makes fun of Hooters girls, only to learn that Eva used to work there. Whoops. I know that I say this quite a bit in these reviews, but I have no idea what the point of this segment was, aside from serving as a forced reminder that Nattie is, in fact, soon to wed a man named TJ Wilson.

Trinity and JoJo go to a recording studio, which is made possible by Trin's father being involved in the music industry in some ill-defined way. The idea is to re-record the Tons of Funk theme song with JoJo singing as a bit of a demo for Talent Relations Jane and her crew. Trinity mentions she doesn't get to work with her father often and that she enjoys it. Segment over.

Ariane and Vinnie are getting ready to meet his father. He's identified as Andy, though the way that he speaks and is portrayed in this episode, his name may as well be Stereotypic Stereotypkopolis. He immediately starts talking about the two of them getting married and treats them to what appears to be a homemade meal. Andy also starts guilt tripping Ariane about her road schedule and the fact that he wants grandchildren. He also mentions that he doesn't want his son to stop living with him unless and until he gets married. Wait, are you telling me that Vinnie still lives with his dad? I guess that shouldn't surprise me, especially if he regularly has to fill out papers for the sheriff.

Back at Eva and JoJo's apartment, Talent Relations Jane calls in and says she enjoyed the remixed Tons of Funk music and that she'll try to find a way to work it into the show. JoJo says she's going to get an opportunity to sing on national television. Remember that comment for later on.

Ariane kisses her dog on the lips, which appalls Vinnie. First TJ Wilson loves his cat more than his girlfriend, and now Ariane loves her dog more than her boyfriend. Keep your eye out for Total Divas' first spinoff, WWE Total Beastiality, debuting next fall on Animal Planet.

Vinnie says he's got a surprise for her and, ever since he appeared on screen with his father, his accent has increased tenfold. "Eh, why-a you-a no-a wanna marry da Vinnie, huh?" The surprise is going ring shopping. This makes Ariane burst into tears, as she sees Vinnie's actions as moving way too quickly with their relationship. Okay, wait a minute. You said that you knew he wanted you to meet his father, you knew that meeting his father was a step towards marriage his eyes, and then you agreed to meet his father with no objection or caveat whatsoever . . . AFTER admitting to your supposed best friends that you don't really love him. Vinnie's character on this show hasn't been the most sympathetic - okay, he hasn't been anything other than Total Moron - but Ariane's mixed messages cross a line where she's now being the unreasonable one. (I have a feeling the show is trying to portray the opposite, just failing miserably.) Ariane charges out of the jewelry store and Vinnie chases after her. They have a big weepy conversation in which Ariane says she wants to take a step back and Vinnie says he'll always be there for her. I have no idea whether they actually broke up or not.

The Bellas meet with WWE Dr. Michael Sampson, most famous for bringing Jerry Lawler back from the dead. He goes over the bone scan with her and says we've got ourselves a stress fracture that will take twelve weeks to recover from. The girls are still irrationally worried about their careers.

Backstage, the Funkadactyls and JoJo are working on their revised entrance. Ariane alludes to having had a lot on her plate this week, and one of the other girls immediately points off camera and blurts out, "Vince is right there!" In one of the more legitimately clever gags of the series, Vince McMahon walks by when everybody was expecting Ariane's boyfriend. Again, just like last week, I'll give credit where credit is due. That was actually funny.

Apparently Trinity is allergic to bright canary yellow sports jackets because, as soon as Vinnie Mac leaves the scene, she starts coughing out of nowhere. Oh no! She's supposed to sing soon! This real, non-scripted illness could not have befallen her at a worse time! Damn the luck of the Funkadactyls! First their gear wasn't done five minutes before their Wrestlemania match, and now this!

Yeah, you know that spike in drama is leading into a commercial break.

After the commercials, JoJo is freaking out and Trinity is still coughing. Nikki talks about the show being live. Josh Matthews mentions this is part of WWE Main Event, so it is decidedly not live, nor is it nationwide as JoJo claimed earlier. JoJo and Trinity start singing in the ring before the WWE crowd, while Ariane is apparently a Flava Flav-esque hype girl, as she just yells things like "Yeah!" and "Come on!" in as shrill a manner as possible. (Though, to be fair, I don't think Ariane has a mode other than "shrill.") The performance is horrible, and it's acknowledged as horrible in storyline. Eva Marie attempts to claim this is karma (not to be confused with Kharma) for JoJo not being supportive of her Maxim shoot, while Talent Relations Jane looks on mortified, with a facial expression that I'd only expect somebody to make if they learned that their sibling was a disguised space alien sent to earth to harvest human hair for use as material to be sold in an intergalactic haberdashery.

On the other side of another commercial break, the Dactyls and JoJo try to put a positive spin on their bomb (not to be confused with bomb-dot-com) of a performance, but nobody really believes them.

Talent Relations Jane's creepy underboss has a conversation with the Bella Twins, and he's spoken with the nebulous "creative team." As expected, he benches Nikki for the time being.

Aaaaaand that's the end of the show, about sixty seconds after the last commercial break warpped up. There is no follow up on the Funkadactyl performance, and there is no follow up on Nikki being sidelined, nothing . . . and none of it is alluded to in the teaser for next week's show, either. STORYTELLING!

Overall: This show crossed a really unfortunate line for me tonight. In the past, the show has been remarkably dumb television, with imminently unlikable characters and plot holes so big that the Great Khali could bathe in them. However, for all of the idiocy, it has been relatively innocuous. This week, though, the show went from innocuous to outright sexist, mainly as it relates to the Eva Marie photo shoot storyline. First, it reinforced an incredibly negative stereotype of women that has popped up in wrestling with some frequency, namely that they are all super-catty and will slit each other's throats at the drop of a hat. Second, by putting a photo shoot of that nature up on a pedestal and portraying it as the height of what a woman can accomplish, you're sending a very bad message about the role of women in the world. I know that this is the internet in 2013, and any time you talk about sexism, racism, or any other "ism," you will immediately be set upon by a group of people who will accuse you of being part of the "P.C. police" and tell you to remove the stick from your ass, but I don't care. This episode of this show didn't just insult my intelligence as a TV viewer as they others have; it actually crossed over into making me uncomfortable with its message. Hopefully this is just a one-time occurrence and doesn't become a hallmark of the series.

And now, as promised at the outset of the report, here is my super-duper exclusive inside information, namely the . . .

TOP 10 STORYLINES FOR TOTAL DIVAS: SEASON 1, PART 2

10. Darren Young debuts a new character based on the web series "Disappointing Gay Best Friend."



9. Newlyweds Nattie and TJ get an unexpected roommate when "Crazy Uncle Bret" moves in. An unseen studio audience cheers loudly every time he flushes the toilet.

8. Brie Bella gets angry at Bryan Danielson for leaving his pubic hair in the shower drain, but it turns out to be parts of his beard.

7. AJ Lee attempts to raise an army to combat the non-wrestler models that comprise the Total Divas cast but realizes her only options for recruits are Aksana and Alicia Fox, causing her to give up on the plan quickly.

6. The divas are forced to compete in a cross-country auto race for some reason. Concept art of Nattie's car and racing outfit is below:




5. Sara Del Rey shows up wearing glasses and a ponytail. The divas take the "ugly" Del Rey and make her over into a bombshell by removing the glasses and letting her hair down, just in time for WWE's version of prom.

4. Playing off the success of the "Ariane test drives breast implants" episode, Curt Hawkins lives as a woman while contemplating a sex change operation to get a regular role on the show.

3. By sticking the tip of his thumb through his index and middle fingers, John Cena convinces Nikki Bella that he has stolen her nose and manages to keep the charade up for a week.

2. After Jane Geddes and Trinity have an argument, Stephanie McMahon forces them to trade jobs for a week to better understand each other.

1. Two words: Girl, bi.

I hope that you're looking forward to the second half of the season as much as I am. That is to say: Not at all.

Do you like Ryan's exasperated ranting about Total Divas? If so, check out his exasperated ranting about numerous other wrestling-related topics on Twitter.

comments powered by