SPOTLIGHTS
411's WWE Main Event Report 09.11.13
Posted by Michael Benjamin on 09.11.2013

Antonio Cesaro battled Kofi Kingston, The Prime Time Players took on 3MB and more! Check out 411's full WWE Main Event Report for all of the details!

Michael Benjamin here with your favorite Main Event report on the internet! Let's do it.

SHOW... ON!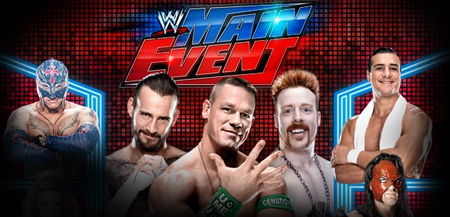 WWE Championship Roll Call:
WWE Champion: Randy Orlom
World Champion: Alberto Del Rio
IC Champion: Curtis Axel
US Champion: Dean Ambrose
Unified Diva's Champion: AJ Lee
WWE World Tag Team Champions: Seth Rollins and Roman Reigns



WWE MAIN EVENT 9.11.13



- The Miz and Josh Mathews are on commentary.



Kofi Kingston vs. Antonio Cesaro

Cesaro never disappoints on Main Event. This should be good. Cesaro attacks right out of the gate with a clothesline, some stomps, and a quick headlock. Kofi leap frogs a few times and delivers a nice dropkick. Cesaro is right back into things though. He sets Kofi on the apron and back body drops him back into the ring. Cesaro powers Kingston into the corner and connects with a flurry of stomps. We. The. PEOPLEEEEE. He whips Kofi into the other corner. Instead of Kofi floating over, he latches on and delivers an awesome looking huricanrana! Good shit! They find themselves on the outside and Cesaro whips him into the steps. Kofi jumps over the steps and hits a running senton over the steps! That was great. Back in the ring, Cesaro hits a few gut wrench slams and covers with the lateral press for two. He methodically picks Kofi apart with strikes. Cesaro sends Kofi to the floor before we head to break.



-Commercial Break-



Cesaro remains in control as we return from break. Kofi escapes a headlock and fights back with a bevy of forearms and dropkicks. Kofi gets a roll up for two! Crossbody for two! Cesaro hits a tremendous uppercut and goes for the cover. Kofi BARELY kicks out. Cesaro lifts Kingston up for a huge powerslam but Kofi escapes and delivers an SOS! KICKOUT! Holy shit. Cesaro grabs Kofi by the feet and spins him around FOR THIRTY SIX SECONDS. That was such a huge pop. Turn this guy face and make him a killing machine. Cesaro goes for the Neutralizer. Kofi escapes and covers him. Cesaro BRIDGES OUT AT TWO! Kofi delivers Trouble in Paradise and it's over.

This match was filled with innovation and nonstop action. They used a bunch of reversals that you may not have seen before as well. No resting for these guys. GREAT stuff that I recommend you hunt down.

OFFICIAL RESULT Kofi Kingston @ 11:36 via pin
RATING: ***1/2



-Commercial Break-



- Recap of the Axel/Punk/Heyman rivalry



-Commercial Break-





Prime Time Players vs. 3MB (w/ Drew McIntyre) (w/

Tensai and Brodus are on commentary. Mahal and Titus start things off. Titus tosses Mahal around. He tags out and Slater gets tossed around. Mahal is back in and Titus delivers the boots. In comes Young. Slater manages to get in some offense before Young takes control. Young is far more entertaining as a face. They're doing a good job selling the tag team gauntlet at Night of Champions on commentary. Mathews is doing a great job of asking about the psychology involved with a match like that.



-Commercial Break-



We're back! O'Neil is manhandling Mahal like crazy as we return from break. Young comes in and takes it to Mahal with some clotheslines and a very nice suplex. I'm hoping the PTPs are the last team against The Shield on Sunday. Slater is in and they use some cheap tactics to get in control. Slater begins the beat down. In comes Mahal with some methodical picking apart of Young. 3MB actually delivers a pretty nice serious heat segment. Tons of Funk calls Miz out on being a douchey face on commentary. Miz starts going on about himself and Brodus actually has to refocus him. Young makes the hot tag and O'Neil hits a nice fall away slam on Mahal. He hits a big boot but Slater breaks it up! O'Neil sends Slater to the outside and Mahal rolls him up! TWO! Titus hits a sit out powerbomb on Mahal for the win!

The Prime Time Players are GREAT at playing faces. They're improving in the ring by leaps and bounds as well. I wouldn't have been down for a ten minute PTP match last year, but this kept me entertained throughout. Good tag formula was utilized and the match did it's job in promoting tag team turmoil at Night of Champions. Good stuff.

OFFICIAL RESULT: Prime Time Players @ 10:01 aired via pinfall
RATING: **1/2



-Commercial Break-



- They air a Daniel Bryan and Randy Orton video package



R Truth vs. Big E Langston

The announcers are putting over how Big E has no more baggage in WWE. His face turn could be HUGE when they pull the trigger. Especially on the 5 gimmick. Big E takes R-Truth down with a shoulder block after some failed offense by Truth. Truth delivers a dropkick and a dive over the top rope to take the big man down. Big E eats an elbow to the face. Truth goes upstairs and Big E catches him. Three Big E back breakers proceed. E hits a huge splash and R kicks out. It's R vs. E folks. Recapping at it's easiest. Big E locks in an abdominal stretch and clubs at the rib cage. Truth escapes but eats a belly to belly suplex for two. Big E doesn't have a drip of sweat on him and is smiling. Truth fights back with a bevy of kicks and punches. Truth hits a dropkick to the knee of Big E, chopping the big man down. That gets two. E dodges the ax kick and delivers a clothesline. STRAPS DOWN. BIG ENDING. BIG POP. Three.

This was a great showcase for Langston and Truth was a great opponent for this exhibition. Good stuff.

OFFICIAL RESULT: Big E Langston @ 5:07 via pinfall
RATING: *3/4

OVERALL: This was a much better show than last week. Cesaro/Kingston was an amazing match to kick things off. The tag team match not only delivered beyond my expectations, but also did a great job selling the tag team turmoil match at Night of champions. Finally, Big E Langston looked like a beast in his match with Truth to close out the show. I'm excited to see where his push lands him. Recommendation to watch!
comments powered by