SPOTLIGHTS
Tremendous Tirades 9.14.13: Ring of Honor TV
Posted by Larry Csonka on 09.14.2013

The hunt for the gold continues with three more title matches…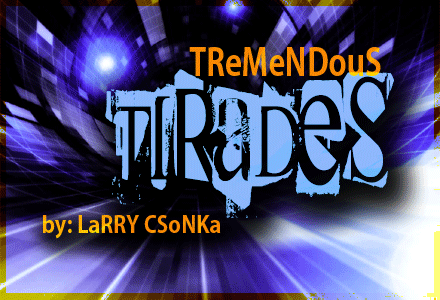 Introduction
As a reminder, this will not be another traditional recap, but instead it will be a mash up of the Rs, Instant Analysis and my usual Twitter ramblings I would do during the shows; completely uncensored and as the ideas flow unfiltered to the old keyboard. As always, I encourage discussion and even disagreement, just do so in a respectful manner. I will be doing the review for Raw and most PPVs and iPPVs going forward.

---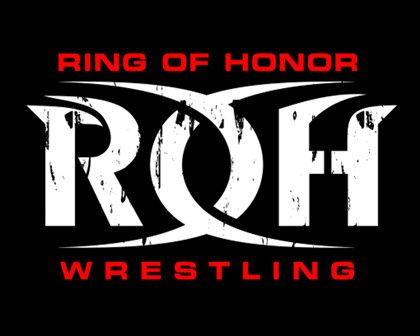 ~ROH TV~
~9.14.13~
~EPISODE 104~
~The hunt for the gold continues…~
Matches were taped at the All Star Extravaganza V event in Toronto.


The show opened with the video of Whitmer's injury, which was shown last week. Nigel narrated the video, and explained Whitmer was seriously hurt, but that Bennett would move on in the tournament.


By the way, can we get Nigel and Kelly some headsets with the microphones attached? They look like complete tools sitting there with the regular microphone in their hands.

ROH World title Tournament Match: Matt Taven w/Truth Martini and the Hoopla Hotties vs. Roderick Strong: While Taven is current the ROH TV Champion, the match was a non-title match. Scarlet had to sit with Nigel because she didn't have a manager's license, but I could have done without her screaming the entire match, which ended up being a huge distraction as she was right by the commentary mics. We had the usual shenanigans from Truth, which caught up to him this time, but did not have an instant impact on the match. Without the bullshit, the match picked up, and ended up an enjoyable one. Taven got to shine a bit before falling to Strong, which was for the best. Strong won at around 13-minutes. In instances like this, I would normally want the TV Champion to win his first round match and gain some more credibility, especially over a former world champion. Unfortunately, this time it wasn't deserved. Taven has struggled a bit, and hasn't exactly had break out performances. Also, the gimmick is a fine mid-card act, but it isn't something you push. Strong winning made better sense as they pushed him well as the former world champion and top contender to win the title. This started slowly, but picked up nicely by the end. This was an overall mixed bag, but ended up being good.

Rating (1-10): 7.0



ROH World title Tournament Match: Brian Kendrick vs. Kevin Steen: I really liked how they built the tournament field, with Karl Anderson, London and Kendrick being brought in to compete. London is essentially an ROH legend, Anderson has big international hype now, and Kendrick (back when he was called Spanky) was part of the four way match (Ironman Challenge: Low Ki vs. Spanky vs. Doug Williams vs. Christopher Daniels) at Crowning a Champion over 11 years ago. I think when you can use the positive parts of the company's history you should. Don't do shit that will annoy people; I mean, no one wants Xavier back. This came across as solid, but unspectacular. Steen won via submission in around 10-minutes, but the match never got to that next level. It felt as if they were working a mid-card, throw away, TV match and not a title tournament bout. I liked Kendrick's work, where he was trying to play the smart veteran, yet willing to do anything he had to like the low blow in the end. But also the no sell of the low blow, and essentially rolling right to the finish was just lackadaisical. I expected more.

Rating (1-10): 6.75



Highlights of how Cole and Lethal made it to this point in the tournament.

ROH World title Tournament Match: Adam Cole vs. Jay Lethal: I really liked this one, as it had the feel of a main event match. They had the slower, more deliberate beginning as both guts worked some great counter wrestling. I really enjoyed how they set the stage and then moved into the next portion of the match where they hit the next gear. As things picked up, and they got the crowd more into it, they again played the counter game but that changed from basic wrestling to their trademark stuff. Cole scored the win at about 13-minutes with a superkick into the Florida Keys. Cole continues to evolve as a character, and has been delivering in the ring. Lethal had another good match here, and along with Mark Briscoe is another good name to add to Cole's hit list as he looks for the title. While not an all time classic, it was the best thing on the show and a worthy TV main event.

Rating (1-10): 8.0






The Tirade


While I felt that the match quality was a big of a downgrade from last week, this was another good show from ROH. Once again, this was a focused show and needs to be because they have everything invested into the title tournament right now. But that also gives these shows a must see feel that I do not think that they had for some time. Again, a good show (and also importantly an easy hour to watch) as we continue to build towards the crowning of a new ROH World Champion.

Show Rating: 7.5

As a reminder, I will be going by the 411 scale…

0 - 0.9: Torture
1 - 1.9: Extremely Horrendous
2 - 2.9: Very Bad
3 - 3.9: Bad
4 - 4.9: Poor
5 - 5.9: Not So Good
6 - 6.9: Average
7 - 7.9: Good
8 - 8.9:Very Good
9 - 9.9: Amazing
10: Virtually Perfect

The final rating is not simply an average of the rated segments above. The rating takes them into account as well as the segments that are small but not scored, the flow of the show, the overall booking, build to PPV, crowd reactions, and so on and so forth.




---
Have you checked out the Csonka Podcasting Network? If you haven't, you should We run anywhere from 15-20 shows a month, discussing pro wrestling, the world of MMA, the NBA, general sports, popular TV series of the past, bad movies, battle rap, interviews, MMA & Wrestling conference calls and more! Around 10 different personalities take part in the various shows, which all have a different feel; so you'll likely find something you like. All of the broadcasts are free, so go ahead and give a show a try and share the link with your friends on the Twitter Machine and other social media outlets! Running since May of 2011, there are currently over 350 shows in the archive for you to listen to.



Larry Csonka is a Pisces and enjoys rolling at jiu jitsu class with Hotty McBrownbelt, cooking, long walks on the beach, Slingo and the occasional trip to Jack in the Box. He is married to a soulless ginger and has two beautiful daughters who are thankfully not soulless gingers; and is legally allowed to marry people in 35 states. He has been a wrestling fan since 1982 and has been writing for 411 since May 24th, 2004; contributing over 3,000 columns, TV reports and video reviews to the site.



Your heart is free. Have the courage to follow it…TO CSONKA'S TWITTER!

http://www.twitter.com/411wrestling
http://www.twitter.com/411moviestv
http://www.twitter.com/411music
http://www.twitter.com/411games
http://www.twitter.com/411mma
comments powered by