SPOTLIGHTS
411's WWE Smackdown Report 9.13.13
Posted by Michael Benjamin on 09.13.2013

Dolph Ziggler battled Dean Ambrose, Daniel Bryan and Randy Orton were guests on The Cutting Edge, Alberto Del Rio wrestled Ricardo Rodriguez and more! Check out 411's full WWE Smackdown report for all of the details!

It's Michael Benjamin here with another Smackdown report for you lovely lot! In case you haven't heard, Cesaro and Kingston had a really good match on Main Event this week. If you're on the lookout for some good current product, that's a great place to start.

Also, anybody going to Night of Champions? Shoot me a comment or an email if you plan on being there. We can meet up and have a beer, shoot the shit, and exchange handys in the restroom.

SHOW... ON!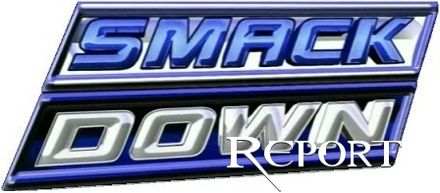 Championship Roll Call:
WWE Champion: Randy Orton
World Champion: Alberto Del Rio
US Champion: Dean Ambrose
IC Champion: Curtis Axel
Diva's Champion: AJ Lee
WWE World Tag Team Champions: Seth Rollins and Roman Reigns

---


- Cole and JBL join us on commentary

- Damien Sandow and Cody Rhodes will be guests on The Cutting Edge later tonight..



WWE Smackdown Report 9.13.13



- Big Show heads down to the ring and has a prepared statement in hand. He begrudgingly reads it and apologizes to Triple H for his actions on Monday. He apologizes to the roster for not being a locker room leader. Most of all, he apologizes to the WWE Universe for letting them down.

- Triple H interrupts sporting a classic shit eating grin. He welcomes us to the show and thanks Big Show for the apology. Triple H isn't picking on Show. He wants him to think like a business man and be professional. If Show doesn't do what Triple H tells him to do, he'll be liable for termination. Big Show freaks out about the potential of being fired. Instead of firing him though, Triple H gives him the night off with no pay. Big Show is about to kick rocks but The Shield's music hits!

- The Shield surround the ring and Big Show hesitantly stands his ground. The Shield get into the ring and maul him. Big Show fights back after a moment and tosses them to the ground. HUGE pop for that. Ambrose dropkicks Big Show to the outside. Show jumps on the announce table in a weak attempt to find higher ground. Reigns hits him in the leg with a chair! Big Show punches the chair into Reigns and tosses the other two on to the mat. He jumps off the table AND SPEARS ROMAN REIGNS! That convoluted setup was worth it for that. Back in the ring, Big Show goes for a double chokeslam. Rollins tries to break it up with a jump from the top but Rollins eats a chop across the chest. Big Show is about to give him the KO punch but Reigns is back with the chair. I must say, Reigns did a great job with the chair. Usually the lack of head shots is blatant, but that was a good old fashioned beating. TRIPLE POWERBOMB. Big Show is laid out and he doesn't even have the monies to show for it. Great opening segment.



-Commercial Break-



- AJ skips down to the announce booth to do color during the next match. The competitors are already in the ring. That's the divas division in an ironic little nutshell.



Brie Bella, Natalya and Naomi vs. Aksana, Alicia Fox and Aksana.

Aksana starts with Brie. There's a quick tag. Things break down within 45 seconds. Naomi ends up in there with Alicia Fox. She hits the Rear End for two. AJ's on commentary talking about how she's going to save the Divas division. A couple ranas in the ring. Natalya ends up in the ring with Naomi. She goes for the Sharpshooter and AJ hits the ring for the DQ. This was quite the clusterfuck. AJ on commentary was the only redeeming part of the segment for me.

OFFICIAL RESULT: Natalya, Naomi. Brie @ 2:04 via DQ
RATING: N/R

- The face divas take turn delivering some moves to AJ after the match. The heels pull her to the outside for the save.



-Commercial Break-



- Vickie Guerrero is in the ring. She says it's time for Dancing with the WWE Superstars. Right before the break they teased this as a major announcement. R-Truth and Fandango are the participants. Miz interrupts in a wig and calls himself Mizco Inferno. Since he's out there, he's going to compete. We're about to get this thing started until Khali's music hits. Khali grabs the mic and says "Vickie, I want to dance." This is the show they want to add an extra hour to. Truth dances. It's whatever. Same stuff he always does. Fandango does his thing up next. The Miz is up next and he twerks. Really. This is the type of segment that would make me redder than a beet if a non-fan walked in during it. Khali does his shit. The winner is the wrestler with the biggest pop. Miz wins with a deafening canned pop. Fandango gets mad. The faces toss him and dance together.



-Commercial Break-



- OLE. OLE. OLE. Los Matadores video.

- Ryback is the newest interview colleague. "WWE superstar Ryback here!" His cheesy smile was golden there. We join him backstage. He says that he's multi-talented. Most of us aren't aware of his linguistic skills or the fact that he's a concert pianist. He interviews a jobber named Robert Evans. Hometown pop. Ryback assumes that every time this guy looks in the mirror, he sees himself on the grand stage that is Wrestlemania. Ryback says that it's great that Robert has dreams. Everybody at home has dreams. *another cheesy smile* Ryback's dream is to smack him like a bitch though. He bullies him a bit before regaining his composure and throwing it back to Cole and JBL. Ryback was awesome here. Sign me up for more this.

- Vickie Guerrero summons Ricardo to her office. She says that he's banned from ringside during RVD's match at Night of Champions. They argue in Spanish. Vickie lets him have his way under the condition that he wrestles Alberto Del Rio tonight.

- Here comes Sandow. He's in action up next.



-Commercial Break-



- We join him in the middle of a promo berating the audience. He goes on to deliver the same promo he's been doing for months.



Damien Sandow vs. Santino Marella

Huge chant for Santino as they lock up. He goes for the Cobra early to no avail. Sandow takes him down with a headbutt and drops some knees to the sternum. He gets a two count and goes back to the the knees. Elbow of Disdain? Elbow of Disdain. Santino kicks out. Sandow locks in the abdominal stretch. Santino escapes! Hip tosses and headbutts shortly follow. He takes too long setting up the Cobra. Sandow attacks. He whips Santino into the corner and charges. Santino sidesteps him though and Sandow goes shoulder first into the ring post. Cobra. Santino wins. I could go on quite the tangent right now but I'll just leave it at this: Why?

OFFICIAL RESULT: Santino Marella @ 2:01 via pinfall
RATING: N/A

- Heyman and Axel are headed to the ring for their interview with Michael Cole.



-Commercial Break-



- Michael Cole hypes their handicap match with Punk on Sunday before introducing them. So, the title on the line telegraphs the finish at NoC, right? Cole shoots us to a video recap of Punk and Heyman's tumultuous relationship.Cole says that Punk's guaranteed he'll get his hands on Heyman. Heyman looks like such a mess. Awesome attention to detail on his end. Paul Heyman doesn't want war! He advocates peace. He wants to call off the match with Punk this Sunday. Heyman can't understand why the audience would want to buy the PPV on Sunday. They should be putting that cash in a child fund. Heyman says that he taught Punk everything he knows and that Punk will find a way to get his hands on Heyman no matter what. If we don't boycott this match at Night of Champions, CM Punk is going to hand him such a beating. Obvious reverse psychology is still entertaining as hell. Heyman raves about how bad Punk is going to slaughter him. If we don't boycott, this is going to be the last time we'll ever get to see Paul Heyman. He says that if this is the last time he sees us, he'll always love CM Punk. He'll never forgive each and every one of us though. Na Na Na Naaaa chant.



-Commercial Break-





Alberto Del Rio vs. Ricardo Rodriguez (w/ Rob Van Dam)

Alberto comes out of the gate with a kick to the gut. He gives Ricardo a good beating for a little bit. He's kicking and stomping all over the head of Ricardo. ADR taunts RVD with his own chant. No heat. Ricardo hits a clothesline and rolls him up for one. ADR gets up and kicks him in the face. He charges at Ricardo in the corner but Ricardo gets his feet up. TORNADO DDT BY RICARDO~! Twoooo. He goes upstairs for a moonsault but ADR crotches him and kicks RVD through the ropes. ADR hits a superplex for the win.

OFFICIAL RESULT: Alberto Del Rio @ 2:37 via pinfall
RATING: N/R

- We get a long video package covering the entire Bryan/Orton situation.

- Ziggler's on his way to the ring for Ambrose up next.



-Commercial Break-





Dean Ambrose vs. Dolph Ziggler

Back and forth to start. Ziggler wins a brawl the ref pulls him off. That gives Ambrose an opportunity to rake him in the eyes and bring the pace down a bit. He gets methodical and picks DZ apart. Ambrose whips Ziggler into the ropes but gets caught with a cross body. Ambrose rolls to the outside and manages to get Ziggler chasing him around the ring and into a boot on the inside. He hits a short armed clothesline and gets to work with a chin lock shortly thereafter. Ambrose talks some shit and Ziggler hits him with a suplex. Ten elbows by Ziggler! Ziggler charges at a cornered Ambrose but nobody's home. Break time.



-Commercial Break-



Ambrose is still in control. If Ziggler wins this match, he'll get a shot at the US title on Sunday. Ambrose lets go of a chinlock and delivers a few blows to the face followed by a scoop slam. He hopes up to the second rope and attempts to drop the fist. He stalls for like 20 seconds though and eats a boot to the face. Ziggler unloads on Ambrose in the corner until the crowd can't count with the pace. Ziggler covers him for two. He goes for the Fameasser and Ambrose moves. They exchange roll ups. Ziggler counters the sleeper and hits the Fameasser on the second try! In comes Rollins and Reigns. They attack Ziggler for the DQ.

OFFICIAL RESULT Dolph Ziggler @ 6:22 via DQ
RATING: **1/2

- The Usos randomly hit the ring for the save. Wouldn't crossing The Shield still be enough to piss off the COO that everybody is afraid of? Vickie steps on to the ramp and says that Ziggler earns his title match on Sunday by DQ and that this is going to be restarted as a six man tag after the break.



-Commercial Break-





The Usos and Dolph Ziggler vs. The Shield

Ziggler and Rollins are going at it. the exchange Irish whips and Ziggler comes out on top with a back body drop. Here comes that pesky numbers game that The Shield is so good at though. Quick tags by all three men. Reigns really puts a beating on him. Ziggler ends up Ambrose. He almost fights back but ends up getting a knee to the abdomen. Rollins is in now. He drops a knee for two. The heels quick tag and attack for a little while longer until Ambrose and Ziggler begin going back at it. Ambrose starts talking shit, so naturally there's a transition. Jimmy Uso tags in. HUGE SAMOAN DROP ON ROLLINS! Things break down and Ziggler darts for Ambrose. In the ring, Rollins rolls up Jimmy for two! Reigns spears Jey! Jimmy superkicks Reigns! He attempts to splash Rollins but Rollins gets his knees up and manages to grab the win! Very good stuff. The crowd was biting for everything they were doing once they hit the home stretch. Booking 101 suggests that there's gonna be a few new champions after Night of Champions is all said and done. Time will tell.

OFFICIAL RESULT The Shield @ 7:57 via pinfall
RATING: **1/2



-Commercial Break-



- Here comes Edge! He glosses over the Triple H character a bit to start. The crowd chants GOOD FOR BUSINESS *clap clap, clapclapclap.* Edge isn't going to forget anything that Triple H has done to him, or what The Shield did to Christian. Edge wants to skip all of that though. He wants to ask the hard hitting questions. Edge asks the first question to Randy. "How does it feel to be a sellout?" Orton doesn't think that sounds like a hard question. It's an attempt at an insult due to jealousy. Orton gloats about being 10 time champ. Edge says that it doesn't matter, but he IS an 11 time champion for the record. Orton says that he's not a sellout. He did what everybody else would have done. He took an opportunity that presented itself. Orton says D-Bry is good for business, but Orton is BEST for business. Good little line there. Orton's already planting seeds for the Cena feud down the line. Edge asks Daniel Bryan if he thinks he's best for business. Daniel Bryan says that he doesn't care. Orton gets pissed at that answer and says he'll never be champion. D-Bry tells him to shut up. Daniel Bryan is sick of hearing about Orton being the face of the WWE and what's best for business. The most important things in D-Bry's life aren't what's best for business. He has love, passion, and satisfaction. That's his dream and it's on nobody's balance sheet. He never dreamed of being the face of a company. He dreamed of being world champion. On Sunday, his dreams will come true. Orton tries to attack Bryan and D-Bry locks in the yes lock . It takes an army of refs to pull him off Orton as we fade to black.

OVERALL: This was such an inconsistent show. Every segment involving The Shield was gold. They were all over the show and they delivered. Heyman was good as usual and Ryback kind of surprised me with his humor tonight. At the same time, we had Santino going over Sandow in two minutes, Miz twerking in a dance off and a handful of matches too short to even rate. The Cutting Edge was a decent little segment, if not a little underwhelming. I can't recommend making it a point to catch any of this.



411 ON TWITTER~!
Follow me! Follow me!
http://www.twitter.com/411wrestling
http://www.twitter.com/411wrestling
http://www.twitter.com/411moviestv
http://www.twitter.com/411music
http://www.twitter.com/411games
http://www.twitter.com/411mma
comments powered by