SPOTLIGHTS
Tremendous Tirades 9.15.13: WWE Night of Champions
Posted by Larry Csonka on 09.15.2013

Daniel Bryan does it again…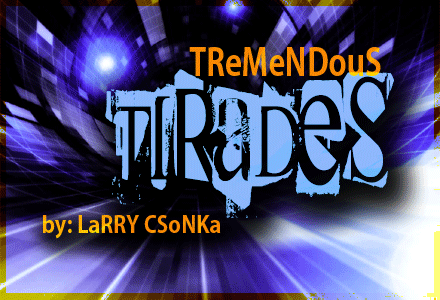 Introduction
As a reminder, this will not be another traditional recap, but instead it will be a mash up of the Rs, Instant Analysis and my usual Twitter ramblings I would do during the shows; completely uncensored and as the ideas flow unfiltered to the old keyboard. Remember, this is a review; and I am here to review the show. As always, I encourage discussion and even disagreement, just do so in a respectful manner. I will be doing the review for Raw and most PPVs and iPPVs going forward.
---
WWE NIGHT OF CHAMPIONS 2013
TALKY TIME!

Hey, nothing like starting off a PPV like we do Raw every week.: Nothing makes me feel like I am wasting my money more that starting off a PPV like we do Raw every week. That's right, we have Triple H in the ring, rambling on and on and on. Blah, blah, blah, best for business, blah. He promised that the main event will have no interference from anyone, not the Shield, not the Big Show; nobody will be involved other Orton and Bryan one on one.

Heyman and Axel came out, Heyman complained about not being able to get in touch with the Hs. Of course this included Heyman kissing up to Triple H to get out of his match. Triple H got to play the cool heel guy here by making fun of Heyman, eliciting face pops and negating the work on TV over the last few weeks. Axel got lippy, which led to the Hs booking him in an IC Title match. In theory fine, because it is Night of Champions, but I also HATE when they add shit on the show, at the last minute, like this. But also this got a face reaction as Triple H screwed Heyman and his guy. Isn't he the evil corporation talking head now? But hwy, God forbid that they actually put some TV time and thought into that title, with that lack of TV time they have. I mean, how in the hell can they book anything with that miniscule seven hours (Raw, SD, SS, ME) of first run TV during the week. I also want to know, who in the hell asked for TWO Curtis Axel matches in one night?

The bottom line is that when I pay for a PPV, I want a PPV caliber event and I do not want a lot of talking in the ring. I do not want the show to start out and feel like the usual Monday Night Raw show. And that's exactly what they did here.

Segment Rating: 3.0


IC Title Match: Curtis Axel © vs. Kofi Kingston: Again, in theory, the match makes sense because Kofi has won some matches over Axel recently. But again, it would have been nice to book the actual match ahead of time somehow. The best thing about the match (not that it was bad) was Paul Heyman at ringside. Heyman adds so much when at ringside, and even without saying anything, sold so much emotion during the match with pure and simple reaction. Axel ending up winning (around 14-minutes), and even though there was relief in Heyman's expression when Axel locked up the win, you could also see there was still doubt as they headed into the Punk match. This was a good back and forth match, between two guys that are developing a nice chemistry in the ring, and was a good way to kick off the PPV wrestling wise.

Also, my apologies to Kofi for the poster joke.

Match Rating: **¾



Aksana, Layla and Alicia Fox refuse to work with AJ and bailed on her prior to her title match.


WWE Divas Title Match: AJ Lee © vs. Natalya vs. Brie Bella vs. Naomi: They of course did the big spot early on where the challengers all took turns beating down AJ, due to her actions as of late. Naomi totally overshot on a top rope cross body try, it was really bad. Natayla did the double sharp shooter spot on Naomi and Brie, which got a good crowd reaction. AJ retained the title at just under six-minutes with the black widow submission. There wasn't much to this, and what there was wasn't all that good due to a severe lack of flow. Moving on…




Match Rating: *



The pre-show guys, Riley, Matthews, Santino and Booker discuss the World Title Match.


World Title Match: Alberto Del Rio © vs. Rob Van Dam: I liked the idea of the match, because RVD has been performing well since his return, and also because you have to get as much out of him as possible. He is a novelty in that he is a fresh to WWE face, and the crowd will treat him as special for a certain amount of time. You simply have to take advantage of that, especially when holding a PPV in Michigan. The crowd was really into the match, more so than most Del Rio PPV matches, due to that. RVD won via DQ at around 13-minutes, RVD went for the frog splash, ate the knees and Del Rio got the arm bar out of that. He refused to release the hold when RVD got the ropes, and was DQd for kicking too much ass. RVD got revenge post match by going coast to coast and hitting the Van Terminator. This was a pretty good match with the hot hometown crowd that was deflated by the finish and was also a bit sloppy at times. Del Rio appeared to get rocked early, and with the trainer checking him afterwards, that could have been part of the sloppiness. As for the finish, I get that they wanted to keep RVD strong, but what abut the champion? Del Rio has been booked as a weak champion repeatedly, and could have used a win over RVD, who is hot right now. Plus I generally hate DQ or non-finishes on PPV unless they are done very well and there is a method to the madness. But that's just one man's opinion.

Match Rating: **¾



Curtis Axel acts like he's the shit because he actually won a match. Heyman then gave him a pep talk and reminded Axel not to leave him alone with Punk.


Orton meets with Triple H about the change to the main event. The Hs says he wants to make sure he made the right choice in Orton as the face of the company.


Fandango vs. The Miz: And now we get another thrown on the PPV match featuring Fandango vs. The Miz. I guess we couldn't find time to officially announce this due to having to hold a dance contest on Smackdown. And now I just realized that I paid for Fandango vs. The Miz, I feel so, so dirty. This was not good, not even that good by TV match standards. It was dull, boring, and had nothing to make you emotionally invest. And who could care about these guys when they have been playing musical grab ass since Summerslam? Seriously, commentary didn't seem to care, because apathy was running wild. The Miz, who won with the figure four after 7-minutes or so, continues to be a failure as a face, moving on again.

Match Rating: *½



Non-Title Elimination Handicap No DQ Match: CM Punk vs. Curtis Axel © and Paul Heyman: Of course the big angle here is Punk getting to beat the shit out of Heyman. They used Kendo sticks and chairs, with Punk getting a short segment to attack Heyman, but Axel stopped that with a low blow. Early highlight was Heyman doing the Brock Lesnar warm up hop on the floor. Punk and Axel were beating the piss out of each other at points, but due to the overall poor booking of Axel, the audience did not care about a large portion of it, even chanting boring at one point. Punk hit the GTS into the anaconda vice, and Axel was done. With the no DQ stipulation, Punk held the hold on for a long time to make sure Axel was out of commission. Heyman ran for his life, but was caught and the crowd was so happy when Punk caught him, again because that is what they wanted from this. Punk beat down Heyman, and then retrieved handcuff from his boots for more payback as Heyman begged him to stop, even yelling, "I'm tapping!". The crowd was begging Punk to use the table that had been left propped in the corner. Ryback then appeared and speared Punk through that table. He then laid Heyman on Punk, securing the victory for Team Heyman at about 16-minutes. Punk refused medical attention after the match, he was bleeding from his back due to a cut from the table spot. He also got Hunter's desired post match reaction. The crowd chanted for him as he sold his disappointment. The crowd hated Ryback making the save for Heyman, as Punk was screwed again, and this feud will continue, but in this case that is a good thing. Ryback needs something to do, Punk knows how to work with him, and we keep the Punk vs. Heyman feud alive.

Side note, some complained that Ryback waited too long to save Heyman. One part of that is drama and the build, the other part is that Ryback is a dick. Haven't you been watching WWE TV the last few months? Or maybe he got caught up in Breaking Bad and had to wait for a good place to pause the DVR.

As for the match, the Punk vs. Axel stuff was actually good, but the lack of reaction at times hurt it. But as a whole package, he sum is better than the individual parts. The crowd wanted to see Punk end Heyman, they got to see some of that, but then had it taken away. Hopefully they have the ability to keep it going on TV so that they still want to see it down the line. Trust in Heyman.

Match Rating: ***


United States Title Match: Dean Ambrose © vs. Dolph Ziggler: This match is starting at 9:59PM ET, and there are two matches left after this. If they get cut on time, that's another knock for having the useless Miz vs. Fandango match on the show. I felt that the match was solid, but unspectacular. Maybe it was because I expected more from them, maybe it was that it felt too short, or maybe it was because people didn't seem to care about it. Ambrose retained at just under 10-minutes with his headlock driver finish. It was fine, but I feel that Ziggler's shine has been muted in recent weeks, as has the Shield's. At one time both felt like I had to watch their segments, but as of late, the feeling that something fun and special is about to happen has been severely diminished for me.

Match Rating: **


WWE Tag Team Title Match: The Shield © (Reigns and Rollins) vs. The Prime Time Players (O'Neil and Young): Reigns and Rollins hit the ring to celebrate with Ambrose, which led right into the tag team title match. The Prime Time Players earned the title shot on the PPV pre-show, defeating the Real Americans in the final leg of the contenders gauntlet match. This was a match that needed some more time, as the heat never got built properly on Young. O'Neil did well off the hot tag and the crowd started to get into things then (including a good near fall off the Clash of the Titus), and we had a good finish. Unfortunately, this felt like the average match you'd see on any Monday's Raw. The Shield retains following a spear at 7-minutes. Good thing that we booked that Miz vs. Fandango match…

Match Rating: **


WWE Title Match: Randy Orton © vs. Daniel Bryan: Supposedly there will be no outside interference in this match. The show is feeling very rushed here, with the main event hitting the ring late and bell ringing at 10:33PM ET. That's really late for a match that you'd expect to get a lot of time. This match had what every other match lacked, and that was a feel of importance and a sense of urgency from the performers. Not every match can be the main event, but when it feels like going through the motions, it hurts the match. We had a ref bump, no shenanigans, a new ref appeared and we continued as Bryan applied the yes lock. Orton would get the ropes and the match continued. We had the return of the regular ref (Hmmmmmmmmmmmm), and Bryan hit the running knee and then after a fast count, he regained the title at just over 17-minutes. I am waiting for the decision to be overturned because they will say the referee was in no condition to perform. In a way it will be fitting tomorrow, because Dusty Rhodes is on Raw, and we're going to get a Dusty finish. As for the match, it was easily the best thing on the show. Great work from both guys, and as mentioned, it felt important and the crowd was into everything that they did. Not enough to save the show, but they delivered as expected.

Match Rating: ****


Bryan celebrated as the show welt off the air.


End scene.


Thanks for reading.




The Tirade


Overall this was not a good show. Until the main event, all this show felt like was a $45 edition of Raw. Nothing felt important on the under card (Punk and Heyman stuff is the one thing that was) and I had the feeling that the company was going through the motions. Tossing on the IC Title match, Triple H not secure in his heel role in the opening segment, the bullshit opening promo on PPV, a DQ finish in a World Title match and Miz vs. Fandango being added for no reason and taking time from matches that needed it. The show simply felt like a show they had to put on due to PPV commitments, so they just threw stuff out there in order to get that done. As an edition of Raw it would have been pretty good, as a PPV, it was a fail.

As for what to watch, the Punk-Heyman match and main event are all you need to see. Everything else is a pass, save your money kids.

Show Rating: 4.0

As a reminder, I will be going by the 411 scale…

0 - 0.9: Torture
1 - 1.9: Extremely Horrendous
2 - 2.9: Very Bad
3 - 3.9: Bad
4 - 4.9: Poor
5 - 5.9: Not So Good
6 - 6.9: Average
7 - 7.9: Good
8 - 8.9:Very Good
9 - 9.9: Amazing
10: Virtually Perfect

As a reminder, this is not a basic "how good was the show" number like a TV show, as I have always felt that a PPV is very different from a regular show. I have always judged PPV on how they built to a match, the match quality, crowd reactions to matches and angles, the overall booking, how the PPV leads into the future, PPV price and so on and so forth. I have added this in here for an explanation since so many have asked, and I have previously discussed it on podcasts. I understand that this may seem different, but that is how I grade. Obviously your criteria may be different.




---
Have you checked out the Csonka Podcasting Network? If you haven't, you should We run anywhere from 15-20 shows a month, discussing pro wrestling, the world of MMA, the NBA, general sports, popular TV series of the past, bad movies, battle rap, interviews, MMA & Wrestling conference calls and more! Around 10 different personalities take part in the various shows, which all have a different feel; so you'll likely find something you like. All of the broadcasts are free, so go ahead and give a show a try and share the link with your friends on the Twitter Machine and other social media outlets! Running since May of 2011, there are currently over 350 shows in the archive for you to listen to.





Larry Csonka is a Pisces and enjoys rolling at jiu jitsu class with Hotty McBrownbelt, cooking, long walks on the beach, Slingo and the occasional trip to Jack in the Box. He is married to a soulless ginger and has two beautiful daughters who are thankfully not soulless gingers; and is legally allowed to marry people in 35 states. He has been a wrestling fan since 1982 and has been writing for 411 since May 24th, 2004; contributing over 3,000 columns, TV reports and video reviews to the site.



Your heart is free. Have the courage to follow it…TO CSONKA'S TWITTER!

http://www.twitter.com/411wrestling
http://www.twitter.com/411moviestv
http://www.twitter.com/411music
http://www.twitter.com/411games
http://www.twitter.com/411mma
comments powered by