SPOTLIGHTS
411's Total Divas Report 09.15.13
Posted by Ryan Byers on 09.15.2013

John Cena takes his relationship with Nikki Bella to "the next level," Natalya and Tyson Kidd get married, and something gets funky up in Ariane as the first run of Total Divas episodes comes to an end.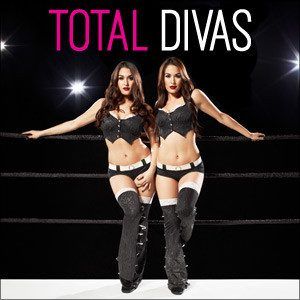 Do you like Ryan's exasperated ranting about Total Divas? If so, check out his exasperated ranting about numerous other wrestling-related topics on Twitter.

We're in Tampa, with Nattie, TJ, and Gismo. Nattie tries to put a tie on her cat and then applies a full nelson to him. Unsurprisingly, the kitty cannot break the Master Lock.

After the opening credits, Nattie is doing wedding prep with her sister Muffy (no, seriously, the sisters are Nattie and Muffy), when daddy Jim Neidhart and his wife show up. The Bride of the Anvil has brought her old wedding dress with her, and she claims that she wants Nattie to wear it for her upcoming nuptials to TJ. Of course, it looks godawful. I swear, the people who put this show together just get their plot ideas by watching 1960s sitcoms on TV Land. Nattie needs to find a way to tell her mother that she's not going to wear the dress - because she already picked one out some time ago - and the scene concludes before the issue is resolved . . . TENSION!

We go live to the opening ceremony for the WWE Performance Center, a.k.a. an excuse to get the facility back on national television and make the company look big league. The Total Divas talk to Talent Relations Jane at the center, and mentions that it might be time to bring up a couple of new girls from developmental in light of Nikki Bella's injury (which, keep in mind, caused her to miss absolutely no television time in the real world). Not surprisingly, this leads to some Bella jealous, better known as Bellousy. Jane also meets with Eva Marie and JoJo, telling them that they need spare valets for this coming episode of Monday Night Raw. This show is apparently not directed towards wrestling fans at all, because we're all pretty aware of the fact that there are virtually no episodes of Raw that just feature random, tacked on valets for no reason.

In the Nikki Bella/John Cena home, John Cena says that he has a problem. So he's stealing Simon Diamond's gimmick. Apparently the problem is his first family reunion for years, and he wants Nikki to be there with him. She doesn't understand why this is a problem. Apparently she didn't watch last week's episode and see what happened when Ariane met Vincent's family. Cena explains that his "problem" is that the wedding falls on the same day as Nattie's wedding. He also speculates he can probably miss the wedding and remain in Nattie's good graces because she's from a big family and would understand. Well, that, and somebody who is essentially a low card jobber probably shouldn't expect John Cena to be showing up at their wedding anyway (unless they're marrying a terminally ill child). Plus, when I think of the perfect example of family togetherness and unity, I don't really think of the Harts.

After a commercial break, the Bella twins are showing up at Raw, and Nikki (on crutches due to her injury) face plants. I hate to say it, but I laughed.

Talent Relations Jane's creepy underboss meets with the 'Dactyls, Nattie, and the rookies. They are informed of Nikki's injury, which apparently didn't come up in conversation with the Bellas despite the fact that these women apparently eat every goddamn meal ever together, and they are also told that Eva Marie will be seconding Nattie for her match this evening. Of course, JoJo is disappointed. The 'Dactyls try to console her.

Nikki and her crutches pull Nattie aside, and Nattie just can't stop talking about her wedding. Nikki drops the bomb-dot-com about not being able to attend the wedding, and our favorite Canadian looks rather disappointed. Why? Aren't these characters supposed to be mortal enemies?

The rookies meet, and Eva Marie tries to mend their strained relationship by offering JoJo some strawberries. Eva confronts JoJo about her jealousy, and Jo plays it off as though she has some sort of personal issue. That resolves nothing, and Eva Marie storms off.

After a commercial, Nattie and Brie have a conversation about Nikki not attending the wedding. Per her confessional interview, Nikki is now Nattie's "best friend." SINCE WHEN?! Brie, for the second time in the series, is portrayed as the wise, advice-dispensing diva, telling Nattie that what she should really focus on is the fact that she's getting married to the love of her life.

Eva Marie and Nattie pray together about Nattie's coming match. Eva's prayer includes a request to god that she not show off her underpants to the crowd during the match. I don't believe in an all-knowing supreme being but, if I did, I'd hope he would smite anybody petty enough to make such a frivolous request to him.

We get to see what I'm assuming is the majority of the Nattie match, in which Trinity is her opponent. Better hope that she doesn't get angry and shoot on her like what happened in that Trinity vs. Jon match earlier in the season. Nattie leads Eva around the ring by the hand as though she were a lost child, which I guess she is in some ways. Nattie eventually wins with the Sharpshooter and heads back to the locker room to be congratulated by the other divas. Despite the fact that she just had a match, Nattie's hair and makeup is still absolutely perfect. Curious.

Also, I don't know what show this match aired on or who was doing commentary for it, but he sounded like an announcer from a wrestling video game.

Cutting way, we get a completely random, gratuitous close-up shot of a male wrestler's ass.

Back at the hotel, Ariane calls Trinity to her hotel room and complains about abdominal pain so severe that she's laying in bed and crying. Trinity calls the ambulance and requests that the producers of the show turn the cameras off for a bit, a request that they completely ignore. That either proves that the show is a work or that the camera crew is comprised of Total Dicks. A few seconds after the call, trainers, EMTs, and referees are down. (Please, whatever you do, don't try this at home.)

Ariane is carted off in the meat wagon as we got to a commercial.

When we get back to the show, Ariane is sitting in the passenger seat of Trinity's car and is absolutely fine. She explains that there is a 90% chance she has endometriosis, but she needs to get back to her gynecologist for an official diagnosis.

At the NXT facility in Florida, Eva Marie confronts JoJo again. I don't know why she expected a different result than what she got before, but she actually gets one, as JoJo engages her in conversation and explains that, even though they may be friends, they've always been competing with each other. Well, yeah. Shouldn't anybody in professional wrestling be aware of that? This time, it's JoJo's turn to get angry and storm off. I think they decided somewhere in there that they're not going to be living together anymore.

We flash forward to the day of Nattie and TJ's wedding, and Nattie explains that they're going to be putting a tuxedo on their cat. He hides under a China hutch. I think the cat has become self-aware and realizes that it's on a crappy reality show. Trinity and Brie eventually show up, and Nattie explains that Single J Jaret will be attending the wedding (that's J-a-single r, e-single t). I don't know why they're her confidents on this day. Poor Belle Lovitz must feel so betrayed. That joke is what we call a 2%'er.

After a cut, Nattie is getting her hair did when she's approached by Nikki (not Bella) who manages the beach venue that the ceremony is being held at. She mentions that the wedding might have to be moved indoors due to an impending storm, and Nattie isn't happy. Do these people not know Florida? There are storms there all the time that last two or three minutes tops. You'll be fine.

Coming back from the commercial, the poor cat is in a tie. Nattie apologizes to her mother for not wearing her dress, and her mother says that it's fine. Okay, so much for that opening scene being of any importance whatsoever.

The rookies and Ariane shows up . . . WITH VINCENT IN TOW. Nattie refers to him as "an obstacle," which is the understatement of the century. The Rocky Mountains were a smaller obstacle to people on the Oregon Trail than Vincent is to anybody attempting to accomplish anything meaningful in life. In a cutaway, Ariane explains that she got back together with Vincent because he brought her a balloon and a basket of crap when he heard she was in the hospital. Well, at least she's got standards, even if they are remarkably low.

Nikki Bella and John Cena are at a restaurant with Cena's family. They have a good time, John Cena, Sr. gets his first WWE screen time in quite a while (time to increase that indy booking fee), and Cena's brother does his best Stewie Griffin impression. Literally nothing else happens.

Back at the wedding, Single J Jaret walks into a room filled with TJ, Jon Uso, Trinity, Nikki Bella, and Bryan Danielson. Where the hell is all of Nattie's family? If this were "real," wouldn't they be getting on camera every now and then, even if it were not intentional? For absolutely no reason, Jaret mentions to TJ that, the last time they were together, Nattie explained to him that she and TJ were having some problems and that he's been in touch with her ever since. You know, like a normal human being would do. TJ notes that this is behavior that would probably make Jaret pretty angry if the roles were reversed. Rather than punching out Jaret, TJ gets even more pissed off and charges into Nattie's room. She complains that he's broken with the tradition of the groom not seeing the bride before the ceremony, and he says it's because he's [expletive] angry.

TJ tells Nattie what he's heard from Jaret and asks if they should even bother getting married today. If you don't get married now, you've royally pissed off your cat for no reason. We cut away.

Damian Sandow, apparently an usher at the wedding (which is the greatest thing ever), uses his gimmick voice to tell everybody the wedding is about to begin.

We cut back to TJ and Nattie, and she explains that she told Jaret she loves only TJ and that nobody would ever replace him. They reconcile in about five seconds. You know, the producers of the show could have saved everybody a lot of time, effort, and consternation if they had only filmed and aired that part of the conversation between Nattie and Jaret instead of leaving her feelings towards him ambiguous.

So, the wedding occurs, and there's a great shot of Nattie grooming her father's beard seconds before he gives her away. Speaking of, the Anvil is NOT looking good or moving well. Also, Nattie carries Gismo down the aisle with her. Harry Smith, on loan from New Japan Pro Wrestling, ever so quickly gets a couple of seconds on camera over TJ's shoulder. Dean Malenko, also not looking that great, is also caught on camera as part of the crowd. And, just like that, the couple is married.

Damian Sandow also presides over the wedding reception, and we get footage of Nattie and TJ's first dance as a couple. All told, it's pretty sweet.

Nikki Bella calls her sister and asks to speak with Nattie in order to apologize again. In a confessional, Nikki says, "Am I like being so rude calling during her reception?" YES. Yes, you are. That's one of the more rude things you could do in this situation. Chances are good that, if you never called, Nattie would be so focused on her wedding that she'd have completely forgotten about you not being in attendance. Of course, because it's a reality show, so Nattie accepts the apology, and everything is water under the bridge.

We also see the bouquet toss, and Brie Bella gets it. Curiously, the only single women at the wedding appear to be Total Divas cast members and one other token chick in a red dress.

Nattie gives what is actually a fairly touching, well-delivered speech about the people who mean the most in your life. It would've been the perfect sentiment to end the show on, but . . .

John Cena and Nikki Bella have a dinner somewhere, and he says that he's tired of having a long distance relationship with her and wants her to move in with him. Given the size of his house, they could move in together and still technically be having a long distance relationship. She says yes, they kiss, and the show's over.

We get some preview clips for the second half of the season, the highlight of which is Ariane and Vincent apparently going to sexual counseling.

Overall: This was an odd episode. The main focus was obviously the wedding, and the wedding was a strange combination of some of the most legitimate emotion and some of the most contrived bullshit that we've ever seen on the show. On one hand, the love that Nattie and TJ have for one another is obviously legitimate, and it came through on television well. Watching television programs about people who are legitimately happy tend to result in the viewership being legitimately happy, and that was the case here. However, the real emotion was surrounded by some quite ludicrous stuff, most notably the fact that Nattie's entire day during the course of her wedding seemed to focus on her friends from this television show (some of whom she's literally only known for a few months) as opposed to her family members are people in the wrestling industry who she's worked with for close to a decade now.

The other big thing that kept hitting me throughout the episode was, again, just how poor a grasp the people who put the show together have on how to build and pay off a story. We spent an entire segment of the episode building up a storyline about potential conflict between Nattie and her mother, only to have it all blown off with one line half an hour later. We have some supposedly high drama with Ariane's medical issues, concluding with her being rushed off to the hospital, only to have her up, about, and seemingly fine as soon as we come back from commercial. Nattie and TJ's wedding is portrayed as potentially going off the rails in previews, but, when the story plays out, it comes off like TJ getting mad, confronting Nattie, and making up with her all in the span of about two minutes. All in all, it's like the show isn't put together to build strong storylines or characters that will hook viewers and get them tuning in week after week. It's like the show is put together for the sake of creating highly dramatic soundbytes that can be put into teasers for later episodes or later segments of the episode you're watching, only for the situations portrayed in those soundbytes not to be nearly as important or dramatic as they appeared to be in isolation. I suppose that's a good model to work with short-term but, after a while, people will figure out the gimmick and likely give up on the program, meaning the show is almost destined to not have a long shelf-life.

Of course, I'm not complaining about the possibility of this show going off the air quickly.

Speaking of, we are now DONE with Total Divas until mid-November, and I am a happy camper. Two whole months with no Nikki Bella sexual references, no hyper-fast editing, no staged lunches, and no worked talent meetings with Jane Geddes.

Goodbye, Total Divas!

Do you like Ryan's exasperated ranting about Total Divas? If so, check out his exasperated ranting about numerous other wrestling-related topics on Twitter.
comments powered by