SPOTLIGHTS
411's WWE Smackdown Report 9.20.13
Posted by Michael Benjamin on 09.20.2013

Daniel Bryan teamed up with the Usos to face The Shield, Alberto Del Rio battled R-Truth, Daniel Bryan's supporters were punished and more! Check out 411's full WWE Smackdown report for all of the details!

Michael Benjamin here with another Smackdown Report. I've heard people say this looked good on paper. I like to avoid spoilers to keep my interest piqued for the reports so I'm excited. Let's see what goes down.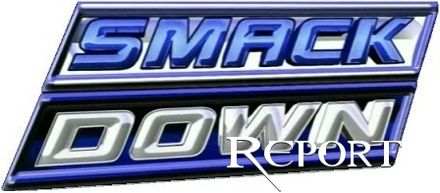 Championship Roll Call:
WWE Champion: Randy Orton
World Champion: Alberto Del Rio
US Champion: Dean Ambrose
IC Champion: Curtis Axel
Diva's Champion: AJ Lee
WWE World Tag Team Champions: Seth Rollins and Roman Reigns

---





WWE Smackdown Report 9.20.13



- Vickie Guerrero joins us in the ring to start off the show. I get that she's a heat machine, but I don't get all of the love for her around here. Her voice is grating and she always seems to struggle with the script written for her. She rips apart Daniel Bryan's two short title reigns before introducing him. He hits the ring and says he'd rather be champ for a day than a corporate sell out. Vickie gives him one more opportunity to come clean about him and Scott Armstrong's plan to cheat Orton out of his title at Night of Champions. D-Bry says that the ref could have counted to 20 and Orton wouldn't have kicked out because he was knocked out. Crowd is digging this. Vickie would have fired Daniel Bryan if she was in Triple H's shoes. Bryan makes fun of her lack of power. This leads to Vickie using the power she does have to book a 11v3 (or 3 v 1 x11?) gauntlet match. It's all of the wrestlers who helped Daniel Bryan out at the end of Raw. RVD gets the biggest pop as she goes through the names. She gives an evil laugh as she says that she's saving Daniel Bryan for last. What a bitch! She's going to make him wrestle The Shield after they've gone through ten other matches?



-Commercial Break-





AJ Lee vs. Naomi

Natalya is on commentary. Woof. Before the match starts, AJ says that she's going through all of the Total Divas one by one in a pretape. AJ gets right in control to start things off. Natalya is so emotionless, monotone and downright boring on commentary. Naomi fights out of a headlock with a jawbreaker. AJ doesn't let it phase her too much and talks shit to Naomi. That ends with AJ eating a kick to the face which is followed by a couple other dropkicks. Naomi hits an atomic drop and the Rear View. TWO. Natalya is pretty much burying everybody on her team on accident. AJ makes it to her feet and locks in a headlock. Naomi backs her into a corner and goes to work. AJ is on her shoulders about to be hit with a back breaker. She spins herself into position to lock in the Black Widow for the win. Crisp and inoffensive outing from the divas this week.

OFFICIAL RESULT: AJ Lee @ 3:20 via submission
RATING: *



-Commercial Break-



- It's Colter time. He's not down with that immigrant Santino Marella. Colter is wondering how he made it into the country. Did he sneak or swim across? Are his papers legit? The Real Americans are the only ones with the guts to ask these types of questions. Rise to your feet, bitches. WE. THE. PEOPLE.



Jack Swagger (w/ Antonio Cesaro and Zeb Colter) vs. Santino Marella

I hate Santino's booking. It's great when he wins the big fluke. Going over pointless up and coming midcarders every week isn't helping anybody involved. They circle to start and Swagger powers him around. Short arm clothesline from Swagger after a little shit talking. Swagger clubs away at his back with some forearms and Santino tries to fight back to no avail. Santino cartwheels his way out of an Irish whip and rolls Swagger up for three. Fuck. That. Shit.

OFFICIAL RESULT: Santino Marella @ 2:27 via pinfall
RATING: N/A

- Heyman. Ryback, and Curtis Axel are on their way to the ring.



-Commercial Break-



- Heyman proclaims himself the best in the world before the match. Heyman does want to give credit to Punk. He gave Heyman all that he could handle. When two men engage in combat, only one man can emerge victorious. On Sunday that man was Paul Heyman. He couldn't have done it without his hero, Ryback, however. Ryback grabs the mic. If there's one thing he can't stand, it's a bully. Paul told Ryback earlier in the day that Nick Nardone refused to sign a kids autograph and intimidated him in the parking lot. What he does to Nardone is what he's going to do to Punk next time he sees him.



Ryback vs. Nick Nardone

Ryback kicks him in the gut, apologizes and helps him up. Then he pushes him into the corner and chokes him. Nardone hits the ropes but eats a clothesline. Shellshock. Over. This was a squash.

OFFICIAL RESULT: Ryback @ 0.51 via pinfall
RATING: SQUASH

- Randy Orton is headed towards the ring.



-Commercial Break-



- Orton has a mic in hand and doesn't look very happy. He's mad at Bryan and Armstrong's plot to screw him out of the title. It was Randy's fault though. 100% his fault. He never should have been in that position. He locked away the sadistic side of the viper because he thought that's what everybody wanted. On Monday, Triple H and Stephanie allowed him to see who he really is though. He opened the door he closed two years ago and made an example out
of Miz in front of his family and friends.

- They replay the beat down and Pilmanization of Miz.

- Orton says that the footage aired should stand as a warning to anybody who thinks they'll get in his past. At Battleground, he's looking to annihilate. He wants to end the war with Bryan, not just win. He swears that he'll be HIS WWE Champion. The Shield theme hits and here they come through the crowd.



The Shield vs. Darren Young

He hits the ring and they gang up on him. Young his mauled. He's stomped and punched before Reigns hits a spear. Good night, Young.

OFFICIAL RESULT The Shield @ 0:44 via pinfall
RATING: SQUASH



The Shield vs. Titus O'Neil

Titus fights them all off for a brief moment until Reigns gets him with a shoulder tackle. Triple Powerbomb. Over.

OFFICIAL RESULT The Shield @ 1:08 via pinfall
RATING: SQUASH



The Shield vs. Dolph Ziggler

Ziggler hits the ring fast and manages to unload some corner punches on Reigns. Ambrose pulls him to the mat and the beat down commences. They take turns delivering punches to Ziggler. The crowd is hot for DZ. They're taking a bit more time picking him apart than the PTP. They taunt a laid out Dolph for a second and pick him up and knock him back down with a punch to the face. Ziggler gets a second wind and fights back. Punches! Clotheslines! Reigns charges and gets sent over the top! Fameasser on Rollins! Clothesline to Ambrose over the top! He gets on the apron and Ambrose holds his feet there. Rollins dropkicks him to the outside and Reigns spears him on the outside.

OFFICIAL RESULT The Shield @ 3:32 via count out
RATING: *1/4



The Shield vs. Kofi Kingston

Kingston cleans house to start with cross bodies and dropkicks! He hits the SOS on Rollins and Ambrose breaks it up at 2.9. The numbers game catches up with him and next thing you know, Ambrose hits the Bulldog Driver for the win.

OFFICIAL RESULT The Shield @ 1:32 via pinfall
RATING: N/R



The Shield vs. Rob Van Dam

Huge pop for RVD. He's cool, he has solid matches, and he has some unique moves but I don't get how he maintains the level of popularity he's given. They charge him to start and RVD fights him off. Reigns and Rollins to the outside. Monkey flip to Ambrose. Heel kick to Reigns to the outside. All three men are down! Rolling Thunder on Ambrose. RVD goes upstairs and Triple H's music hits. He storms to ringside and has the match called off. He asks Vickie what she's doing and tells her to come to his office.

OFFICIAL RESULT No Contest @ 1:32
RATING: N/A



-Commercial Break-



- We're back. Triple H is berating Vickie backstage. He says that right now it's only ten guys. Next thing you know, it'll be ten more. Then ten more. It'll be a full scale revolt. The wrestlers need to feel safe. They need real competition. He tells Vickie to go book The Shield vs. The Usos and Daniel Bryan.

- We get a Raw Rebound covering the Dusty/Stephanie segment.

- Triple H is still steamed in his office. Ryder and Gabriel walk in as invited by Triple H. He apologizes for Vickie. He says that two talented men like them don't deserve that match with The Shield. Ryder said that they still wanted competition though, bro. Triple H throws a bro right back at him and tells them to head to the ring to get what they want.



-Commercial Break-





Zack Ryder and Justin Gabriel vs. Luke Harper and Erick Rown (w/ Bray Wyatt)

Harper starts off with Ryder. Ryder gets some quick face offense. He misses a dive off the middle rope and eats a big boot from Harper. Gabriel and Harper both get involved. Harper tosses Gabriel to the outside while Harper powerbombs Ryder into the corner. He hits his huge clothesline for the victory. That was the first time I've seen his clothesline look that goodbesides NXT. Wyatt hits Sister Abigail after the match.

OFFICIAL RESULT The Wyatt Family @ 1:06 via pinfall
RATING: SQUASH

- Bray grabs a mic after the match and says that if they keep lining them up, they'll keep knocking them down. All for Abigail.



-Commercial Break-



- Triple H checks in on RVD in the trainers room. He apologizes on Vickie's behalf. He gives him a rematch against ADR at Battleground. He doesn't want anymore enemies. I like that he has to book non-traditional heel authority figure matches due to his situation. ADR hits the scene and ambushes RVD. He's gonna need more than an ambush here and there to get some heat on him.



R-Truth vs. Alberto Del Rio

Lots of matches tonight. JBL and Cole argue about the potential of ADR being in cahoots with Triple H. JBL vehemently disagrees with that sentiment obviously. Truth moves in fast to start with punches and a splash in the corner. Her hits a snap suplex for one. He hits the rope, misses an ax kick, and falls victim to the backstabber. ADR punches him in the back of the head and chokes him on the middle rope. Back Suplex by ADR gets two. ADR applies a rear chinlock to maintain control. Cole has been calling out Triple H so much on commentary that it'd be kind of cool if Triple H threatened him and made him stay silent on the subject. Truth comes back with a heel kick and an inverted facebuster. That nabs him two. ADR is back in things on the quick. He hits an enziguri in the corner for another two. SI. SI. SI. R-Truth escapes the cross arm breaker and delivers that ax kick of his for two. He lifts ADR up and goes for a suplex. Float over by ADR. A kick to the head is quickly followed by the cross arm breaker and that's it. ADR looked good here like he always does. I truly enjoy his in ring work more than 95% of the roster. Creative puts little to no effort into his booking though. That's why his reaction is subpar.

OFFICIAL RESULT Alberto Del Rio @ 3:36 via pinfall
RATING: *1/2



-Commercial Break-





The Usos and Daniel Bryan vs. The Shield

The Shield are the busiest men on the roster when it comes to the TV product. D-Bry and Rollins start off. Lock up. Bryan wins that one and corners him. YES KICKS followed by a knee to the abdomen. With Rollins down, D-Bry drops another knee. Bryan locks in the surfboard! This has been a staple of all D-Bry/Rollins matches in WWE. In comes Jey Uso. Rollins quickly fights back and tags in Ambrose. Back body drop by Jey. UUUU. SOOOOO. He locks in an ARMMM BARRRR on Ambrose. In comes Jimmy. Jimmy hits a splash on Ambrose. Snapmare and a running headbutt to a downed Ambrose by Jimmy. Jey is back in. They double team elbow drop Ambrose for two. Lots of offense for the faces thus far. Reigns manages to tag in and probably make my last sentence null and void. He stomps away at Jey and takes calculated punches to the face. Jey fights back and rolls him up. In comes D-Bry. YES KICKS. Reigns gets up and shoulder tackles Bryan to the mat. Ambrose is back in. He drops an elbow to the heart and tags in Rollins. Kicks and kicks and kicks from Rollins.



-Commercial Break-



Rollins has a headlock applied to Jey. Jey fights out and hits a spinning heel kick. In comes Jey. Clotheslines to Rollins. Samoan Drop! UUUUUU. SOOOOOOOO. UUUUUU. SOOOOOO. He knocks Ambrose off the apron and finds himself on the receiving end of an enziguri from Rollins. In comes Reigns. One sided brawling from Reigns for about 15 seconds. In comes Ambrose. He continues to the assault. They've found their face in peril. Ambrose locks in a headlock. The Shield proceed to pick apart Jey for awhile. Rollins comes in with a swanton from the apron for two. Reigns wants his turn and tears him apart. He delivers a huge clothesline that gets him a two count. The crowd is chanting for the Usos. Reigns has a headlock applied. He punches Jey in the head and lets go. Jey floats out of a back suplex. he knocks The Shield off the apron and punches Reigns down. He crawls to make the tag and Rollins intervenes. Rollins gets hit with an atomic drop though. He continues the crawl and in comes D-Bry. Damn D-Bry is the best hot tag in the fucking business. He mauls everybody. You know how it goes. He's in there with Ambrose after cleaning house. He delivers a top rope rana that nets him two. Jimmy flies over the top onto Reigns! Rollins swantons Jey and a little bit of Reigns too! Jimmy hits a split legged moonsault to the outside on all of that. D-Bry hits the running knee on Ambrose for the victory.

OFFICIAL RESULT The Usos and Daniel Bryan @ 14:07 aired via pinfall
RATING: ***1/2


OVERALL: This was quite the story driven episode of Smackdown. Triple H trying to keep the faces of the roster at bay by giving them what they want is a nice bit of business. He now has, from a booking perspective, the ability to book matches on either side of the disposition spectrum effectively. The main story has been evolving every week, and while I can't speak for anybody but myself, it has been making every show seem more important and newsworthy. Storylines should progress on every show and it's something they didn't bother doing for a long time. Triple H could keep things moving with nothing but the midcard for a show and it would still seem important due to the nature of the angle. The midcard matches were short but solid. Nothing offensive to be found about them and they all served their purpose. The divas match was better than usual in my opinion as well. That brings us to the main event that was well worked and given enough time to culminate naturally. Thumbs up for a highly entertaining episode of Smackdown.



411 ON TWITTER~!
Follow me! Follow me!
http://www.twitter.com/411wrestling
http://www.twitter.com/411wrestling
http://www.twitter.com/411moviestv
http://www.twitter.com/411music
http://www.twitter.com/411games
http://www.twitter.com/411mma
comments powered by