SPOTLIGHTS
411's WWE Main Event Report 09.25.13
Posted by Michael Benjamin on 09.25.2013

The Big Show wrestled Damien Sandow, the Usos battled Big E Langston and Fandango, Curtis Axel went up against Justin Gabriel and more! Check out 411's full WWE Main Event report for all of the details!

Michael Benjamin here with your favorite Main Event report on the internet! Let's do it.

SHOW... ON!

(This isn't going to be very detailed. My cable is going in and out over here. Fucking AT&T... I'm doing what I can. Apologies and whatnot in advance.)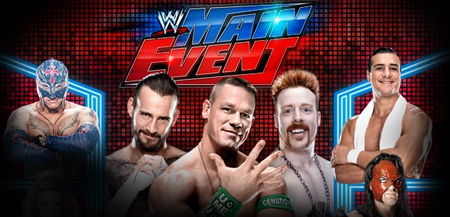 WWE Championship Roll Call:
WWE Champion: VACANT
World Champion: Alberto Del Rio
IC Champion: Curtis Axel
US Champion: Dean Ambrose
Unified Diva's Champion: AJ Lee
WWE World Tag Team Champions: Seth Rollins and Roman Reigns



WWE MAIN EVENT 9.25.13



- Alex Riley and Josh Mathews are on commentary.



Fandango and Big E Langston (w/ Summer Rae) vs. The Usos

Fandango starting things off with Jimmy. Big E and Fandango is a pretty interesting duo here. Fandango stalls for almost a full minute before the action begins. He gets his ass handed to him as soon as he decides to attack and tags in Langston. Langston with dem runnin' knees. He tags Fandango back in as the crowd chants for Summer Rae. Fandango gets taken down with a huge hip toss and sells it like a back body drop. Big E and Fandango are collaborating a scheme on the outside before getting dove on by the Usos before commercial break.



-Commercial Break-



Fandango and Jey exchange punches as we return from break. Fandango rolls to the outside for more stalling before tagging in Big E. He turns Jey inside fucking out with an impressive clothesline. He follows up with a running body splash. Fandango gets tagged in and locks in a side headlock. Big E and Fandango isolate the faces for a hot minute. Big E locks in the abdominal stretch! In comes Fandango with a nice snap suplex for two. He follows that up with some gritty kicks and punches. He goes upstairs for the leg drop but gets pushed off. Big E helps him up and rolls him in. He tags himself in and here comes Jey too! Jey leapfrogs a running Big E and takes care of business with a shoulder block and running ass to the face. Big E gets up and goes for the Big Ending. He eats a superkick and frog splash before getting pinned.

Solid wrestling here. They worked the tag formula and had enough time to get the crowd biting for the hot tag and closing sequence.

OFFICIAL RESULT The Usos @ 9:46 via pinfall
RATING: **1/2

-We get recap videos of Triple H ripping Miz apart in his interview with Cole and then Miz getting knocked out by Big Show.

- Big Show is in action next.



-Commercial Break-





Big Show vs. Damien Sandow

Creative: "Who should we put Big Show over tonight?" Vince: "Who's got that Money in the Bank briefcase again?" Stare down to start. More staring. Show shoves him and Sandow rolls to the outside and taunts like he's trying to get his special in a video game. He rolls back in at the one minute mark. Locks in a waist lock and Show obviously breaks out of that. CHOPS. Sandow stalls on the apron hiding behind the ref. He catches Show with a jab and goes at it. He goes upstairs and jumps off but gets punched in mid air. Big Show goes for a running elbow drop but misses. Sandow goes for Elbow of Disdain and connects. Kickout by Show. Sandow locks in a headlock and gets KO'd by Big Show. Over.

An elongated squash here. The only reason the match went over two minutes is because Sandow stalled for over half the match. It's not necessarily a bad thing. It's a good heat grabber. There wasn't very much going on for nearly four minutes though.

OFFICIAL RESULT: Big Show @ 3:41 aired via pinfall
RATING: 1/2*

- Big Show rips the MITB briefcase off of the chain on the ring post and lays it on an unconscious Sandow after the match.



-Commercial Break-



- They air a Raw Rebound of the Punk/Heyman/Axel/Ryback segment on Raw. Good stuff there.



-Commercial Break-





Curtis Axel (w/ Paul Heyman) vs. Justin Gabriel

They go back and forth to start with some "opening" moves. Axel hits a dropkick and locks in a headlock. Gabriel escapes and cartwheel evades away from a grapple attempt. He arm drags Axel and locks in a headlock. They exchange arm wringers and bland other methodical offense which leads the crowd to a CM Punk chant. Gabriel takes control and sends Axel to the outside to regroup with Heyman as we head to break.



-Commercial Break-



We're back with Axel in control. Headlock is applied. Gabriel escapes but Axel maintains control. He drops some elbows and stomps away at Gabriel. Gabriel tries getting back into things with kicks to the hamstring. Gabriel is making a comeback! He hits a springboard dropkick for two. My cable begins going in and out worse and I can see them going home with a few kick outs and big moves. Curtis Axel picks up the win at around the eight minute mark.

N/A.

OFFICIAL RESULT: Curtis Axel @ 9:07 via pinfall
RATING: N/A


OVERALL: The only part of the show my cable problems were effecting was the main event. I can say that it definitely didn't appear to be setting the world on fire. The rest was middling at best. Not a solid episode of Main Event this week. It's almost like they go every other week quality-wise at this point.
comments powered by