SPOTLIGHTS
411's WWE Smackdown Report 9.27.13
Posted by Michael Benjamin on 09.27.2013

Dolph Ziggler battled Dean Ambrose for the United States Championship, Randy Orton wrestled The Miz, The Prime Time Players faced the Real Americans and more! Check out 411's full Smackdown Report for all of the details!

It's Mike Benj here with another Smackdown Report. Lets hop right into the thick of things here.

SHOW... ON.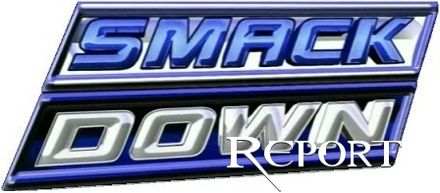 Championship Roll Call:
WWE Champion: VACANT
World Champion: Alberto Del Rio
US Champion: Dean Ambrose
IC Champion: Curtis Axel
Diva's Champion: AJ Lee
WWE World Tag Team Champions: Seth Rollins and Roman Reigns

---





WWE Smackdown Report 9.27.13



- Triple H makes his way down to the ring to kick things off. He welcomes us to Smackdown. He says that he's heard the criticism of his last month. It's ridiculous to him that the talent can't recognize their shortcomings and want to blame those in charge. Him in Steph are used to it though. Even when they do what's best for business, they still get negative feedback. He mentions the 11v3 handicap elimination match. They air footage of D-Bry getting the victory over Rollins.

- Miz interrupts "You think you've been fair and impartial?" Triple H says that Miz is a classic example of a superstar that's been given an opportunity, fails, and blames somebody else. A subtle jab for the smarts, but a kayfabe mention of Miz's opportunity against the face of the company, Randy Orton, two weeks ago. We see the assault by Orton before the match started. Triple H fails to see how that's his fault. He gave him the chance! Triple H puts over how he gave him a Miz TV segment on Monday. They cut to Stephanie telling Big Show to knock Miz out and Miz hitting the floor. Miz says that all Triple H did was give him a setup. Triple H is good cop and Steohanie is bad cop. Triple H says that Stephanie was justified. He does apologize on her behalf and says that she regrets it. Triple H gives Miz his opportunity against Randy Orton. At nearly two decades of being on WWE TV, I can say that I've never enjoyed Triple H on the mic as much as this run. They're tying everything together masterfully and the floundering faces are beginning to feel more important. Basically, it's doing what everybody said it wouldn't a month ago.



-Commercial Break-





Alberto Del Rio vs. R-Truth

Alberto comes right out of the gate with that intense brawling he's good at. They go back and forth with some strikes for a bit before ADR finds himself being thrown shoulder first into the ring post. Truth follows through with a few kicks and the Lie Detector for two. Good near fall. ADR makes it to his feed and kicks Truth in the head for the win. A quick little match to keep ADR/RVD in our minds. R-Truth could benefit from joining up with the faces against Trips and Co.

OFFICIAL RESULT: Alberto Del Rio @ 1:33 via pinfall
RATING: N/R

- ADR locks in the Cross Arm Breaker after the match. RVD and Ricardo make the save and RVD hits the Van Terminator. RVD poses with the belt post-match.

- Vickie and Triple H are watching on the monitor backstage. Vickie suggests spicing up their Battleground match. Triple H makes it a "Battleground Hardcore Rules" match. That sounds like something I wanna see.

- The PTPs are walking backstage. They teach some staff members to do their Million Dollar dance. They get it all wrong on first try. This upsets Titus who throws his washrag on the ground and blows his whistle. They do the dance some more. Little segments like these go a long way in establishing Darren Young and Titus O'Neil.



-Commercial Break-



- Hold your hands over your hearts and repeat after me. WE. THE. Whoa, whoa, whoa. The Real Americans have a new rule. Nobody says it except except REAL Americans from now on. They're tired of being mocked.



The Real Americans vs. The Prime Time Players

Swagger and Titus start and lock up. Titus wins with the first exchange with a shoulder block. Swagger gets back in control quick and gets Titus in his corner. They make very quick tags with some cheap tactics sprinkled in while they isolate Titus. Cesaro grabs Titus by the legs AND SPINS HIM 22 TIMES! Holy shit. Titus is a big dude. Titus is having balance issues before shoving Cesaro down and tagging in Young. Young gets the hot tag and hits a belly to belly followed by a Northern Lights suplex on Cesaro. He bridges for two. Things break down for a moment with all four men and D-Young rolls him up for two! Young hits an awesome gut buster on Cesaro but the tag was made during the craziness! He goes for the cover but Swagger locks him in for the Patriot Lock! TAP. Short but exciting. Both teams looked great.

OFFICIAL RESULT: The Real Americans @ 3:41 via submission
RATING: **

- We're here.



-Commercial Break-





Bray Wyatt (Rowan and Harper) vs. Zack Ryder

The Family tosses Ryder in before the match starts. Wyatt ducks a clothesline and mauls Ryder to the mat. He chokes out Ryder and laughs. Sounds like a Husky Harris chant tries to break out but it doesn't happen. Wyatt goes for the headlock. Ryder escapes and gives him a face buster, an elbow, and a Broski Boot. Ryder covers and barely gets one. Ryder goes for the Rough Ryder and Wyatt tosses him overhead. That looked good. He hits Sister Abigail's Kiss and it's over. Not that bad for a squash. The crowd still sits on their hands for Wyatt matches though. Hopefully that changes in due time. Another impact move or two added to the repertoire wouldn't hurt Bray either.

OFFICIAL RESULT: Bray Wyatt @ 3.20 via pinfall
RATING: SQUASH



-Commercial Break-





United States Championship: Dean Ambrose (w/ Seth Rollins and Roman Reigns) vs. Dolph Ziggler (w/ Kofi Kingston and RVD)

Here we go. Dean starts things off with some brawling. Ziggler tries to get back into things but Ambrose hits him with a clothesline. He drops a forearm to the face and covers for one. Ziggler. Ziggler gets in control and hits his ten count punches. He misses the Fameasser but delivers a dropkick. He clotheslines Ambrose to the outside and goes out with him. Of course a brawl breaks out on the outside between the faces and heels.

OFFICIAL RESULT No Contest @ 1:59
RATING: N/R

- Triple H books an impromptu six man to rectify the situation.



-Commercial Break-





The Shield vs. Dolph Ziggler, Rob Van Dam, and Kofi Kingston

Kofi, RVD and Ziggler were the last three men in last weeks gauntlet. RVD delivers a monkey flip out of the corner to Rollins as we come back from break. Rollins sells that great of course. Standing moonsault by Van Dam gets two. Rollins gets up and ends up getting hit with kicks and shoulder thrusts to the abdomen. Rolling Thunder by Van Dam! Kickout at two by Rollins. Rollins goes to work on the injured arm of RVD before tagging in Ambrose. Ambrose continues where Rollins left off with a few arm wringers.RVD escapes and hits Ambrose with an enziguri. Ziggler makes the tag in and the crowd kind of lets out a whimper. He takes down Rollins with a flying crossbody and goes for his elbows. Rollins distracts Ziggler after four elbows which gives Ambrose enough time to get to his feet and deliver a spinebuster. In comes a fresh Roman Reigns. Ziggler battles out of a headlock but eats a huge clothesline for two. In comes Ambrose now. He works over a leg of Zigglers for a moment and tags Reigns back in. Reigns and Kingston exchange shit talking for a moment. Reigns rag dolls Ziggler around in a move that was either sloppy as shit or well executed. Ziggler makes it to his feet and hits an implant DDT out of nowhere. Reigns makes it to Rollins, who cuts off the tag. He grabs RVD's injured arm and hyper extends it over the top rope. This gives Ziggler in opening. Kofi and Ambrose tag in. Kofi cleans house and the crowd loves it. He hits the boom drop followed by a crossbody. Things break down! Fameasser. Spear. Top rope Kick. Moonsault to the outside. Kingston and Ambrose are all alone. Kingston hits his palm strike from upstairs. He gets ready for a splash but in comes Reigns! Reigns gets hit with Trouble in Paradise! Ambrose rolls up Kofi. Kofi rolls through and covers Ambrose. Rollins hits the scene again and kicks Kofi in the head. Ambrose covers for the victory. Excellent six man tag action with a great closing sequence.

OFFICIAL RESULT The Shield @ 9:08 via pinfall
RATING: ***1/4

= Big Show is backstage with Renee Young. He can't sleep at night. He cries in the mirror and people call him names on the street. He needs to do what's best for his family though. He's about to break down crying and Triple H walks up to him. He can't understand how difficult this is for Show and if it's effecting Show so bad, Triple H will help him find another job. Perhaps a doorman or paperboy. Maybe a baggage man. A regular sized person can find a job anywhere but Big Show is special and he needs this job. Big Show looks pissed and Triple H asks him what's the matter. Big Show holds his fist up and Triple H fake cries and tells him to think of his family. He's going to do absolutely nothing and Show's gonna like it. Triple H wears a shit eating grin as we cut away.



-Commercial Break-





Cameron (w/ Naomi) vs. AJ Lee (w/ Tamina Snuka

AJ says that every Diva is against her in a pretape so she got herself some protection. AJ guns out of the corner with toe kicks. AJ Slams Cameron's face to the mat and skips around for a second. AJ misses a splash in the corner and Cameron comes back with the Rear View and the splits leg drop. Two. AJ comes back with a kick and tosses Cameron through the ropes to the mat. Tamina is leaning against the announce table and watching on without emotion. AJ eggs on Naomi and Cameron clotheslines her on the outside. Cameron tries to roll AJ up but only gets two. AJ hits a Shining Wizard for the win. I'm excited about AJ and Tamina teaming up.

OFFICIAL RESULT AJ Lee @ 2:29 via pinfall
RATING: N/R



-Commercial Break-



- Heyman steps onto the ramp with a mic. They show awkwardly timed footage of Ryback helping Heyman win at Night of Champions. That puts a smile on Heyman's face. He wants to get candid with us. Is the audience really surprised that Heyman defeated CM Punk? Every time we want to see him go down, he'll come out on top. Heyman recounts CM Punk saying that it was a trap on Monday. Why? Because it was a trap. Heyman shoots us to footage of Heyman and Ryback's attack on Punk followed by Heyman standing up.Heyman can't take all of the credit for that plan. He thanks Axel for helping him put it together. He thanks that big, bad, beautiful man, Ryback. He thanks each and every one of us as well. It's our worship of Punk that's going to drive Punk to get his ass kicked every week. CM Punk signed a match against Ryback at Battleground. Ryback's going to win and such. There was a lot of rambling with very little content going on there.



Heath Slater (w/ Drew McIntyre and Jinder Mahal)vs. Santino Marella (w/ The Great Khali and Hornswoggle)

Slater and Marella go back and forth a bit. Santino hits typical Santino stuff before Slater gets his knees up for a running ax handle. He goes upstairs but Santino crotches him. Santino has the Cobra! Mahal plays a flute that reels The Cobra in. Khali plays a piccolo from the other side of the ring. The two men exchange riffs trying to get The Cobra's focus. Mahal's music is about to make The Cobra attack Santino! Santino finds himself on the mat. Khali gets back on the apron and plays a little tune. It pulls The Cobra up and it attacks Slater! Over! Epic.

OFFICIAL RESULT Santino Marella @ 2:57 via pinfall
RATING: ****1/4



-Commercial Break-



- Cole takes us through the last four weeks of the Rhodes drama.

- Triple H/Cole exclusive interview clip. He's giving the Rhodes Family a lucrative business proposal on Monday and has invited them to the arena.



Randy Orton vs. The Miz

So this is a Smackdown without Daniel Bryan, aye? Miz comes out of the gate with a flurry of punches and Orton is quick to reciprocate. Miz knocks Orton to the floor and they brawl on the outside. Miz reverses an Irish whip and sends Orton face first into the ring post. Miz breaks the count and continues the assault by throwing him against a barricade. Back in the ring now, Miz pounds away at Orton. Miz hits a running boot to the face. It's nice seeing him so upset and aggressive. He misses his corner clothesline and he hits that bad shoulder. Orton gets on his knees to catch his breath as we replay the spot. He rolls to the outside and the doctors check on him. Orton pulls him on the apron and hits the assisted DDT off the middle rope. He pounds away at the face of Miz while the trainer and ref try to make him stop. The ref calls for the bell..

OFFICIAL RESULT The Miz @ 3:19 via DQ
RATING: *1/2

- Triple H comes out and restarts the match. He says that Orton purposely cost himself the match to get out of it and restarts it. The match must end by pinfall or submission. Nice.



Randy Orton vs. The Miz

Orton gets right on the attack and throws Miz over the announce table. He whips him into the steps and Miz fights back with a chair. Miz pummels him with a chair for a bit until gets him back, He hits the assisted DDT off the barricade to the floor. Orton works over the head of Miz with some punches to the side of the head. He rolls Miz in the ring and stands over him for a moment. Miz is knocked out cold. Orton lifts the lifeless body of Miz up. RKO. Orton covers him.

OFFICIAL RESULT Randy Orton @ 3:30 via pinfall
RATING: *1/2

OVERALL: This was a pretty solid episode. Especially considering there was no Daniel Bryan, the man Smackdown has been heavily relying on lately. The streak of short matches with entertaining storyline development continued this week. It was actually a pretty heel-centric show all things considered. The Santino match was a last a smart decision as it brought something lighthearted to a show filled with bad guys running rampant. The faces are becoming more sympathetic and likable every week by battling Triple H and his cronies, and I found no issues with the booking tonight. I'd even go as far to say that The Miz was pretty damn good and seems more tolerable as a result of the Triple H angle. He actually played the type of face you want to root for. Smackdown is starting to feel relevant for the first time in years as far as moving angles along goes. It's a good time to be watching the TV product.

- Thank you for reading.



411 ON TWITTER~!
Follow me! Follow me!
http://www.twitter.com/411wrestling
http://www.twitter.com/411wrestling
http://www.twitter.com/411moviestv
http://www.twitter.com/411music
http://www.twitter.com/411games
http://www.twitter.com/411mma
comments powered by