SPOTLIGHTS
411's WWE Main Event Report 10.02.13
Posted by Michael Benjamin on 10.02.2013

Curtis Axel battled Zack Ryder, Santino Marella wrestled Damien Sandow, The Real Americans tagged against Tons of Funk and more! Check out 411's full WWE Main Event report for all of the details!

It's that time again. This is the most important report on the internet that covers Main Event and is on 411mania. I'm Michael Benjamin and here we go.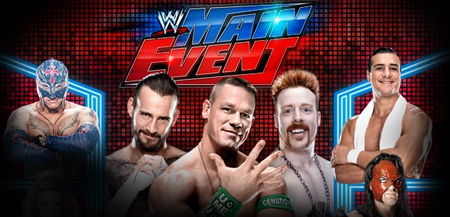 WWE Championship Roll Call:
WWE Champion: VACANT
World Champion: Alberto Del Rio
IC Champion: Curtis Axel
US Champion: Dean Ambrose
Unified Diva's Champion: AJ Lee
WWE World Tag Team Champions: Seth Rollins and Roman Reigns



WWE MAIN EVENT 10.02.13



- Alex Riley and Josh Mathews are on commentary.

- Sandow with a mic on top of the ramp. He makes jokes about dumb people like Santino. He's King of the Stupid. Yadda, yadda, yadda. I used to look forward to his promos but they're getting to be repetitive and monotonous at this point in my opinion.



Santino Marella vs. Damien Sandow

A big Santino chant starts as The Cobra of chases Sandow out of the ring. Upon reentering, Sandow locks in a side headlock. Santino escapes and gets taken down with a shoulder block on the quick. Cobra chants break out. Santino acknowledges them and Sandow takes advantage of the distraction. A lot of stalling in the early going. Offensive move, step away, staredown, repeat. Santino chases him with the cobra some more. Santino power walks the ropes and Sandow knocks him down. Santino gets right back up before delivering a legsweep. Sandow finally shows some aggression with knee thrusts. He tosses Tino to the outside as we head for break.



-Commercial Break-



We're back. Sandow's in control with a headlock. Santinio tries to suplex his way out to no avail. Sandow tosses Santino back to the outside. Santino continues to bring the pummeling to Santino before locking in another headlock. Santino tries to suplex his way out again but Sandow falls on top of him with a lateral press for two. He smashes Santinos head against the turnbuckle and he's hulking up. Sandow punches him and hits the Elbow of Disdain for two. Another punch and some shit talking from Sandow. He screams "uncrowned champion" to a chorus of canned heat. Sandow charges at Santino who was picking himself up in the corner and Santino fights back with his duck, hiptoss, headbutt routine. Out comes the cobra and Sandow bails. Santino chases him in the classic heel/face run around the ring. He steps on Santino's hand as he tries getting in the ring and pulls the sock off. He hits The Silencer for the victory.

Get rid of the stalling and rest holds, get rid of a segment, and you have a quick comedy squash that would have worked. This was pretty mundane for being the Main Event opener.

OFFICIAL RESULT Damien Sandow @ 7:46 via pinfall
RATING: *1/2

- We get a Cole/Trips interview. Cole asks him about how he's mocked Big Show and if it's how a COO should conduct himself. Sometimes you have to go to an extreme is what Triple H says. He asks if Big Show is the only one with personal issues and mortgage? He's not. Everybody has problems. Nobody wants to see a giant come out every week and blubber about it. He's trying to show him how ridiculous he looks. Smackdown will be the first time since Monday that they'll be under the same roof. (No shit?) Triple H isn't worried because they're both professionals. He's getting a main event match and a main event payoff in a handicap match against The Shield. It's best for business. If it's best for Show, it's best for business. Another addition to a great series of interviews that is really serving its purpose. The way Triple H defends himself and justifies everything he does is heel 101.



The Prime Time Players vs. Erick Rowan and Luke Harper (w/ Bray Wyatt)

Man, The Wyatt Family need some fucking direction fast. Their debut was hyped more than anybody's in recent memory. They debuted with a bang and now they're just on auto-pilot as far as booking goes. Harper and Young start us off. We get an audible Bray Wyatt chant as Harper disposes of Young quick and we get a double tag. Rowan is in. He tosses the mask and attacks. He charges at Titus and gets a boot to the face. In comes young and they double shoulder block Rowan down. He comes back with a big boot as Wyatt laughs in his rocking chair. He lays Young over the top rope and in comes Harper. He just smashes Young in the abdomen until he falls into the mat. Ugly and effective offense. He hits a running drop kick on Young who is in a sitting position. Rowan end. He drops some knees. The heels are containing young in the corner and using quick tags and their minimal yet entertaining brawling style offense. Young makes it to Titus and he manages to clean house. He hits a big boot on Harper followed by a body slam for two. Chaos ensues as the match breaks down. Rowan and Young get tossed. O'Neil walks into Harper's nice looking clothesline an the match is over.

SQUASH. A pretty decent one though. Harper and Rowan are far more entertaining with the chaotic yet minimal in ring style than Wyatt is. This was a good showing for them. I would have liked to see this on first with the two segments to really establish the hot tags and heat segments better.

OFFICIAL RESULT: The Wyatt Family @ 4:17 via pinfall
RATING: *1/4



-Commercial Break-





Curtis Axel (w/ Paul Heyman) vs. Zack Ryder

This is the foregone conclusion match of the night. They put over Ryder having 1.4 million Twitter followers. Acknowledge it with a push! Ryder comes out of the gate with a clothesline and Axel quickly takes control from there. Ryder kicks out at two after a modified facebuster and a dropkick. Axel drops an ax handle from upstairs for two. Ryder reverses the back body drop attempt into a face buster of his own. He hits a clothesline. He connects with a dropkick from upstairs but only gets two. Ryder dropkicks Axel into the back of the head into the bottom turnbuckle, which ends up being a great setup for the Broski Boot. Axel holds on to the ropes and Ryder has to step away. He walks into a drop toe hold in the middle turnbuckle. He eats some face smashes on the turnbuckle and Axel hits the neckbreaker for the win.

Glorified squash. A rather dull squash at that. Ryder got in too much offense for my liking but it is what it is. None of this really mattered. It was just a lazy way to get Axel on screen before his heavily anticipated match with R-Truth at Battleground.

OFFICIAL RESULT: Curtis Axel @ 3:48 aired via pinfall
RATING: *1/4



-Commercial Break-



- They air a Raw Rebound recounting the Rhodes saga and taking us through the segment on Monday. The Shield vs. The Rhodes is definitely an interesting match on paper.



-Commercial Break-





Tons of Funk vs. The Real Americans (w/ Zeb Colter) (w/ The Funkadactyls)

Swagger starts with Brodus. They slug it out before Clay hits a collection of scoop slams and does the jiggle dance. He delivers a suplex and covers Swags for two. He charges at him in the corner but Swagger sidesteps. Swagger takes Clay down and tags in Cesaro. Cesaro Swing on Brodus! We The People. The first time Swagger said it, nobody went with it. After a Cesaro Swing, the entire audience is saying it along with them. Wonderful. Quick tag to Swagger. He connects with a bunch and a Swagger Bomb. Cesaro leap frogs over Swagger and stomps Brodus on the chest for a two count. That's another ridiculously impressive move that I love of his. Brodus delivers a desperation T-Bone suplex and Tensai and Cesaro are in. No pop for the Tensai hot tag. He shoulder thrusts the ever living shit out of Cesaro and hits the rolling cannon bal on Cesaro in the corner. He covers and Cesaro gets his foot on the rope at two. Tons of Funk with a double running splash. Swagger gets involved. Cesaro hits The Neutralizer on Tensai while Swagger keeps Clay busy on the outside. It's over.

This was a very fun match. It had around the same amount of time as the previous two matches but was worked well and filled with some fun spots. Antonio Cesaro made that match quite the little treat to watch after sitting through an otherwise uninteresting show.

OFFICIAL RESULT: The Real Americans @ 4:28 via pinfall
RATING: **1/4


OVERALL: This is the definition of a throwaway show. Four match episodes of Main Event are usually pretty bad. When Santino is in your longest match of the night, it pretty much guarantees that I'm going to recommend a skip. The Real Americans vs. Tons of Funk was plenty of fun but not worth your time to check out. I'll see you on Friday with the Smackdown Report. Thank you for reading.
comments powered by