SPOTLIGHTS
411's WWE Smackdown Report 10.04.13
Posted by Michael Benjamin on 10.04.2013

Big Show battled The Shield and Randy Orton in handicap action, Alberto Del Rio wrestled Dolph Ziggler, Ryback took on R-Truth, RVD fought Fandango and more. Check out 411's full Smackdown Report for all of the details.

It's Mike Benj here with another Smackdown Report. Let me put my words in you.

SHOW... ON.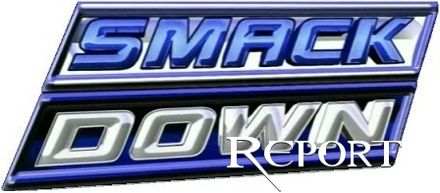 Championship Roll Call:
WWE Champion: VACANT
World Champion: Alberto Del Rio
US Champion: Dean Ambrose
IC Champion: Curtis Axel
Diva's Champion: AJ Lee
WWE World Tag Team Champions: Seth Rollins and Roman Reigns

---





WWE Smackdown Report 10.04.13



- Big Show is in the ring saying that the things he did were his only option. When you're as big as him, it's hard to get a job. Oh. He says that he doesn't want to get fired and some of the people in the crowd can relate. He did it... For his family. He's not asking for the crowd's forgiveness. He just wants us to be understanding. His marital problems are making him feel like less of a man. The anger and frustration is building up inside of him. He threatened to knock Triple H out, but we all know that if he did, he would have been fired on the spot. Tonight he's against The Shield in a 3v1 handicap match due to his threats. He's going to take his anger and aggression out on The Shield. If he's going down, he's taking them with him.

- Here comes COO HHH. Triple H doesn't understand why Big Show is ashamed of himself. He's ashamed of who Big Show has become. All of Big Show's problems are on him, not Triple H. Triple H is has considered him a friend for over 20 years and went out of his way to help him. As of this morning, Big Show owes nothing on his mortgage. He owes Triple H... Because somehow Triple H managed to do that without letting Big Show in on the deal. Now Show owes Triple H. Triple H changes the main event to The Shield AND Randy Orton vs. Big Show because he doesn't want to put The Shield in danger against a "borderline lunatic giant." Triple H says that they're cool while he walks away holding the paper for Show's house. That's a pretty good way to keep the angle moving forward. More angle advancement on Friday nights! I like this.



-Commercial Break-





Fandango (w/ Summer Rae) vs. Rob Van Dam (w/ Ricardo)

An RVD chant starts as they stare each other down to start. Fandango shakes his ass to the rhythm. RVD gives us the RVD thumbs before eating a shoulder block from Dango. RVD fight right back with a series of brawling strikes that ends with a monkey flip Fandango returns the shoulder block with one of his own. This one sending RVD into the barricade outside.

We're back. Fandango is control but RVD quickly fights back with kicks and a rolling thunder. Two! He goes upstairs but Summer Rae crotches him. The ref calls for the bell.

A commercial break in the middle of a match that's less than three minutes!? An angle disguised as a match basically. It wasn't bad by any means. Just very short.

OFFICIAL RESULT: Rob Van Dam @ 2:27 via DQ
RATING: Squash

- Fandango attacks after the bell. He looks for a weapon under the ring but Ricardo stops him. Fandango finds himself back in the ring on the receiving end of an RVDDT. RVD grabs a trash can. Ricardo holds it in place for the Van Terminator. RVD hits it and the crowd applauds



-Commercial Break-





Ryback (w/ Paul Heyman) vs. R-Truth

We get CM Punk chants as Ryback hops on offense to start things off. Ryback generally dominates the beginning as Paul Heyman is screaming about Truth being a bully at ringside. Ryback lifts Truth over his head and goes for the body press. Truth slips off and hits a dropkick. Truth misses a kick and gets nailed with a meat hook clothesline. Ryback hits Shell Shocked and it's over.

A quick (and ineffective in my opinion) way to build up Ryback/Punk and Axel/Truth this Sunday. Nothing to see here.

OFFICIAL RESULT: Ryback @ 2:21 via pinfall
RATING: Squash.

- Curtis Axel attacks Truth after the match. Remember? That's happening on Sunday. Ziggler/Sandow is free but you gotta pay for Truth/Axel, bitches!

- Alberto says that he's going to put RVD in a trash can and put him in a garbage dump where he belongs after the match at Battleground. A staff member walks up to ADR and gives him the dented garbage can RVD used earlier. Insert your own joke about this feud here.



-Commercial Break-



- We get some of RVD's ECW highlights.

- Damien Sandow joins us on commentary.



Alberto Del Rio vs. Dolph Ziggler

Ziggler goes up for school boy victories a few times. Alberto needs a breather. Sandow says that he's going to cash in the noble way. Nobility will be up to his discretion of course. Back in the ring, ADR gets hit with a dropkick and flies to the outside again. Commersh.



-Commercial Break-



Ziggler tries to fight out of a headlock but ADR knocks him back down with a right and covers for two. He reapplies the headlock. Ziggler goes for another roll up but gets two. He hits a dropkick and then charges at ADR for the splash in the corner. Nobody home. He goes shoulder first into the ring post. ADR hits a modified suplex for two. ADR tries to climb to the top but Ziggler dropkicks him to the outside. Michael Cole is surprised by Damien's overuse of pronouns considering his intelligence. Ziggler hits the X-Factor off the top rope but is too tired to make a cover. Both men make it to their feet at the same time. ADR hits a tilt-a-whirl back breaker and covers Ziggler for two. Cole says that Sandow looks nervous. He's kind of picking apart any inconsistencies in his performance. Probably not a good idea on Mr. MITB. ADR connects with an enziguri and covers Ziggler for a close call. Ziggler finds himself crotched on the top turnbuckle and ADR goes for a superplex. Ziggler reverses with a sunset powerbomb and and holds on for the cover. That was as close to 3 as you can possibly get. Ziggler applies the sleeper. ADR escapes after sending Ziggler face first into the turnbuckle. ADR hits a stomp on Ziggler off of the second rope. He misses a kick and Ziggler rolls him up for another two. Ziggler misses another splash and gets kicked in the face! That's how ADR beat Ziggler for the title! TWOOOOO! Fuckin' A, man. They escape signature moves in a quick sequence. Ziggler hits the Fameasser! TWOOOOOOOOOOOOOOOOOOOOOOOOO. Both men are struggling. ADR belly flops Ziggler on the mat and locks in the cross arm breaker. It's over.

Great match. It was nonstop from the moment the bell rang. They played off of their history and knowledge of each other very well. The near falls at the end were gripping and had the audience biting. Excellent match that helps pad the squashes and go home angle advancement. Sandow on commentary hyped a potential cash in and the pre-show match in a nice little booking decision. Quality all around.

OFFICIAL RESULT: Alberto Del Rio @ 11.41 via submission
RATING: ***1/2



-Commercial Break-





Heath Slater and Jinder Mahal vs. Los Matadores (w/ El Torito)

Slater starts things off with one one of them. I just figured the Usos out. Now I have to do this? Fernando is the taller one, but they're both around the same height. Fernando tags in Diego. Or vice versa. Ranas and dropkicks to Jinder. Double team splash/back breaker combo during a tag exchange. Jinder comes back with an elbow and tags in Slater. Slater connects with a boot to the face on Diego (or the other one.) and Slater locks in a headlock. Diego comes back with a nice head scissors take down. One of them hits a neckbreaker on Jinder. He hits a fist from the top rope and they deliver their double team finisher for the win.

I don't know who is who. Commentary didn't really attempt clarify that either. Their act seems like a solid midcard act to throw into the tag mix. I don't want to see them shoot above the PTPs on the pecking order yet though. The match itself was a nice exhibition for them. Nothing more and nothing less.

OFFICIAL RESULT Los Matadores @ 3:24 via pinfall
RATING: *

- El Torito hits a plancha from the top rope to the outside on 3MB. Post-Match face team celebration.

- Heyman, Ryback and Axel join Renee Young backstage. Heyman spits some promo in the direction of R-Truth and CM Punk for a moment. Both of his clients opponents are going to lose. You know. I love the way Heyman calls Ryback beautiful. His words sound so meaningful. Anyways, they could have dropped the Ryback/Truth match all together in favor of this promo and an extra few minutes on another match. No biggie though. Moving on.



-Commercial Break-





Aksana vs. Brie Bella (w/ Nikki)

Holy shit, you'd think it was John Cena returning with the amount of canned heat piped in for the Bellas. Dropkick from Brie followed by a big kick. Aksana falls to the outside and Brie rolls her back. Aksana trips her up and stomps her. Considering the acknowledgement of the relationship on air, Brie should just start doing Yes Kicks. Amirite? Aksana takes her down and crawls around her instead of pinning. Eventually she goes the cover. Brie comes back and hits an assisted facebuster from the second rope for the win.

This was a divas match. Brie looked fine, which is all they needed to accomplish on the go home show so there's that.

OFFICIAL RESULT Brie Bella @ 2:58 via pinfall
RATING: 1/2*

- AJ is going to do to Brie what Orton did to Bryan on Raw. Then Brie and Bryan can both leave and have a baby. The first baby with a goat face beard. When the doctor sees the hideous baby, he won't spank the baby, he'll spank Brie. You know, I think both of those would be pretty wrong. Whoever wrote that promo didn't put too much effort in.



-Commercial Break-





Kofi Kingston vs. Big E Langston

Langston dominates to start. He hits a running splash on Kofi. He charges Kofi in the corner but gets hit with a kick. Kofi goes upstairs for the cross body. Big E catches him! He's going to put Kofi on his shoulders and hit the Big Ending but Kofi maneuvers it into a roll up victory. That's it.

It was there to help setup Wyatt/Kingston at the PPV and that's it. Giving Kofi a quick fluke over Langston doesn't exactly make the match more intriguing however. I'd be on the opposite side of that argument.

OFFICIAL RESULT Kofi Kingston @ :39 via rollup
RATING: N/R

- They're here. The Wyatt Family make their way out and trap Kofi on the ramp. Wyatt cuts another awesome promo in a long series of them. He hasn't under-delivered yet. If I heard the screeching sound of Wyatt's entrance, I'd bail through the crowd though. Not walk even slower up the ramp to be attacked. I mean, Bray pops up on the tron and gives fair warning that he's on his way after all.



-Commercial Break-





Big Show vs. The Shield and Randy Orton

Tag rules are in effect. Show pummels Ambrose to start. He stands on him for a bit. In a nice little bit, Show tosses Ambrose into the corner and encourages a fresh man tagging in. In comes Reigns who hits the ropes and eats a shoulder tackle. Show sends him into his team's corner and in comes Orton off the tag. Orton moves quick and tries to stick and move. Show catches him and we get the corner chops. Ambrose distracts show, Orton kicks him in knee and tags in Rollins. Rollins with the kick off the top and a collection of running boots to Show's face. In comes Reigns. The heels are using some nice team work here. Reigns attacks with some stomps and kicks and quickly tags in Orton. Nice. Tag in the freshest man and let Ambrose rest. Orton kicks him a bit more. The heels don't want Show up to his feet. Show grabs the neck of Orton for a chokeslam but Orton counters with a DDT and tags Reigns back in. Headlock applied. Show escapes with a slam and ends up spearing Reigns. Ambrose looks nervous. Show signals for the chokeslam. Heels hit the ring and all get clotheslined. Rollins kicks the leg to get him down. All four men jump on Big Show. He tosses them all off at once! Ambrose comes out of nowhere with a steel a chair! Big Show punches it into his face for the DQ loss!

THIS is how you book a monster face. This match is a perfect example of how the giant gimmick should be booked. None of Show's opponents looked weak being unable to defeat Show without resorting to weaponry because Show legitimately comes off as a monster that you don't want to mess with. Love or hate the angle that got us here, the result is quite satisfying and could reinvigorate Show's character beyond the story arc He portrays pent up aggression perfectly..

OFFICIAL RESULT The Shield and Randy Orton @ 5:40 via DQ
RATING: **1/2

- After several unsuccessful attempts of thwarting off the heels, Big Show succumbs to the numbers game. The crowd chants Daniel Bryan after Orton delivers an RKO. Orton is about to wrap the chair around Show's neck but the Usos save the day. They preoccupy The Shield and Orton reapplies the chair to Show's neck and goes for the stomp. Daniel Bryan runs down to the ring for the save and the crowd LOSES IT. He beats the shit out of Randy Orton. Bryan almost locks in the Yes Lock but Ambrose makes the save. Orton escapes while Ambrose gets kicked and kneed in the face. The crowd was molten for this. Keeping Bryan off an entire show and bringing him out when the crowd is begging for it makes for an excellent atmosphere.

OVERALL: The short matches all served their purpose in developing the rivalries heading into Battleground or getting new talent over in the form of Los Matadores. Dolph Ziggler vs. Alberto Del Rio was a great lengthy match that really helped break up all of the segments solely used for PPV hype and the main event was giant/monster booking 101. Triple H threw another curve ball at show tonight, and while I'm not the biggest advocate of the Big Show = Poor storyline, the way it's developing Show's in ring character is undeniably entertaining. Pretty good show tonight, especially keeping in mind that it was their Battleground go home. With that said, Battleground is shaping up much like Night of Champions. It just doesn't look that interesting. Axel/Truth and Wyatt/Kingston are both unspectacular midcard matches to book for a PPV at this point as well. It's not my job to review a card that hasn't happened yet though. Check out Smackdown if you have some time to kill. I can think of worse ways to spend your time.



411 ON TWITTER~!
Follow me! Follow me!
http://www.twitter.com/411wrestling
http://www.twitter.com/411wrestling
http://www.twitter.com/411moviestv
http://www.twitter.com/411music
http://www.twitter.com/411games
http://www.twitter.com/411mma
comments powered by