SPOTLIGHTS
Tremendous Tirades 10.06.13: WWE Battleground
Posted by Larry Csonka on 10.06.2013

Your winner and STILL WWE Champion, Abeyance!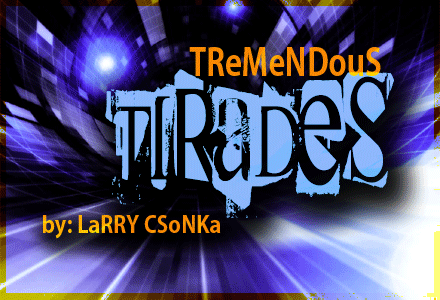 Introduction
As a reminder, this will not be another traditional recap, but instead it will be a mash up of the Rs, Instant Analysis and my usual Twitter ramblings I would do during the shows; completely uncensored and as the ideas flow unfiltered to the old keyboard. Remember, this is a review; and I am here to review the show. As always, I encourage discussion and even disagreement, just do so in a respectful manner. I will be doing the review for Raw and most PPVs and iPPVs going forward.
---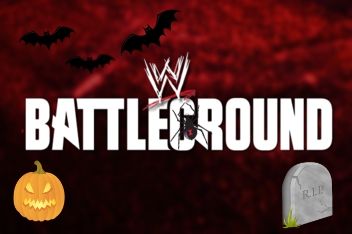 WWE BATTLEGROUND 2013
And here we go.

World Title "Battleground Hardcore Rules" Match: Alberto Del Rio © vs. Rob Van Dam: In theory this was a good choice for the opener. The opener, while downgraded by fans with no idea how things work, is considered by most the second most important match on the show. You try to put a match out there with guys that are either really over, guys that will deliver big or guys in a feud the fans are invested in. RVD is over and the stipulation should (again in theory) excite the crowd. I wasn't a huge fan of Ricardo helping RVD. As the face, RVD should really fight on his own, with his second only being there to thwart another second in order to keep things fair. When this happens, it feels like the faces have the two on one advantage. Overall I felt as if this was a solid match to open the show. The crowd seemed more into things than the average Del Rio match, they liked RVD and got enough of his trademark spots to stay invested. It was a bit sloppy, and watered down as compared to a lot of hardcore matches. But I really liked the finish. RVD misses the Van terminator, Del Rio is a remorseless asshole and uses the chair and gets the arm breaker with it and got to win clean (well within the gimmick). Sometimes heels just need to win, and Del Rio certainly needs to be booked as a serious threat as champion. Add onto the fact that they can hype how he defeated RVD in his style of match and they can do a lot with the win. Del Rio won at about 17-minutes via submission.
Match Rating: ***



During the pre-show, Tensai auditioned for the role of Hagrid for when they predictably re-boot Harry Potter…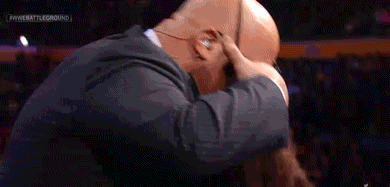 Colter, Cesaro and Swagger were backstage and ran down the illegal Hispanic & Canadian population of Buffalo.

Great Khali and Santino Marella w/Hornswoggle vs. Jack Swagger and Antonio Cesaro w/Colter: This match is only on the show because WWE was so poor in their planning of the event, even with the late addition of two matches, that they felt as if it was needed to fill out the card. Seriously, that is the reason. There is no feud here, just the dead Real Americans gimmick along with Santino and Khali, who apparently has to be on TV as much as humanly possible. Jim Ross on Twitter said that, "Cold matches w/ no strong story supporting them can be challenging to broadcast." I think he meant matches with no story that people do not generally care about shouldn't be on PPV. That's what I got from it anyway. The match was your average TV filler that felt as if it lasted way longer than it actually did. The only thing of note was that when Cesaro got Khali down, the crowd popped because they wanted to see the giant swing.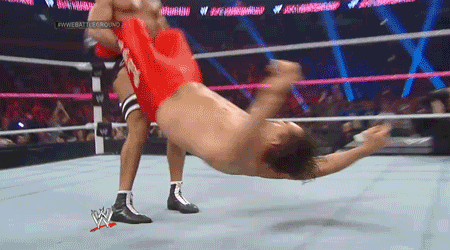 They got it and they were happy about it. Cesaro and Swagger won at about 7-minutes via pin.
Match Rating: *½


WWE IC Title Match: Curtis Axel © w/Paul Heyman vs. R-Truth: Here is a match that has an uphill battle to get the crowd to care. Axel is treated like a fourth tier citizen and was booked poorly on Monday's Raw. Truth only beat him due to the Punk music distraction (the slip on the banana peel finish which gets anyone over) while on Smackdown, Truth lost to Ryback this week and Del Rio the week before in a combined 4-minutes. That's one hell of a challenger there, and I say that as a big Ron Killings fan. They had a match that featured perfectly fine work, but a crowd that didn't care and at the end of the day felt much longer than it was. I personally never got into the match, but I never felt as if it was bad. We'll call it technically fine but lacking in emotional response. They worked hard, but the booking leading into the match did not help them at all. Axel hit his wacky neck breaker finish to retain the title at about 7½-minutes.
Match Rating: **


WWE Divas Title Match: AJ Lee © w/Tamina vs. Brie Bella w/Nikki Bella: AJ posted Brie early on, which led to her working the arm. Brie took the post like a champ by the way, it looked good. It was the big part of the match as every time Brie tried to mount offense, AJ would go right back to the arm. Brie would make the comeback, but get distracted when Tamina attacked Nikki, leading to AJ rolling her up and retaining the title at about 6½-minutes. Much like the IC Title match, it was technically fine but lacking in emotional response. But overall, it came off better than most divas matches.
Match Rating: **



Rhodes family promo time. May I place an order for at least ONE bionic elbow?

Non-Title Match: The Shield © (Reigns and Rollins) w/Ambrose vs. Goldust & Cody Rhodes w/Dusty: If Goldust & Cody Rhodes win, they get their jobs back and Dusty keeps his job. If the Shield wins, Goldust & Cody Rhodes are still fired and Dusty loses his job with WWE NXT. This was the first match of the night where the crowd seemed to be genuinely invested in, and considering the build, I expected that they would be. They were hot for Goldust, hot for the near falls, and it made for a fun environment. This was EVERYTHING you wanted from this match. Good in ring work, great crowd, Dusty got involved with Ambrose and hit the bionic elbow to even the odds and Cody got the pin after the cross Rhodes to a HUGE ovation at 14-minutes. While the beginning of the show was under whelming, the four heel wins in a row prior to this set the stage perfectly for the good guys to score the big win here. The Rhodes celebrated, and then the baby face locker room came out to the ramp to celebrate with them. We got a good match, and a great pro wrestling story to go along with it (hell I even enjoyed the commentary) and the crowd responded perfectly; hell better than they could have hoped for really. Good work from everyone involved, NOW DO THAT MORE!
Match Rating: ***¾



Triple H and Stephanie apparently left and put Maddox in charge.

Bray Wyatt vs. Kofi Kingston: I was not feeling this match at all going in, with the last minute and uninspired set up. With that being said, and the fact that they were in the "cool down match" slot, they had an uphill battle to be sure. The match was largely fine, but the crowd didn't care until Kofi hit the dive onto the entire Wyatt family. Slick finish to a match that like a few others, was technically fine, but lacking in the crowd being emotionally invested in any way. Add into the fact that they didn't mesh that well for most of the match and the fact that people tend not to care about Bray when he wrestles, and this was disappointing. Bray won at about 8-minutes via pin.
Match Rating: *¾


CM Punk vs. Ryback w/Paul Heyman: This was a match I was very down the middle on in terms of looking forward to it. I love the Punk vs. Heyman angle, and their mic work, but when it goes to the ring and guys like Axel and Ryback, it loses steam for me. I have seen Punk vs. Ryback, and it was not horrible, but not great. But this match has a different dynamic, and also Punk is very good on PPV, so I was more than willing to give it a chance. Paul Heyman, as usual, was entertaining at ringside. I thought that Punk actually worked well with Ryback, but as the match went longer, Ryback just feels so limited as compared to other main event guys. He isn't bad, but has been given chances to shine, and I still feel he hasn't delivered. The finish saw Heyman distract the ref when Heyman brought out a kendo stick, which allowed the distraction and Punk using the old Flair mule kick low blow on Ryback to score the win at about 15–minutes in what was a case of Punk outsmarting Heyman.
Match Rating: **½



Video history of the whole Bryan, Orton, Triple H, WWE Title situation. The PPV then CUT OUT during the video package.


There was a power outage at the arena, and after about three-minutes, we got the show back. My sources in Buffalo have caught the culprit…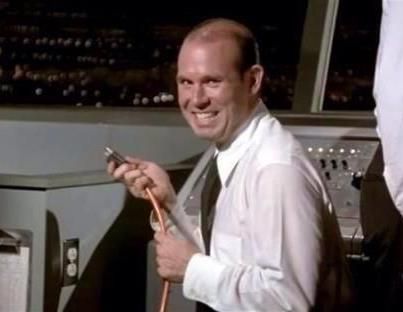 For The Vacant WWE Title: Daniel Bryan vs. Randy Orton: And here we go with the rematch of the only match on the Night of Champions PPV that was worth anything. I expect these guys to have at worst, a good match. Booking will of course play a big part in things, will they go simple and clean, or will we see shenanigans? This had a slower pacing than the match last month, but I liked that as they worked to make everything that they did mean something. One thing that is clear in regards to how Bryan has been booked as an in ring competitor, is that the crowd buys into the smallest things, like the small package and backslide. Part of that is how good his work is and part of that is how badly they want him to succeed. Great build of action as it picked up and Bryan hit that next gear and the crowd was going wild a she took over the match. The early pacing paid off well, they kept people interested and then were able to whip them into a frenzy. Bryan looked to have things in the bag with the YES lock, but Big Show appeared and pulled the referee to the floor and made his sad face. He then KO'd Bryan, and Brad Maddox sent out referee Scott Armstrong. But before he could count the pin, Show KO'd him. This led to Show KOing Orton, much to the crowd's delight. His music played… and that was it. We have no winner, and no WWE Champion. This feud MUST continue at Hell in a Cell.

The work was good and they were working for an EXCELLENT match, unfortunately the overbooked non-finish severely hurts the rating and simply left a bad last impression.

Match Rating: ***¼




The Tirade


Overall this ended up being another bad show for the company, in my opinion. The first four matches were under whelming, but in a way did help the setup for the Rhodes Family victory, which was a great piece of business overall and the real highlight of the show. Unfortunately this show felt like Night of Champions, a show they had to put on, used as yet another $45 bridge to get to HIAC. And trust me, I get that this is going towards HIAC and a definitive win for one man, but I fear that we're looking at diminishing returns. How many people have they upset and or disappointed since Summerslam? Ok, that was MITB, but then Bryan wins and gets the title taken from him at NOC, and people actually went after refunds. So then you do this finish, and according to live reports, the crowd was chanting bullshit as the PPV ended. I get that the company has a plan, but I am not convinced that this is what is, "best for business."

If the goal is to upset and or alienate their paying customers, then they are doing a hell of a job. It is amazing that the same company that booked the great Rhodes Family angle booked the finish to this PPV.

Show Rating: 3.9

As a reminder, I will be going by the 411 scale…

0 - 0.9: Torture
1 - 1.9: Extremely Horrendous
2 - 2.9: Very Bad
3 - 3.9: Bad
4 - 4.9: Poor
5 - 5.9: Not So Good
6 - 6.9: Average
7 - 7.9: Good
8 - 8.9:Very Good
9 - 9.9: Amazing
10: Virtually Perfect

As a reminder, this is not a basic "how good was the show" number like a TV show, as I have always felt that a PPV is very different from a regular show. I have always judged PPV on how they built to a match, the match quality, crowd reactions to matches and angles, the overall booking, how the PPV leads into the future, PPV price and so on and so forth. I have added this in here for an explanation since so many have asked, and I have previously discussed it on podcasts. I understand that this may seem different, but that is how I grade. Obviously your criteria may be different.




---
Have you checked out the Csonka Podcasting Network? If you haven't, you should We run anywhere from 15-20 shows a month, discussing pro wrestling, the world of MMA, the NBA, general sports, popular TV series of the past, bad movies, battle rap, interviews, MMA & Wrestling conference calls and more! Around 10 different personalities take part in the various shows, which all have a different feel; so you'll likely find something you like. All of the broadcasts are free, so go ahead and give a show a try and share the link with your friends on the Twitter Machine and other social media outlets! Running since May of 2011, there are currently over 400 shows in the archive for you to listen to.





Larry Csonka is a Pisces and enjoys rolling at jiu jitsu class with Hotty McBrownbelt, cooking, long walks on the beach, Slingo and the occasional trip to Jack in the Box. He is married to a soulless ginger and has two beautiful daughters who are thankfully not soulless gingers; and is legally allowed to marry people in 35 states. He has been a wrestling fan since 1982 and has been writing for 411 since May 24th, 2004; contributing over 3,000 columns, TV reports and video reviews to the site.

Your heart is free. Have the courage to follow it…TO CSONKA'S TWITTER!

http://www.twitter.com/411wrestling
http://www.twitter.com/411moviestv
http://www.twitter.com/411music
http://www.twitter.com/411games
http://www.twitter.com/411mma
comments powered by