SPOTLIGHTS
411's WWE Main Event Report 10.09.13
Posted by Michael Benjamin on 10.09.2013

Big E Langston battled Zack Ryder, Tons of Funk took on 3MB in a handicap match, Aksana wrestled Tamina and more! Check out 411's full Main Event report for all of the details!

Yeah, yeah, yeah... A less than enthusiastic Michael Benjamin here. Scroll down for the Main Event report, because chances are that you didn't tune in if you saw the card beforehand!

SHOW... ON.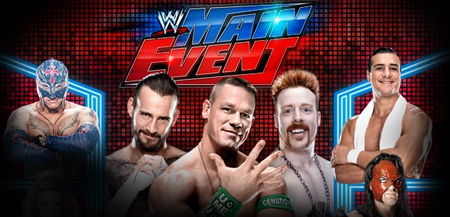 WWE Championship Roll Call:
WWE Champion: VACANT
World Champion: Alberto Del Rio
IC Champion: Curtis Axel
US Champion: Dean Ambrose
Unified Diva's Champion: AJ Lee
WWE World Tag Team Champions: Seth Rollins and Roman Reigns



WWE MAIN EVENT 10.09.13



- Alex Riley and Josh Mathews are on commentary.



Handicap Match: Tons of Funk (w/ The Funkadactyls) vs. 3MB

Brodus and Slater are starting us off. Slater ducks and dodges. He connects with a jab and taunts. Brodus isn't pleased. Two scoop slams and a suplex follow suit with a tag into Tensai. In comes Jindahhh. Tensai knocks him down with a clothesline. He corners him with some headbutts and delivers a monkey flip and a back suplex for two. In comes Brodus. Tons hits a double shoulder block. Brodus follows that up with an elbow drop for TWO. In comes Sweet T. Jinder hits him with a running knee lift! McIntyre tags in and delivers a dropkick! He chokes T out on the middle rope. Quick tag to Slater. Slater uses dem educated feet, ya'll. He locks Tensai in a headlock. Slater taunts a bit before throwing a right hook. That's sidestepped and he gets tossed to the outside. In comes Brodus and Jinder. Brodus dominates with slams and splashes! Brodus goes upstairs and hits a splash for two. McIntyre made the save. Tensai takes McIntyre to the outside. Slater hits a twisting plancha from the apron and.. wins!

This was fine for what it was. Not a good sign when this is your featured match of the night but I'll take a 3MB win every chance I get.

OFFICIAL RESULT 3MB @ 5:52 via pinfall
RATING: *3/4



-Commercial Break-





Aksana vs. Tamina Snuka

Alright, here we go. Aksana rips off her tee and Tamina attacks. Tamina misses a shoulderblock in the corner and Aksana delivers the boots. Aksana gets aggressive with elbows. She locks in an arm bar. She slams Tamina on the back of her head and blows a kiss to the audience. She crawls around Tamina in her normal fashion and gets hit with a boot the face. Tamina drops some knees and covers for two. Tamina locks in a chinlock and clubs Aksana across the chest. Aksana fights out and delivers a neckbreaker for two. Aksana misses a dropkick and Tamina catches her with a gut buster followed by a big boot.

This was better than I expected. Tamina looked good and Aksana looked far better than expected. She actually works a lot better as a face.

OFFICIAL RESULT: Tamina @ 3:26 via pinfall
RATING: *1/4



-Commercial Break-



- We get a recap of the Big Show drama on Raw.



-Commercial Break-





Big E Langston vs. Zack Ryder

Langston comes out of the gate with some power offense. He shoulder blocks Ryder down onto the mat and locks in a side headlock. Ryder escapes and comes back with dropkicks that send Big E to the outside. Langston regroups before break.



-Commercial Break-



Ryder has a front face headlock applied as we return from break. Langston battles out of that rather quickly and continues his domination from earlier. He delivers a few shoulder thrusts in the corner and gets a two count. Big E locks on an abdominal stretch and beats on Ryder a bit. Ryder avoids a body splash and gets his knees up when Big E charges him in the corner! He connects with a dropkick and hits the Broski Boot. Big takes it to the outside and man handles Ryder. He delivers a huge clothesline and rolls Ryder back inside. He lifts Ryder up and gets rolled up for two. He misses a running splash and Ryder hits a series of running forearms. Langston catches him on the third attempt and slams him to the mat. He hits his signature mauling clothesline. Big Ending. Over.

This was an extended squash for Big E. He looked good in there. He could very well be a pivitol part of the main event scene in a few years.

OFFICIAL RESULT: Big E Langston @ 7:48 aired via pinfall
RATING: **1/4

- We get a recap of ADR vs Ricardo and the Cena/ADR match being booked.



-Commercial Break-



- Recap of the six man on Raw and the closing angle with Show.

OVERALL: Nothing to see here, folks. This was pretty much an episode of Superstars on a different channel. Recommendation to skip.
comments powered by