SPOTLIGHTS
411's WWE Smackdown Report 10.11.13
Posted by Michael Benjamin on 10.11.2013

Damien Sandow faced Alberto Del Rio, Cody Rhodes and Goldust teamed up against The Wyatt Family, Curtis Axel defended the Intercontinental Title against R-Truth and more! Check out 411's full WWE Smackdown report for all of the details!

It's time yet again for a Friday Night Smackdown report from this guy. Much like Main Event, this episode is brought to you with a skeleton crew for a roster. Lets see how they handled it.

SHOW... ON.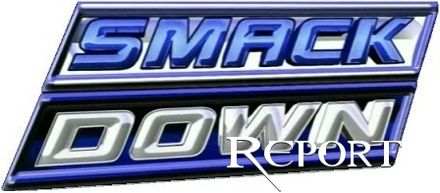 Championship Roll Call:
WWE Champion: VACANT
World Champion: Alberto Del Rio
US Champion: Dean Ambrose
IC Champion: Curtis Axel
Diva's Champion: AJ Lee
WWE World Tag Team Champions: Seth Rollins and Roman Reigns

---





WWE Smackdown Report 10.11.13



- We get a recap of the Big Show drama on Raw. He knocked out Orton because he just couldn't take it. He knocked out Bryan because Stephanie McMahon told him to. Slapped. Fired. KO Punch to Triple H to close the show. I rather enjoyed the angle. Big Show continues to look like a beast and we've finally reached his breaking point. I'm excited to see where this takes us, even if it does involve another McMahon on our screen to keep things moving.

- Here comes Vickie Guerrero to open the show. We get a recap of ADR flirting with her on Raw and her booking Cena/ADR at Hell in a Cell as she makes her way to the ring.

- Last Monday on Raw we all witnessed a heinous atrocity. in the history of the WWE. She switches subjects almost at random to Big Show. Apparently his problems have just begun. There's a for sale sign on his front lawn and he is now unemployed. ADR comes out. She should have opened with the Big Show stuff and then moved on to the ADR stuff. This segment is feeling pretty disjointed.

- ADR begs Vickie to reconsider booking him against John Cena. He says that there has got to be something he can do to make her change her mind. Vickie asks if it was true that ADR thinks she's sexy. He says "of course, every single word." He hits on her in Spanish. She says that if he wants her to reconsider than he needs to kiss her. ADR doesn't seem pleased as the crowd chants yes. She puckers up and he moves in for it. He gives her a quick little peck and she says not to do it like the gringos but to do it like the Mexicans. Okay then. He gives her a big one. Now she wants to try it like the French. Or not, maybe just somewhere else. She points to her ass. She says that she's not going to reconsider and that the answer is no. Here comes Sandow.

- Sandow says that Alberto Del Rio is a phony. He informs Vickie that ADR sees her as a sex object that he can manipulate. Damien is more attracted to her superior intellect. He says that Alberto knows he'll lose against John Cena. ADR's mere presence is not fitting of a champion. When Sandow becomes champion, he'll prove that he's a better man. Vickie books them in a non-title match. ADR knocks Sandow down with a cheap shot. Sandow battles back and grabs the briefcase. He takes a swing and Alberto slides out of the ring to safety. Pretty flat opening segment.

- Curtis Axel and Paul Heyman are making their way to the ring.



-Commercial Break-





Intercontinental Championship: Curtis Axel (w/ Paul Heyman) vs. R-Truth

Just in case you didn't feel screwed out of your money enough on Sunday. LOCK UP~! Axel powers him into the corner and delivers a shoulder thrust. He talks shit and sounds less convincing than Seth Rollins while doing so. Truth comes back with an arm drag and Axel needs a breather. He chit chats with Heyman for a moment but Truth isn't feeling patient. He sends Axel back into the ring and maintains offense. Truth finds himself on the apron and Axel sends him to the mat with a shoulder to the ribs as we head for commercial break.



-Commercial Break-




Pop Quiz: When is the last time they took a commercial break during a singles match with both men still in the ring? Axel is in control as we come back from break. Well, Truth was in control but a lariat to the back of the head quickly turned the tide. Axel has been getting near fall after near fall during the break apparently. He probably should have locked this headlock during the break instead. Truth escapes an Irish whip and sends Axel into the corner. Truth drops a couple of knees on Axel. Both men are sitting down and kicking each other like we're in the go home stretch of an iron man match. Only 4:15 aired at this point. Truth gets a burst of adrenaline and delivers a series of dropkicks. One more big one earns him a near fall. Truth sidesteps a dropkick from Axel and hits him with a modified face buster. This gets him two. Truth hits a scissor kick and Axel gets his foot on the bottom rope to break the fall. Axel pulls Truth neck first onto the top rope and plants him with a neckbreaker for the victory,

This wasn't a very good match. The pacing was all over the place. One second they were hitting the ropes and full of life, and mere seconds later they'd be holding themselves up on the ropes like they were thirty minutes deep. Besides the pacing issues, Axel and Truth delivered about what you'd expect.

OFFICIAL RESULT: Curtis Axel @ 6:27 via pinfall
RATING: *3/4



-Commercial Break-





Los Locales vs. Los Matadores (w/ El Torito)

Fernando starts with Los Locale #1. Lots of hitting the ropes, arm drags, head scissors takedowns etc. In comes the other Matador and they hit a double back body drop. Head scissors take down to a freshly tagged in Los Locale #2. Rana by Diego! OLE. #1 gets blind tagged in. He connects with an enziguri and tags #2 back in. I have no idea if it's Diego or Fernando in for Los Matadores. One of them back body drops the other into #2. Okay, I think Diego is in. They hit their finish on #2 (aka Ricardo) and cover him.

The Los Matadores gimmick is growing old before it even gets legs in my opinion. If you enjoy them, more power to you. I don't want to watch more of their squashes at the very least. That's for sure.

OFFICIAL RESULT: Los Matadores @ 3:41 via pinfall
RATING: 1/2*

- Recap of Michaels being voted as the special guest referee for D-Bry vs. Orton at Hell in a Cell.

- Goldust and Cody Rhodes vs. The Wyatt Family is our main event tonight.



-Commercial Break-





Brie Bella & The Funkadactyls vs. Natalya, Kaitlyn and Eva Marie (w/ JoJo)

Brie and Natalya start us off with some chain wrestling. Brie kips out of a leg scissors and the submission wrestling continues. Brie rolls through a standing Natalya and locks in a pretty nice looking Boston Crab. Eva comes in and cartwheels her way out of an Irish whip. Biggest pop of the match so far. Im comes Kaitlyn and Cameron. Kaitlyn spears Naomi. Things break down and they all hit signature moves. Kaitlyn has to physically pull Naomi through a roll attempt and place her on top to give Naomi the win for face team #2.

Natalya and Brie worked a good portion of the match well enough and they kept Eva in there for a minuet amount of time in a solid little booking move there. The ending was pretty awful.

OFFICIAL RESULT: Brie and The Funkadactyls @ 2.51 via pinfall
RATING: N/R

- Goldust and Cody cut a promo backstage with Renee about how they're going to defeat The Wyatt Family tonight. Cody welcomes back Goldy as we head to break.



-Commercial Break-





Damien Sandow vs. Alberto Del Rio

The crowd seems decently behind Sandow. Sandow starts things off in dominate fashion, grabbing a hold of ADR and smashing his head against a few turnbuckles. We get the face chases the heel back into the ring and gets ambushed spot. ADR takes control. Snapmare takedown into a kick to the head. Alberto locks in a headlock and Sandow quickly makes it to his feet. Headbutts from ADR are quickly put to an end by an armdrag from Sandow. ADR needs another breather. ADR rolls to the outside and grabs his belt. He's trying to leave and Sandow wants none of that. He attacks ADR on the outside and tosses him into the apron before rolling him back inside. Sandow continues the pummeling on the inside with knees. ADR quickly gets back on O with a shoulder thrust that backs Sandow into a corner. He hits an enziguri and covers Sandow for two. ADR goes upstairs and connects with an ax handle to the back of Sandow's head. Back to the headlock we go. Sandow's foot is an inch from the bottom rope but he works his way to his feet to get the crowd clapping along. I get why he did it but it still bugs me. Sandow sidesteps ADR and tosses him to the floor. Sandow follows him back out again. Knee drops and elbow drops follow suit. He screams your welcome before a snap suplex to a decent little pop. He stays on ADR who grabs a hold of the bottom rope for the break. ADR goes to work on Sandow's leg to get him down and follows through with knee strikes to the ribs. Sandow fights back however with a bevy of knee strikes. He charges at ADR in the corner and ADR sidesteps it. Sandow goes shoulder first into the ring post. Sandow sends Del Rio to the outside with a clothesline. He poses with his briefcase. Commersh.



-Commercial Break-



We're back as ADR stops Sandow's momentum with a dropkick. ADR misses a charge and finds himself outside again. They brawl a bit on the outside before heading in. Back in, the brawl continues but heavily favors Del Rio. Sandow puts an end to the with some clotheslines and a nice suplex! He hits the Elbow of Disdain for a great big pop. The crowd counts along with the ref for a two count. ADR kicks him in the head but only gets two. WHAT'S IT GONNA TAKE!?!? ADR calls for the Cross Arm Breaker. He talks some shit to Sandow but Sandow fights back! ADR catches him with the arm stabber. Sandow escapes the second Cross Arm attempt and gets two. Sandow goes for a neckbreaker but eats a backstabber. TWO AND A HALF. ADR misses an enziguri and Sandow hits delivers a swinging neckbreaker for TWO. ADR tries to retreat AGAIN but Sandow isn't going to take it. Sandow grabs ADR off the apron. ADR kicks him in the injured leg and locks in the cross arm breaker for the win.

This was better than I expected going in. I enjoyed them working in ADR's constant escape attempts during the match into the finish. The finishing sequence was a lot of fun as well. Del Rio delivers another great TV match and Sandow looked strong in defeat. Quality TV.

OFFICIAL RESULT Alberto Del Rio @ 12:01 via submission
RATING: ***1/4



-Commercial Break-



- Big Show knocked out Triple H on Raw. Another Big Show video package of that airs. Cole says that Triple H's jaw is rumored to be wired shut. More on the story during Raw.



The Prime Time Players and Khali vs. 3MB

Khali beats up Jinder for awhile with chops and whatnot. That lasts for a minute and ten seconds before Khali tags in Young. Young hits a nice Northern Lights Suplex with a bridge for two. In comes Drew. He hits the ropes but eats an elbow. McIntyre fights back with a kick to the face of Young. In comes Slater. Slater and McIntyre hit a double assisted suplex off the top rope. Slater dodges a clothesline and hits a nice neckbreaker. In comes Jinder. Jinder kicks Young and covers him for two. Drew tags in. Drew with a short arm clothesline for two. He stomps on Young's hand and Young punches him with the other one. Young connects with an enziguri and tags in Titus. Titus cleans house with shoulder blocks. He mauls Jinder in the corner and hits a nice fall away slam for two. Drew tries to attack but gets tossed to the outside. Young hits a running shoulder block off the top. Titus gives Slater a back body drop and tags in Khali. Khali hits the big chop for the win.

Decent little filler match. Nothing special but I can understand the need for it when the majority of their roster is overseas.

OFFICIAL RESULT The Great Khali and The Prime Time Players @ 4:33 via pinfall
RATING: *1/2



-Commercial Break-





Cody Rhodes and Goldust vs. The Wyatt Family (w/ Bray Wyatt)

Harper starts things off with Goldust. Goldust takes him down with a clothesline and in comes Rowan. Rowan shushes Goldust and stares him down. We get an interesting little stare down between the two. Goldust rubs himself and punches Rowan's mask off. In comes Cody. He charges at Rowan but gets dealt with via a shoulder tackle. Cody gets sent to the outside as we head to commercial break.



-Commercial Break-



Rowan is beating up Goldust as we come back from break. The heels dominate with methodical offense on Goldust for awhile. Harper comes in and grabs himself a headlock. Goldust makes it to his feet and stops himself before running into a dropkick. He hits a DDT and attempts to tag in Cody. Harper cuts Goldust off and knocks Cody off the apron. Rowan tags in and the heels pummel Goldust. Rowan hits a nice scoop slam for two. He assaults Goldust a bit more and locks in a bear hug. Goldust elbows his way out of it but Rowan gets right back on offense with some punches and elbows. He whips Goldust into the corner and Goldust catches Rowan with a back elbow. The crowd wants some Cody. Rowan cuts Goldust off and corners him across the ring from Cody. Rowan uses the claw and sends Goldust flying across the ring! He misses a kick and Goldust gives him a facebuster. Cody wants in! CODY IN HARPER IN. Cody hits him with an assisted dropkick and a high knee. DISASTER KICK! He goes for the cover and Rowan breaks it up. Cody dumps Rowan and sidesteps Harper! Harper goes outside as well. Cody goes upstairs and hits a crossbody to the outside on Rowan. He ends up running into a big boot from Harper though. Harper rolls him to the inside.and hits a huge discus clothesline on Goldust! Cody rolls up Harper out of nowhere and picks up the win!

OFFICIAL RESULT Cody Rhodes and Goldust @ 11:30 via pinfall
RATING: ***

OVERALL: The two main events delivered the goods as far as in ring action goes. Nothing mind blowing, but entertaining and well worked. The rest of the show was essentially mindless filler that didn't do much for anybody involved. I understand that half of the roster was missing and they did do a decent job delivering what they could with the little they had to work with. Unfortunately, the show as a whole still fell rather flat. Hopefully things pick back up next week.

Thank you for reading!



411 ON TWITTER~!
Follow me if you scare. Muah ha hahaaaa.
http://www.twitter.com/411wrestling
http://www.twitter.com/411wrestling
http://www.twitter.com/411moviestv
http://www.twitter.com/411music
http://www.twitter.com/411games
http://www.twitter.com/411mma
comments powered by