SPOTLIGHTS
Tremendous Tirades 10.14.13: Monday Night Raw
Posted by Steve Cook on 10.14.2013

The Rhodes Dynasty & The Shield pretty much save the show from being totally unmemorable.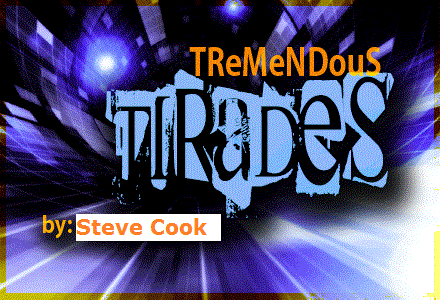 Introduction

Hi kids, it's Uncle Cook filling in for the Bossman this week. Y'all know the drill, the Tirade is not a traditional recap, but more of a free-flowing analysis of the show. Kind of like the Raw Thoughts I used to do in News From Cook's Corner or stuff I'd post on Twitter but with ratings & whatnot. Completely uncensored, so put the women & children to bed before reading this one. This is a review, and Larry has entrusted me with reviewing the show all fair & balanced-like. Obviously I'm a fan or why in the blue hell would I have wasted the last nine years of my life writing about pro wrestling? I like the stuff, but when stuff ain't right I'm gonna complain about it. It is what it is. I encourage discussion & even disagreement, in fact the more I get the more likely it is that Larry will continue posting my columns & podcasts.
---


WWE MONDAY NIGHT RAW – FEATURING JOHN CENA'S NEW ARM



Everybody Talks Too Much: Our Special Guest Referee Shawn Michaels comes out to address the peeps. Now I really wish Bob Backlund had won, a 10 minute opening promo from Mr. Backlund would be the best thing on Raw in at least a decade. Shawn explains how he'll call things down the middle like he's Bill Alfonso or something, and that brings out Randy Orton, the best thing to come out of St. Louis since…something, I'm sure. Orton informs us he has a match with Miz next, which makes me wish I didn't agree to do this. Orton kisses up to the St. Louisians for a couple of beats before pointing out they're not all that bright. Well, he'd know. Orton says he'll hurt Daniel Bryan real bad & HBShizzle will have to count to three and stuff. Words are exchanged, Orton tries an RKO, HBK tries some Sweet Chin Music (I don't think Shawn's super kicking El Torito while wearing those jeans) but Orton ducks out of the ring to get attacked by Miz. On the bright side, that's more offense than Miz got in their previous match.

Nothing earth-shattering, but it did send the message that HBK & RKO still don't like each other, which will add to the conflict to HBK & HHH whenever they cross paths. I'm not as high on Shawn Michaels talking as other people are, but this wasn't one of his more compelling promos. Also…why does the Hell in a Cell match need a guest referee to ensure a winner? You'd hope putting the match inside Hell in a Cell would ensure a decisive victor one way or another. Then again, the very first one had an non-decisive finish so maybe I'm completely wrong.

Rating (1-10): 6.0

Randy Orton vs. The Miz : Orton has the advantage upon our return. Given the beating Miz received the last time he wrestled Orton in Cleveland, I was surprised that he wasn't gone for awhile. We could certainly use a vacation from Good Guy Miz, and Miz could probably use a vacation as well. Miz does get a better face reaction than I expected, meaning that some people actually cheered him. Apparently the Wyatts are insulted by Miz's usage of the Figure 4, as they appear on the ramp to distract Miz while he tries to apply it. Miz distracted, RKO, victory for Orton after about five minutes of TV action. It was a match and it was there.

Miz is the epitome of everything Bray loathes about this world. Join the club, man. He promises to put Miz down and tells us to Follow the Buzzards. I'm still not sure if the Wyatts are faces or heels. I do know that they've been in desperate need of direction for quite some time now, and at least Miz is another scalp they can put on their wall next to Kane's. Maybe they'll just take out people WWE wants to put in movies and that will be their gimmick.

Rating (1-10): 5.0

Fandango (w/Summer Rae) vs. Santino Marella: OK, I wasn't really feeling it when Miz & Orton were out there, but Summer Rae gets me in a better Raw-watching mood. Santino needs somebody out there to counteract Summer…where did Santina go? I kinda liked Fandango better when he was being taken seriously and winning matches against Chris Jericho, but he also works as a comedy character & he and Santino can entertain the young and young at heart. I do think the break has made me more accepting of Santino. There's probably a lesson to be learned there somewhere. Fandango uses the distraction of Summer Rae to get the cheapish win, and I can see this continuing. I'm not opposed, these guys need something to do.

Rating (1-10): 6.0


Rhodes Dynasty vs. The Shield for the tag straps later? Now that's more like it!


Paul Heyman suggests that Brad Maddox book CM Punk against Ryback & Curtis Axel at Hell in a Cell. Brad decides that we'll get a Beat the Clock Challenge between Ryback & CM Punk, with the winner getting to decide the stipulations. Maddox is several hundred times better in pre-taped segments than he is in the arena, so he was almost passable here.


Apparently some NXT kid named Xavier Woods started a petition to reinstate Big Show. I think we'll be hearing more from him pretty soon. And if I was everybody else I'd work in a Consequences Creed reference here, but that's not how I roll. Oh, I guess I just did.


John Cena video. That guy is just a freak of nature. That, and he has a harder time saying no than Miley Cyrus at 3 AM.

Los Matadores (w/El Torito) Heath Slater & Drew McIntyre (w/Jinder Mahal) : So far my take on Los Matadores is fairly typical: I don't care about the Matadores, but the bull is awesome. For example, in this match he danced & Heath Slater got upset. It was a good time. Drew McIntyre continues to be awesome…I've been catching up on NXT since a year's worth of episodes got put on regular Hulu and I'd forgotten how awesome Drew's old theme music was. They really need to bring that back. Heath takes the loss as you'd expect. El Torito gores Jinder after the match, and Jinder decides to take a triple team version of their finisher. The "Ole" schitick isn't getting over with anybody other than JBL, but I do appreciate how the Matadores have changed up their work and aren't the same guys they were before. Hope they keep it up.

Rating (1-10): 6.0


Big Show knocked out Triple H last week after he got fired. Oh, and apparently Triple H & Steph are called "The Authority" now. Reminds me of an underappreciated Green Day song:




At least I think it was underappreciated anyway. Maybe Daniel Bryan could quote a couple of the lines in a promo. It's been long enough that most people wouldn't remember it.

The Authority Talky Talkys: Speaking of controversial music opinions, I like "King of Kings" better than "The Game". It certainly fits H's current character better. Stephanie talks for awhile. H claims last week was his breaking point. I could have sworn he reached that back in 1997. Triple H promises to be the bad guy and give us something we've never seen before…the Big Show groveling at his feet? That was last year, wasn't it? Oh, and H makes sure to note he doesn't like the "Yes" thing, so Daniel Bryan comes out to lead a "Yes" chant. Alberto Del Rio decides to attack Bryan from behind because…well I'm sure there's a perfectly good reason, and Stephanie informs us that ADR is in fact D-Bry's opponent tonight. All right then. The crowd chants "No" at Triple H.

I get the feeling that I'm supposed to hate this because Daniel Bryan got beat up. That's kind of the consensus of online opinion I read these days…anything involving D-Bry getting beat up is the worst thing ever and will kill his drawing power. Maybe they're on to something looking at the ratings, but I just don't think it's time to throw up the caution flags yet. Get back to me after Bryan vs. Del Rio later in this column.

Rating (1-10): 5.5


R-Truth vs. Ryback (w/Paul Heyman) : Lots of Goldberg fans in St. Louis. Did they show a commercial for the DVD? R-Truth runs out the clock by…running around. I remember a match in Memphis where Jerry Lawler got $1,000 of Jimmy Hart's money for each minute he lasted against King Kong Bundy. Man the fans were pissed when Bundy finally won at 6:58. The point I'm trying to make is that stalling is a lost art that can work really well when done properly in front of the right crowd by the right person. Not sure that any of those factors are in play here. Ryback wins at 5:44, which is good news because I won't have to watch Curtis Axel for longer than 5:44. Not a lot going on here, though their half-hearted attempt to salvage R-Truth by consistently feeding him to Ryback amuses me more than it should.

Rating (1-10): 5.0


Oh, there's the Goldberg DVD commercial. TIMING!


Stephanie makes Brie Bella wrestle Tamina Snuka because of Daniel Bryan's "Yes" chanting. I hate these punishments involving Divas that mostly serve to punish the audience.

Tons of Funk (w/Funkadactyls) vs. The Real Americans (w/Zeb Colter) : Zeb cut a promo earlier today calling Los Matadores Los Illegals. Zeb Colter vs. El Torito would be awesome, and I wanna see Antonio Cesaro swing El Torito around. The Real Americans get some heat on Sweet T for awhile. A long while. Funkasaurus tags in & does his thing, then Cesaro Neutralizes him. No Giant Swing? WTF? Oh, ok, Antonio does it to Sweet T after the match! Not as many rotations as usual, and I'm still not sure how I feel about a heel team that has an over move and catch phrase. That poor bull is going to have to get slaughtered to keep Los Matadores face. Pretty decent match here.

Rating (1-10): 6.5

Wrestling Expert Bobby California says the following video may be a bit of a preview of what happens when Cesaro meets El Torito:




Ah, CHIKARA. What happened to them anyway?

Tamina Snuka (w/AJ) vs. Brie Bella : AJ looks as excited about this match as I do. Brie needs to go into Brie Mode to have any chance here, and she actually gets an Achilles lock type move. Bryan's teaching her. I will say that Tamina is better than Lei'D Tapa by quite a bit. AJ talks to her Divas title belt. JBL does a pretty good job justifying the booking of this match. Taminia kills Brie with a big boot for the win, then beats her down after the match. AJ comes in and does her Black Widow submission move. Not to be confused with that twisting sidewalk slam Victoria used to do. I thought the match was good by Diva standards and the post-match attack was fine, but St. Louis hasn't been that quiet since that 49ers/Rams Thursday night game a few weeks back. The battle to make WWE fans care about women wrestling continues.

Rating (1-10): 5.5


D-Bry yells at Stephanie, so Stephanie pulls the "Don't you have a fiancee to attend to" card. It's not a card that gets played a lot outside pro wrestling.

CM Punk vs. Curtis Axel (w/Paul Heyman) : I keep forgetting that Axel is the Intercontinental Champion. It took me a good minute to remember who held that title the last time I was on a podcast with Larry. I dig the story of Axel trying to get the win while his manager is telling him to run the clock out. I'm a little offended by Cole claiming that Axel's crappy swinging neck breaker is shades of his dad. I mean, I've seen Curt Hennig do some crappy moves, but nothing that bad that often. Punk beats Axel with 12 seconds to spare, he announces that he likes Heyman's handicap match idea and wants Ryback & Heyman inside Hell in a Cell. Paul's reaction is something like this: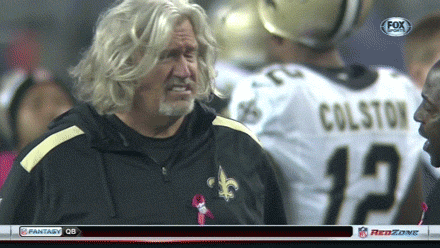 Minus the hair, of course.

The fans approve & chant "CM Punk". Hey, at least it's slightly different than last year's Punk vs. Ryback HIAC match. Match was just kinda there, like most of Axel's affairs. Not all Punk matches can be classics.

Rating (1-10): 5.0

Daniel Bryan vs. Alberto Del Rio : I have hopes for this match. Bryan is Bryan, and even though nobody gives a damn about ADR he's still a very good professional wrestler. In a different universe you could tell a really good story with a Mexican Aristocrat and a guy that looks like a bum about the socioeconomic quagmire that America has found itself in. Michael Cole shoots on "typical American history books" and I really wish he would elaborate to educate the masses. Nice match here that gets interrupted by Randy Orton on the Titantron checking on Brie Bella. ADR takes advantage of the distraction to go to town on Bryan, but Bryan runs backstage after kicking Del Rio in the head. Turns out that Brie screaming doesn't equal her being attacked, and D-Bry ends up getting the business end of a Randy Orton sneak attack. Del Rio won, I think. Good times up until the finish.

Maybe I can't relate since I don't have a fiancee and the odds of Randy Orton attacking any woman I hook up with in the future are pretty slim, but couldn't D-Bry have taken 3 seconds to get the win before running backstage? Surely Brie would have appreciated her man getting the winner's purse instead of the loser's, and all D-Bry ended up catching backstage was a beat down, As Gorilla Monsoon would say, that's what happens when you let loved ones control your pocketbook.

Rating (1-10): 7.0


Triple H makes the Rhodes/Shield match No Disqualification. They oughta make it a Bunkhouse Brawl, been a little too long since we had a good one of those. Watching Triple H & Stephanie kiss makes me wish Jesse Ventura was still on commentary so he could compare it to two carp going after the same piece of corn.


John Cena video! He's coming back in two weeks! We swear! Please buy the PPV!

No Disqualification WWE Tag Team Title Match: Goldust & Cody Rhodes vs. Seth Rollins & Roman Reigns (w/Dean Ambrose) : If you don't love the Rhodes Family we can't be friends. I'm kind of serious about that. Dusty is one of the great promos of all time, Goldust is a classic character and still damn good in the ring, and Cody would be the subject of my #MancrushMonday tweets if I did such a thing. Shield matches are generally fun & the Rhodes are great, but I did have some issues with the setup here. Tag teams bothering with the tag rules during a no disqualification match is pretty silly. I mean, what's the referee going to do if all four guys start fighting willy nilly? He can't disqualify anybody. Why did Dean Ambrose wait until the end of the match to start interfering? I know the answer is "so the match can be better" and maybe I should just shut off my brain, but it's kinda weird. In any event, there was some good storytelling going on here in spite of those questions I had. Roman Reigns spears Goldust through the barricade and all seems lost, but Big Show runs in through the crowd & lays waste to the Shield! KO punch to Reigns, and Cody covers for the 3! New Tag Team Champions! Triple H runs down to the ring to bitch & moan, Big Show leads a "Yes" chant in the crowd, and all is right with America!

Yeah, I had some issues with the match setup and the fact that there were too many rules being followed, but it was a great finish and it's great to see the Rhodes Dynasty together as Tag Team Champions. Certainly a dream come true for Cody, Dustin & Big Dust.

Rating (1-10): 8.8


End scene.


Thanks for reading.



The Tirade



The main event was awesome and people should remember it for quite awhile. That's a good thing because people will remember nothing else from this show. Don't get me wrong, there were some nice performances from the likes of Bryan & ADR, Brie & Tamina did fine & El Torito is always a good time, but most of it was the kind of fare that we see every week on this show and blends together into one big pile of WWE programming. That happens a lot this time of year when people are focusing on things like football, baseball, dancing with stars and people having voices. I give the Rhodes & the Shield all the credit in the world for bumping this up from what I would consider to be an average show to a good show. Definitely watch that match. The rest isn't bad…there's nothing I'd rate as total garbage, but if you miss it you're not missing anything too important. But yeah, Rhodes Dynasty vs. Shield.

Show Rating: 7.0

As a reminder, I will be going by the 411 scale…

0 - 0.9: Torture
1 - 1.9: Extremely Horrendous
2 - 2.9: Very Bad
3 - 3.9: Bad
4 - 4.9: Poor
5 - 5.9: Not So Good
6 - 6.9: Average
7 - 7.9: Good
8 - 8.9:Very Good
9 - 9.9: Amazing
10: Virtually Perfect

The final rating is not simply an average of the rated segments above. The rating takes them into account as well as the segments that are small but not scored, the flow of the show, the overall booking, build to PPV, crowd reactions, and so on and so forth.




---
Have you checked out the Csonka Podcasting Network? If you haven't, you should We run anywhere from 15-20 shows a month, discussing pro wrestling, the world of MMA, the NBA, general sports, popular TV series of the past, bad movies, battle rap, interviews, MMA & Wrestling conference calls and more! Around 10 different personalities take part in the various shows, which all have a different feel; so you'll likely find something you like. All of the broadcasts are free, so go ahead and give a show a try and share the link with your friends on the Twitter Machine and other social media outlets! Running since May of 2011, there are currently over 400 shows in the archive for you to listen to.



Steve Cook is a Gemini and enjoys drinking the occasional alcoholic beverage or nine, long walks on the beach, objectifying women and winning fantasy football championships. He graduated from the University of Louisville in 2006 & has a B.S. in Political Science with a concentration in Law & Public Policy. He has been a wrestling fan since 1990 and has been writing for 411 since August 14th, 2004; contributing nothing but headaches & utter frickin' chaos to the site. He is the last of a dying breed.

Your heart is free. Have the courage to follow it…TO CSONKA'S TWITTER!
Follow Cook as well.

http://www.twitter.com/411wrestling
http://www.twitter.com/411moviestv
http://www.twitter.com/411music
http://www.twitter.com/411games
http://www.twitter.com/411mma
comments powered by