SPOTLIGHTS
411's WWE Main Event Report 10.23.13
Posted by Michael Benjamin on 10.23.2013

Dolph Ziggler faced Damien Sandow, Seth Rollins wrestled Goldust, the Prime Time Players took on the Real Americans and more! Check out 411's full WWE Main Event report for all of the details!

Ello. Ello. Ello. Aye. Wanna read some words about wrestling?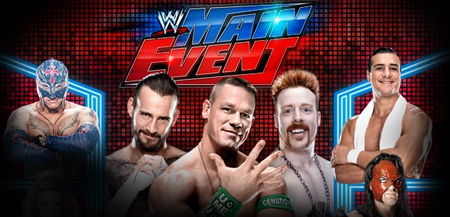 WWE Championship Roll Call:
WWE Champion: VACANT
World Champion: Alberto Del Rio
IC Champion: Curtis Axel
US Champion: Dean Ambrose
Unified Diva's Champion: AJ Lee
WWE World Tag Team Champions: Goldust and Cody Rhodes



WWE MAIN EVENT 10.23.13



- Alex Riley and Josh Mathews are on commentary.



Goldust (w/ Cody Rhodes) vs. Seth Rollins (w/ Roman Reigns)

Cody didn't need his own entrance just to be at ringside for Goldust, did he? Huge Goldust chant! That's good to hear. Goldust comes out on top of an early exchange. Rollins heads to the outside. Reigns tells him that he controls the pace. Rollins was all like "fuckin' a. I do control the pace." He gets into the ring and takes a couple of arm drags before exiting the ring again. Reigns has some words of wisdom: "You control the pace!" That's what Rollins needed to hear. He gets back in and controls the pace! Nothing big to get any sort of momentum though. Jabs and corner strikes for the most part before Goldust gets some jabs and strikes in of his own. A light bulb pops up over Rollins' head and he remembers to control the pace. A shoulder block take down into a side headlock allows this. He charges at Goldust and ends up getting back body dropped to the floor. Reigns distracts Goldy and Rollins dropkicks him into the guardrail as we head to commercial break.



-Commercial Break-



During the break, Rollins controlled the pace. Goldust tries to create separation but Rollins stays on him. Goldust battles out of a side headlock but ends up getting strong whipped into the corner. Rollins repeats this into the adjacent corner. Goldust is already missing a good majority of face paint. Rollins charges at Goldust but gets caught with a nice powerslam. Rollins isn't taking Roman's advice and it's costing him. Goldy hits his patented uppercut Irish whip reversal and the crowd is rallying behind him. Rollins tries to fight back but gets a boot to the face. Rollins follows that up with a heel kick. TWOOOOO. Rollins goes upstairs and goes for his stomp but Goldust ducks it and hits a spinebuster for a good nearfall. Miz is wondering what it;s going to take to put Rollins away. A finisher. That's the answer every time. Rollins is draped throat first over the top rope and Goldust hits a nice modified bulldogish move that sends Rollins to the outside. Goldust and Reigns have a staredown. Cody attacks Reigns on the outside. This distracts Goldust long enough for Rollins to get a roll up for the victory.

The pacing was a little slow but it was well worked and enjoyable throughout. Goldust held his own in there and continued to prove that he's a valuable asset to the roster. The Reigns/Rhodes factor didn't play into the match too much and added a nice element of suspense when they did interject. Good stuff.

OFFICIAL RESULT Seth Rollins @ 8:32 via roll up
RATING: **3/4



-Commercial Break-





The Prime Time Players vs. The Real Americans

Titus starts with Swagger. Titus throws a bunch of punches at Swagger and gives him a fall away slam. Josh Mathews mentions that Swagger has put on 22 lbs in the last couple weeks. I don't know how to feel about that. Young gets in there and the heels take charge. Swagger and Cesaro take turns beating him up with quick tags. Cesaro hits the leapfrog assisted stomp over Swagger. I love that. Cesaro is keeping himself between Young and O'Neil and tags in Swagger. Swagger hits a couple of suplexes and stays on young with submission holds in between. Young knocks Cesaro off the apron and hits Swagger with an enziguri! Double hot tagsies. O'Neil takes it to Cesaro. He goes for a tilt-a-whirl slam but Swagger interrupts. Cesaro gives Titus the big swing! Yeahhhhhhh! Swagger gets in there and locks in the ankle lock for the win.

This was standard tag team action. It was a little too short for the tag formula to really kick in and be taken advantage of. They still did a good job building up to the Titus hot tag though. The crowd is starting to take to him.

OFFICIAL RESULT: The Real Americans @ 4:45 via submission
RATING: *3/4



-Commercial Break-



- Raw Rebound of the D-Bry Orton happenings.



-Commercial Break-





Aksana and Alicia Fox vs. The Funkadactyls

Alicia Fox and Aksana stay in control of Cameron to start. In comes Naomi with a brutal looking rana. She's too safe. Aksana gives her a facebuster but it's no sold? I have no idea what's going on. Rear end to Aksana. The Dactyls win. Woof.

Sloppy, loose, uninspired, and just poorly worked all together. Not good. At least it was quick. Naomi definitely has something unique about her. Natural athleticism and offense that, when well performed, can really help her stand out in a good way. She still needs a lot of work though.

OFFICIAL RESULT: The Funkadactyls @ 3:03 via pinfall
RATING: DUD.



-Commercial Break-





Damien Sandow vs. Dolph Ziggler

Sandow comes out of the gate with aggression like usual. Shoulder thrusts and stomps for the zig zag man from the big bad sand. His offense reminds me of a less refined Del Rio. Sandow hop tosses Ziggler down and goes right back to work. The crowd starts an ironic "this is awesome" chant. That's not a good sign for Smackdown. Sandow drops a few knees and covers for two. He locks in a chinlock. Sandy gets handy with his stomach work. He exposes his own knee and tries dropping it on Ziggler. No go, it hits the mat. Ziggler is in charge now. He takes down Damien and gives him the Thesz press/punches. He delivers corner punches and a neckbreaker. Fameasser. TWOOOO. They make it to their feet and Sandow hits his full nelson slam for the win.

They only had like five minutes and they did a good job with it. Sandow was in control for the majority of the match and although I hate to see Ziggler go down so fast, Sandow needed the win and Ziggler looked good in defeat. Nothing to write home about, but it was a lot better than what they usually close Main Event with.

OFFICIAL RESULT: Damien Sandow @ 5:03 via pinfall
RATING: **1/2

OVERALL: Nothing blew the roof off the place and the divas match was actively bad, The bookends were both good matches and worth checking out if you have the time.
comments powered by