SPOTLIGHTS
411's WWE Smackdown Report 10.25.2013
Posted by Michael Benjamin on 10.25.2013

Daniel Bryan, Cody Rhodes, Goldust and Big E Langston tagged against The Shield and Randy Orton, Harper and Rowan took on The Usos, Ryback and Paul Heyman battled CM Skunk and more! Check out 411's full Smackdown Report for all of the details!

Michael Benjamin is here! I'm gonna put results in your eyes, down your throat, and into your heart... The same place I keep each and every one of you. Grab my hand, close your eyes, and fall back into a sea of wrestling words.

Lets do this.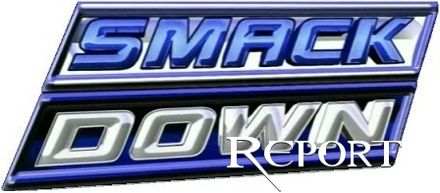 Championship Roll Call:
WWE Champion: VACANT
World Champion: Alberto Del Rio
US Champion: Dean Ambrose
IC Champion: Curtis Axel
Diva's Champion: AJ Lee
WWE World Tag Team Champions: Cody Rhodes and Goldust.

---





WWE Smackdown Report 10.25.13



- Michael Cole is in the ring. He introduces Triple H to a huge face pop and a sea of cheering fans. Triple H says that Big Show has cost six superstars their jobs. Like any good guy up against the way, he's suing WWE. He's irrelevant now. Michael Cole asks if Triple H is worried about Big Show interrupting Hell in a Cell. Triple H isn't at liberty to discuss that. Triple H can't wait for the return of John Cena. He's excited for the World Heavyweight Championship. Cole moves things along to the WWE Championship match. The crowd starts a yes chant quickly. Cole mentions that a majority of the audience picked HBK to be the ref. Triple H is thrilled about there being a new champion and he's thrilled that HBK guarantees a new champion. Cole says that while Triple H and Michaels agree on that, they don't agree on Daniel Bryan. Triple H says that they share a similar beliefs. One of the beliefs is that they both know what it takes to operate a business and that HBK will do the right thing. Cole asks what the right thing is. Here comes D-Bry!

Bryan is sporting a smile in front of the an entire audience chanting yes. He says that the right thing is to let him and Orton settle it once and for all. Regardless of what anybody tries to do, nobody gets in or out until there's a definitive winner. Daniel Bryan says that HBK knows what it is right for business and that he'll prove Triple H wrong. Triple H has a sour look on his face.

What a great segment! They hyped the show better in 15 minutes than all of Raw combined in my opinion. I'd love to see Triple H do a little hype segment like this for every PPV during his tenure. He did a great job acting like he was holding his composure and acting professional unwillingly while Bryan screamed yes in his face. After the years and years of sitting through Triple H come out on top of any situation like this, it was immensely gratifying to see Bryan get his moment over Triple H. Bryan's promo was short, passionate, and sold the Hell in a Cell match as good as it could possibly be sold. That segment really made the main events seem like can't miss TV.



-Commercial Break-





Harper and Rowan (w/ Bray Wyatt) vs. The Usos

Miz is on commentary. Jesus, he's literally been booked in feuds to trade wins, get jumped, and do commentary for YEARS. They don't even try to make his angles interesting. Harper and Rowan get the opening match slot again. Is that a good thing or a bad thing? It's technically the second segment. Are they post opening promo breather time? Are they considered exciting to watch? Have I typed this much before the entrances? Well I can answer one of those questions. The third one is "yes." Harper and Rowan tear Jimmy Uso apart with stiff power offense. Harper hits an inverted power slam for two. Jimmy jumps across the ring and tags in Jey. Kicks and a Samoan Drop. UUUUUU. SOOOOOO. Butt bounce in the corner. Is that a modified rear end in 2013? Things break down inside and outside of the ring. Wyatt rolls Harper into the ring. Miz attacks Bray. It's 2v1 now! Double superkick by The Usos. It's over.

The Wyatt Family looked great in there. They've tweaked their in ring style exactly how I had hoped by maintaining their methodical presence while sprinkling in more exciting, yet still precise, moves in. Nothing too fancy but it looks painful. The ending sequence was well worked and the distraction was a solid way to lose without looking weak. I enjoyed everything besides Miz. He was corny on commentary and I'd rather see anybody else on the roster in his spot right now. He may be popular but he's not a big enough threat in the eyes of the crowd to actually benefit Wyatt going over him.

OFFICIAL RESULT: The Usos @ 4:37 via pinfall
RATING: *3/4



-Commercial Break-





Nikki Bella (w/ Brie) vs. AJ Lee (w/ Tamina)

Lockup. Nikki comes at her strong and drop toeholds her. She hits her with the press and takes her down. AJ has to roll out and escape. Nikki gets too close to the ropes and AJ chokes her on the top rope. Different side of the ring, different choke, different rope. AJ hits a snap suplex for two. Brie yells to Nikki that she's got this. Nikki escaoes and hits a nice little dropkick. Nikki grabs AJ by the hair and misses a running dropkick.Tamina and Brie fight on the outside. AJ locks in the Black Widow while Brie is distracted. Tap tap tap.

Much like Brie last week, Nikki surprised the hell out of me. She was crisp, had great timing, and was far more intense than most of the divas. The Bella Twins are really surprising me inside the ring lately Also, something of note is that we're 3 for 3 on layout tonight. WWE Championship angle, Wyatt/Miz angle, Divas angle.

OFFICIAL RESULT: AJ Lee @ 3:17 via submission
RATING: *1/4



-Commercial Break-



- Wyatt has something to show us backstage. He hijacked a camera man, I guess. Miz is unconscious backstage, handcuffed to a piece of the set. He had the mask on him before Rowan yanked it off. This is one of those rare times in 2013 where the first thing that comes to mind is "that visual could have really used some blood."



Los Matadores (w/ El Torito) vs. McIntyre and Slater (w/ Mahal)

It's pretty neat the the tag division has its own undercard nowadays, right? Colter and The Real Americans come out to their music and watch from the ramp. McIntyre and Slater quick tag right at the beginning and take down Diego. McIntyre back in. Him and Slater hit a springboard suplex off the top rope. Diego dodges a running elbow and tags in the other matador. He cleans house with his lucha offense. He escapes a back suplex and blind tags Fernando. They hit their finish and win.

Michael Cole's thoughts on the match? "El Torito is awesome." Bull shenanigans with Mahal happened after the match. Torito hit a springboard moonsault to the outside on him. At the very least, they're not tearing apart the tag division or defeating very credible teams... yet.

OFFICIAL RESULT: Los Matadores @ 2.09 via pinfall
RATING: N/R

- Colter cuts a quick little promo that was pretty unsubstantial minus claiming that the Matadores kidnapped Torito and forced him to dress like that. The crowd just wanted to chant "we the people" and delivered their end of the deal well.



-Commercial Break-





Ryback and Paul Heyman vs. CM Skunk

If you exclude the quick squash prior to this, we're 4 for 4 on angle placement. It's like they used an easy booking editor for this. I'm very bored with the Punk/Ryback angle at this point. It's lost more and more steam every single week for two months. It's dragging down Punk and making Heyman seem less important. It's doing nothing for Ryback.or Axel. This needs to end. Here we go. Skunk's hair is dyed like a skunk and he doesn't take his shirt off. He kicks Ryback in the hamstring a few times. Hey, it worked for Miz a shitload of times. Heyman grabs a kendo stick. He lets loose on the back of Skunk like two dozen times. Heyman tells Ryback to finish up Skunk with no tag. Ryback hits the meat hook. FINISH. IT. Shellshock. Canned pop. The crowd is dead. They want Punk. Heyman pins him ala Jericho with one foot. Heyman is undefeated this year.

Heatless and underwhelming. The cane shots were kind of fun to watch but other than that it was just a different approach to get Heyman on the mic. The crowd wanted Punk but and the segment presented itself in a way that made it seem like he'd show up. The crowd went silent when they realized they weren't getting Punk.

OFFICIAL RESULT Paul Heyman and Ryback @ 2:41 via pinfall
RATING: DUD

- Heyman cuts another promo. It's whatever. Same thing we've heard for months. I'm great at this.

- Vickie is laughing at CM Skunk on the monitor backstage. Big E pops up on the scene. Big E says that since Miz went down he wants in the match. Vickie says she'll run it past Trips. Big E compares her to Maddox and Vickie gets pissed but gives in to avoid the comparison. Big E is a natural on the mic. If they're going to get behind him, I'm PLEADING them not to stop and start like they have with so many wrestlers. If they let him do his thing and stay consistent with him, the crowd will care.



-Commercial Break-



- Here's our World Heavyweight Champion! He cuts a promo on the ramp about Cena not being ready to wrestle him on Sunday. Cena's not Superman. ADR is a real life Mexican super hero. I think they should give ADR the good old punchline "but hey, I'm not telling you anything... that you didn't already know." This smug little prick could pull that off to perfection. He goes on the same spiel about Cena being a Gringo that he's been doing lately. He's going to put Cena in the cross arm breaker at Hell in a Cell and never let go. i think Triple H would frown upon that. That's a lot of wasted air time! That's not best for business! He tells all of the gringos to kiss his ass and still can't get heat.

- TRUTH WWE SHOP SPOT~! Santino wants a chance to peddle some merch! He promotes in a deeper voice. Surprise surprise! That's right! You spineless marks thought he'd do it in his normal voice! Your faces are redder than a beet. Truth dances behind Santino the time. Promo code cobra for some deals.



-Commercial Break-





Fandango w/ Summer Rae vs. The Great Khali (w/ Natalya)

The rematch we clamored for. Guess what, dirt sheets!? They did what you want so you can stop complaining. You don't know shit. Cut to the crowd for Fandangoing. One kid in a sea of motionless humans. That visual would make a great meme. Khali chops. Fandango gets the big man down. He doesn't maintain control and eats a big boot. Fandango basically runs in circls and continues to run into Khali's arm so Khali doesn't have to move. Natalya and Summer Rae go at it. No Contest.

Hey, they got to make the lights pink and plug the breast cancer merch for a couple minutes. Fandango worked a broomstick for a minute and a half. He ran into Khali a bunch of times and acted like he was getting hit by a truck a until the women went at it and we got a non-finish. Next.

OFFICIAL RESULT No Contest @ 1:59
RATING: DUD



-Commercial Break-





Daniel Bryan, Goldust, Cody Rhodes, Big E Langston vs. The Shield and Randy Orton

Cody and Ambrose go at it. Cody comes out on top and we get Rollins in there. Goldust was in for a second and out. Cody's back in. He cleans house and we're going to commercial already.



-Commercial Break-



Big E is in charge of Rollins upon our return. Cody picks apart Rollins and tags in D-Bry. D-Bry does the half surfboard and stomps on the back of Rollins knees. I love that move. Big E comes in and hits a shoulder thrust before getting Goldust back in there. The veteran Goldust makes a rookie move and pulls Rollins to the opposite side of the ring. He ends up hitting a crossbody so it doesn't matter. Reigns is in there and Cody's in there now. Ambrose comes in and uses his UNIQUE OFFENSE to maintain control. Nobody drags a head across a top rope like Ambrose. In comes Orton. Rhodes connects with a heel kick and delivers a front face suplex for two. Rhodes stomps away.Goldust enters the fray, gets a couple jabs, tags back out to Cody. Why would he go back to Cody, who has more ring time than the other three combined? Sorry, but I notice this stuff from time to time. Ambrose tags in and goes for Cody on the outside. He sends the back of Cody's head into the barricade and rolls him back in. He wears down Cody. The heels quick tag in and out whilst shaking it all about. Orton tries dropping a knee on Cody and Cody gets out of the way. Cody goes for ten count punches and Orton turns it into his patented back breaker. That was awesome. Cody rolls outside.



-Commercial Break-



Reigns delivers a suplex to Rhodes upon our return from break. The heat segment continues as Cody chants break out, therein proving how well tag formula can work. Cody gets close to tagging but no! Reigns in! Cody tries crawling to his corner. Reigns gets a dropkick. Rollins goes for an ax handle and Cody gets a jab to the stomach. Goldust tags in and takes it to Rollins. Back body drop. Reigns blind tagged in though and he BBDs Goldy. The heels quick tag and pick apart G-Dust. Quick tags and punches. happen until Goldy hits a huge backspring elbow. I'd marry Daniel Bryan because he knows how to clean the fucking house. He literally just goes from person to person tearing it up. This is smart because he can still get taken down and give Big E a Big Rub here. Bryan goes for the Yes Lock but "the master of the pinfall breakup" Reigns... well, he breaks it up. Langston catches Rollins off the top but gets sent to the outside. Rhodes hits the disaster kick on Rollins. Cody hits a crossbody to Reigns and Rollins on the outside. Bryan and Ambrose are left. In comes Orton. Assisted DDT from the middle rope. Pop goes the crowd's weasel. Orton pounds the mat BUT BIG E SHOVES HIM INTO THE FLYING GOAT! Bryan pins Orton!

You knew this match would kick as you saw it on paper. They delivered exactly how you'd expect them to. They had plenty of time to build suspense, Bryan's hot tag was among his best, and Big E Langston had a couple nice moments in the spotlight with decent crowd response. He played a big part in the finish so this was a great way to really establish the face turn during an important match.

OFFICIAL RESULT Bryan, Big E, Rhodes Bros @ 14:35 aired
RATING: ***3/4

OVERALL: They did a solid job maintaining focus on Hell in a Cell for the most part. The non-related angles were short. We had two DUDs that were more pointless than awful. The heaping of helpful of promos and angle advancement would have been more forgivable if it surrounded another good match. The main event is all that's here for you to go out of your way for, but it was a very well worked match that went three segments long. Besides the main event, the show was below average on the entertainment side of things. It was above average as far as hard selling a PPV goes though. I guess that's best for business, right?

Thank you for reading!

A little treat for your digital pillow case:



-------



411 ON TWITTER~!
Follow me if you scare. Muah ha hahaaaa.
http://www.twitter.com/411wrestling
http://www.twitter.com/411wrestling
http://www.twitter.com/411moviestv
http://www.twitter.com/411music
http://www.twitter.com/411games
http://www.twitter.com/411mma
comments powered by