SPOTLIGHTS
Tremendous Tirades 10.27.13: WWE Hell in a Cell 2013
Posted by Larry Csonka on 10.27.2013

We have a new WWE Champion…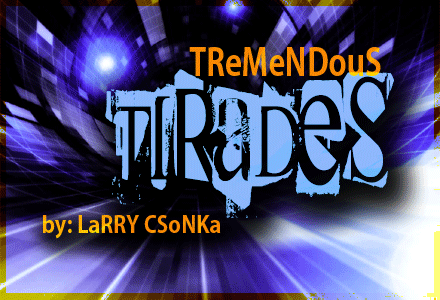 Introduction
As a reminder, this will not be another traditional recap, but instead it will be a mash up of the Rs, Instant Analysis and my usual Twitter ramblings I would do during the shows; completely uncensored and as the ideas flow unfiltered to the old keyboard. Remember, this is a review; and I am here to review the show. As always, I encourage discussion and even disagreement, just do so in a respectful manner. I will be doing the review for Raw and most PPVs and iPPVs going forward.
---
WWE Hell in a Cell 2013 – Mark Henry is Not Scheduled To Be On The Show But I Am Not Going To Be The One To Tell Him That
Rey Mysterio is part of the Spanish announce team tonight.

WWE Tag Team Title Match: Goldust and Cody Rhodes © vs. Seth Rollins and Roman Reigns vs. The Uso Brothers: On paper I love this as an opener. I have often discussed the importance of the opening match, as it has to have performers the crowd is emotionally interested in, or guys that can make them care with their work. The Shield has worked well with both teams in the past, and the Rhodes vs. Shield has provided some great stuff, so I am all for this as the opener. Yeah, so, this fucking ruled, I was into this from bell to bell and they simply delivered big to open the show. Simply put we got excellent work from all six men, they got time, there was no bullshit or shenanigans, they has a hot crowd (they especially were into Cody) and worked a fun finish. It is matches like this that make you believe that WWE may actually be investing in he tag team division, and as I have said so many times, they should. They have so much TV and so much talent; they can do it and do it well if they stick to simple booking and not booking the teams like jokes. Overall they didn't do anything new, it was the same old triple threat formula, but everything clicked and this was the best way to kick off this show as the brothers retained. I say again, MORE OF THIS WWE!
Match Rating: ****



The Miz wasn't medically cleared to perform, but called out the Wyatt Family. Maybe if Miz sold the fact that he was kidnapped and beaten a bit more than using his constipated face I could actually care about this. Bray distracted Miz with a promo on the tron, which led to Rowan and Harper attacking him. The Miz got his ass beat; Kane returned to make the save and cleared out Harper and Rowan. And then, because no one likes Miz, Kane chokeslammed him and the crowd loved it.

Fandango and Summer Rae vs. Khali and Natalya: And now, time for some delicious filler. Summer Rae got the win after sending Natalya to the middle rope hotshot style, and getting a roll up. The crowd was into the match way more than I thought they would be, especially for Natalya slapping Fandango in the face and also slapping Summer's ass. Natalya and Summer worked fine together in their short interactions, but it was a real chore when Khali and Fandango were in there. Five or so minutes of filler, moving on.
Match Rating: *



The show started off so well with the tag title match, but I feel as if the momentum has been lost.

US Title Match: Dean Ambrose © vs. Big E. Langston: This was set up during the PPV kick off show, as Langston was on the panel and they did an interview with the Shield. Ambrose called Langston a rookie, and Langston made the challenge, which Ambrose initially tried to dodge. Langston got busted open by the eye during the match, he fought through and they didn't stop the match to wipe him off. Nice spot where Ambrose was on the apron and Langston hit a spear through the ropes and to the floor. We got a count out finish as Langston made it back into the ring, and Ambrose tried to bail. Langston would hit the big ending after the match and stand tall with the US Title. Usually not a fan of the non-finish on PPV, but with Langston's IC Title match cancelled and this being a last minute addition, I am ok with it as they had to move things around. The match was just there, but the lack of crowd reaction at times was disturbing, because they were pretty dead overall here. I feel part of that was the filler shit they did before it, and also because of the way Langston was randomly turned face. They do not have a reason to care about Langston yet.
Match Rating: **



Hell in a Cell Handicap Match: CM Punk vs. Ryback & Paul Heyman : Heyman cut a promo pre-match, as a cherry picker rode him to the cage and then went into the arena sky to place him on top of the cage. Great promo as usual by Heyman, who stayed on top of the cage while Punk and Ryback battled in the cage. Commentary made me weep for the future asking, "Has anyone started the Hell in a Cell match on the top?" Punk won clean with the GTS after a top rope elbow drop onto Ryback who was on a table. He then stuck the kendo stick in his tights and climbed the cage and beat the hell out of Heyman. He then delivered the GTS and that was that. The end result was the right one as it was the culmination of what they had been building to. The match was a bit over 13-minutes, and felt like a basic TV match inside the cage, with some added plunder. It honestly felt longer than it was, which isn't a good thing. It was a match that I never really got into, with a post match angle to seemingly blow things off between Punk and Heyman.
Match Rating: **¼


The Real Americans w/Zeb Colter vs. Los Matadores w/El Torito: The one thing I like about the match is that Cesaro works well with high flyers, which could really help this overall in terms of quality. At one point Cesaro did the big swing on one of the Matadores for roughly 30 rotations. Miscommunication between the Real Americans cost them the match in the end. Zeb was left in the ring, and got knocked to the floor by Torito. He then did a plancha onto Swagger after Cesaro was sent back to the floor. The finish came off as anticlimactic, and the match was just there, feeling like a your basic, acceptable TV match. Again, the PPV has really gone down hill following the opening tag title bout.
Match Rating: **



Video package to hype Cena vs. Del Rio.

World Title Match: Alberto Del Rio © vs. John Cena: They wisely stuck to the smart and simple way of things to begin, Cena testing himself, yet protecting the arm as Del Rio (smartly) targets it since he uses the cross arm breaker submission. It is simply, effective and easy, which is why it works. Early in the match they showed Sandow watching backstage, with his briefcase at the ready. Del continued to work the arm, including taking the sleeve down from around Cena's elbow and keeping the focus there. Cena would survive the cross arm breaker, including the big power out spot near the finish, and then hit the AA to claim the world title at around the 15-minute mark. Overall a good match with a pretty good crowd overall, and while not great, it was better than most of what was on the show thus far.
Match Rating: ***


Divas Title Match: AJ Lee © w/Tamina vs. Brie Bella w/Nikki Bella: The ladies got the death spot, and will likely have to do something special to get the crowd's attention for any length of time. Late in the match Brie has AJ in the single leg crab, Tamina tried to get involved, Nikki made the save. Unfortunately, miscommunication (Brie hit the charging knee on Nikki after AJ moved) allowed AJ to get the black widow submission and she retained the title. The match was just short of 5-minutes, and while fine, was certainly nothing special. They did what they could with the time given, and it wasn't bad at all.
Match Rating: **



The Prime Time Players play video games backstage. MR. BOB BACKLUND APPEARED and did the Millions of dollars dance. THIS HAPPENED!


Hunter and Shawn talked backstage.


Video for Orton vs. Bryan.


WWE C.O.O. came to the ring with the WWE Title. He shook hands with Orton, but Bryan refused the gesture.

Hell in a Cell Match For The Vacant WWE Title (With Shawn Michaels as Referee): Randy Orton vs. Daniel Bryan: of note, all of the betting favorites have won so far on the show. Orton is the betting favorite here, so we'll see how that goes. I only mention it because the "WWE PPV betting" has been a story for a while now. Bryan was running wild early, and started to hit a series of suicide dives, but missed the last one and speared himself into the cage. After Orton was in control for a while, Bryan made the comeback and then beat down Orton with repeated chair shots. He then tossed about 10 chairs into the ring. Orton used an eye poke and chair shots to take back control. Orton then piled the chairs center ring and hit a superplex on Bryan for a near fall. Hunter then made his way back out to the ring and was not a happy panda. Asshole chants from the crowd, as he bitched at Shawn about counting slow. Orton had a cover as they argued, and then Orton, Hunter and Shawn argued. Shawn then told Hunter to let him do his job and the action continued. Hunter distracted Shawn and we got a ref bump when Bryan shoved Orton into Shawn, which led to Hunter having the cage opened for the trainer to check on Shawn. Bryan hit the big knee and KOd Orton, but there was no ref. Hunter entered, tossed Bryan aside, and checked on Shawn. Bryan then KOd Hunter, leading to Shawn superkicking him. Orton covered and Shawn reluctantly counted the pin. Once again I felt that the match was going rather well, but that the booking of the finish took away from the work.
Match Rating: ***½


A depressed Shawn Michaels walked away as Orton celebrated with the title.


Trainers attended to Bryan as Orton and Hunter then celebrated.


Thanks for reading.




The Tirade


The show kicked off with Goldust and Cody Rhodes vs. Seth Rollins and Roman Reigns vs. The Uso Brothers for the tag team titles, and for me, it peaked there. We had some filler and a bunch of matches that were "just there," and while not actively bad, it didn't exactly make me feel good about paying for the event. Cena's return came off well, the crowd was into it and the won the title to tell the comeback story and hopefully add some life to the world title, which it really needs.

The main event was good, but not great, as the booking of the finish once again overshadowed it. We finally got a winner and new WWE Champion, but I feel that many will come away unsatisfied. All I have heard for months now is, "it will be ok, because Bryan will go over in the end and get his revenge." Well, that didn't happen. We got another screwy PPV finish in a line of them, and the booking continues to hurt the matches instead of helping. Sure they may have a bigger story in line, but at the same time, it also comes across as "we showed you, how dare you support Bryan." The thing is, he was hot, and unless they have something spectacular to follow this up, I am not sure that they can keep that going, because the people may feel that they shouldn't believe because if they do, it will just be taken away once again.

As for the show as a whole, you had one great match and two good matches and then a ton of what came off as filler. Not so good in the eyes of this paying customer. But that's just my opinion.

Show Rating: 5.0

As a reminder, I will be going by the 411 scale…

0 - 0.9: Torture
1 - 1.9: Extremely Horrendous
2 - 2.9: Very Bad
3 - 3.9: Bad
4 - 4.9: Poor
5 - 5.9: Not So Good
6 - 6.9: Average
7 - 7.9: Good
8 - 8.9:Very Good
9 - 9.9: Amazing
10: Virtually Perfect

As a reminder, this is not a basic "how good was the show" number like a TV show, as I have always felt that a PPV is very different from a regular show. I have always judged PPV on how they built to a match, the match quality, crowd reactions to matches and angles, the overall booking, how the PPV leads into the future, PPV price and so on and so forth. I have added this in here for an explanation since so many have asked, and I have previously discussed it on podcasts. I understand that this may seem different, but that is how I grade. Obviously your criteria may be different.




---
Have you checked out the Csonka Podcasting Network? If you haven't, you should We run anywhere from 15-20 shows a month, discussing pro wrestling, the world of MMA, the NBA, general sports, popular TV series of the past, bad movies, battle rap, interviews, MMA & Wrestling conference calls and more! Around 10 different personalities take part in the various shows, which all have a different feel; so you'll likely find something you like. All of the broadcasts are free, so go ahead and give a show a try and share the link with your friends on the Twitter Machine and other social media outlets! Running since May of 2011, there are currently over 400 shows in the archive for you to listen to.



Larry Csonka is a Pisces and enjoys rolling at jiu jitsu class with Hotty McBrownbelt, cooking, long walks on the beach, Slingo and the occasional trip to Jack in the Box. He is married to a soulless ginger and has two beautiful daughters who are thankfully not soulless gingers; and is legally allowed to marry people in 35 states. He has been a wrestling fan since 1982 and has been writing for 411 since May 24th, 2004; contributing over 3,000 columns, TV reports and video reviews to the site.


Your heart is free. Have the courage to follow it…TO CSONKA'S TWITTER!

http://www.twitter.com/411wrestling
http://www.twitter.com/411moviestv
http://www.twitter.com/411music
http://www.twitter.com/411games
http://www.twitter.com/411mma
comments powered by