SPOTLIGHTS
Tremendous Tirades 10.28.13: Monday Night Raw
Posted by Steve Cook on 10.28.2013

Shawn Michaels shows his old colors, Damien Sandow learns that John Cena is unstoppable, and Summer Rae main events. It's a good time.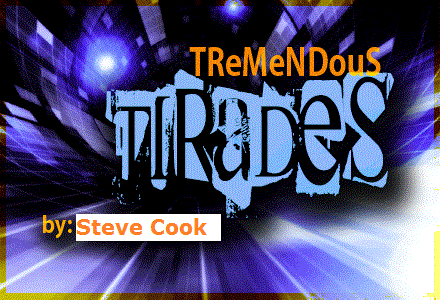 Introduction

Hi kids, it's Uncle Steve filling in for the Bossman one more time. Y'all know the drill, the Tirade is not a traditional recap, but more of a free-flowing analysis of the show. Kind of like the Raw Thoughts I used to do in News From Cook's Corner or stuff I'd post on Twitter but with ratings & whatnot. Completely uncensored, so put the women & children to bed before reading this one. This is a review, and Larry has entrusted me with reviewing the show all fair & balanced-like. Obviously I'm a fan or why in the blue hell would I have wasted the last nine years of my life writing about pro wrestling? I like the stuff, but when stuff ain't right I'm gonna complain about it. It is what it is. I encourage discussion & even disagreement, in fact the more I get the more likely it is that Larry will continue posting my columns & podcasts.
---
WWE MONDAY NIGHT RAW - MILLIONS OF DOLLARS, YOUNG MAN.
Hell in a Cell was last night! I talked about it with the great Greg DeMarco & Patrick O'Dowd. Not a bad show, but some of the booking was quite suspect and it peaked really early with the WWE Tag Team title match.


The fans are allowed to decide what type of match CM Punk & Ryback will have tonight. Sadly "CM Punk wrestles somebody else" is not one of the options.

The Champ Is Back!!!!!!!!!!: Well, if you're going to have John Cena come back early from an injury he better lead off Raw, right? Cena thanks JBL for motivating him to come back with his insistence that Cena was coming back too soon. Europe should be happy to hear that Cena will be on tour kicking ass & taking names. Cena cuts the usual promo about being back Even Stronger and appears ready to leave when Damien Sandow shows up & proclaims that the Uncrowned Champ is here. He says it is humanly impossible for a tricep to heal that soon and Cena is afraid that Sandow will cash in on him. He teases a cash-in right now but decides on any night other than tonight. Or maybe not, as he attacks Cena & strikes the injured arm repeatedly with the briefcase then rams his arm into the ring post & the barricade! Into the steps goes Mr. Cena, then after a chairshot Sandow declares that his time is now! The referee comes on down, he takes the briefcase and we go to commercial…

Wasn't feeling the typical Cena return promo, and they really haven't done enough to build up Sandow since he got the briefcase but it was an interesting way to open the show. It will be interesting to see if the people buy Sandow as being anywhere near Cena's class or even as a deserving champion if he wins the match. I think this crowd will, as Orlando tends to bring out the smarky smarks and Sandow was getting some pretty good face heat there.

Rating (1-10): 7.5

World Title Match: Champion John Cena vs. Damien Sandow : The referee rings the bell when we return, and Sandow targets the arm with an early offensive assault. A commercial interrupts the match quite early on…maybe they're trying to stretch Cena's time on Raw out as far as they possibly can so everybody can call their friends and tell them that John Cena is on Monday Night Raw. People are still talking on Tout? Who knew? The announcers are emphasizing the role of "Dr. Sampson", who almost stopped the match once during the commercial break. Meanwhile, Cena hits the AA on Sandow, who rolls outside. Once Cena puts him back in he can not apply the STF. Cena actually uses a new move! Of course he mostly used his bad arm to do it. Cena gets out of a Crossface and kicks out of a You're Welcome (guess he started using that on Main Event?). Then Cena misses a cross-body block off the top, but Cena OVERCOMES THE ODDS, AA and see ya later Sandow.

On one hand, poor, poor Damien Sandow. Guy deserves better. But on the other hand, they couldn't have had him beat John Cena. It's not entirely Sandow's fault, it's not like he told them to job him out ever since he won the Money in the Bank briefcase. But the guy had no momentum and his winning the title would have only served to devalue the WHC and make Cena's comeback completely useless. I guess the argument would be "Damien Sandow beating John Cena would make Sandow a big deal"…well, he would have beat a one-armed John Cena, the announcers would have buried him for it, and nobody would have taken him seriously. There was no winning for Sandow either way it went.

On the bright side, the match was perfectly fine. I'd probably rank it higher if the booking wasn't so fundamentally messed up, and I feel bad I can't reward the performers more…but it is what it is.

Rating (1-10): 7.0


The Shield tells you to believe in them.

US Title Match: Champion Dean Ambrose vs. Big E Langston : Big E went from almost a lock to squash Curtis Axel for the IC title to being stuck wrestling a guy that they want to protect and don't want losing the strap. Pretty tough break, but on the bright side Ambrose has a lot more heat than Axel and beating him should mean something…well, at least more than whatever beating Curtis Axel means. Before this can get cooking Reigns & Rollins attack Big E to cause the DQ. The triple teaming doesn't go on for too long before the Usos intervene, and Brad Maddox comes out to book a 6-man tag.

Rating (1-10): n/a


Listen, I got no issue with WWE working with whatever charity they want to work with, but I can't say I'll miss everybody wearing pink. The Usos especially have looked like goofballs this month.

The Shield vs. Big E Langston & The Usos : The Shield may have the WWE record for Most 6-Man Matches As A Team by this point. It's not like Ax, Smash & Crush wrestled that many matches together. Reigns gets the win with a double spear on the Usos, and I continue to be impressed by Reigns convincing everybody he's a lot bigger physically than he actually is with the help of his opponents. Big E & the Usos put up a good fight, but they either need Daniel Bryan or a few other people to actually have a chance. Wasn't long enough to get up in the range of your typical Shield match.

Rating (1-10): 6.0


That next season of Total Divas looks SIIIIIIIICK. I look forward to Ryan Byers acting like he doesn't love the show. We all know you do, Ryan. It's ok. Embrace your Diva love.

WHY SHAWN WHY?: Shawn Michaels, or HBShizzle as he's currently known, invites Daniel Bryan out so he can explain his actions from last night to him face to face. Triple H was Michaels' BFF and needed him to be there for him last night. Michaels asks Bryan to accept his apology & shake his hand. The fans aren't buying what HBShizzle is selling. Michaels says he took Bryan to finishing school last night, teaching him that you don't trust anybody here. Not him, not that soon to be wife of his, not anyone. The least Bryan could do is show the respect Michaels deserves and shake his hand. And now HBK's mad. He's stuck up for Bryan this whole time, saying he's an A+ player. Now he doesn't know, he doesn't care. He knows that Shawn Michaels is, and he's giving Bryan the opportunity to shake his hand on TV! Bryan does, but then he puts Michaels in the Yes Lock! Referees come down to break it up, and the fans inform Michaels that he tapped out.

Well, if that wasn't a heel turn by Shawn Michaels I'll be a monkey's uncle. It's been a long time coming, as he's ten times better as the cocky guy that knows he's better than everybody else than he is as the happy-go-lucky jokester. And damn them for giving me hope that there will be a D-Bry vs. HBShizzle match! Good stuff here.

My buddy Jeremy Lambert, who lets me talk about actual sports, brings up a good question…where was Triple H to save his friend that stood up for him last night? I get the feeling we'll hear about this in the future.

Rating (1-10): 9.0


The Wyatt Family attacks Daniel Bryan backstage! Bray says the devil made him do it before knocking Bryan out and ramming a crate into him. I really hope they're not going with that "Triple H is the Wyatts' Higher Power" angle I've seen people speculate on message boards.

Los Matadores vs. 3MB (all 3 of them) : Heath Slater has a net to catch El Torito with, and the match is mostly a backdrop for these hijinks. A fire extinguisher is used, and Slater gets GORE GORE GORED. Drew gets beat, and Slater gets netted. Well, this was slightly better than the Elvis stuff last week but I'm well past done seeing these guys wrestle each other.

Rating (1-10): 3.0

AJ Lee & Tamina Snuka vs. The Bella Twins : Last night may have been the beginning of dissention between the twins, as Brie inadvertently kneed Nikki in the process of losing her match with AJ. I hope not, as I hate it when siblings fight…unless their names are Bret & Owen the matches tend to stink. Brie is also distracted with the whole "Fiance being sent to the hospital" thing, so it's no surprise that AJ & Tamina beat her up early on. That's the advantage Nikki has over Brie…her boyfriend is indestructible so she never has to worry about him. Anyway, tonight it's Nikki inadvertently taking Brie out and getting submitted by AJ. Not quite on the level of last week's tag.

Rating (1-10): 5.0


I'm pretty sure Nikki has been ordered to wear a shirt in the ring to try and make her breasts look similar in size to Brie's. OK, I have no idea if this is true or not, but I'm trying to start a rumor here. Tell your friends.

Kane vs. The Miz : By the time I realized this match was going on Kane had chokeslammed Miz & won the match. Then Kane decides he needs to talk to Stephanie McMahon. Maybe he's going to apologize on his brother's behalf for that whole Black Wedding business from 1999.. No, instead he accuses Stephanie of ruining people's lives and says that's what's best for business. So he is now Stephanie's to unleash. Kinky. He leaves & gives Stephanie his hair & mask. I dunno man, I've seen Kane associate with women on many an occasion and it never seems to end well for him or anybody else involved. This might be a bad idea.

Rating (1-10): 3.0


The Prime Time Players take their turn selling WWE merchandise. I give a slight edge to R-Truth here, but I'd like to see Don West take a crack at it.


DAVID OTUNGA analyzes the lawsuit Big Show has filed against WWE.


CM Punk tells us about how he put Paul Heyman to sleep, and now he is history.


Aren't Street Fight & Falls Count Anywhere pretty much the same thing? My Twitter followers informed me that Street Fights have to end in the ring, which to me seems to defeat the purpose of taking it to the streets.

Street Fight: CM Punk vs. Ryback: Tables match was one of the options, so it's pretty ironic that Punk put Ryback through a table and then made him submit to the Anaconda Vice. Well Ryback, it's been nice knowing you...but not too nice. Tough to imagine where he goes from here other than Main Event/Superstars.

After the match the Wyatt Family make their way into the arena. They've certainly stepped up their list of targets tonight. Punk tries to attack them with the kendo stick, but Harper & Rowan don't take much time getting the advantage. Bray enters the ring & lays Punk out with the Sister Abigail. Once again, the devil made him do it. I got a pretty good idea of who the devil is, but now I'm confused as to how Shawn Michaels can be best friends with him.

The match was just there and I'm not feeling good about Ryback's immediate future, but it's nice to see Punk wrapped back into the WWE scheme of things. His involvement with Bryan's angle should help things along. And yes, I included the after-match stuff to bump up the rating here. Playing with the numbers like I work in politics or something.

Rating (1-10): 7.0

The Real Americans (w/Zeb Colter) vs. The Rhodes Dynasty : I wish Swagger & Cesaro had gone over last night so they'd have more steam on them heading into this match, but I'm still pretty excited about these teams crossing paths. If it wasn't for the Shield you could make an argument for these teams being the top two in WWE. I must say it's nice to actually have an argument over who the top two tag teams in WWE are. Cesaro & Swagger have really settled into a groove as a tag team, and the chemistry between Cody & Goldust is a good time. Swagger gets Goldust to tap to the Patriot Lock and it looks like we have some new contenders for the Tag Team Titles! Cesaro & Swagger definitely deserve it, the one flaw in the whole plan is that they shouldn't have been losing to Los Matadores last night. On the bright side, the buyrate probably stunk and the announcers discussed Cesaro swinging the matador around 31 times instead of them losing the match. So, if a tree falls in the woods & nobody hears it…

Rating (1-10): 7.0


Alberto Del Rio comes out to talk about how John Cena stole the World title from him. He'll get a rematch and make him pay. Yay? Hey, that rhymed.


Undertaker vs. Goldberg is your WWE 2K14 match of the week. Reportedly sources are saying that Undertaker & Goldberg will face off at WrestleMania XXX. You heard it here first!

Summer Rae (w/Fandango) vs. Natalya (w/Great Khali) : Summer was quite impressive in her match at the PPV and I've heard good things about her matches in NXT that I will get around to watching in a few months. Hopefully all that dancing she does before the match doesn't make her blow up. This match reminds me of Nattie complaining on Total Divas about Eva Marie being ordered to make her hair blonde & claiming that she was the only blonde in the company. I mean, part of Kaitlyn's hair was blonde so I don't know what she was going on about. Summer Rae brining back fond memories of Doink the Clown with the Stump Puller. This is going a lot longer than I expected, and it hasn't sucked. Summer gets distracted by Khali attacking Fandango outside and she's forced to tap to Nattie's Sharpshooter. Lots of tapping out tonight. Give the ladies credit here, this wasn't a bad match and there may be something in the makings here with Summer Rae. The one flaw was the ending looked a little off, which seems to happen a lot in Nattie's matches.

Rating (1-10): 6.0


And now it's dawned on me that Summer Rae's first Raw singles match main evented Raw. Take that, AJ Lee!

Randy Orton's WWE Championship Celebration : It's been awhile since the entire roster stood on the stage to look like a bunch of goofs. Triple H talks about how he made Orton a star, and then watched Orton do a bunch of heinous things to everybody including him, and then Orton became an A+ player & the face of WWE. El Torito standing next to guys like H & Orton as they make their entrance is pretty funny. Stephanie tells the roster that Randy is what they aspire to be, and tells them to show him the respect he deserves. Orton dresses down the roster, which brings out the Big Show. The Shield attacks Big Show, but the Rhodes Dynasty & Usos attack the Shield! Big Show clears the ring as Orton & the Authority run for their lives. He says his lawsuit will cost WWE millions of dollars and he doesn't care how much it costs or about their restraining order. Orton attacks him with the title belt, but Orton gets knocked out when he charges Show again! Show & H face off while the crowd says "Yes", and Triple H takes off his jacket & tie before pussing out. Play Big Show's music even though he's fired!

Hey, a babyface got one over on the Authority! Of course, it wasn't the one we were hoping would, but these things happen. Big Show's here to keep Orton busy until they figure out what they're doing with WrestleMania, and I guess I can live with that.

Rating (1-10): 7.0


End scene.


Thanks for reading.



The Tirade



After watching & reviewing the last three weeks of Raw I've arrived at the conclusion that I like a lot of the talent they feature on the show and they're doing some good work in their matches. It's great to see the Real Americans getting a shot in the tag team division. The Wyatts are now attacking people that matter and appear to have some sort of purpose appeasing a devil. Shawn Michaels was on top of his game tonight and Daniel Bryan attacking him got a darn good reaction, which frankly I wouldn't have expected. The Divas have been shockingly respectable recently. And whether you like John Cena or not you gotta respect his work ethic. There are plenty of other people deserving of props that I'm forgetting, like the Shield, Rhodes Dynasty, Big E & others.

The one downside to this show (other than the ridiculously long three hour timeslot which I will continue to complain about even though it does no good) is the writing. And I don't even blame the writers themselves because they just do what their boss wants them to do. Damien Sandow had no choice but to lose tonight because him beating John Cena would have been laughable based on what he's been doing the last couple of months. The Miz may be stale and might not fit the face role, but he's been given nothing to work with at all. Ryback, who people were actually talking about as a future top guy around this time last year, seems to have been completely neutered by a year of bad booking. Alberto Del Rio hasn't been relevant or interesting in months, and some would say I'm being generous. Dolph Ziggler…where's he at?

As for Daniel Bryan…he's going to be ok no matter what they do to him, and if it involves Shawn Michaels I've got a lot of confidence it'll be pretty great.

I guess what I'm saying is that WWE has some really great workers and the people behind the scenes need to get out of the way and let them do their thing more often than not.

Show Rating: 7.5

As a reminder, I will be going by the 411 scale…

0 - 0.9: Torture
1 - 1.9: Extremely Horrendous
2 - 2.9: Very Bad
3 - 3.9: Bad
4 - 4.9: Poor
5 - 5.9: Not So Good
6 - 6.9: Average
7 - 7.9: Good
8 - 8.9:Very Good
9 - 9.9: Amazing
10: Virtually Perfect

The final rating is not simply an average of the rated segments above. The rating takes them into account as well as the segments that are small but not scored, the flow of the show, the overall booking, build to PPV, crowd reactions, and so on and so forth.




---
Have you checked out the Csonka Podcasting Network? If you haven't, you should We run anywhere from 15-20 shows a month, discussing pro wrestling, the world of MMA, the NBA, general sports, popular TV series of the past, bad movies, battle rap, interviews, MMA & Wrestling conference calls and more! Around 10 different personalities take part in the various shows, which all have a different feel; so you'll likely find something you like. All of the broadcasts are free, so go ahead and give a show a try and share the link with your friends on the Twitter Machine and other social media outlets! Running since May of 2011, there are currently over 400 shows in the archive for you to listen to.



Steve Cook is a Gemini and enjoys drinking the occasional alcoholic beverage or nine, long walks on the beach, objectifying women and winning fantasy football championships. He graduated from the University of Louisville in 2006 & has a B.S. in Political Science with a concentration in Law & Public Policy. He has been a wrestling fan since 1990 and has been writing for 411 since August 14th, 2004; contributing nothing but headaches & utter frickin' chaos to the site. He is a living legend & the last of a dying breed.

Your heart is free. Have the courage to follow it…TO CSONKA'S TWITTER!
Follow Cook as well.

http://www.twitter.com/411wrestling
http://www.twitter.com/411moviestv
http://www.twitter.com/411music
http://www.twitter.com/411games
http://www.twitter.com/411mma
comments powered by