SPOTLIGHTS
411's WWE Main Event Report 10.30.13
Posted by Michael Benjamin on 10.30.2013

Ryback went one on one with Kofi Kingston, Fandango took on the Great Khali, Los Matadores tagged against El Locales and more! Check out 411's full WWE Main Event report for all of the details!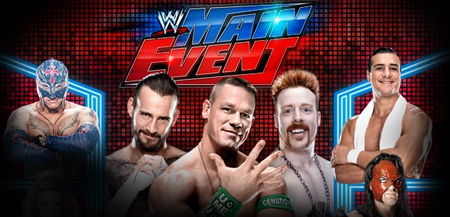 WWE Championship Roll Call:
WWE Champion: VACANT
World Champion: Alberto Del Rio
IC Champion: Curtis Axel
US Champion: Dean Ambrose
Unified Diva's Champion: AJ Lee
WWE World Tag Team Champions: Goldust and Cody Rhodes



WWE MAIN EVENT 10.30.13



- Alex Riley and Josh Mathews are on commentary.



Ryback vs. Kofi Kingston

Kofi starts off with some kicks but Ryback wants nothing to do with that and powers Kofi around like a rag doll. He delivers a scoop slam and a running splash but Kofi dodges it and goes back for some more kicks. Ryback no-sells and gives him a snapmare take down and locks in a side headlock. Kofi battles out of that with some leg thrusts to the face of Ryback. He can't mount offense however. Ryback charges at him but Kofi delivers an arm drag. Ryback rolls to the outside. Kofi delivers a sliding dropkick to the outside and now they're brawling. Ryback gets right back in control though. He whips Kofi into the stairs but Kofi leapfrogs them! Ryback gets back in and Kofi gets on the apron. Ryback hits him with a big boot that sends him to the floor.



-Commercial Break-



Kofi fights out of a headlock as we return from break. Ryback hits him with a Jackhammer and the crowd starts chanting Goldberg. Ryback maintains offense with Kofi barely holding on for awhile. Kofi eventually fights back and hits his signature moves. The big man is reeling! Kofi hits a crossbody from the top rope and covers for the nearfall! Ryback finds himself in control rather quickly and goes upstairs. Kofi gets a boot up (obviously) and Kofi hits a springboard missile dropkick! TWOOOOO. Kofi hits the ropes and ducks two clotheslines. Ryback catches him on the third and chokes him on the top rope. Meathook clothesline time! He sets up for Shellshocked and it's over.

Good opener! Ryback played the powerful big man role well by slowly getting weaker and weaker as the match progressed, The offense he no sold in the opening minutes started to effect him towards the closing sequence. The Jackhammer was very interesting to see and I'm excited to see where that goes. The crowd was into the whole thing and the action was crisp and smooth.

OFFICIAL RESULT Ryback @ 12:32 aired via pinfall
RATING: ***



-Commercial Break-





Santino vs. Heath Slater

Here we go. Slater starts with his typical stick and move before taunting offense. Santino has issues with the kip up. They lock up and run the ropes a bit. Santino hits some clotheslines and goes for a cobra with no sock. That's like a spoiler in itself, ya know? Comedy and strikes happen for a little bit. SANTINO KIPS UP! OMFG! He's Tino-ing up! He puts on the Cobra and Mahal jumps on the apron. Mahal gets a cobra strike, as does Slater. It's over.

Unoffensive lighthearted match that worked just fine with it's placement after a solid opener. Nothing was good enough to worth mentioning here but it was a enjoyable enough.

OFFICIAL RESULT: Santino @ 4:45 via pinfall
RATING: *1/2



-Commercial Break-



- Trips/Big Show drama recap. Cole/HHH exclusive web interview that I had commercials randomly cut into on my broadcast. Check it out at wwe.com!!!

- Raw Rebound of the D-Bry Orton happenings.



-Commercial Break-





Fandango (w/ Summer Rae) vs. The Great Khali (w/ Natalya and Hornswoggle)

Come the fuck on. Why am I watching this again? Are these matches getting huge numbers I'm unaware of? Chops from Khali and outside drama to start. Khali gets in and Fandango kicks him in the leg as he steps into the ring. Leg targeting ensues. Khali tries to fight back but more leg work happens after some Summer distraction. Alabama Jam. Over.

The last thing I wanted to see was ANOTHER iteration of this "rivalry." Same match they've been wrestling with more distraction on the outside to make it feel a little different. Not good. Just like last week, this was obviously all about promoting their charity and showcasing Fandango's pink shirt.

OFFICIAL RESULT: Fandango @ 3:03 via pinfall
RATING: DUD.



-Commercial Break-





Los Matadores vs. El Locales

The Matadores are really piling up wins against the undercard of the tag division. Quick tags from the Matadores. They do a sloppy looking double backbreaker. Arm drags and dropkicks from Matadores #1. El Locale 2 tags in and attempts a bunch of roll ups. Rana from Los #2 That gets two. Torito gets involved in the match and takes out both of the Locales. Apparently he's allowed in the match. Why doesn't he just chill on the apron for the tags then? Matadores take advantage of Torito's help and the two of them hit their double back breaker for the win as the ref doesn't even try to enforce the 5 count.

I was going to say that it was a shame that this match couldn't get two segments for the sole purpose of sneaking Fandango out there to pimp their cause. They just exchanged loose Americanized Lucha Libre for the majority of the match with little flow or rhythm This was just a showcase for Lose Matadores. With so much programming, these are already getting old. I hate that El Torito can come and go with no repercussions for Los Matadores as well.

OFFICIAL RESULT: Los Matadores @ 5:13 via pinfall
RATING: *1/2

OVERALL: Ryback vs. Kingston was good but the rest of the show was all fun loving midcard comedy stuff. It was easy to sit back and enjoy Slater/Santino but giving us two more matches in the same genre was overkill. People make fun of this show turning into Superstars and it's hard to argue it with the run of shows they've done lately.
comments powered by