SPOTLIGHTS
411's WWE Smackdown Report 11.01.13
Posted by Michael Benjamin on 11.01.2013

John Cena teamed with Cody Rhodes and Goldust against Damien Sandow and the Real Americans, The Shield battled the Usos and more! Check out 411's full WWE Smackdown report for all of the details!

HELL TO THE O.

Just walked in at 8:30 from Disney on Ice with my daughter. (**1/4)

Lets get right to this as I catch up on the DVR.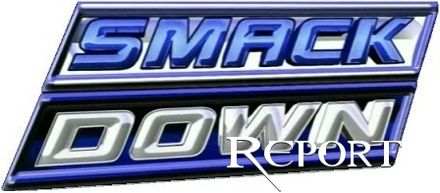 Championship Roll Call:
WWE Champion: VACANT
World Champion: Alberto Del Rio
US Champion: Dean Ambrose
IC Champion: Curtis Axel
Diva's Champion: AJ Lee
WWE World Tag Team Champions: Cody Rhodes and Goldust.

---





WWE Smackdown Report 11.1.13



- Our new World Heavyweight Champion, John Cena, is EXCITED to be here. I wish a face would just be like "I'm sorry, I'm just really not feeling this today. A lot of personal problems, ya know? My home life is just miserable." Cena puts over his title win and title defense on consecutive nights. Typical promo trying to pop the crowd. The Real Americans come out after Cena says "come get some." Cena acted shocked by music starting and stared at the ramp like a deer in headlights for a few seconds before the music actually hit. Colter thanks him for beating up that illegal, ADR. Colter says that Cena has a lot in common with the Real Americans. He's a patriot and a legend. Colter invites Cena to join their struggle, their fight, and their agenda. He can be an OFFICIAL Real American. That'd be a pretty funny anti-climactic heel turn after all these years. "Yeah sure, strength in numbers right?" Zeb leads us in WE THE PEOPLE. He tries shaking Cena's hand but gets a you can't see me taunt instead. Cena asks Swagger what's happened to him. He uses elementary school humor to bury them. Nipple talk and dumb jokes follow. Cena tells them that they're full of Britney Spears initials. That's even worse than a Miz one liner. Cena tells them to bounce. Sandow interrupts and enters the ring.

Sandow calls Cena a hypocrite. Cena doesn't know anything about American values. American's make their own opportunity. Sandow says that Cena has been handed everything his entire career. He calls Cena a false champion. Oh shit. Sandow is still our uncrowned world champion! Sandow tells Cena to look him in the eyes. He says that his sole purpose in life as of now is to end the Cena era and he'll do it by any means necessary. That's a great little bit of nuance to the character. Rhodes and Goldust run down to the ring to even the numbers up. Out comes Vickie to book a six man tag.

- Shield pretape. The Shield is getting tired of the Usos sticking their noses in their business. They're not contenders or threats. They're speed bumps. Believe in the Shield.



-Commercial Break-





Dean Ambrose and Seth Rollins (w/ Roman Reigns) vs. The Usos

Back and forth action to start with quick tags. No real big moves or momentum getters until Ambrose catches Jey on an Irish Whip and tosses him to the outside. There was also a nice little spot where Jimmy tossed Rollins to the mat. Big E Langston comes down to the ring to make sure there's no shenanigans!



-Commercial Break-



Hey ya;ll. We're back as Ambrose has Jimmy in a headlock. He drops his awesome looking Muta like elbows before tagging in Rollins. Rollins goes right to work. Rollins goes upstairs for a crossbody and gets caught with a sick Samoan Drop. Jimmy and Dean are in. Jimmy ass shamshes him in the corner. He hits a nice heel on Ambrose for two. Rollins breaks it up and gets in before falling victim to a spinebuster. Reigns gets on the apron but gets double superkicked in the gut to the floor. Jey flies to the outside on him. Ambrose and Jimmy go at it in the ring. We gets a nice finisher reversal sequence that Jimmy wins with a roll up. Lots of Reigns and no Langston actually preventing him from getting in. Langston gets in the ring and we have an old fashioned team stare down from across the ring. This was a great openining match!

OFFICIAL RESULT: The Usos @ 9:37 via pinfall
RATING: ***



-Commercial Break-



- Recap of the HBK/D-Bry angle from Raw.

- The Wyatt ambushes on Punk and Bryan are replayed. The timing of putting that right after D-Brys scrape with the COO's best friend is either very telling or a SWERVE~!



Harper and Rowan (w/ Bray Wyatt) vs. The Prime Time Players

Ashes ashes, we all fall down. Interesting. Rowan starts with young and wrestles with the mask on. He tosses him outside to the mat. He follows him outside and rolls him in. He takes off the mat and gets even more aggressive. That was a cool little thing that took 3 seconds with no injury hazard that makes his character that much more intriguing. Harper tag in and beats on Young for a couple minutes and tags Rowan right back in.Rowan hits a scoop slam and a big boot before tagging in Harper again. Young kicks Harper in the gut and makes a tag to O'Neil. He cleans house! He celebrates and looks like he's about to succomb to an attack from Harper but he hits a nice suplex. He sends Rowan to the outside and turns around to a huge Harper Clothesline. It was just under five and I loved every second. Every team in the damn division is getting better on a show to show basis. They're all working the style better and they're all gelling with each other with more matches.

OFFICIAL RESULT: Wyatt Family @ 4:59 via pinfall
RATING: **

- Recap of Kane's match with Miz and giving Stephanie permission to "unleash the monster" before handing over his mask and hair.



-Commercial Break-



- Miz TV joins us in the ring for Miz TV. He says that our scheduled guest, Shawn Michaels, has left the building.
He takes a quick jab at Orton and out comes Orton (w/ voices in head.) Orton disagrees?!?! He says Michaels didn't show up because Miz isn't relevant anymore and neither is Miz TV. Orton reminesces about destroying Miz in front of his family. He wants him to join Big Show on the unemployment line. Orton glosses over his rivalry with Big Show and why he's fired. He asks Miz how that makes him feel and Orton hits him with an RKO before he could answer.

- Ziggler pimps merch. That' the best way to utilize him.



The Bella Twins and Natalya vs. AJ, Alicia Fox and Tamina Snuka

With Kaitlyn being completely irrelevant, I think it would be cool if AJ mind fucked her into joining forced and being her sidekick until Kaitlyn finally snaps out of it and beats her down the line. Anybody? Maybe? Fox and Nikki (w/ Shirt) start with some typical opening stretch divas stuff. If I was Nikki, I'd be pretty upset about making that investment and having to cover them up. Maybe she reduced and enlarged more and covers them? Brie and Tamina go at it next and Tamina dominates. Brie plays face in peril and in comes AJ. Brie rolls under a clothesline attempt and tags in Natalya. Things momentarily break down and Natalya wins with the Sharpshooter. You knew Natalya would be the boss battle in this story. Should be a great match that I assume they'll run at the next PPV.

OFFICIAL RESULT: Natalya and The Bella Twins @ 4.09 via pinfall
RATING: *1/4

- Raw Rebound: HIAC ending and a more i depth look at the Michaels/Bryan segment on Raw.



-Commercial Break-





John Cena, Goldust and Cody Rhodes vs. Damien Sandow and The Real Americans

This breaks down in under a minute and we get a face vs. heels standoff. I'm okay with that. Hopefully a long segment proceeds. Seeing Swagger and Cesaro teaming up in the main event of Smackdown against John Cena of all people is quite the little treat. They were considered the lowest team on the totem pole not too long ago. Cena being on the blue brand every week could be a great thing.



-Commercial Break-



John Cena and Damien Sandow go at it as we return. Sandow quickly tags in Cesaro who goes to work on the injured arm of Cena. Hot tags for Goldust and Swags. Goldust hits the full moon and knocks Cesaro and Sandow off the apron with his feet. Goldust back body drops Swagger to the outside. He grabs him and tosses him in. Swagger meets him in there with a clothesline though. Swagger delivers a clothesline to Goldust on the mat outside in a nice spot. The heels quick tag and pummel Goldy. Sandow's in and delivering a bunch of knees to the sternum. Goldust can't manage to make a tag. He almost crawls to his corner before Cesaro cuts him off as we head to break.



-Commercial Break-



We're back as Cesaro wrenches in a headlock on G-Dust. It's amazing how over Cody and Goldust got just by teaming up together. People just love to cheer them. Goldust escapes Cesaro's grasp and makes a tag! Swagger had the ref distracted though! Shit! SWAGGER BOMB~! LEAP FROG STOMP! Goldust DDTs Cesaro! Is this going to be the hot tag we've been waiting for!? NAHHHHH! Sandow gets the tag and drops a knee on him to cut him off. Sandow pummels Goldust and whips him into the corner. Goldust hops on the second rope and hits a reverse elbow! Goldust tries making the tag but Sandow intercepts him! Goldust tries crawling under his legs! Sandow knocks Cena to the mat and Cody is the only one on the apron! Goldust takes Sandow down and makes the tag to Cody! The crowd erupts! Cody cleans house! Missile dropkick to Sandow! Sunset flip into a pinning predicament! TWO. Cody hits a moonsault and covers him for two. Sandow snapmares himself out of a crossroads. He hits it on Sandow but he blind tagged Cesaro! BIG FUCKING SWING~! Cody doesn't hold his neck. He puts his arms out and lets Cesaro get it down. Cena tackles Swagger on the outside! Cesaro covers Cody and Goldust breaks it up! Goldust clotheslines Sandow over the top and they both hit the floor. Cesaro wants a tag but nobody is there! Cody goes to tag in Cena! He gets IT! In comes Cena with the five moves of gloom. He goes for AA but Cesaro reverses it into a gut wrench! Amazing. Cesaro crawls to Cena. He tries to swing Cena but Cena escapes and goes for the STF! No! Cena runs into the elbow! FINISHER/SIGNATURE MOVE SEQUENCE~! Swagger ends up legal against Cena after the other men eliminate each other. He locks in the Patriot Lock! Cena escapes. AA. Over. Give wrestlers who can work a tag match 18 minutes in a main event match and you get this.

OFFICIAL RESULT John Cena @ 18:41 aired via pinfall
RATING: ****1/4

OVERALL: A show filled with tag team wrestling was great? Who would have thought! Every team in the division is getting better at working the tag forumula, they're getting more chemistry with each other, and their characters are developing between the ropes.The main event was just all types of awesome. Whoever thinks tag team wrestling isn't viable anymore should look at how over a legitimate tag division made Cody and Goldust within two months. We'll care about anything you give us a reason to care about. Check out the main event, guys. Great effort from all six men.



411 ON TWITTER~!
Follow me if you scare. Muah ha hahaaaa.
http://www.twitter.com/411wrestling
http://www.twitter.com/411wrestling
http://www.twitter.com/411moviestv
http://www.twitter.com/411music
http://www.twitter.com/411games
http://www.twitter.com/411mma
comments powered by