SPOTLIGHTS
Tremendous Tirades 11.01.13: TNA One Night Only – Tournament of Champions
Posted by Larry Csonka on 11.01.2013

Bobby Roode, Austin Aries, Samoa Joe, Sting and more battled for the title of best champion in TNA History. 411's Larry Csonka's checks in with his review of TNA One Night Only – Tournament of Champions!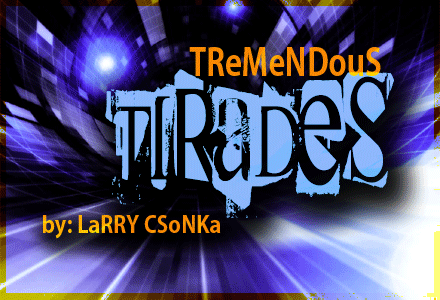 Introduction
As a reminder, this will not be another traditional recap, but instead it will be a mash up of the Rs, Instant Analysis and my usual Twitter ramblings I would do during the shows; completely uncensored and as the ideas flow unfiltered to the old keyboard. Remember, this is a review; and I am here to review the show. As always, I encourage discussion and even disagreement, just do so in a respectful manner. I will be doing the review for Raw and most PPVs and iPPVs going forward.


TNA One Night Only – Tournament of Champions
Only men that held the TNA World Title were "invited" for this tournament.


Anderson cuts a promo backstage, claiming that no one is in his, or Bully Ray's league. He says he and Ray shouldn't have to wrestle all of these goofs, but since they will, crown his ass now.


Prior to the match we see clips of Anderson and Storm winning titles in TNA.

Play-In Round: James Storm vs. Mr. Anderson : One annoying thing we have going on here is that the place is smokey, due to the pyro. It is really distracting. This was a play in round, as they had more than eight guys, but they never exactly explained why THESE two guys were in the play in round. Did they draw straws? Give me something please. Storm won with the superkick in around six minutes. Like a lot of one night tournament matches, they worked very safe to protect Storm as he moves onto the next round. It was perfectly fine, but nothing special.
Match Rating: **



We get video packages showing highlights Hardy and Joe winning titles in TNA. They are both a few minutes long (2-3 minutes) each, continuing a trend with the One Night Only shows, lots of long videos. Hopefully they don't clip time from the matches to come, because the matches have some potential to be very good.

Quarter Final Round: Samoa Joe vs. Jeff Hardy: Amazingly enough these guys have never had a major one on one match on PPV. They have faced on Impact in Bound for Glory Series matches, and on PPV in several variations of tag matches, but have never had that big one on one PPV match. Both guys were in two of the better matches on the TNA One Night Only – TNA 10 Reunion show from August. It should be noted that there were apparently ventilation issues, as the shot is still cloudy due to the eerier pyro. And again, it is annoying and distracting. Joe scored the victory after nine minutes with a roll up. They had a good match, and they do work well together, but they still haven't been given that avenue to deliver in a big time singles match. It was better than the opener, and had good energy from the performers and the crowd. Both guys seem to know what works, and I still think that they need a major PPV match to see if they can deliver at the next level.
Match Rating: ***



Solid start to the show overall, but you can feel that they are holding back. That is fine as long as the semifinals and finals deliver.


We get video packages showing highlights Aries and Angle winning titles in TNA. The video package makes me miss Christian Cage, in shape Chris Harris and the King of the Mountain Match. This time we got roughly six minutes of video, including the final four minutes of the KOTM Match Angle won.

Quarter Final Round: Austin Aries vs. Kurt Angle : Once again, on paper, this is a great match due to the competitors involved. As far as I remember, these two have never had major singles match, which is a shame. They did some chain wrestling early, which Angle was not impressed by and laughed off. Angle was working with a bad hamstring here, but Aries did a great job of bumping around a lot for him. Aries countered the Angle slam and scored the win after eleven-minutes with a roll up. Again, this was another good match, but you knew that they were holding back due to the tournament format.
Match Rating: **¾



The show has been fine up to this point, but overall nothing very memorable.


Bully Ray cuts a promo, saying he is the greatest champion in TNA history.

Quarter Final Round: James Storm vs. Bully Ray: Storm had to defeat Ken Anderson in a "play in" match to make it into the tournament. I really like both guys, so I was looking forward to this as I was a lot of these matches. Storm won at about seven–minutes via DQ when Devon got involved. This is the problem when recording these PPV events so far ahead of time, is that they have no continuity with the real time product, which makes them feel dated. Devon and Ray laid out Storm and busted up his elbow with the hammer. It was fine for the time given, but I am not a fan of finishes like this in tournaments.
Match Rating: **



We get the video packages for Sting and Roode, which last several minutes. It is 9:27PM ET, and we still have four matches to go.

Quarter Final Round: Bobby Roode vs. Sting: This was a Sting match in 2013. He wrestled in his shirt, the crowd mostly supported him, and he did his greatest hits while the other guy worked his ass off around him. Roode worked the arm, and eventually got THE CLEAN victory, as he made Sting tap to the crossface after seven-minutes. It wasn't good, but they smartly kept it short and the right guy won and won the right way, so I cannot complain in that regard.
Match Rating: *¾



If you're a long time fan of TNA, you have to love Aries, Storm, Joe and Roode all moving on to the semifinals. While nothing great thus far, I do think that the right guys all won, which does make it more enjoyable.


Another video package of Aries winning the TNA Title and then one for Angle (including several minutes of Angle vs. Joe from Lockdown). I really appreciate the thought behind these, but they are short changing the in ring product and killing the flow of the show.


The first semifinal match hit started at 9:54 PM ET.

Semifinals: Samoa Joe vs. Austin Aries: Aries and Joe have had some good encounters in TNA, and of course have their history from ROH. Like the Angle match, there was a small bit of comedy from Aries, but never to the level that it took away from the match. Aries stole some of Joe's trademark stuff early, which caused Joe to get pissed and unleash an ass whooping. Aries would use several heel tactics (biting, eye pokes) to take control, and would work the knee for a while. Joe scored the win at nine-minutes with the choke, in a match that was these guys playing a safe version of the hits. The work was good, but again, I was hoping for more.
Match Rating: ***



We see highlights of Storm winning the TNA Title.

Semifinals: James Storm vs. Bobby Roode: Since some were discussing how many times they have faced since they did the Beer Money split, here are the matches they had (as far as I can tell)…


Bobby Roode defeated James Storm to win the TNA Title (Impact 11.03.11)

Bobby Roode defeated James Storm (Impact 11.10.11)

Bobby Roode defeated James Storm (Impact 2.02.12)

Bobby Roode defeated James Storm (Lockdown 2012)

James Storm fought Bobby Roode to a no contest (Impact 9.20.12)

James Storm defeated Bobby Roode (Bound for Glory 2012)

Bobby Roode defeated James Storm (Impact 11.05.12)

Bobby Roode defeated James Storm (TNA One Night Only - Ten)

As you can see, Roode holds the advantage in the overall series. They played up the arm injury at the hands of Bully and Devon from earlier, with Roode being the smart/asshole heel and constantly attacking it. It is an easy and simple story, and the right way to go with things. Tenay and Taz did a solid job on commentary discussing the break up of Beer Money and how they have feuded ever since. Good work overall, Roode pushed the ref into a superkick try, then hit a low blow on Storm and locked in the crossface for the win at ten-minutes. Again, good work and they were building something, but took the cheap way out. I know that Roode is a heel, but I am not a fan of that sort of booking in tournaments, especially when the results are never discussed on TNA TV, just have Roode win clean since it is established that Storm is hurt. Bobby Roode wins again, and at this stage, I believe it is ok to call Storm his bitch.
Match Rating: ***



Joe discusses defeating Hardy and Aries, and then says he will take out Roode to prove that he is the best of the best.


Finals: Bobby Roode vs. Samoa Joe: Jeremy Borash was out to do the super special Borash announcing. Everything thus far has been pretty short and they have worked conservatively/safe, hopefully these guys get to go all out here. Joe played the power game early, but Roode worked him over and tried to beat him down so that he could work the crossface, which finished two others already in the tournament. They worked a good pace and a smart match, but nothing at the level these guys usually do in a main event setting. Joe had the clutch locked in but Roode did the Bret Hart corner run up counter into the pin at 12-minutes as Joe didn't release the hold. This was on the level as the other good matches, but again nothing great.
Match Rating: ***


Roode celebrated the fact that he is the greatest champion in the history of TNA.


The PPV ended at 10:40PM ET.




The Tirade


Once again, TNA sets up a card that looks like it had a ton of potential on paper, but fails to deliver in execution. And I do not blame the performers for that as much as I blame the person who laid out the PPV. So many video packages, which took up a ton of time, and once again the show ends so early. There is no reason that some of the matches could not have gotten more time. Instead, we had a show that lacked any form of flow, due to the video packages constantly breaking things up. I appreciated the idea of the videos, like on other shows, but at the end of the day they took away from the in ring presentation.

The show was $15, and while we got some good matches overall, there was nothing that made me feel like I was glad I paid for the show. Both TNA and WWE put on some damn fine wrestling on TV on a weekly basis, and that is was this felt like, a $15 Impact.

Overall there was nothing horrible outside of a few finishes, and the right guys won, but the show should have been so much better with the guys on the card. The fact that they were not allowed to shine and put on a great wrestling PPV in a shame.

Show Rating: 5.0

As a reminder, I will be going by the 411 scale…

0 - 0.9: Torture
1 - 1.9: Extremely Horrendous
2 - 2.9: Very Bad
3 - 3.9: Bad
4 - 4.9: Poor
5 - 5.9: Not So Good
6 - 6.9: Average
7 - 7.9: Good
8 - 8.9:Very Good
9 - 9.9: Amazing
10: Virtually Perfect

As a reminder, this is not a basic "how good was the show" number like a TV show, as I have always felt that a PPV is very different from a regular show. I have always judged PPV on how they built to a match, the match quality, crowd reactions to matches and angles, the overall booking, how the PPV leads into the future, PPV price and so on and so forth. I have added this in here for an explanation since so many have asked, and I have previously discussed it on podcasts. I understand that this may seem different, but that is how I grade. Obviously your criteria may be different.




---
Have you checked out the Csonka Podcasting Network? If you haven't, you should We run anywhere from 15-20 shows a month, discussing pro wrestling, the world of MMA, the NBA, general sports, popular TV series of the past, bad movies, battle rap, interviews, MMA & Wrestling conference calls and more! Around 10 different personalities take part in the various shows, which all have a different feel; so you'll likely find something you like. All of the broadcasts are free, so go ahead and give a show a try and share the link with your friends on the Twitter Machine and other social media outlets! Running since May of 2011, there are currently over 400 shows in the archive for you to listen to.



Larry Csonka is a Pisces and enjoys rolling at jiu jitsu class with Hotty McBrownbelt, cooking, long walks on the beach, Slingo and the occasional trip to Jack in the Box. He is married to a soulless ginger and has two beautiful daughters who are thankfully not soulless gingers; and is legally allowed to marry people in 35 states. He has been a wrestling fan since 1982 and has been writing for 411 since May 24th, 2004; contributing over 3,000 columns, TV reports and video reviews to the site.

Your heart is free. Have the courage to follow it…TO CSONKA'S TWITTER!

http://www.twitter.com/411wrestling
http://www.twitter.com/411moviestv
http://www.twitter.com/411music
http://www.twitter.com/411games
http://www.twitter.com/411mma
comments powered by