SPOTLIGHTS
Tremendous Tirades 11.04.13: WWE Monday Night Raw
Posted by Larry Csonka on 11.04.2013

Ladies and gentlemen, Libertarian Kane…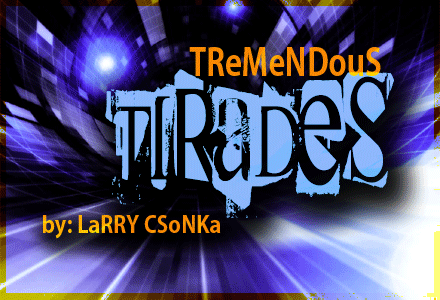 Introduction
As a reminder, this will not be another traditional recap, but instead it will be a mash up of the Rs, Instant Analysis and my usual Twitter ramblings I would do during the shows; completely uncensored and as the ideas flow unfiltered to the old keyboard. Remember, this is a review; and I am here to review the show. As always, I encourage discussion and even disagreement, just do so in a respectful manner. I will be doing the review for Raw and most PPVs and iPPVs going forward.

---


WWE MONDAY NIGHT RAW – POST HALLOWEEN EDITION



CM Punk's Pink and Black Attack vs. Luke Harper w/Bray Wyatt and Erick Rowan: Do my eyes deceive me? We are starting the show with a wrestling match! Thank you WWE, I know that I complain a lot about the company starting almost every Raw with the crutch that is the long promo, so this is appreciated. We got highlights of the Wyatt Clan's attack on Punk last week, leading to this. Punk had gained control, looking for the top rope elbow, but instead dove to the floor onto Rowan. When he retuned, he ate a big boot as he dove in but survived, and got a roll up for the victory. This led to Rowan and Wyatt hitting the ring, and Rowan beating down Punk. Daniel Bryan, steel chair in hand, hit the ring to make the save, He had his shoulder wrapped, selling the injury from last week, and he and Punk cleaned house and stood tall. They got time (11-minutes), the work was a bit disjointed at times; not bad, but also not the smoothest, but overall it was a solid opening match and the post match events all made sense and played off of last week. They also made Harper look like he could compete with Punk, which was appreciated. You really can't ask for much more than that to open the show.
Rating (1-10): 7.9


We get footage of Michael Cole interviewing Triple H, who has barred Big Show from WWE for life.


We get a rematch from Smackdown, as Cena and the Rhodes Brothers battle Damien Sandown and the Real Americans.


Renee Young interviews Punk, who says he knew he would be alone and was fine with it. He then said no one expected that someone else would have issues with the Wyatt Family.


Heyman joins us via phone. He is in Europe seeking treatment due to the attack from Punk at HIAC. He lists his many injuries, and says what Punk did was inexcusable, and he is owed an apology. He starts to cry and hangs up.

Ryback vs. Great Khali w/Hornswoggle and Santino: This was set up on the WWE App, as there was a confrontation is catering. Yup. Khali chopped Ryback a lot and dominated the match, Ryback came back with a meat hook clothesline for the win. He then beat up Santino on the floor, and said he still rules. It wasn't good, but it could have been much worse.
Rating (1-10): 2.0


More highlights of Big Show's recent actions, which got him banned for life from WWE.


Kofi Kingston vs. Alberto Del Rio: Despite his booking, Kofi still gets a very good reaction in his matches, which is a good thing. Overall this was another good back and forth match that got more than the average 3-minutes to develop. Kofi got enough to make you believe he could hang with the former champion, while Del Rio looked good enough in his first match post Cena. This was a fine rehab performance for Del Rio, who at this point is scheduled to rematch Cena at Survivor Series. I really wish they would do something with Kofi, but it doesn't seem to be in the cards for him.
Rating (1-10): 7.0


Big Show's attorney explains the lawsuit against WWE via video package with highlighted words.


Non-Title Match: Randy Orton vs. : Orton cut off Lawler's announcement, noting that the fans have no power because all the women fantasize about Orton, whether girlfriend, wife or mother. The men out there cannot amount to half the man his is, because he is the face of the WWE. Well if you're going to borrow from someone, Rick Rude is a good choice. Maybe he can airbrush Brie Bella on his new tights next. The WWE Universe voted for Big E. Langston (75%) to face Orton. Miz got 13% and Dolph got 12%; wow. Much like the Punk vs. Harper match, I liked the layout of this, because it made Langston appear that he could compete with the world champion. This is very important for Langston, who had an out of nowhere face turn, and also because he has just been "a big guy in the show" since he's been on the main roster. They seem to want to do something with him, judging by he turn and matches with Ambrose and such, so a match like this can go a long way for a guy like him. Orton getting the clean win is fine, heels need to win clean sometimes, and the match was booked to make Langston appear like he had a legit chance to win. It's not always the fact that someone lost, it is HOW they lost. Langston looked good here and Orton gets a nice clean win. Sure they could have done an Ambrose run in to protect Langston, which I actually would have also been fine within this instance, but again, the fact that Langston was booked strongly and the crowd is getting more behind him is also good.
Rating (1-10): 7.8


More highlights of the Big Show and his shenanigans that got him banned for life.


Fandango and Summer Rae vs. Tyson Kidd and Natalya: Tyson Kidd and Natalya on TV together, just days before the return of Total Divas, best for business indeed WWE. Kidd is wearing tights instead of the box trunks, and is extremely orange. First of all, it's great to see Kidd back on Raw. Secondly, it ends the horrible Natalya-Khali tag team bullshit. This was a short, but solid tag match, which was essentially product placement for Total Divas and also played off the recent matches with Natalya and Summer. As long as it is not bad, I have no real issue with that. Hopefully Kidd gets some more TV time moving forward.
Rating (1-10): 6.0


Damien Sandow is with Renee Young, who brings up the fact that he failed during his MITB cash in. He promises to get his revenge, which led to Colter and the Americans arriving to pledge their support. WE THE PEOPLE!



Curtis Axel faces Big E. Langston on Main Event this week.

John Cena and the Rhodes Brothers vs. Damien Sandown and the Real Americans w/Colter: This is a rematch from Smackdown, in a match a lot of people seemed to really like. Alberto Del Rio has joined commentary, which doesn't please Zeb Colter. Three minutes into the match and the first thing that comes to mind is that EVERYONE on commentary needs to shut up. Your job is to add to the match, not make me want to turn it off. The heels got the heat of Cena for a very long time, which was good because they got to look like threats, and allowed for Goldust to get the hot tag and shine. Really good reaction for the hot tag. The match started slowly for sure, but picked up well after the hot tag. Cesaro got in his giant swing, Cena sidestepped Cesaro, who charged into Colter. Cody then hit a moonsault to Sandow, Cena then hit a cross body on Cesaro and then Goldust the final cut on him for the win. The crowd loved the finishing sequence, which was awesome, and overall it was a very fun and hot match. Colter appeared to be pretty banged up from the spot with Cesaro. I would have thought that the heels would have taken this to add to the tag title feud that seems to be building, especially since they lost on Smackdown, but apparently not. They are being booked well in the matches, but I personally felt they needed the win here.
Rating (1-10): 8.0


More on Show's lawsuit, actually it appears to be the same one from earlier. Thanks. Question, why is the WWE essentially helping Big Show by presenting his side of things? I mean, he is banned for life.


Big Show arrives, and Vickie runs to tell Triple H. Stephanie arrives and says she let him in the building, because the WWE Board demanded it. Apparently this is bigger than them, and the board wants them to settle with Show. Triple H noted he didn't want to take McMahon Family orders, and Stephanie jabbed that he never had an issue taking McMahon Family money.


Non-Title Match: Curtis Axel © vs. Dolph Ziggler: Axel is fresh off a short time off due to injury and is without Paul Heyman, due to Punk destroying Heyman at HIAC. Ziggler scored the victory, as Axel continues to be beaten like a drum. You would have thought with then hyping Axel vs. Langston on Main Event, and considering Langston lost, that the IC Champion would have picked up the victory to add some heat to that match. But now, with Axel and Langston both losing, the match is essentially who is the biggest loser. Booking like this truly makes me scratch my head. The match was fine, but the fact that the IC Champion continually gets booked like a chump is disturbing.
Rating (1-10): 5.0


Renee Young talks with Daniel Bryan about being attacked last week. He wanted payback tonight, and got it.



Triple H and Stephanie wait on Show. Vickie arrives and says Show wants to meet in the ring tonight.

The Usos vs. 3MB (Slater and McIntyre: This was a very short, back and forth match. The Usos won as they should. It was your average, 3-minute, Raw match.
Rating (1-10): 6.0


Renee Young is with Los Matadores. We get a video package. El Torito arrives, they make a horny joke, Ole.


The Bella Twins and Eva Marie vs. AJ Lee, Tamina and Aksana: Much like the mixed tag match from earlier, this was essentially product placement for Total Divas, which is to be expected. The show returns on Sunday, and they get paid well ($750,000 an episode) to produce it. It wasn't horrible, but was off in parts. In their defense, it is hard to put on a match with solid flow with three minutes and six people. Eva Marie tagged herself in and got an immediate roll up for the win. Watch Total Divas on Sunday.
Rating (1-10): 5.5



Daniel Bryan battles Luke Harper on Smackdown this week.

MAIN EVENT TALKING – FEATURING THE Hs, STEPHANIE AND BANNED FOR LIFE BIG SHOW: Triple H and Stephanie make their way to the ring to talk with Big Show, who joins them in his power suit. Show said he just wanted his job back, and Triple H got all pissed, so Stephanie had to take over. She agreed to give him the job, and Show did yes chants. But then Show wanted one more thing, to make the big lawsuit to go away, he deserves a big bonus. He then jokes about being the face of the WWE, which upsets Stephanie. The Shield arrives and THEY CUT TO A COMMERCIAL. In my opinion, that was poor planning by WWE. You have a Packers vs. Bears MNF game, which will draw on its own, and the game at the time of the writing is a 4-point game late in the third. Not the move I would have made. They came back from commercial and Show says he deserves a WWE Title shot against Randy Orton at Survivor Series. Triple H said he got his job back, and he is lucky for that, so he should bail before he gets left laying in a pool of his own blood. Show then says his attorney will make sure he owns all of them so have a nice day. Triple H then gave him the match. Show made him repeat it several times to make it more uncomfortable for Triple H. Triple H decided to make him face the Shield, and Randy Orton. Show fought them off until the numbers game got to him and he got beat down. Show powered out again, only for LIBERTARIAN KANE TO ARRIVE!




This distracted Show, he got beat down and ate an RKO. Kane tossed chairs into the ring to "you sold out" chants, and the Shield and Orton beat down Show. At times like this I have to ask, didn't the locker room unite not too long ago? They were all so happy to see Show earlier tonight, but then didn't do anything to help him? I mean, that doesn't exactly make sense. Shield bomb through the announce table allowed the dastardly heels to stand tall. The segment was fine, but also felt as if they packed a bit too much into it. They could have had Show get the upper hand this week, and then the beat down next week, also allowing for some form of explanation as to why no one could help. Show gets his job back and gets his title shot and gets one over on Triple H until the heel faction destroyed him. Show was great in his role and usually is, but I cannot say that the segment did anything to make me excited about Show vs. Orton in any way. They put the spotlight on Show as the babyface challenger well enough and made sure to make it look as if he has no chance due to the numbers game, which is all well and good, but again, if I am truthful I cannot claim to be excited about it and it surely is not motivation to buy the PPV.
Rating (1-10): 6.0


End scene.


Thanks for reading.



The Tirade


Overall not a bad show tonight, just not a great one. One thing I noticed is that Raw didn't "feel long" like it does a lot of weeks, which helps my enjoyment of the show. The pacing seemed good, and outside of the repeated video packages, I didn't have many complaints in that regard. But we still had the usual and not all that important filler that is only there because the show is three hours long.

They did good work getting the Punk/Bryan vs. Wyatts moving forward, and they also did well in having Harper and Langston look good in their matches. Also, some of the poor booking of guys like Axel is still there, which just feels so counter productive. For as much as they have done with getting fresh face son the roster and into roles that people can get into, Axel is still booked like a joke. If they feel he isn't the right guy, then just take the damn title off of him and move onto someone else you can book effectively.

The one match that really delivered was the six-man tag, which featured Cena and the Rhodes Brothers battling Damien Sandown and the Real Americans. If you missed the show, check that out.

Again, not a bad show, but not all that good either

Show Rating: 6.5

As a reminder, I will be going by the 411 scale…

0 - 0.9: Torture
1 - 1.9: Extremely Horrendous
2 - 2.9: Very Bad
3 - 3.9: Bad
4 - 4.9: Poor
5 - 5.9: Not So Good
6 - 6.9: Average
7 - 7.9: Good
8 - 8.9:Very Good
9 - 9.9: Amazing
10: Virtually Perfect

The final rating is not simply an average of the rated segments above. The rating takes them into account as well as the segments that are small but not scored, the flow of the show, the overall booking, build to PPV, crowd reactions, and so on and so forth.




---
Have you checked out the Csonka Podcasting Network? If you haven't, you should We run anywhere from 15-20 shows a month, discussing pro wrestling, the world of MMA, the NBA, general sports, popular TV series of the past, bad movies, battle rap, interviews, MMA & Wrestling conference calls and more! Around 10 different personalities take part in the various shows, which all have a different feel; so you'll likely find something you like. All of the broadcasts are free, so go ahead and give a show a try and share the link with your friends on the Twitter Machine and other social media outlets! Running since May of 2011, there are currently over 400 shows in the archive for you to listen to.



Larry Csonka is a Pisces and enjoys rolling at jiu jitsu class with Hotty McBrownbelt, cooking, long walks on the beach, Slingo and the occasional trip to Jack in the Box. He is married to a soulless ginger and has two beautiful daughters who are thankfully not soulless gingers; and is legally allowed to marry people in 35 states. He has been a wrestling fan since 1982 and has been writing for 411 since May 24th, 2004; contributing over 3,000 columns, TV reports and video reviews to the site.

Your heart is free. Have the courage to follow it…TO CSONKA'S TWITTER!

http://www.twitter.com/411wrestling
http://www.twitter.com/411moviestv
http://www.twitter.com/411music
http://www.twitter.com/411games
http://www.twitter.com/411mma
comments powered by