SPOTLIGHTS
Tremendous Tirades 12.02.13: WWE Monday Night Raw
Posted by Larry Csonka on 12.02.2013

Building to Cena vs. Orton, for the Undisputed Unified WWE World Championship of the Universe…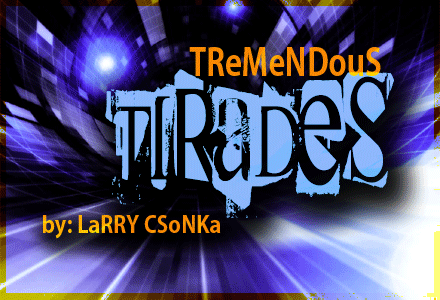 Introduction
As a reminder, this will not be another traditional recap, but instead it will be a mash up of the Rs, Instant Analysis and my usual Twitter ramblings I would do during the shows; completely uncensored and as the ideas flow unfiltered to the old keyboard. Remember, this is a review; and I am here to review the show. As always, I encourage discussion and even disagreement, just do so in a respectful manner. I will be doing the review for Raw and most PPVs and iPPVs going forward.

---


WWE MONDAY NIGHT RAW IS CHRIS JERICHO HAS BEEN THERE AND DONE THAT – HENCE THE NAME RAW IS JERICHO – SO RESPECT HIS AUTHORITAH!



CM Punk is Here: CM Punk was here to let us know that he knows the reason that the Shield attacked him. he made the sin of questioning the "King of Kings". He ran down Triple H, and that brought out Stephanie McMahon. He hoped we all had a great Thanksgiving, and then said she was a fan of free speech and denied that the Authority ordered the attack. She then said Punk's ego was running wild, and that they had bigger fish to fry, and mentioned the big contract signing tonight. This brought out Big Daddy Kane. He gave a speech that reminds you of a poor HR rep at your office, and I mean that in a complimentary way, and claimed the Authority were not at fault. Banter back and forth, Punk challenges Kane, Stephanie holds him back and the Shield appear. Stephanie called off the Shield, and said that Punk was to be respected and admired. Kane then added challenged. Punk will face all three members of the Shield at the TLC PPV. Jesus, was the Punk vs. Heyman and not Brock Lesnar matches not enough? The latest word going around is that CM Punk will be going on to feud as the "Anti-Authority" figure vs. Triple H heading into or at WrestleMania. If that is the case, then last week was a fine set up. Unfortunately, when all was said and done, this was your completely average opening talky segment to start off Raw.
Rating (1-10): 6.0



The Slammys are next week.

#1 Contender's Match For The IC Title: Dolph Ziggler vs. Damien Sandow: WWE with some TNA booking here, doing back to back stipulation matches to build to a regular match. But at least the matches DID lead to something as I asked, and that is one of these guys presumably getting a title shot of some kind. Langston is out on commentary, which is a good call to not only add importance, but to also give him a chance to develop a personality. Overall a solid match for the little time given, but I also felt that it was a downgrade from the past two weeks in terms of energy and quality. They didn't even get four minutes for the match, and that is after the last two weeks where they got multiple segments for their matches. I am glad that they actually used those matches to build to a contender for Langston instead of just making a random match for no reason, so I appreciate that; but for a show that struggles to fill time, they could have let them have more time and deliver in the ring.
Rating (1-10): 6.0



The Bellas and Natalya vs. AJ Lee, Tamina and Summer Rae: Besides the Total Divas vs. other divas feud, this also plays off of the Survivor Series tag and repeat match last week. Of note, Nikki and Natalya have pins on AJ, which could be an indication of the next title match. Summer Rae and Brie spectacularly blew a sunset flip spot. AJ Lee was skipping around the ring for 99% of the match, the other 1% was Natalya pinning AJ. That's two victories for Natalya over AJ in the last few weeks. AJ then skipped all around the ring after her loss, because losing doesn't matter in WWE. I don't care if her character is crazy, I HATE when performers act as if loses do not matter. It looks as if it is going somewhere, but the in ring wasn't all that good, and that post match reaction stuff is just horrible.
Rating (1-10): 5.0



Daniel Bryan faces Erick Rowan later tonight.


So Wade Barrett is back, and is doing a "Bad News Barrett" gimmick. The good news is that he is back on TV, the bad news is that the gimmick sucks.


Randy Orton meets with Brad Maddox, and tells Maddox to inform the Authority that they have to recognize his greatness and that he is the face of the WWE; and that he is even bigger than the WWE itself.

Daniel Bryan vs. Erick Rowan: Daniel Bryan is fresh off of his kidnapping and being left for dead in an abandoned mall parking lot. WWE liked Rowan's look and size, but know that he is green, which is why he has been protected so much thus far. I approve of having him with Bryan, partly because Bryan will work to his opponent's strengths, and also because Bryan will not be selfish during the match and allow Rowan to look like a monster. As expected, this was a slow and methodical match, which works for Rowan. His work looked solid, and Bryan sold it well. Bryan made a comeback, and was able to score a victory with the roll up. As he was looking to escape, Bray Wyatt appeared on the big screen and told his men to stand down. He cut a good promo, playing mind games with Bryan and saying that he understands Bryan like no one else, and that they can tear this place apart. This was a good in ring outing, one that will help Rowan, and a promo that likely sets up Bray vs. Bryan at the PPV. I am fine with this, because if that is the case, we'll really see what Wyatt has to offer in the ring.
Rating (1-10): 7.0



After the commercial, Bryan runs into Big Daddy Kane backstage. Kane makes Bryan vs. The Wyatt family.

R-Truth and Xavier Woods vs. Tons of Funk: We get a video of Woods using Cameron, Naomi and Brodus' music last week on Raw, which pissed off Clay. They then had a two-minute match on Smackdown, where Tons of Funk won. They had a match, and the crowd didn't care about it much other than the dancing, catchphrases and the finish. Brodus and Tensai teased tension following the typical WWE 50-50 booking. It was fine.
Rating (1-10): 6.0



The Shield faces Cody Rhodes, Goldust, and Big Show later tonight.


On the WWE App, Vickie Guerrero made Natalya vs. AJ Lee official.

Sin Cara vs. Alberto Del Rio: So two observations, Sin Cara still has a job and also has a new tattoo. Lets hope that this goes better than the last Cara vs. Del Rio match. Sin Cara, surprisingly, won the match with the senton. The finish was off, as Del Rio missing that Enziguri to set up the senton was telegraphed so badly. Cara won cleanly, which he needed badly to make people care about him again; especially if the rumored Mysterio vs. Cara match for Mania is back on. The in ring was perfectly acceptable, but nothing special at all. Del Rio's stock seems to be down since losing the title, and in my opinion, they have to do a lot of work to rebuild him at this point. A short vacation from TV wouldn't be the worst idea.
Rating (1-10): 6.0



Cena discusses the importance of being the Undisputed Champion.


The Shield discusses the fact that they plan to destroy CM Punk at TLC.

The Shield (Ambrose, Reigns and Rollins) vs. Cody Rhodes, Goldust, and Big Show: On one hand, I am excited because The Shield six-man tags are usually very good, and Cody and Goldust have been great. On the other hand, Show seems pretty directionless; as you would think he would be gunning for Orton and Triple H right away. I get that the Shield are associated with Triple H, but if I was screwed out of winning the title and then concussed, I think I would have a pretty good idea who to go after first. I'll save you all some time, this was awesome. Good work by all, good heat segment, fun breakdown and a well-booked finish that shows the fact that the Shield remains opportunistic at all costs. This is exactly what this show needed; I loved it.
Rating (1-10): 9.0



CM Punk discussed his handicap match at TLC vs. The Shield. He's so excited, and he can't hide it. He then sings, "I feel pretty". Seriously, he did. He then gets serious, noting knows he is going down, but wonders how many of the Shield he will take with him.


Bad News Barrett is back. This is not good. Seriously, someone got paid to write the verbiage about fans being constipated due to Thanksgiving.


Ryback faces Goldust on Main Event this week. Or so they say.

The Miz and Kofi Kingston vs. Ryback and Curtis Axel: The Miz and Kofi Kingston are tag teaming again. Apparently the word going around is that WWE creative forgot Miz had his Christmas movie coming out, accidentally turned him heel and then had to put the breaks on it. This was the definition of a match that no one gave a fuck about. Between the awful booking of Kofi and Miz, and the fact that Axel and Ryback no longer have Heyman, this was a match met with complete apathy. The match was ok, Kofi and Miz lost, and are still not friends. Tune in next week when Kofi's mom invites Miz over to bake cookies while they braid their hair and discuss their differences.
Rating (1-10): 5.0



Los Matadores try to shill WWE Merchandise. El Torito is there as well.

Fandango w/Summer Rae vs. Mark Henry: Mark Henry won, and showed off his dance moves to Summer Rae. The match was ok, but they blew the finish with the cross body spot, which was supposed to go into the world's strongest slam. They recovered, and Henry then hit the move for the win. Not so good overall.
Rating (1-10): 5.5



For those that missed Smackdown, WWE presents Titus O'Neil throwing up. Vince McMahon's humor…


CM Punk will face a member of the Shield on Smackdown.

The Real Americans w/Zeb Colter vs. The Primetime Players: This was set up on Smackdown with the puking angle. Awesome. Commentary seemed fixated on Titus puking on Smackdown and that he may again tonight. What a great way to put over these tag teams, the hell with putting over performances, we had a man puke on Smackdown! They did the giant swing, Titus looked as if he would puke, which allowed Young to get the hot tag. The Real Americans got the win in a match that did absolutely nothing for either team.
Rating (1-10): 2.0


Main Event Talky Time – Everyone Loves a Contract Signing!: They are guaranteeing ONE winner, and that it will be the greatest match of all time (according to Cole). Triple H and Stephanie are out to begin, they hype things and bring out Orton & Cena. Also joining them in he ring are various representatives from the tables, ladders and chairs community. They put over the histories of the titles (Stephanie making sure to mention Triple H) and the fact that they can cement their legacy by winning at TLC. They both sign, and Orton says e is better than any other man to hold the titles, and that is why they chose him. Plus they all hate John Cena, and Orton vows to beat Cena and take the titles. Orton discusses their history, and the time he kicked Cena's father in the head years ago. Cena put over Orton as the most gifted performer ever, but says he got cocky, has a bad attitude and got lazy. Cena claims that he ruined Triple H's dream, and that Orton feels he should be given things because of his legacy and skills. Cena says he earned his title, and in two weeks, and says Orton will have to earn the victory. Cena challenged Orton to make a move, which led to the big brawl with the various weapons, ending with Orton going through a table in the corner, and then one in the ring from an AA. Cena stood tall with the titles.
Rating (1-10): 7.5


Here is the updated TLC card:
~ Handicap Match: Daniel Bryan vs. The Wyatt Family
~ Handicap Match: CM Punk vs. The Shield
~ Divas Title Match: AJ Lee © vs. Natalya
~ IC Title Match: Big E. Langston © vs. Damien Sandow
~ Title vs. Title TLC Match To Crown The Undisputed Unified WWE World Champion of The Universe: Randy Orton © vs. John Cena ©


End scene.


Thanks for reading.



The Tirade


Overall the show was certainly an improvement from last week. The good news is that they actually took the time to get matches announced for the PPV. With next week being the Slammys show, it's not the best way to book a go home show, so they had to get things done tonight. As of now, we have five matches official for the show, and they got there in ways that made sense. The show still FEELS so long at three hours, and can really drag, and we certainly could have done without things like revisiting the puking segment from Smackdown. But it was an improvement, and wasn't horrible.

As for the closing angle, overall it was a good final segment to the show, but it still feels forced and rushed. As I said last week, and despite what they tried to tell you tonight, this is thrown together. It's honestly not that I have an issue with Cena vs. Orton (whether some like it or not, they are the biggest stars in the eyes of the company), but with their history, this really should have happened more organically. This is something they should have teased for months, with the idea of the champions wanting to be the guy, wanting to be the main event; while both titles and competitors are being built as dominant champions. Instead, we're getting a rushed program, and while the crowd was better responding this week, it doesn't feel nearly as epic as they are trying to make it seem.

As for what you have to see, catch the Shield (Ambrose, Reigns and Rollins) vs. Cody Rhodes, Goldust, and Big Show match, it will make you happy about watching wrestling.

Show Rating: 6.5

As a reminder, I will be going by the 411 scale…

0 - 0.9: Torture
1 - 1.9: Extremely Horrendous
2 - 2.9: Very Bad
3 - 3.9: Bad
4 - 4.9: Poor
5 - 5.9: Not So Good
6 - 6.9: Average
7 - 7.9: Good
8 - 8.9:Very Good
9 - 9.9: Amazing
10: Virtually Perfect

The final rating is not simply an average of the rated segments above. The rating takes them into account as well as the segments that are small but not scored, the flow of the show, the overall booking, build to PPV, crowd reactions, and so on and so forth.




---
Have you checked out the Csonka Podcasting Network? If you haven't, you should We run anywhere from 15-20 shows a month, discussing pro wrestling, the world of MMA, the NBA, general sports, popular TV series of the past, bad movies, battle rap, interviews, MMA & Wrestling conference calls and more! Around 10 different personalities take part in the various shows, which all have a different feel; so you'll likely find something you like. All of the broadcasts are free, so go ahead and give a show a try and share the link with your friends on the Twitter Machine and other social media outlets! Running since May of 2011, there are currently over 450 shows in the archive for you to listen to.



Larry Csonka is a Pisces and enjoys rolling at jiu jitsu class with Hotty McBrownbelt, cooking, long walks on the beach, Slingo and the occasional trip to Jack in the Box. He is married to a soulless ginger and has two beautiful daughters who are thankfully not soulless gingers; and is legally allowed to marry people in 35 states. He has been a wrestling fan since 1982 and has been writing for 411 since May 24th, 2004; contributing over 3,000 columns, TV reports and video reviews to the site.



Your heart is free. Have the courage to follow it…TO CSONKA'S TWITTER!

http://www.twitter.com/411wrestling
http://www.twitter.com/411moviestv
http://www.twitter.com/411music
http://www.twitter.com/411games
http://www.twitter.com/411mma
comments powered by