SPOTLIGHTS
411's WWE RAW Report 12.9.13
Posted by Tony Acero on 12.09.2013

John Cena and Randy Orton met in the ring with 20 former champions surrounding them, CM Punk took on Dean Ambrose, The Rhodes and Rey Mysterio teamed up with The Big Show to take on The Real Americans, Ryback and Curtis Axel, and more! Get all the details on the show with 411's WWE RAW Report!

Championship Roll Call:
WWE Champion: Randy Orton
World Champion: John Cena
US Champion: The Shield's Dean Ambrose
IC Champion: Big E. Langston
Unified Diva's Champion: AJ Lee
WWE World Tag Team Champions: Cody Rhodes and Goldust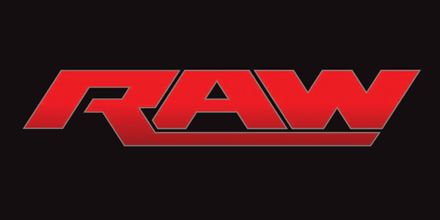 So Tony has the Ragsys, and one week later the WWE's gotta ride the coattails and bring out the Slammys. Damn them. Damn them all! I hope you're ready for the the award show where everything's made up, and your votes don't matter. That's right; just like the IQ of Eva Marie.


---
We get a fancy Slammy Awards video package to open the show.


JBL and Cole welcome us to the show. DOWNLOAD THE APP!



Daniel Bryan vs. Fandango w/Summer Rae


Shoulder block by Fandango to begin. Off the ropes, counter and a dropkick by Bryan. Uppercuts by Bryan, off the ropes and a knee by Fandango, and a cover gets 1. A suplex by Fandango follows, and a cover gets 2. Chops by Fandango, to the corner and Byran moves and Fandango crashes into the corner. Bryan lays the boots to him, much to the dismay of Summer Rae. Bryan then works the arm and lays in more kicks. Surfboard attempt countered, but Bryan slams the knees of Fandango to the mat and covers for 2. Off the ropes, Fandango sidesteps and sends Bryan to the floor. Fandango misses a plancha, and Bryan then connects with the suicide dive. Bryan sends Fandango to the barricade and then connects with the shotgun dropkick. Back in, Bryan up top, leaps off and Fandango catches him and counters it into a sitout powerbomb for 2! We head to a commercial…

Back from commercial and Bryan connects with a clothesline. Bryan with the kicks to Fandango, and covers for 2. More kicks by Bryan, but then misses the corner dropkick and Fandango covers for 2. Fandango up top, and MISSES the big leg drop. Bryan up top now, and connects with the head butt. Bryan then connects with the charging knee and that is all.
Official Result: Daniel Bryan @ 8:00 via pin


Bray Wyatt then appears on the big screen. He is drawn to Bryan, but the unwillingness of Bryan to comply is irritating him. He doesn't want Bryan to suffer. There are no fairy tales, the story ends as it started, he needs Bryan to know he will hurt him badly at TLC. He will prove to Bryan that he is a monster, just like him. And then, when he does, he will take the pain away. Join us Bryan… Bryan leads the crowd is NO chants.


Lawler and Booker T appear as the hosts of the Slammy Awards. They welcome us to the Slammys, and out over the awards and that the fans voted on the awards.


The first award is the "LOL" Moment of the Year Presented by The New Age Outlaws. They are dressed in tuxes from Dumb and Dumber, I liked it when Daniels and Kaz did it first. The fans chant one more match for them. The nominees are…

- The Rock concert at 20th Anniversary of Raw
- Vickie Guerrero is fired as Raw GM
- Titus throws up on JBL Cole and Coulter on Smackdown
- The Great Khali and Jinder Mahal try to charm Santino's cobra on Smackdown


The winner is The Rock concert at 20th Anniversary of Raw. Since Rock is obviously not there, Vickie is out to say the awards represents her beauty. She takes the award.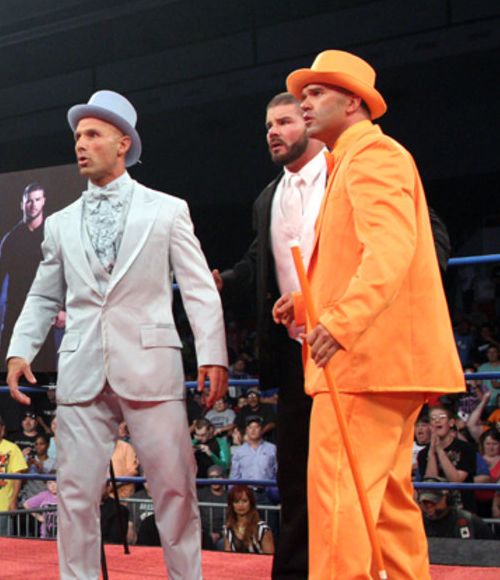 Santino vs. Damien Sandow


Big E. Langston is at ringside. Sandow in control early, beating down Santino. Sandow lays the boots to Santino, side Russian leg sweep and elbow with a fancy name connects, and a cover gets 2. Santino counters with a belly to back suplex, and both men are down. Hip toss by Santino, off the ropes and a head butt connects. Goes for the cobra, but Sandow sweeps theleg and hits the You're Welcome for the win.
Official Result: Damien Sandow @ 3:00 via pin


Langston enters the ring and they have a stand off. Sandow backs off.


The Shield is out to present Double Cross of the Year. They are in swank black suits. The nominees are…

- Mark Henry's retirement hoax on John Cena
- Shawn Michaels at HIAC against Daniels Bryan
- Paul Heyman turns on CM Punk and MITB
- Triple H on Daniel Bryan at Summerslam


The winner is Shawn Michaels at HIAC against Daniels Bryan. HBK is out to get his Slammy. He says that he has a lot on his mind, but isn't allowed to talk too long. He has won Slammys, but not for double cross of the year, which is ironic because he double-crossed a lot of people. He has been double crossing people for as long a she can remember, but now he wins four years after retirement. You sold out chants, and he says he sold out a while ago, which is why he is still here.



Kofi Kingston vs. The Miz


Kingston attacks right away, and controls after a dropkick. Kingston with a sidekick to the face of Miz, and then lays the boots to him in the corner. Kingston covers for 2. More kicks by Kingston, off the ropes and another kick to the face of Miz and that gets a cover for 2. Miz avoids trouble in paradise and takes a powder to the floor. He tries to walk away, and Kingston chases after him. He slams Miz to the barricade and then back into the ring. Roll up by Kingston gets 2. Miz sends Kingston into the buckle and then gets a rollup for the win with the tights.
Official Result: The Miz @ 3:00 via pin


Kingston hits trouble in paradise after the match.


Eve Torres is out to present Diva of the Year. She is glad to return to present this award. The Divas work had and have had an exciting year. The nominees are…

- The Bella Twins
- Natalya
- Kaitlyn
- AJ Lee
- Eva Marie
- Cameron and Naomi


The winner is The Bella Twins. They hug it out with Eve, and accept the Slammy. They are honored to win the Slammy, and feel it is so amazing that they won. They say 2014 will be another year of the Bellas. GHEY!!!!!



Rey Mysterio, Big Show, Goldust ad Cody Rhodes vs. Jack Swagger, Antonio Cesaro, Ryback and Curtis Axel


Rey and Ryback to begin. Ryback with the power game, but Rey escapes and uses his speed to land a basement dropkick. Ryback avoids the 619, and drops to the floor. Show tags in, lock up and Ryback shoves Show back. Lock up again and Show tosses Ryback to the mat. Corner shots and chops by Show, slams Ryback to the corner and tags in Goldust. Uppercut by Goldust, snap mare and we head to a commercial…

And....we're back. Cesaro's got Rey with a side headlock down on the mat, but Rey is quick to get up, only to be tossed to the ropes. He comes flying back, and Hurricanranas Cesaro. Quick tag to Goldust, clip to Cesaro's knee and Goldust with an axe handle. 1...2..NO! Cesaro with a high knee, grabs the head, and tags in Swagger. Swagger with right hands, but Goldust fights back out of the corner. Swagger with some rope work ends with a Goldust uppercut. Goldust mounts Swagger in the corner, stops at 4 due to Cesaro, and gets distracted. Swagger clips the knee. Swagger then sends Goldust to the outside where Cesaro, after a tag, hits a hard clothesline and sends Goldust in the ring. Cover for 1...2.NO! tag to Curtis Axel. Ael with a kick, then a whip followed by a clothesline. Axel shouts like people care about him then drops an elbow. Cover for 1...2...no! Forearm scrape and Goldust hangs up on the ropes. Tag to Ryback, who drops an arm on the back of Goldust then hits the back of GOldust. He slaps him around a bit, but GOldust fights back with some rights. One from Ryback sends GOldust into the corner, and Ryback attacks the back. The ref stops Ryback, so Cesaro gets a cheap shot. Tag to Swagger. Snapmare into a headlock from Swagger. Goldust tries to push towards his corner, but Swagger lifts, only for Goldust to roll him up...but Swagger gets a tag to Cesaro first. Cesaro in with some stomps. Cesaor with a hard stomp to the chest of Goldust then a pin for 1...2..NO! Cesaro with a side lock to the neck, but Goldust gets out, is able to hit a powerslam, and goes fo ra tag. He misses, because Swagger enters after a tag and sends GOldust into the corner. Tag to Cesaro. Goldust fights out! He goes for a tag, but both Cesaro and Swagger lift him up. Goldust is able to hit a DOUBLE DDT to both men! Tag to Cody. He comes in and gets a near fall.
Please excuse the gap, will be fixed post-posting
Rey Mysterio is in! 619 to Curtis Axel! Drop of the Dime! Cover for 1...2...3!!!
Official Result: The Rhodes Brothers, Rey Mysterio, and The Big Show
I missed half of the match, and a bit of the end, so can't properly rate good or bad.
Rating:

Stageside, we got King and Booker T talking about the Superstar of the Year, and this year the presenter is....The Heartbreak Kid Shawn Michaels. I just realized how badly I'd look if I typed SEAN MICHAELS and it made me giggle.

Michaels is out, and he wants to mention he has already won a Slammy. Just sayin, y'all. Just sayin. He wants to add Mr. Slammy to the long list of names he's already acquired. This award goes to the man who has dazzled and entertained us. The man who has given us nothing short of an A+ performance. As we go forward in the Slammy Awards ---- the crowd cuts him off with some Yes Chants. Instead of calling it the Superstar of the Year award, maybe we call it the HBK-Shizzle. Just keep sayin it, and after a while it just rolls off the tongue. Having said that....the nominees are:

- Brock Lesnar
- CM Punk
- The Big Show
- Daniel Bryan
- Randy Orton
- John Cena
- AJ Lee

Vote Now!!

We get Sin Cara's entrance, then a commercial, only to come back for the announcement of Superstar of the Year. And the winner is.....Daniel Bryan.

Bryan is out, grabs his award, and HBK holds on, tightly. HBK actually walks away as Bryan goes up to the mic. First of all, he wants to thank Shawn Michaels for the HB-Shizzle award. He thinks if it weren't for Shawn, he probably wouldn't be here in the WWE, but also - if it weren't for Shawn - he would be the WWE Champion. He's not angry, though, because The Authority doesn't want Daniel Bryan to be the Superstar of the Year, the people do. He says Go Seahawks before leaving us with a Yes Chant! So, there's that interaction you were looking for. Thanks for stickin around, Sin Cara.



Sin Cara vs. Alberto Del Rio


Del Rio is quick to attack, but Sin Cara gets agressive and sends Del Rio in the corner. Some rope work ends in a cross body from Sin Cara, and Cara beats down on Del Rio. The crowd chants for the Seahawks as Del Rio hits a snap suplex. Del Rio goes for a superkick, but Sin Cara moves and hits a dropkick, then a few rights. Del Rio heads to the outside. Sin Cara with a dropkick to Del Rio, who hopped on the apron. Sin Cara with a hop over the ropes onto Del Rio on the outside. Both men outside, now, and Sin Cara sends Del Rio into the barricade. Del Rio is sent into the ring, and Cara follows. He hits a kick then an elbow and a chop in the corner. Del RIo reverses and hits a quick Enziguri then a kick to the back. Del Rio goes for a stomp, but Sin Cara moves. Cara with kicks to the back. He's going up top. Del Rio rolls out of the ring quickly, again as we go to a commercial.

We are back, and Del Rio is in control. Apparently, it was a stomp that gave him the upperhand. Sin Cara turns into a headlock and gievs some rights but Del Rio lays in on the headbutts as Cole calls Daniel Bryan winning Superstar of the Year a surprise. Cara flies off the turnbuckle with a Missile Dropkick. He hits the ropes, and there's Del Rio with a tilt-a-whirl backbreaker and a pin for 1...2..NO! Del Rio with a stomp and sends Cara to the outside. Del Rio follows, and sends Cara into the barricade, back first. Del Rio rolls into the ring as the ref counts. He hits 6 before Cara enters the ring, right into a snapmare. Del Rio with a cravat from behind. Cara with a springoard into a rollup, which Del Rio rolls out of and hits a dropkick to the face. Pin for 1...2..NO! Del Rio runs into the corner, Sin Cara moves, and hits a hurricane DDT. Sin Cara ducks a clothesline then hits a Hurricanrana, sending Del Rio to the side. Whip, Sin Cara flips off the ropes with aback elbow. Pin for 1...2..NO! Cara calls for the finish. He grabs Del Rio, but Del Rio grabs the arm, falls back on the knees! He calls for the finish. Cara counters, hits an Angle Slam-like move then calls for the turnbuckle! Cara hops up top! Del Rio is up!! He trips Sin Cara up. Del Rio, with a right to the head of Sin Cara. Del Rio sets Cara up on the top rope for a Superplex, but Cara floats over and hits a powerbomb on Del Rio!! Nice!! Cara goes back up top!! Swanton Bomb from Cara! Pin for 1....2...3!!
Official Result:
Solid match, and it appears they're really getting behind the Hunico version of Sin Cara. Interesting!
Rating: ***

We head to the top of the stage where The Primetime Players are suited up to present the award for the Fan Participation Award

Young points out he's wearing white in the winter. shame shame. Titus claims that our voice could determine the fate of a superstar. He says we have chanted along with R-Truth and Daniel Bryan, and have even lent our hands to the dancing of Fandango. Young takes offense to not being nominated for their chant - and the crowd complies. Aww, that's nice. We get a suited and booted MILLIONS OF DOLLARS!!

- Fandango-ing
- Yes! Yes! Yes!
- Let's Go Cena/Cena Sucks
- What's Up!
- AJ's Crazy!

Vote Now!

And the winner is....Daniel Bryan! He's out one more time to say he's a bit at a loss as far as what to say...sooooooo YES! YES! YES! YES! Are they downplaying Bryan here, or it just me?



Brodus Clay vs. Xavier Woods


Woods comes out the gate with a dropkick then gets some rights in the corner. He flies with a cross body then beats down the head of Broud. Brodus no sells and hits a powerbomb. Brodus on the second rope. He comes off of it with a big splash. Pin for 1...2...3!! And it's over.
Official Result: Brodus Clay
Ooooooo, done pissed off the big man.
Rating: NR

After the match, Brodus Clay drops a few elbows! He is layin into the kid as Tensai tries to stop him. Truth is in, too. Tensai holds Brodus back in the corner as Truth checks on Xavier.Truth looks back as Brodus leaves the ring, calling himself a Main Event Playa.

Out comes The Miz to present Insult of the Year. Despite Kofi's best efforts, Miz is here to present insult of the year. He brings up some losers, and AJ Lee, saying they all had some awesome insults. Here are the nominees:

- AJ Lee's Pipebomb
- Zeb Colter
- Paul Heyman
- Stephanie McMahon to Big Show

So, really, these were all compilations save for my beloved's insult and Steph's.

CM Punk is here!! It's clobbering time, y'all, so we're gettin a match!

The winner for Insult of the Year is....Stephanie McMahon Degrades Big Show on RAW. Sure it is....

AJ, how do you feel?




Steph says that finally, all of us have recognized what's best for business.



CM Punk vs Dean Ambrose (w/ Seth Rollins and Roman Reigns)


Punk works the arm to start. He sends Ambrose in the corner chest first, then twists the arm and pulls hard. He whips Ambrose right into a shoulder thrust and a pin for 1. Punk works the arm behind, but Ambrose reverses into a side headlock. Punk sends him into the ropes, and Ambrose comes back with a shoulder tackle. Punk with the left arm again, and pulls back, this time sitting down on Ambrose. Punk gets Ambrose in the corner, and kicks the legs, then gives a knee. Punk with a DDT to the left arm (is there a name for that)? Pin for 1. Punk works the arm behind Ambrose, again. Rope work ends with Punk hitting a kick, then drops the arm on his shoulder and pulls it back some more, sending Ambrose back to the mat. Ambrose tries to work out of it, and turns right into a knee to the gut. Punk with a whip, reversed, and Ambrose runs into a kick, followed by a cross body from Punk that goes a bit too low, allowing Ambrose to hit a knee to the gut. Pin for 1...2..NO!

Ambrose gets the upperhand and hits a headbutt. He hits a right hand to the face of the seated Punk. Another, followed by a boot scrape. Ambrose pulls Punk back across the ropes until the ref breaks it up. Kick by Punk, chop to Ambrose! Another, but the knee from Ambrose stops him. Ambrose with a shoulder to the ribs in the corner. Ambrose with a kick to Punk, then a right hand to the back of the neck. Chin lock from behind, until Ambrose shoves Punk to the mat face-first then pins for 1...NO! Another chin lock from behind. Ambrose with a whip into the corner and a shoulder block into Punk's ribs. One more time on the opposite corner. Ambrose goes for the hat trick, but Punk moves and Ambrose hits the post. Punk goes for the G2S, but Ambrose hops off and heads to the outside. Reigns watches with a hint of disappointment on the outside, as Ambrose hops up on the apron. Punk knocks him off, then hits a Suicide Dive! He assures his safety by making eye contact with the other two members of The Shield as they creep closer.

Back from the break, and ambrose has Punk in downed. Punk turns around and hits a few headbutts to send Ambrose away. Punk with a Saito Suplex attempt, but Ambrose goes behind and locks in a sleeper hold. He falls and locks in a scissors in addition to the sleeper. Both men seated now, and Punk tries to turn into it. He's able to do so, and hits a back suplex. Chop from Punk, chop from Ambrose, headbutt from Punk, whip to Ambrose. Punk misses a dropkick, and falls to the mat. Ambrose with a knee to the gut, another, one more! He misses a clothesline, and Punk hits a swinging neckbreaker. Both men up. They trade blows. Punk gets the upperhand, whips Ambrose, and hits a heel kick! Axe handle to Ambrose, one more! High knee in the corner, followed by a clothesline!! Punk wants the elbow! He flies! He hits it!!

Reigns has a "Not impressed" look as Punk pins for 1...2..NO! Punk calls for the G2S. Lifted, but Ambrose hits the ribs with some rights. Double Underhook. SUPLEX! Pin for 1...2..NO! Ambrose can't believe it. He sends Punk in the corner and lifts him into a seated position. Ambrose is up for a double underhook superplex, but Punk hits a headbutt to the jaw. Punk flies off with a crossbody, and Ambrose rolls through for a pin!! 1....2....NO! Punk is up! ROundhouse kick to the head!! Pin for 1...2.....NO!! NICE!! Punk lifts Ambrose for the G2S again, but Ambrose sends Punk to the ropes and hits a knee to the ribs then sends Punk to the outside...right between Reigns and ROllins. They stare him down as Ambrose leaves the ring. He yells at Seth, then gets in the face of Reigns. Reigns is all smiles as Ambrose essentially claims he's got this. Ambrose sends Punk to the inside, then follows suit. The rest of The Shield makes their exit as Ambrose pins for 1....2...NO! Punk with the G2S set up. Ambrose floats off, goes for his DDT, but Punk sends him to the ropes, then hits the G2S! Pin for 1....2.....3!!!
Official Result: CM Punk
Solid match with a solid final minute or so.
Rating: ***1/2

After the match, Rollins distracts, and in comes Reigns to spear CM Punk! Ouch.

There's a Y2J chant after a nice video package. Minor mic problems that don't last too long as King and Booker talk about Extreme. They introduce Mick Foley to let us know who is nominated for the Most Extreme Moment of the Year.

Foley is out, gets himself a cheap pop, throws up the thumb, then mentions Bryan and says to leave his cheap pop alone. Foley brings up the extreme moments, and how they feel like entire careers and lives passing by.

- The Shield Attacks The Undertaker
- Ryback Sends Cena Through Stage
- CM Punk Beats Heyman Atop a Cage
- The Wyatt Family Attacks Kane
- AJ Lee Meets Tony Acero's Mom

And the winner is....CM Punk Geats Heyman Atop a Cage. Punk comes out to accept, and continuously watches his back for The Shield. Punk says he feels strange accepting an award and not wearing pants. He appreciates anyone who voted, thanks Heyman for being a great target, and if we thought that was extreme, wait till This Sunday.



The Usos vs. The Wyatt Family


Rowan and Uso 1 to start. Uso hits the ropes, hits a clothesline, another to the back of the head, but neither knock Rowan down. Sunset flip turns into Rowan just grabbing the head and sending Uso into the corner. Uso flies out with a kick, hits a hard kick and sends Rowan to the outside, then Harper. Tag to the other Uso, and one hits the top rope, while the other hits the opposite side of the ring. They both fly over the top rope onto the Wyatts as Bray sits there laughing!!

We're back, after a break, and Harper has Jey, I think, on the mat. Jey is able to stand, but Harper hits a headbutt, then a clothesline to the head. Pin for 1...2..NO! Harper stands quickly, and stares down the other Uso. He turns to tag in Rowan then stomps the leg of Jey. Rowan with a body slam then a clothesline to the back. Whip, followed by catching a crossbody and a Fall Away Slam to Jey Uso. Rowan grabs Jey from the corner, then whips him right back into the corner. Rowan with a right elbow, then a splash...that gets nothing. Jey moves! Jey flies over to Jimmy for a tag. In comes Harper. Clothesline. Another. Kick to Rowan on the apron. Kick to Harper! Whip, Harper kicks, but Jimmy no sells and sends Harper to the ropes. Samoan Drop from Jimmy! He sends Harper into the corner and hits a butt splash. Pin for 1...2..NO! Jimmy runs, Harper lifts him up and drops Jimmy on the ropes. Harper locks the arms of Jimmy in the ropes then slaps the gut. He goes for a hard hit, but Jey unlocks his brother. Harper runs and hits Jimmy. Jey with a roll up for 1...2...NO! Superkick from Jimmy. Pin for 1...2...NO!! Rowan breaks up the pin! Rowan goes to knock off Jey, but Jey holds the ropes. Rowan grabs Jey and sends him flying into the announce table. Jimmy with a clothesline to Rowan, only to run into a HARD Clothesline from Harper! Pin for 1...2...3!!
Official Result: The Wyatt Family
That match for more time than I expected, even if it was just 30 seconds. Solid affair.
Rating: ***

The lights go out randomly, as the Wyatt's music stops playing. Cole seems confused, and it appears we are going to the top of the stage. We are going to get the Match of the Year, and here's Bret Hart to announce the winner.

Bret's lookin swank, and brings up just what a good match can do. A Great match can change WWE History. Hart says that his own Match of the Year Slammy was the one he cherishes the most. Here are the nominees:

- The Undertaker vs CM Punk
- Cody Rhodes and Goldust vs. The Shield
- HHH vs Lesnar
- The Rock vs John Cena
- AJ Lee vs My Obsession

And the winner is....John Cena vs The Rock

Here's Cena, who gets a buncha boos. He says thanks, and we'll see him later.



Natalya vs Tamina (w/ AJ Lee)


Tamina with a kick then sends Natalya to the mat. AJ watches on and is gorgeous. Tamina whips Nattie to the ropes, and hits a back elbow to her face. Tamina stomps the back then whips Nattie to the corner. Nat is seated, so Tamina hits a knee. She then goes for a butt splash and hits it. Knee to the gut from Tamina, then another. She chokes up Nattie on the ropes then whips her to the corner one more time. Nat falls hard as Tamina lays in with the boots. AJ smiles on. Tamina misses a splash in the corner, and Nattie hits a spinning clothesline. AJ is here to distract. Nattie grabs her hair. Tamina grabs Nattie and holds her up, then swings, causing her to kick AJ off the apron. Nattie hops off and locks in the Sharpshooter. Tamina taps!!
Official Result: Natalya
Needed more AJ
Rating: *

Cole sells the importance of this "last time" we will see the World Heavyweight Title and WWE Title in the ring at the same time.

The music of Triple H hits, and out comes He and his boobs.

We've got 20 former champs in the ring, and a CHRISTIAN sighting!!! Stephanie McMahon mentions everyone, and calls HHH the pinnacle of said Champions. She introduces himself, and he says thank you to everyone in the ring. They all know what it takes to be a champion. They all know what it's like to be champ. Some have been World, some have been WWE champ. A few have been both. A Daniel Bryan chant nearby drowns out Triple H. He is silenced as the crowd chants for Bryan heavily. Bryan is chuckling on the side. HBK asks the crowd to shush a bit, as Mark Henry holds the hand of Daniel Bryan up high. We get a YES chant now. Triple H starts talking again, and this time the crowd Whats him. Can't he tell? Like, doesn't he hear that? I don't understand....

Triple H introduces Orton then Steph introduces Cena. Triple H asks for both belts to be suspended above the ring. Another Daniel Bryan chant is heard, and John Cena shakes the hand of Daniel Bryan. Orton on the mic. He says he knows what Cena is capable of, but he knows what he is not capable of, too. Orton asks if Cena remembers Ruthless Agression, and how if he had it then - he certainly doesn't now. Orton says that last week Cena said Orton has gotten lazy. Orton didn't get lazy - sometimes, when you're that much better - you lack motivation. BORING chant for Orton. Orton says he has all the motivation he needs hanging right here. Cena claims not to care about being the face of the WWE, but image is everything to him. Unfortunately, he will be the man that loses the most important match in the history of the WWE. Meanwhile....YES CHANT. Meanwhile, Orton is the greatest superstar of this - or any other generation. Orton points out Foley, says he took years off his career. Foley nods in agreement. HBK next. and Orton has embarrassed him on multiple occasions. He tells Bret he would have left him laying unconscious in 97 if it were him. Everything that Cena has worked for will come crashing down.

That promo may have given Cena a bit of a face edge....Cena mentions the word "work" then grabs Daniel Bryan out from the crowd. The crowd goes buckwild and I feel like this is so retarded. Cena asks the man his name. He asks what his name is and where he is from. Cena wants to know if either of Bryan's parents were WWE superstars and Bryan says no. So, since he's been here, Bryan has had to work for everything? Bryan says yes then heads back in line. The reason they cheer for him, says Cena, is because he works and earns it. Sooooooo, why isn't Bryan in this match?

Cena says he's about to hit Orton in the face with some truth. Ever since Orton entered, he was untouchable and couldn't be fired because "they" liked him. Orton actually gets into the WWE and he gets sheltered by the best in the business. all he does is hide behind Trips and Steph. Orton has always blamed others and pointed fingers. He's had behavior problesm in and out of the ring, and the sad thing is the Sunday match is the biggest in history, but Orton wants the titles because he's selfish, because he feels he deserves it and maybe Orton could be a part of something. Every single time he has held either of these belts, his business card reads the same: "Want some, come get some." Whether people like him or not, they respect him. No one wanted to give Ziggler a chance, but Cena said "let's fight." What about Punk? He gave him a chance. Hell, the only legit champ shot Bryan ever got was against Cena - and he won! Cena then says if he wins on Sunday, he looks forward to the rematch with Bryan - a fair one.

Last week, Cena just wanted to make a statement. This week....Cena is going to make one more statement. He extends his hand out to shake and wishes Orton luck on Sunday. Orton stares at the hand in front of him, then shakes as the belts rise in the air. Orton with a cheap shot, so Cena shoots the legs. The former champs break the rumble up. Punk tries to stop Orton. Orton pushes Punk in the face, so Punk attacks Orton. Triple H, out of nowhere, grabs Punk and tosses him back. Punk didn't like that. Triple H checks on Orton. CM Punk attacks!! He sends Triple H to the side, so HBK Superkicks him!! In comes Bryan, who gives a knee to HBK!! Orton is here to RKO Bryan, but he gets shoved into Stephanie McMahon!! Orton realizes what happened as HHH runs to his wife. Pedigree to Orton!!!

Steph, Kane, and Triple H check on Steph, then stand as Orton is left cowering in the corner


and the crowd still chants for Daniel Bryan...

End Show

comments powered by