SPOTLIGHTS
Tremendous Tirades 12.16.13: WWE Monday Night Raw
Posted by Larry Csonka on 12.16.2013

Forget about the new Undisputed WWE Unified World Champion of The Mega-verse, WE HAVE SELFIES TO TAKE DURING THE SHOW!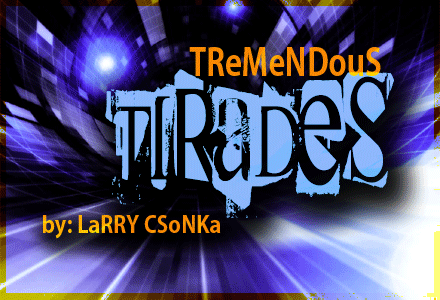 Introduction
As a reminder, this will not be another traditional recap, but instead it will be a mash up of the Rs, Instant Analysis and my usual Twitter ramblings I would do during the shows; completely uncensored and as the ideas flow unfiltered to the old keyboard. Remember, this is a review; and I am here to review the show. As always, I encourage discussion and even disagreement, just do so in a respectful manner. I will be doing the review for Raw and most PPVs and iPPVs going forward.

---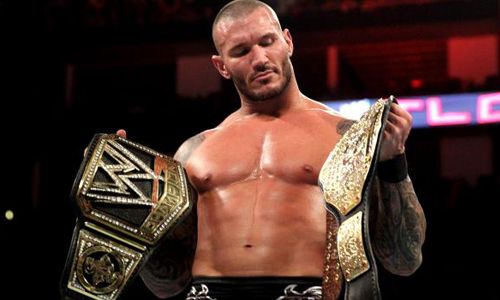 ONE CHAMPION TO RULE THEM ALL
Raw: Episode 1072



Champion of Champions Coronation Ceremony: The Authority, Triple Hand Stephanie, are in the ring to kick things off. Orton's entrance had a great douche bag moment as he stopped between Bryan and Cena and posed wit the titles. Thankfully Cena looked disappointed and wasn't smiling like some dumb ass. Orton slammed the roster, put himself over as the Champion of Champions and that he was better than then all. Cena then interrupted with JOKEZ about Orton's promo skills, but then said Orton earned the title. He then added that Orton should put up or shut up, but Cena wasn't talking about getting his rematch. Cena said it was about Daniel Bryan getting his title shot, because he listens to the fans. Why can't Daniel Bryan talk for himself? Is he mute now? Seriously, why in the hell does Cena have to talk for the guy? It's like big brother challenging the bully to a fight for you. Orton tried to play it off, but Stephanie said that Orton didn't have to listen to Cena, but he did have to listen to the Authority. Triple H Then announced Orton vs. Bryan for the main event tonight, which pleased the crowd. Overall it was fine, but two things bothered me big time. #1 Daniel Bryan needs to talk for himself. The crowds will respond, let the man talk. #2 was the fact that Triple H and Stephanie still are not sure if they are heels or faces. PICK A ROLE PLEASE. I get that they appear to be pandering to the fans, but Daniel Bryan (as a face) should be skeptical due to the fact that the Authority screwed him over repeatedly.
Rating (1-10): 6.0




BIG TIME INSIDER SCOOPS: The Next Challengers For The WWE Tag Team Titles Are…





Non-Title Match: Cody Rhodes and Goldust © vs. Rey Mysterio and Big Show: Rey Mysterio and Big Show were chosen as the opponents through a vote on the WWE App. They were also one of the final teams in the four-way elimination match last night, losing to the champions. Once again both teams were good sports before the match started. OH FOR FUCKS SAKE! The commentary team took a FUCKING SELFIE during this match. Way to show that you actually give a shit about the in ring. OH MY GOD THEY DID IT AGAIN! Great way to let the guys in the ring know their hard work matters. Rey Mysterio and Big Show got the clean win, which should set up our next tag title match. They again were all good sports following the match, which is likely setting up the Rhodes split to lead to WrestleMania if the rumors are true. The non-title loss is fine in theory to set things up, but I felt that the Rhodes Brothers have lost a bit too much to set things up as of late.
Rating (1-10): Sorry, I was too busy taking a selfie of myself giving the middle finger to my TV to rate the match…


Bad News Barrett…


The Authority talks up Randy Orton, putting him over and saying he needs to prove himself. Apparently Steph, Trips and Randall are all friends now after last week's assaults and shitty apologies.

Fandango vs. Dolph Ziggler: Here we go with Fandango vs. Dolph Ziggler, in a rematch from last night's TLC pre-show match. Fandango won last night, and Ziggler won tonight in typical WWE 50-50 booking. This feels like the Sandow series, minus the gimmicks. It was fine wrestling wise, but it didn't matter because they treated it as if it didn't matter; it was short Dolph appeared to get lucky and it was simply filler.
Rating (1-10): 5.0


The Real Americans vs. Big E. Langston and Mark Henry: When this came on the old TV, I was unsure as to why it was booked. The Real Americans lost last night, and are over, so in theory you would think that they would get a rehab victory over a lower tag team. Langston defended his IC Title, and I felt as if they would start setting up an opponent for him. The choice of the match just felt odd to me, but maybe they hope that by associating Langston with Henry that the fan base will start to care about him. The Real Americans continue to work together very well, the old well oiled machine if you will. Smart, simple, clean and classic style tag team work; it is what works and what is needed right now. The Real Americans had the heat on Langston forever, Henry got the hot tag, and killed people with power moves. Langston made a blind tag, saved Henry from the big swing and then got the finish with the big ending. From a booking standpoint, I wasn't the biggest fan of this. Langston and Henry are a really new team, but also I feel that it takes some shine off Langston as the IC Champion. The Real Americans have been having good to great matches, and are over, and really needed the win here. This was an example of a match that needed different people booked in it. Sure, Langston and Henry won, but what does that mean for the IC Title? Are they really going to keep tagging, or is this all setting the stage for a break up down the line? Overall it was solid stuff, I didn't hate it, and they got time to work, which I appreciate.
Rating (1-10): 6.0



Damien Sandow is playing Santa backstage, with AJ and Tamina as his elves. Next week it is Bad Santa Damien Sandow vs. Good Santa Mark Henry.


R Truth and Xavier Woods are on commentary.

Tons of Funk w/Cameron and Naomi vs. Ryback and Curtis Axel: Apparently Brodus made up with the team after last night's disaster, which should lead to the real break up and heel turn tonight. Yup, Sweet T worked the whole match, Clay gave him the old short arm and Ryback ended Sweet T's night. Clay then attacked after the match, landing multiple splashes on Sweet T, which led to Truth and Woods hitting the ring to make the save. Clay said he was the main event player, and left. Truth and Wood then talked Cameron and Naomi into dancing with them. Poor Sweet T, still laying on the floor, bleeding internally while the girls dance with new men, someone better call his mamma. This was obviously more story than match. I would guess we see Clay and Sweet T in the coming weeks in a match as Clay transitions to a singles heel. That leaves the girls to go with Truth and woods, which I am also fine with.
Rating (1-10): 6.5


CM PUNK PROMO TIME WITH TED NUGENT - CM Punk and The Usos vs. The Shield (Rollins, Reigns and Ambrose): Punk put over the fact that he beat the Shield last night and was not taken out as he expected. Punk then explained that it wasn't about The Shield, they are hired thugs, this was about someone sweeping him under the rug.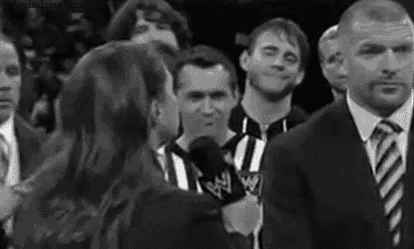 He wants Triple H to come out so that they can hash out their issues. That is unless Triple H was afraid of what Punk could do to him with the mic. Shawn Michaels then made an appearance, and received the "you sold out" chants. They discussed last week's show ending brawl, and the fact that Shawn superkicked Punk. Punk says that out of respect, he is giving HBK a pass. But if he ever does it again, Punk promises to kick him back. Michaels then introduced the Shield and bailed. I continue to enjoy how Michaels is being used, and how they are subtly laying the ground work for a match. Some will say that the Michaels appearance wasn't needed, but I looked at it as another instance of protecting his friend.

The WWE wanted you to vote on CM Punk's tag team partners to face the Shield tonight. In a way it seems a bit silly considering Punk won against them by himself last night, but hey, we'll roll with it if they continue the slow burn to the break up of the Shield. I love the pick of the Usos, as they have worked very well against the Shield. Overall this was a good match as expected. The Shield didn't show any rifts tonight, and were back to working as a unit, which is what they have done best. On one hand it's the old 50-50 booking, but I feel this had a point. I actually liked that they didn't do another obvious tease, as the group's break up needs to be a nice and slow burn. But it should be noted that Reigns getting the win over Punk, which Ambrose hasn't been able to do, is another subtle part of the Reigns-Ambrose tension when you really think about it. This was a very strong segment, one that the show really needed.
Rating (1-10): 8.5



Recap of the opening segment.


Bray Wyatt cuts a promo about taking Daniel Bryan's pain away, but Bryan refuses to walk with them.

Nikki, Brie and Natalya vs. AJ Lee, Tamina and Alicia Fox: This was an overall solid outing from the ladies, but with the heels winning, they seemingly have no direction at this time for the division as far as a challenger goes. Tamina looked as if she obliterated Nikki with that superkick. Either Nikki is great at selling, or she did. There is no in between there. The big takeaway is that they have no idea who is challenging next, which is a shame.
Rating (1-10): 5.5



MARK HENRY WILL SAVE CHRISTMAS!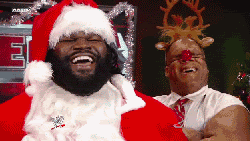 Randy Orton wants people to kiss his ass.


Cody Rhodes and Goldust will face Harper and Rowan on Smackdown this week.

Non-Title Match: Randy Orton © vs. Daniel Bryan: The match starts at 10:39 PM ET, which means they are getting a lot of time. They really pushed the fact that Randy Orton hasn't defeated Daniel Bryan clean on commentary. Orton focused on the arm, which Bryan sold well, especially after missing a suicide dive, where he crashed and burned. The one thing I really enjoyed about the match is that it felt very different from the rest of the shoe, as they worked a really physical style. This was just really good work with a hot crowd, which only made it better. Randy Orton took the cheap way out with the Greco Roman nut show just as it looked as if Bryan had the match won. This led to John Cena rushing the ring and attacking Orton. He ended up eating an RKO for his troubles. Orton then stood tall with the titles, a Cena and Bryan were laid out. This was an awesome match, and while I am not always a big fan of finishes like this, it fits Orton's character and enforces the fact that Orton knows he cannot defeat Bryan in a fair setting. Orton looked like he was insane trying to beat down Bryan, who would not give up. Add in the fact that the Authority wasn't involved and it was even better.
Rating (1-10): 9.5


End scene.


Thanks for reading.


The Tirade


Overall I felt as if this was a good show. It never felt that slow, and I felt as if they did a lot of positive things. They continued the Shield drama, HBK appearing to continue the tease that he could return, Punk continuing to speak out against the Authority, Daniel Bryan continuing to deliver, more tag team action and Randy Orton being a douche heel and knowing he cannot defeat Daniel Bryan when things are even.

Show Rating: 7.0

As a reminder, I will be going by the 411 scale…

0 - 0.9: Torture
1 - 1.9: Extremely Horrendous
2 - 2.9: Very Bad
3 - 3.9: Bad
4 - 4.9: Poor
5 - 5.9: Not So Good
6 - 6.9: Average
7 - 7.9: Good
8 - 8.9:Very Good
9 - 9.9: Amazing
10: Virtually Perfect

The final rating is not simply an average of the rated segments above. The rating takes them into account as well as the segments that are small but not scored, the flow of the show, the overall booking, build to PPV, crowd reactions, and so on and so forth.
Have you checked out the Csonka Podcasting Network? If you haven't, you should We run anywhere from 15-20 shows a month, discussing pro wrestling, the world of MMA, the NBA, general sports, popular TV series of the past, bad movies, battle rap, interviews, MMA & Wrestling conference calls and more! Around 10 different personalities take part in the various shows, which all have a different feel; so you'll likely find something you like. All of the broadcasts are free, so go ahead and give a show a try and share the link with your friends on the Twitter Machine and other social media outlets! Running since May of 2011, there are currently over 450 shows in the archive for you to listen to.



Larry Csonka is a Pisces and enjoys rolling at jiu jitsu class with Hotty McBrownbelt, cooking, long walks on the beach, Slingo and the occasional trip to Jack in the Box. He is married to a soulless ginger and has two beautiful daughters who are thankfully not soulless gingers; and is legally allowed to marry people in 35 states. He has been a wrestling fan since 1982 and has been writing for 411 since May 24th, 2004; contributing over 3,000 columns, TV reports and video reviews to the site.


Your heart is free. Have the courage to follow it…TO CSONKA'S TWITTER!

http://www.twitter.com/411wrestling
http://www.twitter.com/411moviestv
http://www.twitter.com/411music
http://www.twitter.com/411games
http://www.twitter.com/411mma
comments powered by