SPOTLIGHTS
411's TNA Impact Wrestling Report 12.26.13
Posted by Larry Csonka on 12.26.2013

Jeff Hardy announced he is walking away from TNA Wrestling, James Storm faced off with tag team partner Gunner and more! Check out 411's full Impact Wrestling report for all the details!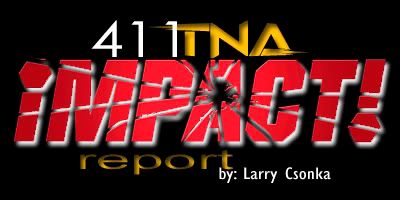 Championship Roll Call:
TNA WORLD CHAMPION: Magnus
TNA X-DIVISION CHAMPION: Austin Aries
TNA TAG TEAM CHAMPIONS: The Bro-Mans (Robbie E and Jessie Godderz)
TNA KNOCKOUTS CHAMPION: Gail Kim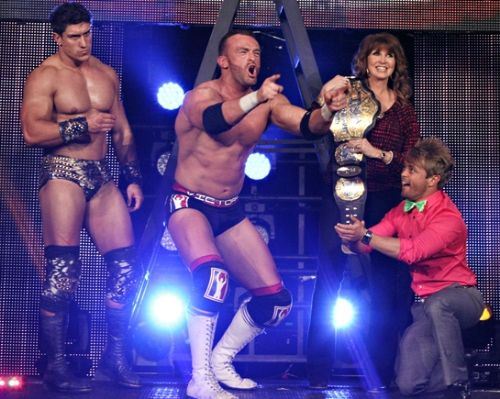 411's IMPACT WRESTLING REPORT 12.26.13
From the new Impact Zone in Orlando, FL.


We get video highlights from last week's episode, where Magnus won the TNA World Title.


Chief of Staff Rockstar Spud makes his way to the ring. The crowd is not exactly happy to see him. He introduces Dixie Carter, who is Santa, Lady Gaga and Queen Elizabeth all wrapped into one. Dixie makes her way to the ring now. She says her intro was great, and all true. It has been a great seven days, because Magnus was crowned the greatest world champion! While the people wanted Hardy to win the title for Christmas, but the right man won, because Magnus is a role model. The crowd chants for AJ. Dixie says that Magnus is the top man in Dixieland. But now, she has something special planned for next week.

But before she can announce that, Jeff Hardy makes his way out. Dixie says she is trying to make an announcement. Jeff is a loser and not the champion. Jeff says the creatures know who he is, and what he is all about. And we all saw what Magnus became, and it will haunt Dixie. Spud cuts him off because Jeff is not on the schedule. Spud then tells him to shut up and says Jeff is out of order, and that his time is up. As Chief of Staff, he wants Jeff to stick the creatures up his ass and get out of the ring. He slaps Jeff, who then goozles him and slams him to the corner. He has something to say, but ECIII attacks and tosses Jeff to the floor.

Dixie then tries to make her announcement, but Sting makes his way out to the ring, which leads to Spud and ECIII bailing. Sting is sick of entitlement, and says he will not leave until he gets what he wants. He wants to kick the crap out of ECIII. Sting then makes it a tag match, Sting and Hardy vs. ECIII and Spud. Dixie doesn't care what Sting wants, and Sting says she should care what the fans want, and the fans want the tag match. Dixie says she would like to see ECIII and Spud shut them up, so she signs a tag match main event. They play her music; she tries to cut it off to make her announcement, but gets played off like someone talking too long at the Oscars.



We're back from commercial and Dixie is still in the ring. She tries to make her announcement, but GUNNER makes his way to the ring with his Feast or Fired briefcase, which contains a TNA World Title Shot. Gunner says that Dixie may think her announcement is important, but his announcement is more important. He earned a title shot, and wants to cash in for his title shot right now. DENIED says Dixie. Magnus is across the pond celebrating with millions of his fans. So Gunner will have to take a rain check, so get out. She tries to do her announcement again, but Gunner cuts her off. He says to tell Magnus know that he will cash in, and to be ready. She tries to get rid of him, which leads to James Storm coming out to the ring. Storm apologizes for the interruption, but says that he hears Gunner talking about wanting, but he thinks Gunner owes him. Gunner denies this, and Storm says he asked Gunner not to get involved with he and Roode's match. And Gunner threw in the towel and messed things up for him. Gunner claims he saved Storm because Storm wasn't 100%, and Gunner says he was being a friend, and did what was right. Storm accuses Gunner of telling Roode that he was at the bar the night Roode attacked him. Gunner says that's crazy talk, but Storm says he is a stooge. Storm is here man to man that he wants to face Gunner here and now for the briefcase. Dixie cuts them off, and says that she will make this benefit her, because they will fight for the briefcase. That's what Gunner gets for interrupting her. Now she's not ready to make her announcement, so we have to wait.




For The Feast or Fired World Title Shot Briefcase: Gunner (b) vs. James Storm


They standoff and talk some trash shove each other and then lock up. To the corner, they battle around the ropes and finally break. Off the ropes, and Storm avoids a right from Gunner. Lock up, go behind by Gunner, off the ropes and then a shoulder block connects for Gunner. Side headlock takedown by Storm. Off the ropes, they try hip tosses, counters and a knee to the gut by Gunner for 2. Storm back with a neck breaker, and a cover for 2. They trade shots in the corner, enziguri by Storm, and then the forearm off the ropes and a cover by Storm for 2. They trade chops, rights by Gunner, then more chops. Storm battles back, snap mare and a knee drop gets 2. Gunner with a suplex, and he gets a cover for 2. He works a grounded headlock, Storm tries to escape and they trade rights. Gunner then spears Storm to the floor and both men are down. They brawl and get counted out.

OFFICIAL RESULT: Double Count Out @ 5:00


Gunner and Storm continue to brawl at ringside as officials try and fail to separate them.


Brooke meets with Bully Ray backstage, she has been calling and texting, but he has not responded. She says apparently he doesn't want her anymore, and says she will go out to the ring and out all of his secrets. Bully cuts her off and says that is not a good idea. She walks away.



We get a video package on Magnus' accomplishments in TNA.


Brooke makes her way to the ring, wearing pants I can only assume were painted on. Brooke says it has been weeks since she has seen or heard from Bully Ray. She refuses to take blame for what happened, and wants Bully to come out and tell the truth. Bully, with no music, makes his way to the ring. She calls him baby and wants to know what is going on. She has been calling and texting, and says she can fix this. It is not their fault that Aces and 8s ended. He pulls away from her, and Brooke says he doesn't respect her enough to look at her. She is sick of being his dog. She stood by his side, he told her to throw the hammer. She watched him destroy Aces and 8s, his family, his brother. He was to be her ticket to fame and money, and now, he's like the high school kid with no friends that no one likes. She says to look at her while she talks. Brooke says she is no one's possession, she doesn't need him, and she is done. He grabs her and stops her from leaving, takes the mic and says she is done when he says he is done with her. Don't worry, he doesn't blame her for losing the title or for the end of Aces and 8s. He says look at her, she isn't much in the brains department are you? He didn't keep her around because she was smart; he kept her because he has uses for her. And she wasn't even that good at them. Sometimes when he closed his eyes, he wishes he was with "Brooke #1." Ominous music plays, as he says he could piledrive her, but he has one last use for her. He will use her to spread his word. Brooke, you know how evil he is, how sick and sadistic he can be. Let everyone know what is in store for them. Let them know, it will be a lot worse, he is done with her, leave.


Joseph Park is backstage looking at the weapons for Monster's Ball. He is afraid and wonders what EY got him into.



Another video on the Rise of Magnus.


ECIII and Spud meet with Dixie Carter. ECIII is worried about Spud getting hurt, but Dixie says she has faith. Dixie asks who she is, and ECIII says she is Aunt D, and they are the Carters, and the world needs us. She says to get ready, it's a tag match, and she has them covered.


We get a history on the Joseph Park saga.


EY tries to pump Park up, and Abyss' music hits. Park says it is not his music, but EY says it is. Park grabs Janice and takes it with him.


We see Sting and Hardy meeting backstage, preparing for their tag match tonight. Sting says this is a mark out moment for him, because he wanted to tag with Hardy. Hardy says he didn't come to wrestle tonight, but Sting says they have business to take care of.



Monster's Ball: Bad Influence (Daniels and Kazarian) vs. Joseph Park


Kaz and Daniels grab weapons to counter Park's barber wire board (Janice). They try to make a plan, kick Janice away from him and start to beat Park down. They have a crutch and a kendo stick and use them to beat him down and lay the boots to him. Kaz chokes Park out with the kendo stick, and continue the beat down. Kaz and Daniels get more weapons, and beat down Park in the corner. They stop and remember that they don't want Park bleeding. Park makes a comeback with slams, but Kaz cuts him off with the trashcan shot to the back and Bad Influence is back in control. They toss Park to the floor, and once again lay the boots to him. They slam Park to the steps, make sure he isn't bleeding, and then continue he attack again. Back into the ring they go, to the corner and forearm shots to Park. Park manages to backdrop Daniels to the floor, Kaz slams into the chair that was wedged in the corner and Park lays a trashcan lid on Kaz and connects with the splash. Park goes for the Boston Crab, and gets it. Daniels makes the save with a crutch shot, Kaz to the floor and gets Janice. Park rolls to the floor as Daniels laughs at him. EY is out and tries to motivate Park, and Park begs for help. EY looks to make him bleed, but Bad Influence stops him and beats him down. They toss EY into the ring and Park back in to try and make the save. Kaz misses EY as Park tosses him out of the way and nails Park with the kendo stick. Park is busted open, ABYSS MODE ACTIVATE. Kaz and Daniels attack, no effect, Park unloads with rights. Grabs the kendo stick and beats down Bad Influence. Corner splash to Kaz, shock treatment follows. Black hole slam to Daniels, and that is all.

OFFICIAL RESULT: Joseph Park @ 12:00 via pin


Park does the Abyss pose following the match, and then grabs Janice and poses with it. EY is happy about this.


Tapa and Kim walk. So does ODB.



We get another Magnus video package.


Kim and Tapa come to the ring. Kim gets on the mic and notes that Madison Rayne humiliated her. She wants to know how it happens, and says it was a fluke. Two weeks ago when she issued her challenge, ODB got in her business, and when that happens, it becomes Tapa's business. Tonight, ODB will learn a valuable lesson.



ODB vs. Lei'd Tapa w/Gail Kim


They go face to face, and Tapa shoves ODB back. Forearms by ODB, they trade shots and ODB tries a slam and fails. To the corner, Tapa misses a charge and chops by ODB follows. More chops by ODB, off the ropes and a clothesline by Tapa stays standing. Another, but Tapa is still up. Tapa goozles her, ODB escapes, tries a slam and fails. Boot by Tapa, who then slams ODB face first to the mat. Tapa chokes out ODB, picks her up but ODB escapes, sends her to the corner and gets a pair of corner splashes. Big boot by Tapa stops that. Tapa to the second rope, MISSES the ass drop and ODB is back to her feet. Chops by ODB, off the ropes and a shoulder block by ODB, but Tapa is still up. Another and more of the same. Dropkick by ODB, Tapa to the ropes, and ODB sends her to the corner. Big corner splash and the title is slid into the ring by Kim. The ref is then gets distracted by Kim, TKO stunner by Tapa and that is all.

OFFICIAL RESULT: Lei'd Tapa @ 4:00 via pin


Kim talks shit to Rayne, saying that when you mess with her, you mess with Tapa.


Sabin and Velvet talk backstage, and she wants their relationship to be stronger. Sabin wants his X-Division title back, and since it was her fault he lost, he wants her to do anything he asks. She doesn't want to do that, and when Sabin says she doesn't support her and he may have to find someone who will, she gets upset.


Sting and Hardy meet, and Sting says he needs Hardy tonight, so whatever is wrong in his head, he needs to leave it backstage.



We get another Magnus video.


Before the match can begin, Dixie appears and says next week they will have a coronation for Magnus. But now, she has some business. This is a tag match, but she left out a detail, it will be a handicap match. The tag team champions Jesse Godderz and Robbie E will join Spud and ECIII.



Handicap Match: Sting and Jeff Hardy vs. Ethan Carter III, Rockstar Spud, Jessie Godderz and Robbie E w/DJ Zema Ion


Sting and Carter face off as the bell rings, but Carter tags in Spud. He's still wearing his bowtie, which works for him. He then tags out to Jessie. Lock up, off the ropes and a backdrop by Sting. Knees by Jessie, a suplex follows and he celebrates as Sting no sells it. Robbie tags in, off the ropes and a clothesline by Sting. One for Jessie, and then a tag to Jeff. To the corner, lays the bots to Robbie, and then a splash off the ropes by Jeff gets 2. Jeff sends Robbie to the floor, Carter accidentally sent into Robbie and Zema. Jeff with poetry in motion off Sting to the floor onto the heels. Jessie evens the odds by slamming Jeff to the apron, beat down on Jeff on the floor, and rolled back in and Robbie covers for 2. We head to a commercial…

Back from commercial as Jessie gets a knee to the gut on Jeff and covers for 2. Jessie works the arm, Jeff works to his feet and escapes. Off the ropes and a powerslam by Jessie gets 2. Tag to Carter, stares down Sting and then connects with a suplex to Jeff. Tag to Robbie, looks to beat down Jeff, who fights back with rights. To the corner, Jeff hits hard and drops, Robbie covers for 2. Robbie chokes out Jeff in his corner, his partners beat down Jeff a bit as he distracts the ref and tags in Jessie. Jessie works a single leg crab, Jeff gets the ropes but Robbie kicks his hand off and Jessie continues to work the hold. Jeff works for a tag, Robbie stops that and as Sting tries to make a save, the heels all beat down Jeff. Jessie with the cover for 2. Carter tags in, hits a belly to back suplex and we get an obvious cut in the action. Carter mocks Sting, but misses the corner splash. Jawbreaker by Jeff and he looks for a tag. Mule kick by Jeff, tag to Sting! Sting cleans house with rights on all the heels. Spud is on his back and he uses him as a weapon. Clotheslines and then the splash to Robbie. One for Jessie. Carter rolls up Sting, grabs the tights and steals the pin out of nowhere!

OFFICIAL RESULT: Ethan Carter III, Rockstar Spud, Jessie Godderz and Robbie E w/DJ Zema Ion @ 13:00 via pin


Sting apologizes to Hardy, who grabs the mic. Hardy says he is sorry for last week and for tonight. He has been asked a million times why he became a wrestler. Hardy says he did it because of Sting. He owes Sting, and without Sting, there is no Jeff Hardy. Hardy is apologizing because Sting didn't deserve this, and the fans don't deserve it. Dixie's actions have taken his heart, and he needs that to compete. Last week he was the better man, and destroyed his body, but Dixie doesn't own him. Hardy is sick of the politics and games, and he appreciates the fans. Sting stops him and says not to say what he thinks he is about to say. Hardy wants t stay and fight, but the fight is all gone. This was his last match in TNA. He will leave and will not return until the sun shines on this dark kingdom. He thanks and loves the creatures. He takes off his shirt and armbands and leaves them in the ring. He hugs Sting and leaves as Tenay and Taz sell their shock.



End scene.


Thanks for reading.




Have you checked out the Csonka Podcasting Network? If you haven't, you should We run anywhere from 15-20 shows a month, discussing pro wrestling, the world of MMA, the NBA, general sports, popular TV series of the past, bad movies, battle rap, interviews, MMA & Wrestling conference calls and more! Around 10 different personalities take part in the various shows, which all have a different feel; so you'll likely find something you like. All of the broadcasts are free, so go ahead and give a show a try and share the link with your friends on the Twitter Machine and other social media outlets! Running since May of 2011, there are currently over 450 shows in the archive for you to listen to.



Your heart is free. Have the courage to follow it…TO CSONKA'S TWITTER!

http://www.twitter.com/411wrestling
http://www.twitter.com/411moviestv
http://www.twitter.com/411music
http://www.twitter.com/411games
http://www.twitter.com/411mma



comments powered by