SPOTLIGHTS
Tremendous Tirades 12.30.13: Monday Night Raw
Posted by Steve Cook on 12.30.2013

Brock Lesnar returns, Daniel Bryan joins the dark side, and CM Punk stirs the pot with those crazy Shield kids. Also, Summer Rae moves up the Hot 100 ranks.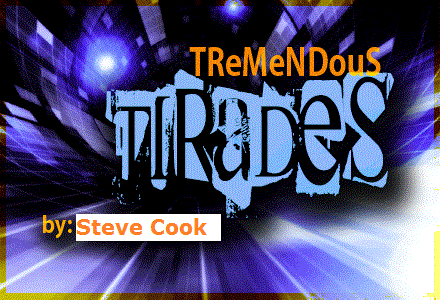 Introduction

Hi kids, it's Uncle Steve filling in for the Bossman one more time. Y'all know the drill, the Tirade is not a traditional recap, but more of a free-flowing analysis of the show. Kind of like the Raw Thoughts I used to do in News From Cook's Corner or stuff I'd post on Twitter but with ratings & whatnot. Completely uncensored, so put the women & children to bed before reading this one. This is a review, and Larry has entrusted me with reviewing the show all fair & balanced-like. Obviously I'm a fan or why in the blue hell would I have wasted the last nine years of my life writing about pro wrestling? I like the stuff, but when stuff ain't right I'm gonna complain about it. It is what it is. I encourage discussion & even disagreement, in fact the more I get the more likely it is that Larry will continue posting my columns & podcasts.
---


WWE MONDAY NIGHT RAW STARRING BROCK LESNAR



Everybody Talks Too Much: CM Punk comes out for our opening promo. Huh, Cena & Orton must be somewhere else tonight. Punk's had some ups & downs in 2013 & he lays them out. He points out that the Shield had a better year than he did, and sure enough they come out through the audience. He wants to find out who the best member of the Shield is, and he thinks it's either Roman Reigns or Seth Rollins since he's already beaten Ambrose like a drum. Rollins says it's him, but Punk stirs the pot by saying everybody's talking about Reigns. Reigns & Rollins talk things out, then Brad Maddox comes out to book Punk vs. Rollins…now!

This was an interesting little piece of business. I am not in favor of breaking the Shield up, but if you insist on doing so one of the better ways is having somebody like the conniving CM Punk stir the pot & cause dissention in the ranks. He did a good job of doing just that here. Ambrose was good as the leader turned weak link, Rollins was good as the brash young guy that thinks he's the best in the world, and Reigns was good at standing there. Which is all it takes for him with most people as evidenced by the Roman Reigns chants by the crowd. Solid opening segment.

Rating (1-10): 7.0

CM Punk vs. Seth Rollins (w/Dean Ambrose & Roman Reigns) : Rollins has been considered by most pundits to have the lowest chance of stardom out of the Shield members, but he's gotten huge chances the last two television episodes in matches with John Cena & CM Punk, two of WWE's biggest stars. The Cena match made him look really good and this match does the same for the Monday night crowd. Even if Rollins doesn't become a top guy, he's showing the stuff to be a solid contributor to the roster for years to come. Solid back & forth action with Rollins getting time to shine through most of it. BUCKLE BOMB gets a near-fall on the Punker. Just when it seems like Punk's ready to end things Rollins slides out of harm's way. Punk slides through Rollins' cross body and locks in the Anaconda Vice, but the Shield intervenes without causing the DQ! Rollins with a standing Sliced Bread #2…only two! Punk tosses Rollins out onto the Shield, Rollins cuts Punk off on the dive, Rollins back in…the GTS finishes it!

Now that's how you kick off Monday Night Raw! A good use of the first half-hour of the show here, featuring some of WWE's best competitors.

Rating (1-10): 8.0


Lots of Brad Maddox early in this show. He tells the Authority that he's ready to take a step forward. Daniel Bryan wants Bray Wyatt one on one. Maddox suggests he beat Luke Harper, then beat Erick Rowan, then he can take on Bray Wyatt. Good strategy here. The best way to fill time without the Cenas & Ortons of the world around is to have Daniel Bryan wrestle a bunch of matches. This is why I commented that Cena & Orton not being on Raw this week wouldn't be a bad thing in Christmas News From Cook's Corner.


Stephanie introduces a Randy Orton hype video. Who did Orton beat on August 15, 2004? They never show the loser of that match. It must have been Triple H.


Stephanie announces that Orton will defend the title in a Traditional Championship Match against John Cena. Cole deems it a blockbuster announcement. What is he, new?


Triple H says he will have an even bigger announcement. The downside of having half of the roster in Toronto: More of the Authority talking.

Curtis Axel vs. Dolph Ziggler : These guys have a lot in common besides a similar color scheme tonight. Both of them received the biggest push of their career in 2013. Both of them fell off the face of the earth after said push. They must be happy for the calendar change. Axel's obviously been studying up on Randy Orton matches with his chinlock there. Axel ran head-first into that turnbuckle like he was George Steele & forgot to bite. Ziggler gets the win with the Zig Zag, and here's hoping for a Happy New Year for Mr. Ziggles.

Rating (1-10): 6.0


Our choices for Damien Sandow's opponent: Kofi Kingston, Great Khali & The Miz. This is why we need a None of the Above voting option.


Intercontinental Title Match: Big E Langston vs. Fandango (w/Summer Rae) : Oh my goodness Summer Rae. Oh my goodness. Sorry folks, I'm having a very hard time paying attention to this match. As much as I like Big E & Fandango…Summer Rae. Damn. OK. To the action…some impressive athleticism by Langston there with that leapfrog. Fandango gains the advantage and busts out the INDIAN DEATHLOCK! He busts it out twice in the same match, which is two more times than I remember anybody else doing it in 2013. Fandango does well at working the leg and making you think he actually has a chance against Langston here. He hits the Alabama Jam, but Big E rolls out of the ring! Langston comes back, remembers to sell the leg before splashing Fandango, and the Big Ending ends it.

I'm probably overrating the hell out of this segment, but between Fandango's leg work & Summer Rae's wardrobe…yeah, this was spectacular. Stone Cold Seamstress Sandra deserves a raise.

Rating (1-10): 9.0


CM Punk vs. Roman Reigns next week on Old School Raw! That'll be a big match for Reigns for sure.


Booker T brings out a New Years' Party & does a New Years' Spinarooni. Or he was about to…until the arrival of BAD NEWS BARRETT! The podium raises from the floor! I assume the gavel thing's a British Parliament reference. Kaitlyn's looking good. Darren Young chilling with the Divas makes sense. Is Bad News Barrett WWE's creative's way of taking out all their frustrations with civilization? Is Bad News Barrett in no condition to perform since he started celebrating the New Year early? Who can say?


Damien Sandow says he'll quit if he loses tonight. Well, it was nice knowing him, though I can't imagine him losing to any of the misanthropes in that poll.


LeSean McCoy had the World Heavyweight Championship with him on Sunday Night Football. That's why WWE hasn't dumped the Big Gold Belt just yet.

Damien Sandow vs. The Great Khali: Damien's new shirt ain't bad, but I still mourn the loss of his dark blue bathrobe. I own one just like it, so I lived vicariously through Mr. Sandow. Oh my goodness Khali won the poll & Jeff Small didn't even vote. This is the most fixed poll since the one that made Shawn Michaels the special guest referee at Hell in a Cell over Mr. Bob Backlund. I am outraged. Bring Summer Rae back out there! Sandow playing a poor man's Fandango while Khali plays a homeless man's Big E Langston. Apparently Runjun Singh died in a fire according to Cole. Sandow rolls Khali up, one shoulder is down and that's enough for this referee to end this match. Next.

Rating (1-10): 1.0


That was almost as bad as the Louisville vs. Kentucky game last Saturday.

R-Truth vs. Brodus Clay: I kinda like Brodus, but his nickname of the "Main Event Playa" is pretty LOL-worthy. Unless it's a reference to the Main Event TV show, in which case it's perfectly accurate. Xavier Woods is on commentary explaining how Brodus gave him permission to use the Funkadactyls & his music. Still really dumb but whatever. Clay dominates most of the match here as he should, then Xavier decides to distract Clay. Then the Funkadactyls appear on the stage & R-Truth hits his finisher to win the match. Yup, this will really get Brodus over. Bad rating mostly for the booking, which is only good if you plan on wishing Brodus well in his future endeavors shortly.

Rating (1-10): 2.0


EVA MARIE IS WRESTLING LATER! Thank God, this show was heading downhill rapidly.

He's Back… : Here comes Triple H to make a blockbuster announcement. He welcomes BROCK LESNAR back to WWE! OK, that one's not bad except there was some spoilage thanks to the SmackDown tapings. H shakes hands with Paul Heyman & Brock & everybody's friendly. H knows better than to mess with Brock, and Brock doesn't feel like messing with the guy that signs his checks. Heyman cuts a promo that 411 writers will nominate for Promo of the Year in 2014. Lesnar wants to be the WWE World Heavyweight Champion, which is bad news for a lot of people. Mark Henry's music starts up? Oh boy, he wants some of Brock. Talk about two worlds colliding. Henry tosses Lesnar over the barricade, then Lesnar drives him through the barricade! F-5 TO HENRY ON THE FLOOR! Heyman puts an end to it, assuring Brock that Henry understands. Good God Almighty Brock Lesnar is back and it's gonna be utter freaking chaos. I for one enjoy his primal screams even though they are a bit high-pitched for some people's liking. Good stuff here. Henry is a known badass & Lesnar plowing through him like he was nothing sends quite the message for the rest of WWE.

Rating (1-10): 8.0


The moral of the story: Don't walk out during a Brock Lesnar promo.

10 Diva Tag Team Match: The Bella Twins, Funkadactyls & Eva Marie vs. Kaitlyn, Summer Rae, Alicia Fox, Aksana & Rosa Mendes: I like how they have Eva start out with Kaitlyn. Kaitlyn's the best wrestler on the other team, and Eva working as a heel against her makes sense. OK, it doesn't make sense, but I like Eva & Kaitlyn. What about it? Not sure if working the heat segment on Cameron was the best of ideas. Aksana of all people gets the win over Nikki. Shit, did she & John break up? That's the only explanation I can think of for Aksana going over. And even that's not much of one. Maybe they're ribbing Cena by booking him on the non-Raw show and having his girlfriend lose to a non-factor in the Diva division. Who the hell knows.

Rating (1-10): 2.0


This is a total all or nothing Raw. Each segment is either totally awesome or complete garbage. No middle ground.


WWE did a Tribute to the Troops. I don't see Michelle Beadle anywhere in the video so that's a bummer. Maybe she was mean to the wrong person and that's why AJ didn't get punished.


Somebody that says "Woooo" will be at Old School Raw next week. Should be fun. I don't think they mentioned Flair's name, which is smart in case he flakes out and they need to find somebody else that woos. I know somebody else that does a strut that might be available…




Well, never mind, Flair's on the Raw Old School commercial. Hope he doesn't flake out!


The Wyatt Family challenges the Rhodes Family for the tag team titles on SmackDown. You may already know how that ends. I don't remember.

Daniel Bryan vs. Luke Harper, Erick Rowan & then Bray Wyatt : What better way to fill the final 30 minutes of television than with Daniel Bryan wrestling? Harper gets the first shot, and he's been very impressive in his time with WWE. He does some fun stuff, and they manage to use up a lot of time without losing the crowd. I like how Bryan's added more kicks to his offense since they started getting the "Yes" reaction from the crowd. It makes for a less varied offense but gets more crowd reaction. After over 15 minutes of good action Bryan knees Harper into oblivion, so here comes Erick Rowan.

This is a bit tougher. As Trish Stratus would say, Rowan is greener than goose shit. He does have a righteous beard though, so I can't hate on the guy too much. Unfortunately there's a lot of sweat going on with him in some unfortunate places. It's a thing. Rowan falls in relatively short order, but attacks Bryan afterwards. Harper pulls him off because Bray Wyatt wants him a piece of whatever's left of D-Bry.

Which don't look like much as Bryan is sprawled on the canvas. Wyatt teases the splash, then says nah and lets Rowan & Harper beat him up some more. Wyatt gets Dqed but it's not like he cares. Wyatt declares this is where the story ends, and he has no more mercy to give. He wants him to open his eyes. Bryan says that Bray was always right. No matter how many matches he won, no matter how loud the people cheered for him, the machine would never let him win. He asks to join the family. Bray does the Sister Abagail on him, which I think is an initiation.

Bryan appears to come to his senses as they make their way up the ramp, and the fans try to persuade him to reconsider. He does not.

Well it's probably for the best. We don't need that pesky Daniel Bryan getting cheers, right? Not when there's John Cena, not when there's Undertaker at WrestleMania, not when there's Big Dave coming back, not when Shawn Michaels isn't going to wrestle as a heel. Bryan's not getting that spot, guys. And since he's not getting that spot, he might as well be involved in something interesting. The Wyatts are interesting. The potential's there. Sure, creative will probably fuck up the story. They usually do. But they haven't managed to kill Bryan off yet no matter hard they've tried, and I don't think this will kill him off either. By God I hope I'm right.

Rating (1-10): 7.0


End scene.


Thanks for reading.



The Tirade



Wow. This one's difficult to rate. There was some awesome stuff here. CM Punk/Shield stuff was a fantastic first half-hour. Brock Lesnar coming back was great. Daniel Bryan wrestled for over 20 minutes. Summer Rae! But man there was some really, really bad stuff. Everything was either really bad or really good. Since I'm an optimist at heart I'm going to go on the positive side of the rating scale and hope the stuff that was awesome continues to be so. And I will hope that the stuff that was awful goes away. It won't, but you gotta have hope to get through life sometimes.

Show Rating: 7.0

As a reminder, I will be going by the 411 scale…

0 - 0.9: Torture
1 - 1.9: Extremely Horrendous
2 - 2.9: Very Bad
3 - 3.9: Bad
4 - 4.9: Poor
5 - 5.9: Not So Good
6 - 6.9: Average
7 - 7.9: Good
8 - 8.9:Very Good
9 - 9.9: Amazing
10: Virtually Perfect

The final rating is not simply an average of the rated segments above. The rating takes them into account as well as the segments that are small but not scored, the flow of the show, the overall booking, build to PPV, crowd reactions, and so on and so forth.




---
Have you checked out the Csonka Podcasting Network? If you haven't, you should We run anywhere from 15-20 shows a month, discussing pro wrestling, the world of MMA, the NBA, general sports, popular TV series of the past, bad movies, battle rap, interviews, MMA & Wrestling conference calls and more! Around 10 different personalities take part in the various shows, which all have a different feel; so you'll likely find something you like. All of the broadcasts are free, so go ahead and give a show a try and share the link with your friends on the Twitter Machine and other social media outlets! Running since May of 2011, there are currently over 400 shows in the archive for you to listen to.




Steve Cook is a Gemini and enjoys drinking the occasional alcoholic beverage or nine, long walks on the beach, objectifying women and winning fantasy football championships. He graduated from the University of Louisville in 2006 & has a B.S. in Political Science with a concentration in Law & Public Policy. He has been a wrestling fan since 1990 and has been writing for 411 since August 14th, 2004; contributing nothing but headaches & utter frickin' chaos to the site. He is a living legend & the last of a dying breed.

Your heart is free. Have the courage to follow it…TO CSONKA'S TWITTER!
Follow Cook as well.

http://www.twitter.com/411wrestling
http://www.twitter.com/411moviestv
http://www.twitter.com/411music
http://www.twitter.com/411games
http://www.twitter.com/411mma
comments powered by