SPOTLIGHTS
Tremendous Tirades 1.06.14: Monday Night Raw
Posted by Jeremy Lambert on 01.06.2014

Raw goes Old School as CM Punk takes on Roman Reigns in the Main Event while legends such as Ric Flair, Diamond Dallas Page, Roddy Piper, and others return.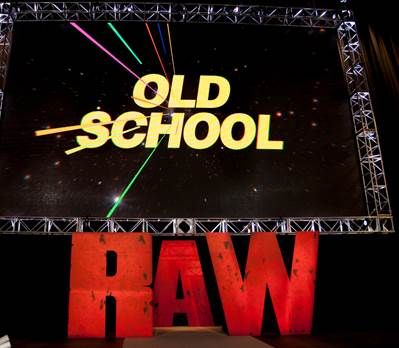 Introduction

It's not Larry Csonka, it's not Steve Cook, it's JEREMY LAMBERT! THE THIRD STRING TREMENDOUS TIRADER! Some may know me from my previous writing in the MMA zone, some may know me from my Gossip Guide in the Music zone, some may know me from my various podcasts in multiple zones, and others may not know me. You know things are going bad in the WWE Universe when they have to call me off the bench to review this show. Raw might be old school tonight, but this will be the new school tirade and hopefully after tonight we can all be friends.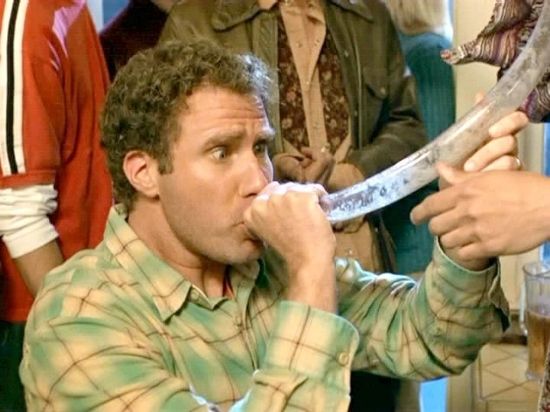 WWE MONDAY NIGHT RAW GOES OLD SCHOOL



WOOOOOO! VOICES! YOUR TIME IS UP!: Ric Flair kicks off the show and does some stylin' and profilin' before Randy Orton interrupts him. They share a hug and Orton thanks him. Awwww. Then Orton asks Ric to step aside and get out of the ring so he can talk about his Royal Rumble match with John Cena. He wants the Authority to cancel the match because he's already proved to be the better man. Flair, who didn't leave the ring, tells him to stop crying. ORTON CALLS FLAIR OVERRATED! THE MOST OVERRATED SUPERSTAR IN HISTORY! The two go back and forth before John Cena comes out before they come to blows. He gives Flair a hug as well. Awwwww. Cena is ready to fight…..RIGHT NOW! Orton just leaves. Well. Ok.

This segment was so pointless. I'm really trying to find the positive here but I just can't. They talked, said the same stuff we've heard before, and then it was just over. It set up nothing and didn't make me excited for their PPV match.

Rating (1-10): 2.0


Jerry Lawler is not here tonight. Want an update? Download the WWE App. Mean Gene should've done this segment.


Recap of Daniel Bryan joining the Wyatt Family.

The Wyatt Family vs. The Usos & Rey Mysterio: Daniel Bryan is dressed like a mini Erick Rowan. So they did a good job making him just fit in. Mysterio tries to talk some sense into Daniel, but just got beat up. Weird commercial break about a minute into the match as Mysterio tosses Bryan outside. During the break, the faces hit some outside dives, but when we come back, the heels are in control. Mysterio runs wild on Rowan but Jimmy misses a splash. Bryan tags himself out and Harper immediately tags himself in. Jimmy rolls up Harper for the win.

The match wasn't anything special and this whole Daniel Bryan thing confuses me still. They tried to show dissension between the Wyatt Family with Bryan tagging himself in and Harper taking exception to it. One way to read it is that Daniel isn't fully committed to the Family. The other way to read it is that WWE really doesn't want Daniel to get over. Based on how he's been booked, the latter seems more likely. This was just kind of there, which isn't a good thing given the build up to Daniel joining the Family.

Rating (1-10): 5.0


The Shield will be on Piper's Pit later and Roman Reigns faces CM Punk in the main event.


Batista will be in this year's Royal Rumble. YES!


Recap of Damien Sandow beating The Great Khali, except that Khali's shoulder was up. They rematch tonight with a SPECIAL GUEST REF as voted on by the fans. Your choices are Bob Backlund, Arn Anderson, or Sgt. Slaughter. VOTE BACKLUND!


Kane threatens Brad Maddox to never talk bad about him to The Authority again.


Big E. Langston walks backstage where he runs into Nikolai Volkoff, Ted DiBiase, and Irwin R. Shyster, who all get their catchphrases in.

IC Title Match: Big E. Langston vs. Curtis Axel: Ryback is on commentary and he gets a shot in at Lilian Garcia. Why? Because why not. Langston pretty much squashed Axel and won with the Big Ending. Ryback added nothing on commentary.

Nothing match, but I'm not exactly opposed to Langston squashing guys, even if it is the same guy for the 100th time.

Rating (1-10): 5.0

Piper's Pit with The Shield: Piper is immediately cut off by The Shield. Piper says the only person that can match him on the mic is CM Punk. Rollins thinks Piper is jealous because Ambrose is a better US Champ. Piper stirs the pot by saying Rollins and Ambrose can't beat Punk, but if Reigns beats Punk tonight, that makes him better than the other 2. The Shield is about to attack Piper but…PUNK AND THE NEW AGE OUTLAWS MAKE THE SAVE!

This was too short to really be anything. It added to The Shield drama but didn't really add anything new. And I know it's Old School Raw, but the New Age Outlaws coming out with Punk just felt random and, unless it leads to a 6-man tag (not out of the question since they did work together at house shows last year), means nothing.

Rating (1-10): 4.0


Recap of Brock Lesnar destroying Mark Henry.

Alberto Del Rio vs. Sin Cara: They had a short back and forth match and Del Rio won after Sin Cara missed a senton and ate a super kick while on one knee. After the match, Del Rio announces that he'll be in the Royal Rumble and he'll eliminate Batista.

Another segment that felt pointless.

Rating (1-10): 2.0


Michael Cole lets us know that Jerry Lawler is doing just fine.


Recap of The Wyatt Family losing earlier tonight. Cole speculates that it's dissension between the family.


Daniel Bryan is backstage saying he wants to contribute and to teach because he's been a tag team champion. Next week, Bryan teams with Bray. They did their best to salvage things I guess.

The Real Americans vs. The Rhodes Family: Back and forth early on before the Real Americans got the heat on Goldust. Cody got the hot tag but was cut off when an uppercut, which led to a commercial. During the break, Cesaro hit the Cesaro Swing on Cody. Now there is a reason to download the WWE App. Long heat on Cody before Goldust gets the hot tag. He runs wild and eventually pins Swagger with the lifting neck breaker.

Finally, something good on this show. Perfectly acceptable tag team wrestling between four guys who work well together and know what they're doing.

Rating (1-10): 7.5


DDP and Booker T talk and do yoga. Ron Simmons walks in. DAMN!

Damien Sandow vs. The Great Khali: Ranjin Singh is back. Sgt. Slaughter wins the voting and is the referee, proving that the WWE Universe sucks. They had a terrible two minute match, then Khali hit the big chop and got the victory. Slaughter missed Sandow's foot being on the rope. Sandow argues the call and gets put in the cobra clutch for his troubles.

Another short and pointless match. That Damien Sandow guy sure is doing well after losing to John Cena.

Rating (1-10): 2.0


SEGMENT (MATCH OR LONG PROMO): Paul Heyman says, "giving legends one last moment isn't 'old school.' 'Old school' is two men doing battle and one man reigning supreme." Heyman hypes up Lesnar and says that, "no man in the WWE, MMA, or pro sports compares to Brock." Cain Velasquez disagrees. Heyman says that no matter who comes down the aisle, they're going to be a loser. EAT! SLEEP! CONQUER! REPEAT! Mark Henry interrupts again. Lesnar locks on the kimura and breaks his arm. As Brock is leaving, THE BIG SHOW RETURNS! Lesnar begs off at first, tries to attack from behind, but is quickly stopped and tossed by Show.

Heyman was great on the mic as usual, the Big Show returning was a nice surprise, and it'll be fun to watch Show/Lesnar beat the hell out of each other down the line.

Rating (1-10): 8.0


Recap of the opening segment. It didn't get any better.


Alicia Fox & Aksana vs. The Bella Twins: Commentary talked up whether or not Brie could concentrate on this match with her fiance joining the Wyatt Family. Heat on Nikki for a minute or two, hot tag to Brie, who tries to fire up the crowd but they simply don't care. Brie missed a middle rope drop kick and Aksana pinned her for the win.

They tried, but the crowd didn't care. Can't really blame them.

Rating (1-10): 2.0



Three Man Band vs. Too Cool: Rikishi not wearing his customary thong, which is sure to disappoint Dustin James. "You still got it" chant for Scotty 2 Hotty after he did a kip up. So that's the standard nowadays. Scotty hit the Worm, which is still awesome. Too Cool eventually won when Rikishi pinned someone.They did their dance after, which I still love.

This was fine for what it was.

Rating (1-10): 7.0


All the legends are introduced. Then Bad News Barrett pops up. He says something about forgetting names. Like his name has been forgotten.


Mean Gene is out to plug THE HOTLINE! and introduce The New Age Outlaws, who introduce CM Punk.

CM Punk vs. Roman Reigns: Slow start before Reigns uses his size and power to take over. Reigns works over Punk for what feels like forever before missing a superman punch and allowing Punk to take over. The Shield and The Outlaws battle on the outside. Reigns hit the superman punch as Punk went for a top rope dive but only got 2. Punk got 2 on a roll up after a missed Spear. "This is awesome" chant breaks out. Standards must be low. Reigns kicks out of a head kick. Reigns eventually got the victory when he shoved Punk off the bulldog into Ambrose on the apron and then hitting the Spear when Punk turned around. As The Shield were going to power bomb Punk, JAKE THE SNAKE CAME OUT! The Outlaws tossed Rollins and Reigns, Punk hit the GTS on Ambrose, and then Jake The Snake tossed Damian on Ambrose. Punk has to remind Jake that things are "PG" now.

A good, but not great match. Didn't really pick up until the end but the finishing sequence was fine. Jake The Snake was a nice surprise as well.

Rating (1-10): 7.5


End scene.


Thanks for reading.


The Tirade


I'm never doing this again. Most of the show was pointless with segments that added nothing. A lot of the legends were just thrown in there for no reason as well. There were some positives, one being that The Authority was nowhere to be seen, but far more negatives. And since this is my first time doing this, I have to say it: 3 hours is way too long.

Show Rating: 4.5
 
As a reminder, I will be going by the 411 scale…
 
0 - 0.9: Torture
1 - 1.9: Extremely Horrendous
2 - 2.9: Very Bad
3 - 3.9: Bad
4 - 4.9: Poor
5 - 5.9: Not So Good
6 - 6.9: Average
7 - 7.9: Good
8 - 8.9:Very Good
9 - 9.9: Amazing
10: Virtually Perfect

The final rating is not simply an average of the rated segments above. The rating takes them into account as well as the segments that are small but not scored, the flow of the show, the overall booking, build to PPV, crowd reactions, and so on and so forth.
Have you checked out the Csonka Podcasting Network? If you haven't, you should We run anywhere from 15-20 shows a month, discussing pro wrestling, the world of MMA, the NBA, general sports, popular TV series of the past, bad movies, battle rap, interviews, MMA & Wrestling conference calls and more! Around 10 different personalities take part in the various shows, which all have a different feel; so you'll likely find something you like. All of the broadcasts are free, so go ahead and give a show a try and share the link with your friends on the Twitter Machine and other social media outlets! Running since May of 2011, there are currently over 450 shows in the archive for you to listen to.



Jeremy Lambert is the Jon Kitna of the Tremendous Tirade. He loves Taylor Swift and hopes one day she'll write a song about him. He's been Larry Csonka's best friend since Valentine's Day 2013 and Samer Kadi's sworn enemy since October 3, 2013. He hopes to never grow up.

Your heart is free. Have the courage to follow it…TO CSONKA'S TWITTER!
FOLLOW ME TOO!

http://www.twitter.com/411wrestling
http://www.twitter.com/411moviestv
http://www.twitter.com/411music
http://www.twitter.com/411games
http://www.twitter.com/411mma
comments powered by