SPOTLIGHTS
411's TNA Impact Wrestling Report 1.09.14
Posted by Larry Csonka on 01.09.2014

Magnus and AJ Styles battled to crown an undisputed TNA World Champion, Bobby Roode faced off with Sting in a steel cage and more! Check out 411's full Impact Wrestling report for all the details!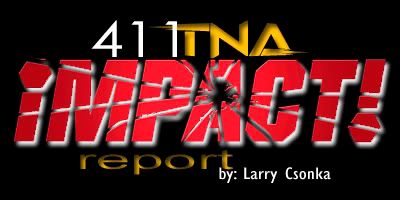 Championship Roll Call:
TNA WORLD CHAMPION: Magnus
TNA X-DIVISION CHAMPION: Austin Aries
TNA TAG TEAM CHAMPIONS: The Bro-Mans (Robbie E and Jessie Godderz)
TNA KNOCKOUTS CHAMPION: Gail Kim


411's IMPACT WRESTLING REPORT 1.09.14
From the new Impact Zone in Orlando, FL.


Dixie Carter makes her way to the ring to kick off the show, and she is not a happy panda. She will not waste time on AJ Styles, she has the one night contract, and wants him to come out and sign it so that they can get on with the match later tonight. AJ makes his way to the ring. Dixie says AJ doesn't have to say a word, she just wants him to sign his contract for tonight. Dixie then says the lawyers got invoked, and the people need to know what the deal is. It is for one match, one night, title for title against Magnus. She is giving him a lot in this contract, but she wants something in return. The match will be a NO DQ match. Because she will never rest until she never has to look at his face again. Because when she thinks of their last time together, she wants him bloody, bruised and stretchered out. So sign the contract. AJ mocks her a bit, and says she has a lot of confidence in her paper champion, but she had faith at BFG and lost it all there. The Carters do not learn. Winner take all, no more stupid Dixieland matches or tournaments, one man and one title forever. When he wins tonight, he is the undisputed champion. AJ then adds that her goons will not get involved. He has boys in the back that hate Dixie as much as he does, and they will have no issues evening the odds. Dixie says she gave him everything, she signed his checks, put food on the table for his little redneck kids. While some may want to help, they won't, because she owns them. She made AJ, and in the end, she cannot wait to break him. AJ wonders how she will break him, maybe like she did to Jeff Hardy? The people know she doesn't get wrestling. Tonight is about men fighting for a title, and the belt has gotten more respect away from her company with him.

Magnus then makes his way out. Magnus asks for Dixie to leave the ring because this is between he and AJ. They go face to face, and Magnus says this is the last time AJ calls him a paper champion. AJ's time is up and over, and he ran away with the title, but is back because he needs attention. Tonight, Magnus will end AJ, and there will be one man left standing, one champion, and that will be Magnus. Magnus leaves and AJ signs the contract and throws it to the floor. AJ says tonight, he didn't get here by taking shortcuts like Magnus. It was 11 years of hard work, his blood, sweat and tears. So despite what they think, he will walk out with honor, respect and dignity, and as the TNA World Champion. And then what will Dixie do then? Maybe Magnus can take his lips off of her ass and ask.



Kim and Tapa have a mystery meeting with Dixie.


Dixie then meets with the Bro Mans. They tell her it is all good.



Non-Title Match: Bro Mans © (Jessie and Robbie) w/DJ Zema Ion vs. Joseph Park and Eric Young


EY and Robbie to begin. Lots of counters, EY in control and lands a belly to belly on Jessie. To the corner, tag to Park and a slam to Robbie. EY up top, and we see Kim and Tapa attacking ODB backstage. EY bails on Park to save his wife ODB, and the champions beat down Park. Robbie connects with an elbow off the second rope and covers for 2. he lays the boots to Park, rights follow and then tags in Jessie. Rights by Jessie follow, to the corner and knees by Jessie. Robbie tags back in, they double team Park, who fights back and Park slams Robbie. Slams Jessie. Robbie with a knee, off the ropes and a cross body try just bounces off of Park. The champs take control back, hit the Bro Down (Hart Attack) and that is all.

OFFICIAL RESULT: Bro Mans @ 4:00 via pin


After the match they get a section of the barricade, and slide it in the ring. They hit the Bro Down onto the barricade.


Samoa Joe meets with Dixie Carter. He says that AJ said he had backup, and she hopes she knows what that means. He doesn't threaten ladies, but this is him telling her is she has plans to mess with AJ, she will have to go through him. She says she made Joe, and will break him if she has too. But Joe has a match tonight, against EC3. So he should focus on getting out of there is one piece. Joe says EC3's blood in on her hands tonight.



Joe Park is receiving medical attention backstage.


EY passes Sting as he takes ODB to the hospital.


James Storm is in the ring. He calls out Gunner. Storm says he has been part of great tag teams. He learned that you need to check your attitude and ego at the door. He has been told he has an ego, and he agrees. But the other thing he learned is that the world title can tear tag teams apart. It happened with AMW< with Beer Money, and not Gunner is letting it happen now. Gunner agrees, because he says he deserves this chance. Feast or Fired was every man for themselves, he beat Storm, and then Storm superkicked him last week. Storm can keep his ego, because Gunner has the title shot. Storm says they like to fight and hate referees. Storm proposes a ladder match, with Gunner's briefcase on the line, because Storm doesn't think Gunner can beat him again. They shake on it.


Backstage, EC3 jumps Samoa Joe.




Ethan Carter III vs. Samoa Joe


We come back from break as Joe and EC3 brawl out to the ring. EC3 in control, beating Joe down with rights. He slams Joe to the mat repeatedly. EC3 works a cravat, Joe escapes, atomic drop and big boot follows. The back splash connects, and then jabs in the corner by Joe. Chops follow, whip to the corner and Joe with the splash and enziguri. EC3 with a basement dropkick to the knee and then works the leg of Joe. EC3 up top now, Joe crotches him and lays in the chops. Muscle buster try, but Rockstar Spud is out to get involved. Joe sees him and chases him up the ramp. EC3 then attacks Joe with a monkey wrench and we get a DQ.

OFFICIAL RESULT: Samoa Joe @ 4:00 via DQ


EC3 beats down Joe and targets the knee, taking out another potential friend of AJ Styles.


JB talks with Kurt Angle, and wants to prepare for his match next week with Bobby Roode by issuing a steel cage open challenge. It doesn't matter who accepts, because all he will see is Bobby Roode.



AJ Styles reflects backstage prior to his title match with Magnus.


The trainer checks on Joe. He says Joe needs to go to the hospital to get it checked, and Joe doesn't want to leave.


Sting finds EMTs checking on Storm and Gunner, who have also been attacked backstage. Sting then finds Dixie and asks her about the attacks. Sting says it is no coincidence that they are all friends of AJ. Stings said she took things too far, and that she can stop this. She says she will stoop when AJ gets carted out of here. He asks what happened to her, and she said she's the boss, and he is a wrestler. She says to focus on his match tonight, and she will handle the casualties. Dixie ends the conversation and tells Sting to get out of her face.



Angle is in the ring awaiting his opponent. Bobby Roode comes out, and Angle's fine with this. Roode says in seven days, they will be locked in a steel cage, and at Genesis, he will prove that he is the better than Angle. And when he beats Angle next week, the TNA HOF induction will be gone forever. But as for tonight, Roode found a challenge for Angle. He says to look at him, because he is right here. If you want him tonight, that would be stupid. Roode says Angle has to wait, but for tonight, he has someone who hates Angle more than him. In fact, he found two guys. Bad Influence.



Open Challenge Steel Cage Handicap Match: Kurt Angle vs. Bad Influence (Kaz and Daniels)


Angle attacks Daniels as he enters, but Kaz sneaks in over the cage. Angle stops him and attacks, but Daniels crotches Angle on the ropes and they then slam him into the cage. Daniels covers for 2. Daniels and Kaz in control, as they constantly beat down Angle. Off the ropes and Angle fires back, rights to Kaz, off the ropes and a backdrop. Daniels in, small package by Angle, but the ref is distracted by Kaz. Kaz with a clothesline to Angle, and then slams him to the corner. They now choke out Angle in the corner, slam by Daniels and Kaz hits the slingshot leg drop and covers for 2. Angle manages to fight back, clotheslines for all. Off the ropes, forearm shot to Daniels. Overhead belly to belly on Kaz. Germans for Daniels. Germans for Kaz now. Daniels tries to help Kaz, does but runs into an overhead belly to belly. Another German for Kaz. Straps are down, but Kaz saves Daniels and they choke out Angle. Angle side steps Daniels, who flies into the cage. Kaz up top, Angle over and hits a release German off the top and Kaz flies into Daniels! Daniels slammed into the cage, Angle slam on Kaz and that is all.

OFFICIAL RESULT: Kurt Angle @ 7:00 via pin


Dixie is on the phone and demands that the cage is left up. She meets with Roode and asks if he is ready for his cage match, against Sting. Roode flips out over this news. Dixie says she needs Roode to be a team player tonight. She says she has him covered, and if he takes care of business, she will take care of him.



We see Kurt Angle posing for photos with a family outside of the Impact Zone. Al Snow says there is an emergency and has Angle get into a car and they leave. Convenient.



Steel Cage Match: Bobby Roode vs. Sting


Lock up, to the ropes and Sting breaks clean. Lock up, side headlock by Roode. Off the ropes, shoulder block drops Sting. Off the ropes again, hip toss by Sting. He looks for a backdrop, boots by Roode. Tries to slam Sting into the cage, blocked and they trade rights. Sting tries the splash, boots by Roode stops that. Off the ropes, back elbow by Roode and a cover gets 2. Suplex by Roode, and a cover gets 2. Roode looks to leave the cage, but Sting stops that. Roode battles back, slams Sting to the corner and then lays in chops. Roode continues the attack, to the corner, back elbow connects. Sting with a boot to slow the momentum, but a spinebuster by Roode gets 2. Roode now looks to climb out of the cage, Sting chases and stops him. They fight on the top rope, Sting drops down and then press slams Roode to the mat. Clotheslines follow. He then tosses Roode to the cage repeatedly. Roode with some spectacular pinball selling. Stinger splash connects, and then another. Deathlock try by Sting, Roode rakes the eyes, but Sting fights back and gets the deathdrop. Scorpion deathlock applied, and Roode fights to escape. EC3 and Spud rush the ring. EC3 climbs and Spud tosses in a weapon. It's a baton, he nails Sting several times, and EC3 and Spud then bail. Roode escapes out the door and claims victory.

OFFICIAL RESULT: Bobby Roode @ 7:00 via escaping the cage



Earlier today, we see Ken Anderson arrive at a funeral home.


Highlights of Bully Ray trying to set people eon fire last week.


Back at the funeral home with wacky background music for the Anderson vs. Bully meeting. Anderson wants to finish this, and Ray says he could have finished it last week. But that would have been too forgiving. Bully says if Anderson gets too close, he will set him on fire. They say forgiveness is the greatest strength. He says Anderson took everything from him, and Anderson doesn't understand how much damage he did to Bully. Bully wants his loneliness to encompass Anderson's life. Next week is Genesis, the beginning, where for Anderson it will be the end. Anderson took the colors off of Bully and put them in the coffin. Open the coffin, go see what is there for you. Anderson looks and finds what appears to be baby blankets. Bully disappeared.


Highlights of all the faces getting their asses beat earlier tonight.


Sting is pissed and meets with Dixie, and says nothing will stop him from being in AJ's corner. Dixie says it is contract season, and like every year she looks to renew his deal and she sweetens it every time. Sting says she disgusts her. Dixie says they have always been close, and wonders if AJ would give it all up for Sting. Dixie says he has an important decision to make, so make the right one.


We get a video package on the world title saga starring AJ and Magnus.




NO DQ TNA World Title Match: AJ Styles © vs. Magnus ©


And here we go. Magnus stalls early, going to the floor several times to keep away from AJ. Magnus even acts as if he tweaked his knee, but then returns to the ring. EC3 and Spud then rush the ring and attack AJ. AJ fires back and clears the ring. Goes for the clash on Magnus, but EC3 clotheslines AJ down. Magnus to the floor and allows Spud and EC3 to beat down AJ. Sting hits the ring and comes to AJ's aid. Magnus back in and he and AJ battle, but AJ sends him to the floor as AJ and Sting go back to back when we head to commercial…

Back from commercial as The Bro Mans and DJ Ion are out and attack AJ and then help beat down Sting. Ion with a tornado DDT on AJ, and Magnus covers for 2. Bro Down on AJ, and Magnus covers. Hebner doesn't want to count, but does and only 2. The gang beat down on AJ continues as Magnus watches on. Sting fights off EC3 and Spud, and hits the ring. He evens the odds for AJ, who hits a DVD neck breaker on Robbie E. Magnus back in, AJ looks for the clash, but Bad Influence are out and stop that and beat down AJ. Magnus returns to the ring and covers AJ, Hebner refuses to count. Hebner drops Spud with a right and looks to leave. Dixie is out, dragging Bryan Hebner out to take over officiating. High-low by Bad Influence, and Magnus covers for 2. Sting still fighting on the floor, deathlock on EC3. Bad Influence yells at Bryan Hebner, and AJ fights out of the cloverleaf. He fights off Bad Influence with Sting's help, as Magnus goes to the floor. Corner splashes by AJ and Magnus onto Bad Influence, and then they toss them to the floor. Ion gets tossed out and hits a camera man. AJ gets the Calf Slicer on Magnus! Kaz then attacks the referee, and saves Magnus. Little Hebner tossed to the floor, as AJ tries to fight off Bad Influence with a clothesline and PELE KICKS. Magnus back in, clash connects for AJ! No referee though. Earl Hebner runs back out, counts to 2 but then gets pulled to the floor. AJ then hits a dive to the floor onto Bad Influence. AJ up top, Bobby Roode is out and tosses AJ into the ropes. Roode hits the DVD on AJ, and then hits it again. Roode picks up AJ again, and connects with the move for a third time. Dixie drags out a new ref, Magnus covers, and she demands he count, and that is all. Magnus wins.

OFFICIAL RESULT: Magnus @ 16:00 via pin


Magnus celebrates with both titles, standing with one foot on AJ.


End scene.


Thanks for reading.



Have you checked out the Csonka Podcasting Network? If you haven't, you should We run anywhere from 15-20 shows a month, discussing pro wrestling, the world of MMA, the NBA, general sports, popular TV series of the past, bad movies, battle rap, interviews, MMA & Wrestling conference calls and more! Around 10 different personalities take part in the various shows, which all have a different feel; so you'll likely find something you like. All of the broadcasts are free, so go ahead and give a show a try and share the link with your friends on the Twitter Machine and other social media outlets! Running since May of 2011, there are currently over 450 shows in the archive for you to listen to.



Your heart is free. Have the courage to follow it…TO CSONKA'S TWITTER!

http://www.twitter.com/411wrestling
http://www.twitter.com/411moviestv
http://www.twitter.com/411music
http://www.twitter.com/411games
http://www.twitter.com/411mma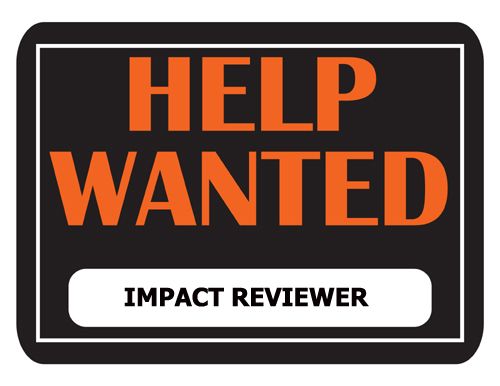 Interested in taking over the LIVE TNA Impact report? Contact me at larrytcsonka@gmail.com with a sample.
comments powered by