SPOTLIGHTS
Tremendous Tirades 1.13.14: WWE Monday Night Raw
Posted by Larry Csonka on 01.13.2014

LISTEN TO ME WARRIORS!!!!!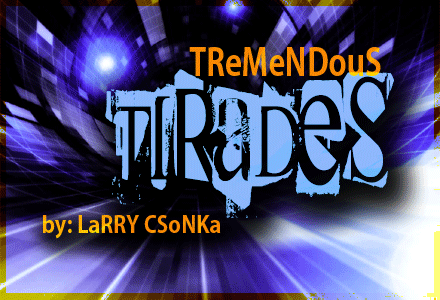 Introduction
As a reminder, this will not be another traditional recap, but instead it will be a mash up of the Rs, Instant Analysis and my usual Twitter ramblings I would do during the shows; completely uncensored and as the ideas flow unfiltered to the old keyboard. Remember, this is a review; and I am here to review the show. As always, I encourage discussion and even disagreement, just do so in a respectful manner. I will be doing the review for Raw and most PPVs and iPPVs going forward.

---


WWE Monday Night Raw: It's all Rich Eisen's Fault
Raw: Episode 1076
Thanks to Steve Cook and Jeremy Lambert for filling in while I finished up with the Wrestling and MMA Year-End Awards columns.


A creepy Wyatt family video package airs.

The Usos vs. Bray Wyatt and Daniel Bryan w/Harper and Rowan: First of all, I LOVE the fact that we're starting the show with a wrestling match and not a promo. It makes the show feel fresh in my opinion, plus the show opening promo is such a crutch that they replay on way too often. The match itself was short, but action packed and very enjoyable. The Usos ran wild and looked to have things won, but Harper and Rowan made the save. The Usos would escape the 4 on 1 beat down, and then Bryan would offer himself as sacrifice to Wyatt, who hit him once again with Sister Abigail. I liked that the Usos continue to be booked competitively, and were not simply destroyed here. I am still not sure where this is going at this time; the performances from all involved have been good, but I hope that the payoff will be worth it. I am torn because Bryan was so over, and to a point this seems counter productive; but then again the crowds are still behind him. If booked right, which is he key; it could work out well if they actually have this mapped out all the way through. This was a good open for the show.
Rating (1-10): 7.4



John Cena is in action… NEXT!

John Cena vs. Damien Sandow: They showed the footage of Sandow cashing in and failing to defeat Cena. Not the footage I would have shown, since Sandow lost to a one armed man and has done exactly jack and shit since. The good news for Sandow is that he isn't wrestling Khali again. They went through the commercial break, giving Sandow enough back and forth to make him not look completely useless, but the match was also booked so that Cena won and looked good heading into this Rumble Title match with Orton. Actually a little more competitive than I thought it would be considering the recent booking of Sandow, but it all worked out well. Sandow is using some shit looking sharp shooter, called the Royal Arch I believe they called it. It looks as if he doesn't know how to use the hold the way he does it. Overall another good match in the first 30-minutes, and the show is off to a good start.
Rating (1-10): 7.3


John Cena celebrates with his father.


We get a Smackdown rematch of Punk and the Outlaws vs. The Shield.



WWE Network shill time.


Brad Maddox meets with Citizen Kane. They still do not get along. Maddox books The Usos vs. Bray Wyatt and Daniel Bryan, again, for later tonight in a steel cage. Kane says the door will be chained and locked, and he will be the only one with a key. Well isn't that some next level shit.

Big Show vs. Jack Swagger w/Cesaro and Colter: First things first, not a big fan of the choice of opponent for Big Show. The Real Americans had some decent momentum, and still get good reactions, they really should have just grabbed someone that can be sacrificed to make Show look dominant. Ryder, Hawkins, Gabriel, Kidd, JTG, Tatsu, Miz, Clay, Tensai, Kofi; we have people to choose from. Show killed him in a minute with the chokeslam, which is why I was not a fan of this. Cesaro then ran away from Show, which left Colter alone in the ring with Swagger. Show hit him with the KO shot, because he is not a star. It was what it was, having Show take out several goofs or a few big guys would have been better to build a match with Lesnar. Instead, Show beats Swagger, takes out Colter for no reason, and then doesn't even address the upcoming match with Lesnar.
Rating (1-10): 5.0



Video package for the return of Batista.

CM Punk and the New Age Outlaws vs. The Shield: Truth be told, this match annoys me for two reasons. First of all we just had it on Smackdown, and it feels like one of those "lets do it again for filler" matches. Also, why would CM Punk trust the New Age Outlaws and team with them? In WWE cannon they are best buds with Triple H, who CM Punk currently hates.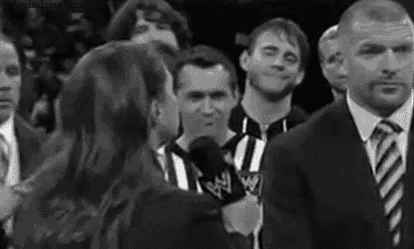 Anyway, CM Punk is really good; the Shield is really good, while the Outlaws get the nostalgia pop and are smart enough to play the hits. OH WAIT. GOD BLESS LOGIC!!!!!!!!!!!! Apparently the Hs had a talk with his friends since Smackdown and explained to them what was best for business, so they gave Punk the old short arm. Thank you WWE, thank you very much. This worked because it was simple, people thought the Outlaws had Punk's back, and they love the Outlaws when they appear. The fact that they turned got a good reaction, unlike say, when the Miz turned for no reason on Kofi. Reigns picked up the win on Punk for the second week in a row with the spear. Reigns then called for the Shield bomb, and Punk was left in a puddle in the middle of the ring. This was a good match, but the angle helped things. The only thing that took away from this was the fact that we are to believe that Punk is in trouble when it is three on one, when we have already watched him beat the Shield in a handicap match. Maybe a small nitpick to some, but I feel a valid point.
Rating (1-10): 7.5



Cameron and Naomi dance.

Cameron and Naomi vs. AJ Lee and Tamina Snuka: Emma from NXT was in the crowd with a sign and doing some of her wacky dance.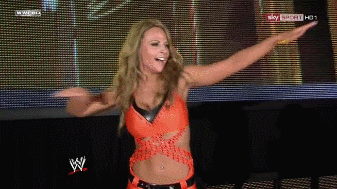 The match was short, under three minutes, and AJ dominated and then pinned Cameron. AJ and Tamina then tried to beat her down, but Naomi made the save. Unfortunately not much to this, but it wasn't bad. One could guess that Naomi may be next in line for a title shot.
Rating (1-10): 6.0


Randy Orton walks, he is angry and yells about the Authority. He is not a very gracious individual all things considered.



Randy Orton throws a bitchy fit to Citizen Kane. Citizen Kane books him in a match with Kofi Kingston. When asked about the match, Kofi asked, "When is Evan Bourne coming back?"


WWE Network shill.


The first member of the 2014 WWE Hall of Fame Class is… THE ULTIMATE WARRIOR!


Rene Young interviews Paul Heyman.

Non-Title Match: Randy Orton © vs. Kofi Kingston: Now see, this, like the Big Show match earlier has one purpose. To let Randy Orton beat down some poor member of the roster. Kofi is a fine choice, because he is doing both Jack and shit right now, so he can take a loss with no issue. The match went through the commercial break, with the first half largely Orton bating the piss out of Kingston in a methodical way. Kofi made the pre-commercial comeback, but when we came back, Orton was back to control. I get the point of this, to show that even though Orton is a whiny little bitch, that he can be dangerous in the ring. But we didn't need over 15-minutes of it. It was not only long and slow, it FELT long and slow and in all honesty, the first part of the show that felt that way. So what happened next? Randy Orton LOST to Kofi Kingston out of nowhere. Randy Orton, the undisputed champion that is set to main event with John Cena, lost to a guy that has won like three matches (Tribute to the Troops: Kofi Kingston defeated Dolph Ziggler, TLC: Kofi Kingston defeated the Miz, Main Event: Kofi Kingston) in the last two months or so. This was not a hot back and forth match that builds a contender, this is that slip on a banana peel bullwhip that makes Kofi still look like he got completely lucky and Orton look like he is stupid. This led to Orton doing a half assed attack on Cena's father, which would have meant something if we didn't already see it done a few times before over the years. Maybe he should stop going to shows. This was a horribly long, boring and poorly booked segment.
Rating (1-10): 2.5



Cena Sr. is heading to a local medical facility. Cena Jr. is riding with him.

Non-Title Match: Goldust and Cody Rhodes © vs. Ryback and Curtis Axel: So after that horrible segment, we follow it up with Ryback and Curtis Axel sucking the heat and charisma out of the building. I love Goldust and Cody, but not sure if they can overcome this handicap. This was a perfectly average TV match, with the champions wining, as they should. This felt like filler as commentary seemed otherwise occupied. Moving on.
Rating (1-10): 6.0



Another video package for the return of Batista.

Rey Mysterio vs. Alberto Del Rio: They had a short and fine match, which Del Rio surprisingly won clean via submission. It was more about selling the Del Rio vs. Batista confrontation they have been building, as Del Rio promised that the same would happen to Batista when he returns next week. They have nothing going with Rey at this time, and Del Rio needed to go over someone that fans care about, so Rey was the guy this week. It served its purpose, but wasn't overly exciting.
Rating (1-10): 6.0



WWE Network shill.


Punk met with Citizen Kane, and wanted to see Triple H. Kane informed Punk that he could main event WrestleMania, because Punk is getting a chance to be in the Rumble. Punk was ok with this, but had an issue with Kane.


We get a promo from the Usos.



On Smackdown, it's Cody and Goldust vs. The New Age Outlaws.


Mr. Cena is reportedly ok, minus a possible fracture of his orbital socket. Damn that Randy Orton.


Citizen Kane makes his way out to lock the cage.

STEEL CAGE MATCH WITH THE INNOVATIVE STIPULATION THAT THE DOOR IS LOCKED AND CHAINED: The Usos vs. Bray Wyatt and Daniel Bryan w/Harper and Rowan : The gimmick here is that both members of the team must escape to the floor for a team to win, or win via pin. With Rowan and Harper on the floor, I expect someone to fall out onto them. The one main difference from the opener was that while during that match they were still chanting for Bryan, the main event was met with silence and or apathy at times. Late in the match all four climbed, Bryan was tossed off the cage and accidentally crotched Bray. One of the Usos dove off onto Rowan, and then the other hit the floor to get the victory. The Usos would escape, and that left Bray and Bryan in the cage. Bryan again looked to sacrifice himself to Sister Abigail, but instead defied Bray, which got the crowd going crazy chanting for Bryan. Bryan then attacked Bray, hitting shotgun dropkicks in the corner. The crowd erupted with YES chants as Bryan lit up Bray with kicks. He then shed the Wyatt clothing as Rowan and Harper struggled to get into the cage. Bryan continued the beat down and tossed Bray into the cage to stop Rowan and Harper from climbing. Bryan then destroyed Bray with the running knee, climbed the cage and sat on top leading the crowd in YES chants. Insane crowd reaction to close the show. I am all for long, well told stories, but this was one instance that it wasn't going to work for, because the people didn't want to hate Bryan. Sometimes you just need to give the crowd what they want.
Rating (1-10): 9.0



End scene.


Thanks for reading.


The Tirade


Lots of wrestling this week, which was a nice change from the usual in ring heavy talking product. You can't do it every week, but I wish that they could find a happy medium more often. As opposed to most weeks, the show had a better flow and didn't feel as slow as it usually does.

I really liked the Batista video packages, they were really well done and made the return feel important. The announcement of the Ultimate Warrior as the (presumed) main attraction of the WWE Hall of Fame also worked well and should lead to a good advance for ticket sales.

They set up the Rumble a bit with several names announcing their participation, and by setting up the Batista vs. Del Rio confrontation. They also took the next step in getting to Punk vs. Triple H with the New Age Outlaws turn.

There was some repetition, and outside of the final angle, nothing was great or very memorable, but they did good things to build the Rumble, advance some stories, and the closing visual with the electric crowd was a great moment. At the end of the day I call this a good show overall.


Show Rating: 7.0

As a reminder, I will be going by the 411 scale…

0 - 0.9: Torture
1 - 1.9: Extremely Horrendous
2 - 2.9: Very Bad
3 - 3.9: Bad
4 - 4.9: Poor
5 - 5.9: Not So Good
6 - 6.9: Average
7 - 7.9: Good
8 - 8.9:Very Good
9 - 9.9: Amazing
10: Virtually Perfect

The final rating is not simply an average of the rated segments above. The rating takes them into account as well as the segments that are small but not scored, the flow of the show, the overall booking, build to PPV, crowd reactions, and so on and so forth.
Have you checked out the Csonka Podcasting Network? If you haven't, you should We run anywhere from 15-20 shows a month, discussing pro wrestling, the world of MMA, the NBA, general sports, popular TV series of the past, bad movies, battle rap, interviews, MMA & Wrestling conference calls and more! Around 10 different personalities take part in the various shows, which all have a different feel; so you'll likely find something you like. All of the broadcasts are free, so go ahead and give a show a try and share the link with your friends on the Twitter Machine and other social media outlets! Running since May of 2011, there are currently over 450 shows in the archive for you to listen to.



Larry Csonka is a Pisces and enjoys rolling at jiu jitsu class with Hotty McBrownbelt, cooking, long walks on the beach, Slingo and the occasional trip to Jack in the Box. He is married to a soulless ginger and has two beautiful daughters who are thankfully not soulless gingers; and is legally allowed to marry people in 35 states. He has been a wrestling fan since 1982 and has been writing for 411 since May 24th, 2004; contributing over 3,000 columns, TV reports and video reviews to the site.



Your heart is free. Have the courage to follow it…TO CSONKA'S TWITTER!

http://www.twitter.com/411wrestling
http://www.twitter.com/411moviestv
http://www.twitter.com/411music
http://www.twitter.com/411games
http://www.twitter.com/411mma
comments powered by