SPOTLIGHTS
Tremendous Tirades 01.20.14: Monday Night Raw
Posted by Steve Cook on 01.20.2014

This is a show that was a show and it was there. I get yelled at when I say that, but what do you want from me?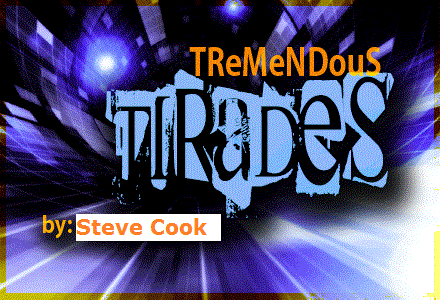 Introduction

Hi kids, it's your favorite second-string Tirader Steve Cook! Y'all know the drill, the Tirade is not a traditional recap, but more of a free-flowing analysis of the show. Kind of like the Raw Thoughts I used to do in News From Cook's Corner back in the day or the kind of stuff I'd post on Twitter nowadays, but with ratings & whatnot because that's what the people want & need. This is a review, and Larry has entrusted me with reviewing the show all fair & balanced-like. Obviously I'm a fan or why in the blue hell would I have wasted the last decade of my life writing about pro wrestling? I love it like a fat kid loves cake, but when stuff ain't right I'm gonna complain about it. It is what it is. I encourage discussion & even disagreement, in fact the more I get of each the more likely it is that Larry will continue posting my columns & podcasts.
---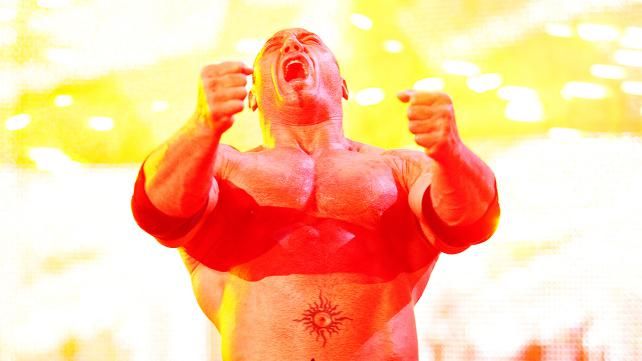 WWE MONDAY NIGHT RAW: BATISTA DAY
Raw is in Dayton, Ohio tonight, where I've been to several ROH events & the WWE vs. ECW TV special that featured John Cena vs. Sabu as the main event. That's still the most wonderfully random main event of any show I've been to.


Keep the dream alive.

BATISTA (and The Authority & Randy Orton too): It wouldn't be a proper Raw without the Authority kicking things off. They hype the Royal Rumble and are about to introduce a former Evolution member when Randy Orton comes out. Stephanie plugs the WWE Network and dresses Orton down for assaulting John Cena's dad. I'm not sure what these things have to do with each other, but I'm looking forward to hearing all sorts of awkward WWE Network plugs thrown into promos for no apparent reason from here on out. She threatens to boot Orton from the roster due to his actions. Triple H criticizing Randy Orton for beating up an old man is something else. He tells Orton to rise up, be a man, fix what is broken & beat Kofi Kingston. He also needs to make it right with John Cena, and he will do all of these things alone.

Speaking of people that walk alone, here's Batista! The fans are happy to see him & he's posing like the happy-go-lucky baby face that he was for most of his run on top. That'll disappoint some people. He kisses the mat, which I guess is healthy at this point in the evening. Batista is back to be WWE World Heavyweight Champion & to headline WrestleMania, so deal with it! I think Orton's actually bigger than him, or close enough to it, which is pretty amazing on a couple of fronts.

I honestly wasn't too interested in anything Orton or Authority people had to say, which isn't anything new. Orton's run out of interesting things to say & Stephanie/HHH's power trip doesn't do anything for me. Batista came out and got a big pop though, so hopefully that means people will be interested in him going forward.

Rating (1-10): 6.5


We have a camera out back awaiting John Cena's arrival so Randy Orton can talk to him & stuff.

Big E Langston & The Brotherhood vs. The Shield : All of these guys will be in the Royal Rumble match. The Rhodes boys have some history with Rollins & Reigns, and Ambrose & Langston may be on the road to a title unification match. Lots of stories here that won't be mentioned on commentary. Rollins has come a long way from having a breakout match against Bryan Danielson at the Montgomery County Fairgrounds several years ago. Judging from the early portion of this match I think I'd like to see a Seth Rollins/Cody Rhodes singles match. Roman Reigns' sell of the Disaster Kick was pretty sweet. Langston gets the hot tag & cleans out the Shield. Reigns meets Cody's second Disaster kick with a Superman punch & spears Goldust! Everybody trades cool moves & it's Big E that ends up on the losing end at the hands of Seth Rollins' curb stomp! I'm told it's been called the Blackout, but I don't think it's been named so here. Reigns' Superman punch gets a nice replay, so both Rollins & Reigns got a tremendous amount of shine here. Ambrose was just kinda here, but I have a feeling that he'll get his moment sometime soon. Decent match here, nothing extraordinary but fun enough.

Rating (1-10): 7.0


Cue everybody on Twitter pointing out that the African-American jobbed on MLK Day. Why's everything gotta be racial?


Daniel Bryan turned against the Wyatt Family last week. Last time I was here, he was joining them. Funny how that works out. I thought it was kind of a shame that it didn't get a chance to play out, but putting Bryan back on the good side of the fence was the right thing to do because people weren't buying him with the Wyatts. You gotta listen to the audience, and Bryan's hot right now. Strike while the iron's hot.

Daniel Bryan Speaks: Daniel Bryan is here and he's in his ring gear, which may be a surprise to those of us with an Internet connection that have heard about his concussion. He explains how he had to take Bray Wyatt down mentally before he could take him down physically. He bided his time until last week, when he got Bray in the cage one on one, became the buzzard and took Bray out. He exposed him, and this Sunday he will be taking on Bray Wyatt one on one! He leads the crowd in a YES chant until the familiar Wyatt interruption hits. Wyatt is on the Titantron & he claims that Bryan exposed himself as a bully & a coward. The final portion of Wyatt's promo is drowned out by a Daniel Bryan chant, which is much better than getting the What treatment.

Rating (1-10): 6.0


So is Bryan not going to be in the Rumble match? That'd be disappointing.

Fandango vs. Xavier Woods : Not nearly enough of Fandango's entrance & Summer Rae here. Nice twisting Falcon Arrow by Fandango, followed up by an Alabama Jam. Squash victory for Fandango here, and Emma is in the crowd being Emmataining. Her tickets weren't quite as good this week. Nothing to see here, which is a shame because I like everybody involved. In fact, it was so short that I'm not going to rate it. Csonka does it so I can do it too.

Rating (1-10): N/A


Brad Maddox is asked to leave so Stephanie McMahon can ask Kane why he chokeslammed CM Punk last week on SmackDown. She wants Kane to apologize. Stephanie's goal appears to be Bobbitizing the bad people on Raw, which seems counterproductive when the Authority are theoretically bad people.


Kane invites CM Punk out to the ring and apologizes for chokeslamming him on SmackDown. Punk says he didn't hear him and Kane has to repeat himself. Punk accepts the apology and then knocks Kane out of the ring. That wasn't very nice. Kane takes his jacket off, but Brad Maddox demands he stop. He books Punk against either Road Dogg Jesse James or Bad Ass Billy Gunn. They decide it with Rock-Paper-Scissors. What happened to the WWE App? I thought the App was invented to settle these dilemmas.

CM Punk vs. Bad Ass Billy Gunn : Apparently Billy lost since he has to wrestle Punk & Road Dogg gets to commentate. I get the feeling Road Dogg would be a better announcer than most of WWE's current announcers. I don't hear any chants about Billy still having it, but he does as well as you'd expect a 50-year old Billy Gunn to do in there with the Punker. Punk attacks Road Dogg at the announce table, Road Dogg tries to interfere but it's ineffective. Billy goes to sleep & the Punk gets the win. I get the feeling that the New Age Outlaws are going to wear out their welcome pretty soon. Which isn't entirely unexpected but still kind of a shame.

Rating (1-10): 4.5


Kane announces that CM Punk will be the #1 entrant in the Royal Rumble match! That worked out pretty well for Shawn Michaels in 1995. Of course, he's the only #1 entrant to ever win the Royal Rumble match. I'm not forgetting anybody, am I?


Brock Lesnar & Paul Heyman are here! Business, as somebody used to say, is picking up.


Time for our annual Royal Rumble By The Numbers video package! This is always a good time.


Mae Young's tribute video from SmackDown is next. Jerry Lawler puts her over prior as one of the toughest competitors ever, woman or man. To me, Mae Young was one of the people that made the Attitude Era what it was. She was involved in a lot of stuff that wasn't exactly high art, but she always gave 110% and was one of those people that would do anything for the business, especially if it meant taking a power bomb off a stage or a stiff clothesline. And it needed to be stiff or she would be very unhappy. It's tough to judge her career overall because it's not like there's a ton of footage of her actual wrestling matches out there. Wish there was.



Rey Mysterio vs. Alberto Del Rio : It's part 564375678856 of this rivalry. I think Rey's wrestled ADR more times than he's wrestled Eddie Guerrero or Psicosis at this point. Jeez, I thought Rey injured himself on that Asai moonsault to the floor. He's up and moving but it sure as hell didn't look good. Del Rio dominates Mysterio for quite some time. I swear they're trying to injure the guy with some of these spots. Apparently Rey got an offensive move in on the WWE App during the commercial. I'm sorry, I've just seen way too many of these matches. Both guys are played out and it's really tough to care. Rey's splash gets a 2 count since Del Rio grabs the rope. ADR cross arm breaks Rey & gets the submission. Yeehaw. It wasn't technically bad or anything, but it was really tough to care and I think most people in the crowd felt the same way. And I'm not sure how you fix it since Rey's done everything at this point and no matter what ADR does it seems really tough to get people to care. This is why I'm not a booker. Well, that and all the horrible fantasy booking ideas I come up with whenever anybody asks.

Rating (1-10): 6.5


Here comes Batista to confront ADR about some tweets! Spinebuster! VINTAGE BATISTA. Isn't it all Vintage Batista? Batista Bomb! Well there's that feud. Hope you enjoyed it!

FACE TO FACE: Big Show starts off with his best Paul Heyman impression. He doesn't like Brock Lesnar. Makes sense, remember when Brock won that stretcher match with Big Show by putting him on a forklift? I'd be hot about that too. Brock Lesnar & Paul Heyman make their way down to the ring. And then they leave. Not much of a face to face segment. Big Show whines so Brock wanders back down. Now they're face to face! Lesnar takes another crazy bump off Big Show, this time over the ropes & to the floor! He's nuts! Brock throws some stuff around and eventually Heyman convinces him to call it a day. No conquering was done today, so I hope Brock at least ate & slept. I liked Brock's crazy bump over the top rope, the rest of this was stuff you FF through on your DVR machine.

Rating (1-10): 5.0


John Cena still hasn't arrived and it's 10:08. It's like a bad episode of Monday Nitro here.

AJ & Tamina vs. The Funkadactyls : Bad News Barrett has been reduced to WWE App spots in AJ's locker room. And frankly it seemed more fun than most of the stuff that's actually been on the show. Tamina got covered in cake, so she's not too happy with AJ. I'm not sure why Cameron is starting the match for the Funkadactyls, it goes about as well as you'd expect. Naomi busting out some fun offense, and Tamina doesn't get a chance to kill her until the big boot. AJ skips around and gets rolled up by Naomi for the three count. I assume Naomi's getting a title shot at some point, and since AJ & Naomi had some fun matches in FCW a couple years back I expect that to be better than you'd think.

Rating (1-10): 5.0


AJ passed Maryse's record for longest reigning Divas Champion last week. God do I miss Maryse.


Royal Rumble By The Numbers Part 2. So many numbers we need two videos!


Looks like Big Show gets another chance to abuse Zeb Colter this week on SmackDown. How come he wasn't dressed down for beating up a senior citizen like Randy Orton was?

The Usos vs. The Wyatt Family : Jimmy & Jey have been getting over pretty good lately with the crowds, so let's see if they keep the momentum up here. Luke Harper don't give a crap, he'll punch away with some Samoans. Erick Rowan trying to do things is kind of a bad idea. He puts his fists on one of the Usos temples like a lame version of Crush's Cranium Crunch. Well, I guess it's more inventive than a rear chinlock, which I still have nightmares of half the roster using during the late 90s-early 00s. Jimmy takes a huge bump to the floor off the top rope thanks to Luke Harper, that was pretty nice. I like how Harper keeps a snot rag in his back pocket, maybe he'll be like Raven and use it as a finish one of these days. Bray Wyatt grabs a microphone and informs Daniel Bryan this is the type of punishment he'll receive at the Royal Rumble. Not sure about that strategy considering the match isn't over yet. Maybe he thinks his guys will lose, so he should brag while he still can. Bryan attacks Wyatt from behind! Harper gets distracted, Uso rolls him up for the win!

Rating (1-10): 7.0


The Usos YES along with Bryan, so I guess they've forgiven him for all that abuse he gave them in their matches.


The fun thing here is that people can still say Daniel Bryan hasn't passed concussion testing because he hasn't taken any bumps tonight.


John Cena is still not here. Jim Cornette told me that John Cena never showed up late. Why does Jim Cornette always lie to me?

Kofi Kingston vs. Randy Orton : Well, this is the one time of year Kofi gets a push, so he can do some spot in the Rumble match to avoid elimination. His push this year consists of Randy Orton beating him up for 15 minutes & then slipping on a banana peel. Orton beats up Kofi for a few minutes, then kicks out of the SOS. Hey, it's John Cena at 10:59 PM! Let's cheer him for being late! Kofi gets out of the way because he knows his role. It's a disqualification as Cena beats Orton up some.

Now they're in the crowd. It's like the Attitude Era without the heat! They fight to the top of "this arena" according to Michael Cole, since Dayton's not a big enough town to mention on television. I also have to laugh about it being "freezing outside", since by January Ohio standards it's pretty warm and it'll be colder for the rest of the week. Randy gets into a car & it speeds off. WHO'S DRIVING THE CAR? Cena heads back inside & celebrates…something. Not exactly the locker room clearing brawl that most shows leading up to the Royal Rumble have. That's disappointing.

Rating (1-10): 5.0


End scene.


Thanks for reading.



The Tirade



It's a good thing the Royal Rumble sells itself. The Royal Rumble match is usually one of my favorite matches of the year and the event itself is always the kickoff for the Road to WrestleMania, which is always the most fun time of year for WWE fans. So I am looking forward to the Rumble…but this particular episode of Raw didn't do much to get me excited about it. Lots of stuff that was just there. The Shield match was good as usual & Rey & ADR looked motivated, but other than that it was a lot of filler. I expect things to pick up on Sunday & afterwards because that's what always happens. Batista's return was fine for what it was, but all in all I have to say this was a pretty average show.

Show Rating: 6.0

As a reminder, I will be going by the 411 scale…

0 - 0.9: Torture
1 - 1.9: Extremely Horrendous
2 - 2.9: Very Bad
3 - 3.9: Bad
4 - 4.9: Poor
5 - 5.9: Not So Good
6 - 6.9: Average
7 - 7.9: Good
8 - 8.9:Very Good
9 - 9.9: Amazing
10: Virtually Perfect

The final rating is not simply an average of the rated segments above. The rating takes them into account as well as the segments that are small but not scored, the flow of the show, the overall booking, build to PPV, crowd reactions, and so on and so forth.




---
Have you checked out the Csonka Podcasting Network? If you haven't, you should We run anywhere from 15-20 shows a month, discussing pro wrestling, the world of MMA, the NBA, general sports, popular TV series of the past, bad movies, battle rap, interviews, MMA & Wrestling conference calls and more! Around 10 different personalities take part in the various shows, which all have a different feel; so you'll likely find something you like. All of the broadcasts are free, so go ahead and give a show a try and share the link with your friends on the Twitter Machine and other social media outlets! Running since May of 2011, there are currently over 400 shows in the archive for you to listen to.



Steve Cook is a Gemini and enjoys drinking the occasional alcoholic beverage or nine, long walks on the beach, objectifying women and winning fantasy football championships. He graduated from the University of Louisville in 2006 & has a B.S. in Political Science with a concentration in Law & Public Policy. He has been a wrestling fan since 1990 and has been writing for 411 since August 14th, 2004; contributing nothing but headaches & utter frickin' chaos to the site. He is a living legend & the last of a dying breed.

Your heart is free. Have the courage to follow it…TO CSONKA'S TWITTER!
Follow Cook as well, it's a good time.

http://www.twitter.com/411wrestling
http://www.twitter.com/411moviestv
http://www.twitter.com/411music
http://www.twitter.com/411games
http://www.twitter.com/411mma
comments powered by