SPOTLIGHTS
Tremendous Tirades 1.26.14: WWE Royal Rumble 2014
Posted by Larry Csonka on 01.26.2014

Eh, the fans don't know what they want…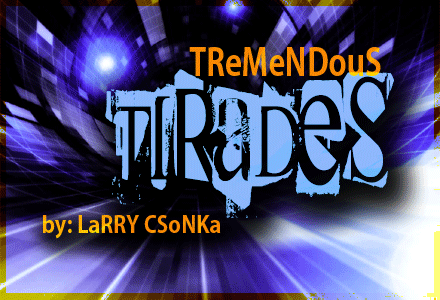 Introduction
As a reminder, this will not be another traditional recap, but instead it will be a mash up of the Rs, Instant Analysis and my usual Twitter ramblings I would do during the shows; completely uncensored and as the ideas flow unfiltered to the old keyboard. Remember, this is a review; and I am here to review the show. As always, I encourage discussion and even disagreement, just do so in a respectful manner. I will be doing the review for Raw and most PPVs and iPPVs going forward.


BATISTA IS REALLY HAPPY TO BE BACK AT THE WWE ROYAL RUMBLE
Great video package to open the show.

Daniel Bryan vs. Bray Wyatt w/Harper and Rowan: So much talk this week about what Bryan will and or will not be doing tonight and what it could lead to at WrestleMania. If he wins here, I think he's doubtful for the Rumble, if he loses, I think this leads to him getting in the rumble match and gives him a real chance of winning (think Bret Hart at WM 10). I have been a big supporter of him being in the rumble, winning and challenging Lesnar for the title at WM 30 (Lesnar would win it at the EC PPV), but of course I'm not booking things. For Bray Wyatt, this is a huge singles outing for him. he is tremendous in the gimmick, but hasn't been the most impressive in the ring. If he has a bad outing with Bryan, it spells all kinds of bad things for him long term, because Bryan is so good and just about everyone has great matches with him. Harper and Rowan were tossed by the ref a few minutes into the match, nice touch as Bray didn't throw a fit like a chicken shit heel, instead telling them that it was fine and that he did not need them to fight this war. Again, the man is great at his character. Quick question for you guys, why does Bray have the thumb guard, but not use the Asiatic Spike or something like that? It bothers me. Anyway, I really enjoyed the match. Wyatt really had a good outing, one he needed, and I liked the whole work on the head and neck area. WWE also smartly did not try to do some form of stoppage, that would have went over like a limo dick on prom night since they never use them. Some great back and forth, a great crowd reaction, and the finish was great. I loved the catch of the suicide dive, leading to Sister Abigail into the barricade. One more Sister Abigail in the ring and that was all, and it made all of the work during the match pay off. That is always appreciated. They got time, Bray delivered a great performance, and if they are setting up for Wyatt to face Cena, he needed the win and to look like he can be a monster. Bryan continues to be a resilient face (he has, for lack of a better word as excuse with the concussion angle), he gets great reactions, and they also set the story for a possible Rumble run later tonight, as I discussed above. It's amazing what happens when you give guys time to tell their story and do their work. This was the perfect way to get the year in WWE PPV started.
Match Rating: ****



Videos and promos. Paul Heyman is great.

Big Show vs. Brock Lesnar w/Paul Heyman: Judging by the rumored plans, this match should be a five minute match at max, with Lesnar destroying Show. Before the bell rang, Lesnar attacked with ground and pound, and then beat down Show with a chair that Heyman tossed into the ring. The bell rang and Show managed to get the KO punch, but both men were down and Show couldn't capitalize. Show worked over Lesnar with body shots, Lesnar said, "HOW DARE YOU ATTACK THE DIVERTICULITUS" and gave him an awesome F5 for the win. Afterwards, more ass kicking with the chair from Brock. I feared it would go too long and be booked way too evenly. Lesnar beat him down, shook off his finish and follow up attack and destroyed the giant. It went on a bit too long in the end as they lost the heat, but overall the segment made Lesnar look like a killer going into WrestleMania and was what it should have been. Bless Big Show for taking so many chair shots to the body. That is going to be one sore fucking giant in the morning. I hope he gets a special bonus for that. Word is that Show was injured and that is the reason that they did not do a full match. Bottom line, this was the right way to do things, and gave us the best result. No one wanted to see these men in a grappling bout. The only real mistake was that Show left on his own power, sorry, you take 30 chair shots and there needs to be a stretcher job.
Match Rating: NR (the match was under three minutes but call it * for the wrestling, and **** for the beat down)



Shield promo time, Dean Ambrose has ALL the numbers apparently. That's a creative way to win the match.


Randy Orton cut a promo, I went for a beer. Audible Ale, because I am a Dan Patrick disciple.


Jerry Lawler looks as if he has elbow pads on under the sleeves of his shirt. Possible rumble appearance tonight?

WWE Unified World Title of the Universe PIN OR SUBMISSION ONLY Match: Randy Orton ©© vs. John Cena: Orton entered first, which I HATE because he is the champion, and should enter last. Small pet peeve of mine. Overall reaction for Cena and Orton was down compared to Bryan and Lesnar, and then they cheered for Bryan during the match, which has to piss off management and make it a long night for Orton and Cena. They also chanted for Angle, Savage and then chanted "YOU BOTH SUCK"; so they decided early to rebel against this match. The amount of apathy in the arena during the match was not a good sign if you're WWE. The momentum from earlier in the show is essentially gone at 9:20. Disagree with the tag title change on the pre-show all you want, but the Outlaws were over and the crowd reacted. The opener was damn good and the crowd reacted. The Lesnar/Show stuff eventually went to long but the crowd did react to the match. Right now this crowd is rebelling/entertaining themselves, and the work in the ring isn't helping things. They did the ref bump (not endearing themselves to the fans) and Cena got Orton to phantom tap. The crowd then started chanting "THS IS AWFUL & WE WANT DIVAS". Of course they then reacted like Pavlov's dogs when they traded finishers. Orton tried to steal the STF, nice change of pace actually, and then hit the AA, and then Cena hit an RKO; we're doing WrestleMania shit here to try and win this crowd back. Cena looked to have things won with the STF, the Wyatt's gimmick hit, they distracted Cena, Orton hit the RKO and that was that. Orton retains and there is the set up for the rumored Cena vs. Bray Wyatt WrestleMania match. The Wyatts destroyed Cena, and Bray hit Sister Abigail to complete the attack. The crowd loved the attack. Cena walked out under his own power, which I again disagreed with, but what can you do? The match went 20:00, and felt way longer, which is not a good sign. Forget about the crowd's reaction for a minute, the match just wasn't that good, even with the WrestleMania style kick outs and finisher stealing. In a way it wasn't bad match work wise, at times, but felt slow, didn't capture my attention and wasn't at the level you expect out of a WWE Title match.
Match Rating: **



Hopefully the Rumble can recapture the momentum the show had earlier tonight.


The New Age Outlaws bragged about winning the tag team titles.


Various stars discuss winning the Royal Rumble.

THE ROYAL RUMBLE MATCH: Punk, at #1, was rocking the Gracie Jiu Jitsu hoodie. Seth Rollins was #2, as called by Steve Cook on our Podcast. Alexander Rusev from NXT debuted in the match at #6. I haven't had a chance to see Rusev in NXT, he has a different look and style, I like that. He got a decent run, and got the multiple man elimination. His elimination led to the Kofi spot for the year, where Rusev caught him and beat in him and left him on the barricade. Kofi ran off the barricade and jumped back to the ring apron. Not as wacky as years past, but degree of difficulty was certainly there. Kofi did another wacky spot later, where he was hanging by his feet on the bottom rope after pulling off Swagger's boot. He has his place in the match. Kevin Nash was the first surprise entrant for the match at #14, Reigns was #15; time for the Diesel push by eliminating Diesel? Yes sir, that's what they did. Goldust's accidental elimination of Cody and the tag title loss could be a nice way to work into that feud if that is what they want to do. It had been rumored obviously, but the set up is there now. Sheamus returned, much earlier than I thought, but it was expected. He saved Punk, who was being attacked by the Shield 3 on 1. He ran wild and got a great reaction on the return. Punk is doing a lot of laying around in the corners. El Torito was #20, which is fine since he is the most over part of that act. Cesaro made his appearance, he swung bitches around, and it was fantastic as he swung Rollins close to 30 times. JBL was a surprise entrant, and was fodder for a quick Reigns elimination. The early part of the match had a great flow, and was a lot of fun. It then slowed down and the lack of overall star power became apparent. Lack of reactions for Ryback and Del Rio were examples of this. #28 was Batista, which woke up the crowd. He's wearing box trunk now, tossed Rowan and had a stand off with Ryback. Ryback was quickly tossed. Big E. was #29, which led to some Daniel Bryan & YES chants for #30. Ray was #30, which led to disappointment and more Daniel Bryan chants. I get the disappointment, but I think we should remember that Bryan was never advertised to be in the match. It doesn't make it better, but it is the truth. Rollins got cheered for eliminating Rey. Ambrose tried to toss Reigns, which led to Reigns tossing Cesaro, Rollins and Ambrose all at once. He tied Kane's record with eliminations in one match with that. This will also go towards his push and the slow burn of the Shield break up. Punk, Reigns, Batista and Sheamus were the final four until Kane snuck out and eliminated Punk and then beat him down at ringside. He then chokeslammed him through the announce table. The crowd completely turned on the match with NO chants with the final three. Reigns tossed Sheamus to break the single rumble elimination with 12. The crowd then loved Reigns as it got down to he and Batista. Batista then won the match. This was an overall solid rumble match, the beginning had great flow, it tapered off, and then had a solid finish. Reigns got the big push, as expected, and shows WWE is behind him.
Match Rating: **¾



End scene.


Thanks for reading.


The Tirade


Like many late 2013 WWE PPV events, the show peaked early (Wyatt vs. Bryan) and lost momentum after that. Sure the Lesnar angle was good, but the Title match was lackluster and the crowd hated it. The good news is that Wyatt had the performance that he needed, especially with the rumors he is facing Cena. Also, Lesnar looks like the monster, and if they are going with the Taker match, he needs to look that way.

The bad news is that the crowd totally rebelled against the WWE Title match and eventually the rumble match. The rumble was predictable in that pretty much everyone knew Batista was winning and that Bryan wasn't advertised to be in it. But the live reaction was better for Wyatt vs. Bryan, and crowd wanted no part of the established big stars like Cena, Orton and Batista. I get that they have a plan, but it feels as if the legit reactions that Bryan gets are completely ignored. It is funny that the websites get blamed for "Bryan's reactions" getting blown out of proportion, but the live crowds are telling a different story, at least to me they are.

At the end of the day, this was a show with one good match, a good angle and some little things to get the road to WrestleMania underway. I personally wanted more for the $55 start to the road to WrestleMania because this didn't get me all that excited for what's to come. Mick Foley apparently was not happy with the event…




I won't go that far, but I get what he means.

Show Rating: 5.9

As a reminder, I will be going by the 411 scale…

0 - 0.9: Torture
1 - 1.9: Extremely Horrendous
2 - 2.9: Very Bad
3 - 3.9: Bad
4 - 4.9: Poor
5 - 5.9: Not So Good
6 - 6.9: Average
7 - 7.9: Good
8 - 8.9:Very Good
9 - 9.9: Amazing
10: Virtually Perfect

As a reminder, this is not a basic "how good was the show" number like a TV show, as I have always felt that a PPV is very different from a regular show. I have always judged PPV on how they built to a match, the match quality, crowd reactions to matches and angles, the overall booking, how the PPV leads into the future, PPV price and so on and so forth. I have added this in here for an explanation since so many have asked, and I have previously discussed it on podcasts. I understand that this may seem different, but that is how I grade. Obviously your criteria may be different.

Have you checked out the Csonka Podcasting Network? If you haven't, you should We run anywhere from 15-20 shows a month, discussing pro wrestling, the world of MMA, the NBA, general sports, popular TV series of the past, bad movies, battle rap, interviews, MMA & Wrestling conference calls and more! Around 10 different personalities take part in the various shows, which all have a different feel; so you'll likely find something you like. All of the broadcasts are free, so go ahead and give a show a try and share the link with your friends on the Twitter Machine and other social media outlets! Running since May of 2011, there are currently over 450 shows in the archive for you to listen to.



Larry Csonka is a Pisces and enjoys rolling at jiu jitsu class with Hotty McBrownbelt, cooking, long walks on the beach, Slingo and the occasional trip to Jack in the Box. He is married to a soulless ginger and has two beautiful daughters who are thankfully not soulless gingers; and is legally allowed to marry people in 35 states. He has been a wrestling fan since 1982 and has been writing for 411 since May 24th, 2004; contributing over 3,000 columns, TV reports and video reviews to the site.

Your heart is free. Have the courage to follow it…TO CSONKA'S TWITTER!

http://www.twitter.com/411wrestling
http://www.twitter.com/411moviestv
http://www.twitter.com/411music
http://www.twitter.com/411games
http://www.twitter.com/411mma
comments powered by