SPOTLIGHTS
411's TNA Impact Wrestling Report 1.30.14
Posted by Larry Csonka on 01.30.2014

MVP was revealed as the TNA mystery investor, Samoa Joe and Kurt Angle battled Magnus and EC3 in the main event and more! Check out 411's full Impact Wrestling report for all the details!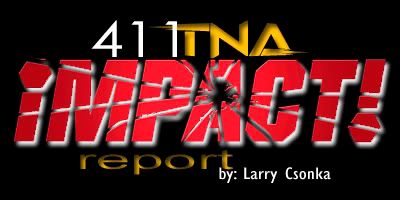 Championship Roll Call:
TNA WORLD CHAMPION: Magnus
TNA X-DIVISION CHAMPION: Austin Aries
TNA TAG TEAM CHAMPIONS: The Bro-Mans (Robbie E and Jessie Godderz)
TNA KNOCKOUTS CHAMPION: Madison Rayne


411's IMPACT WRESTLING REPORT 1.30.14
We're in Glasgow, Scotland.


We get a video recap from last week.


Mike Tenay and Jeremy Borash are on commentary.


Tenay says last week was the end of an era, and that Sting is gone. We get footage of Sting leaving the ring a sad panda.


TO THE BACK as Joe and Angle are trying to attack EC3, Magnus and Spud.


Magnus, EC3 and Spud head to the ring. Magnus says that the champion is speaking, and then says he forgot he was in Scotland. They are not fans, and let him know it. Magnus says it seems a few of the boys in the back have a problem that Sting is no longer in TNA because he fell to the reign on Magnus. And just like AJ Styles and Jeff Hardy, Sting has a hell of a run, but all good things must come to an end. Magnus says he ended Sting, this is show business, not show friends, and in business there is a phrase they use when the president decided to restructure and lose the dead wood; when they trim the fat they call it the thinning of the herd. Dixie and himself have decided to rid the land of TNA of the dinosaurs that were around, and put them out to pasture to make room for the new stars of this business. The Bro-Mans, Zema Ion, Spud, and himself, which is why he single handedly eliminated Styles, Hardy and Sting. EC3 is not happy about this, and calls Magnus out on his shit. EC3 then says he is sure that he helped him.

Kurt Angle's music hits, and he and Joe are on the way to the ring for a fight. They charge in and the heels bail. Angle on the mic now, and says that he and Joe are here to avenge the screwing of the herd. He says saying bye to Sting was the hardest thing he had to do, especially since Magnus screwed Sting. Angle says Sting was right; Magnus will always be a paper champion. Magnus says to watch his mouth before he says something he regrets. Angle says they brought Magnus into the Main Event Mafia, because they wanted him to become somebody. Magnus says he was a somebody, but now he is the world champion and they're not, and that is what is killing them. Joe says that the only thing is killing them is the fact that Magnus is still breathing. They have come to beat his ass. Magnus challenges Joe and Angle to a match with he and EC3. Magnus adds if they want it so bad to prove it. If Magnus' team wins, both Joe and Angle are out of TNA for good. Joe and Angle talk it over, and agree. But if either he or Angle defeat Magnus, they become the #1 contender for the title. Joe then warns him, he knows the stakes are a bi intense for a paper champion. Magnus agrees to the match.

Dixie then appears and says NO to the match. It will not happen tonight. Magnus is not happy with her calling off the match, and Dixie says that she doesn't need to worry about this because the new investor in on the way. She says she cannot take the chance of him losing the title to Joe or Angle. Magnus gives no fucks about Dixie and agrees to the match again.


A limo (looks like a glorified minivan) arrives.



The Wolves come out of the limo and say that all of the questions will be answered tonight. They refused to allow the camera to look in the van and said that if someone has an issue with the investor, they have an issue with the Wolves.




Madison Rayne & Velvet Sky vs. Gail Kim & Lei'd Tapa


Beautiful People 2.0 reunion! Kim and Tapa attack at the bell and take control, focusing on beating down Rayne. Clothesline off the topes by Kim, and a cover gets 2. Boot to the gut by Kim, corner spear misses and Rayne gets the tag to Sky. Clotheslines by Sky, boot, and then a running neck breaker connects. The bulldog follows, and Sky covers for a close 2. Tapa makes the save but Rayne in and spears Kim. Dropkick to Tapa, sending her to the floor. Sky hits her pedigree deal (in yo face) and that is all.

OFFICIAL RESULT: Madison Rayne & Velvet Sky @ 2:00 via pin


Sabin is out, calls Rayne a tramp and tells her to leave because he needs to talk to Sky. Sabin is pissed because Sly will not talk to him, and she is still his girlfriend and is supposed to support and help him, like in his matches. He isn't sure if she is on her period or what, but he is willing to give her one chance if she apologizes and they can go to the back and she can give him a massage and life can go on. Sky says ok, she has one thing to say to him, "WE'RE DONE!" She leaves as Sabin is pissed off in the ring.


Joe and Angle say that they are not going out like Sting, AJ and Jeff. They then attack Bobby Roode in his locker room.



Back from commercial and Roode is being beat down. They stop and Roode tries to talk his way out of it, and Joe says he will not finish it now, but if Roode gets involved tonight, he will END HIM!


James Storm makes his way to the ring, and plays to the crowd. He has some stuff to say, and he has to say it to one man, and says he and Gunner were friends before Gunner came to TNA. They then became a tag team and then won the titles. But then something went wrong, and it fell apart. So he calls out Gunner so that they can put an end to this. Gunner makes his way out to the ring and says they both came to TNA to do great things and be remembered. He felt they did that as a team and as champions. They traveled together, fought together, but when he got the title shot, things fell apart. He knew he had to make a career decision that would affect his wife, son and family. They are friends, but knows that Storm would have done the same for his family. We traveled together, and Storm knows him better than anyone, knows the stories of his days in the Marines. What he learned as a Marine is that they fought for the man that fought beside them, and he did that with Storm. He left it all on the battlefield, and came home when others didn't. He always left it all in the ring when he fought along side Storm. Storm says that Gunner doesn't have to tell him the stories again, he knows what kind of man his is, because he knows Gunner is a great man and a great wrestler. Storm may be a redneck from Tennessee that likes to shoot guns, ride four wheelers and drink, but his kids are the most important to him. His daughter asked why he was mad at Gunner, and he realized he wasn't mad, he should have given the talk he gave to Gunner to himself. He is proud of Gunner, and he has his back. Storm says he is sorry and wants to shake his hand. They shake and Storm says he has his back…

But Bad Influence are hear to ruin the reunion. Kaz says no one believes a word he says and calls him a monkey fart. The only thing worse than a drunken cowboy is a lying drunken cowboy. Kaz says Gunner shouldn't believe Storm, and says Storm desires the TNA World Title more than anything. Daniels challenges then to a tag match with Gunner's briefcase on the line. They start to brawl, I think that is a yes.




James Storm and Gunner vs. Bad Influence (Daniels and Kaz)


JIP as Storm works over Kaz in the corner. If Bad Influence wins, they get Gunner's briefcase, which contains a world title shot. Tag to Gunner, tries to fight off both, but eats an enziguri. Double teams by Bad Influence, and Daniels covers for 2. Snap mare by Daniels, slingshot elbow followed by a slingshot leg drop by Kaz and a cover gets 2 as Storm makes the save, Gunner fights back with a back elbow, Daniels distracts Storm so Gunner cannot get the tag. Bad Influence remain in control, Daniels stops Gunner from getting the tag and then lands another enziguri. Angel's wings countered by Gunner, tag to Storm. Storm with clotheslines and forearms to Daniels. Enziguri by Storm, up top and hits a cross body on Daniels for 2 as Kaz breaks it up, but ends up hitting Daniels. Kaz saves Daniels from the whirly bird, dropkick to Storm but Gunner gets the tag. High knee and a clothesline to Kaz. Corner knee, slingshot suplex follows. Gunner up top, Storm stops Daniels from attacking Gunner, Gunner then hits the diving head butt and covers Kaz for the win.

OFFICIAL RESULT: Strom and Gunner @ 4:00 via pin


Dixie Carter is freaking out about the investor, and she demands that Spud go find out who it is right now.



We get a Samoa Joe video package.


Dixie yells at her lawyer on the phone, and then Bobby Roode arrives. Roode says he wants what was promised to him, the world title match at Lockdown. He took out AJ and Sting, and wants what she promised him. She tries to write him a check, and he stops her and says she has one week to figure things out. Until this is figured out, the favors are DONE.


Eric Young talks with ODB about his tag title match tonight. She is concerned about him tagging with Abyss. ODB says she loves him but is worried about him, because they call Abyss a monster for a reason. She leaves and Abyss arrives. Young asks if he is ready and Abyss holds up the bag of tacks. I'll take that as a yes.


Spud says he will get answers from the Wolves about who the investor is. He is heading to the ring…



Back from commercial and you could hear Borash prompting the crowd to cheer because they were coming back from commercial. How that makes it through editing I do not understand.


Highlights from the opening segment.


Spud heads to the ring and mocks the Scottish people by calling them the England "B-Team". He is here under orders from Dixie Carter to find out who the mystery investor is and calls out the Wolves. Edwards and Richards make their way to the ring in spiffy black on black suits. Spud says they are in their dad's best suits, and asks who the investor is. He asks a few times, but they do not answer him. Spud says they may be the best tag team in the world, but he is Rockstar Spud, the chief of staff, the guy that pushed Hardy off of a 500-pound ladder, and the man that beat Joe within an inch of his life. He is a lion, a tiger, so TALK DAMN IT and slaps Richards. They remove their jackets and roll up their sleeves. They attack Spud, and do the toss into kicks spot. Edwards says that Spud should tell Dixie that she will find out who the investor the same time that everyone else does, later tonight. But the investor has a message, they are very interested in the main event. And if any wrestler interferes, they will be fired.


We get a video package on the Eric Young/Joe Park/Abyss angle.


Zema Ion introduces the tag team champions.



TNA Tag Team Title Match: The Bro-Mans © (Jessie and Robbie) w/DJ Zema Ion vs. Eric Young and Abyss


Robbie and EY to begin. Whip to the corner, Flair flip by EY, back in and a flying forearm to Robbie. Abyss goozles Robbie, and is forced to break. Robbie tags in Jessie, who attacks EY from behind as EY was trying to calm down Abyss. To the corner, float over by EY and a belly to belly connects for 2. Abyss in and chokes out Jessie, but he didn't tag in and EY tries to calm him down again. This allows Jessie to attack from behind again. He chokes out EY in the corner, tags in Robbie by Abyss is in again and attacks. The ref takes him back to the corner and the champions just beat down EY. 2nd rope splash by Robbie, tag to Jessie, and a dropkick connects and he covers for 2. Jessie lays the boots to EY, Ion gets in a cheap shot from the floor and Jessie covers for 2. Jessie tries to work the arm, EY fights back, but eats a back elbow. Robbie tags back in and they continue the attack on EY. Jessie tags back in and EY flips off the suplex try and Abyss tags in. He cleans house, corner splash to the champions. Tosses Jessie and then Robbie. Ion up top, Abyss catches him and then lets him go after the ref makes him. He tries to give the ref the shock treatment, and does even though EY tries to stop him. EY checks on the ref, and Abyss chokeslams him. I'll call this a DQ win for the champions.

OFFICIAL RESULT: The Bro-Mans@ 5:00 via DQ


EY grabs the mic and says that this is how Abyss wants this. Well we have one experiment left, and if you want to get crazy, we get crazy next week. EY says he invented crazy, next week, one on one, MONSTERS BALL! Abyss smiles and says he will hurt him.


The Wolves are at the limo keeping the camera crew away.


Bully Ray pushes a casket to the ring.



We see footage of Samuel Shaw and Christy Hemme on a date. Shaw apparently has hidden cameras all around his place. Not creepy at all. We see a creepy dark room, Shaw sends Christy for more wine, and he reveals a SHRINE to Hemme. He has a mannequin that looks like her and he kisses it.


Bully Ray is in the ring with a casket. He is Bully Ray from New York city, the man that used to be the president of Aces and 8s. The man that used to be the world champion. One man took it all away from him, and that is Ken Anderson. He has tried to break Anderson's neck, but he keeps coming back, he keeps showing up in Bully's miserable life. He is challenging him to one final match, the only way to win is to put your opponent in this coffin. Anderson's music hits and here he comes. They stand off at the coffin, and Anderson asks what Ray will do when he puts him in the coffin. Ray says he may piledrive his wife and kids. Anderson doesn't appreciate that remark, and says that everyone is sick and tired of Ray running his mouth. Anderson says he will not be put n the coffin, he will shut Ray's mouth and says his wife and kids say hi. He attacks Ray and they brawl at ringside. Anderson grabs a chair and tosses it in the ring. Both men follow and as Ray climbs to the second rope, Anderson grabs him and hits the Finlay roll. Chair shot to the gut of Ray and then to the back. Ray to the apron, and bails before Anderson can hit him again with the chair.


We get a Kurt Angle video package.


EC3 and Magnus meet backstage. Magnus says he is all brains and strategy, while EC3 is all muscles and rage. Magnus is not happy with a green tag team partner, and calls him a spoiled rich kid. Dixie arrives and asks if they are ready. Magnus plays nice once she arrives, and Dixie says the future is now and that they have to take out Joe and Kurt. Dixie tells EC3 not to let her down and offers to walk Magnus to the ring.




Magnus and Ethan Carter III vs. Samoa Joe and Kurt Angle
If Angle and Joe lose, they must leave TNA. If Magnus gets defeated, the man who defeated him is the #1 contender for the TNA World Title.


The new investor also said if any wrestler gets involved, they will be fired. Angle and Carter to begin. Lock up, they trade holds and a side headlock by Carter. Off the ropes, shoulder block to Angle. Off the ropes, hip toss by Angle. An arm drag follows, Angle works the arm, to the feet and tags in Joe. Jabs by Joe to Carter in the corner, rapid fire shots and then a whip to the corner, splash and enziguri by Joe. Snap mare and kicks by Joe. Back splash off the ropes connects and then a tag to Angle. Double team shoulder block to Carter, and Angle remains in control. He lays the boots to Carter in the corner, great crowd thus far for this match. Snap suplex by Angle gets 2. Back to the corner, rights and kicks to Carter follow. Angle misses a corner charge and eats the post. Magnus tags in as we see the Wolves at the limo, and the investor is here and on his way. Angle and Magnus go back and forth in the corner as we head to a commercial…

Back from commercial as Magnus beats down Angle in the corner. Tag to Carter, suplex to Angle and a cover gets 2. Carter works a half nelson, into a chinlock now. Angle fights to his feet, elbows out, rights to Carter but a clothesline takes Angle down. Tag to Magnus, he beats down Angle and then mocks Joe a bit. The ref has to hold Joe back, allowing Carter to choke out Angle. Tag to Magnus, to the corner and then sends Angle across the ring, Carter misses a knee charge and Angle connects with a German and BOTH men are down! Tags to Joe and Magnus. Joe is the old house of fire now, clotheslines, atomic drop, charging boot and backsplash all connect. Boot by Magnus, but Joe hits the snap slam and applies an arm bar. Carter makes the save, but Angle pulls him to the floor and hits an overhead belly to belly on the floor! Joe catches Magnus in the clutch… and Magnus has to tap!

OFFICIAL RESULT: Samoa Joe and Kurt Angle @ 11:00 via submission


Dixie is out with Spud and says she knew this could happen. She and Magnus are pissed, and Joe says that Magnus gambled but the odds caught up with him. He and Angle are here to stay, so look into his eyes, because Magnus is looking at the #1 contender for his title. And don't blame EC3, because right here in front of all these fans, YOU TAPPED OUT, which elicits the chant. And soon, soon, there will be no excuses, so shine my belt son, because Joe is gonna kill you! Angle has the mic and says nights like these make him proud to be in the business. Nights like these that the pains and aches go away, thank you Glasgow. He has been here for eight years, but beating Roode last week and this victory tonight, he is glad to say that he is back. Angle says for Dixie to bring her check book because the time has come for him to go into the TNA Hall of Fame, and make sure to invite the new investor.


Dixie demands to meet the new investor right now. The clock sounds and the investor is…MVP! He comes out with the Wolves as the show closes.




End scene.


Thanks for reading.



Have you checked out the Csonka Podcasting Network? If you haven't, you should We run anywhere from 15-20 shows a month, discussing pro wrestling, the world of MMA, the NBA, general sports, popular TV series of the past, bad movies, battle rap, interviews, MMA & Wrestling conference calls and more! Around 10 different personalities take part in the various shows, which all have a different feel; so you'll likely find something you like. All of the broadcasts are free, so go ahead and give a show a try and share the link with your friends on the Twitter Machine and other social media outlets! Running since May of 2011, there are currently over 450 shows in the archive for you to listen to.



Your heart is free. Have the courage to follow it…TO CSONKA'S TWITTER!

http://www.twitter.com/411wrestling
http://www.twitter.com/411moviestv
http://www.twitter.com/411music
http://www.twitter.com/411games
http://www.twitter.com/411mma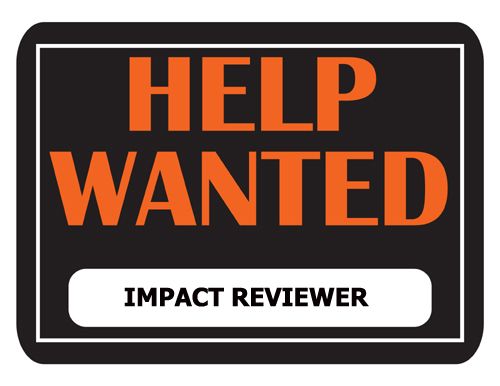 Interested in taking over the LIVE TNA Impact report? Contact me at larrytcsonka@gmail.com with a sample.
comments powered by