SPOTLIGHTS
Tremendous Tirades 02.03.14: Monday Night Raw
Posted by Steve Cook on 02.03.2014

Daniel Bryan vs. Randy Orton main evented. People kept chanting for some guy I didn't know.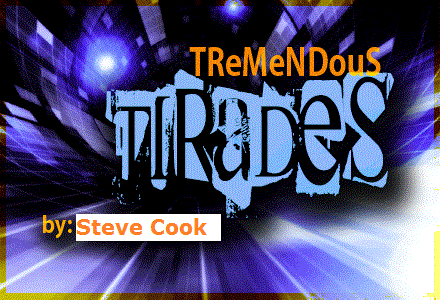 Introduction

Hi kids, it's your favorite second-string Tirader Steve Cook! Y'all know the drill, the Tirade is not a traditional recap, but more of a free-flowing analysis of the show. Kind of like the Raw Thoughts I used to do in News From Cook's Corner back in the day or the kind of stuff I'd post on Twitter nowadays, but with ratings & whatnot because that's what the people want & need. This is a review, and Larry has entrusted me with reviewing the show all fair & balanced-like. Obviously I'm a fan or why in the blue hell would I have wasted the last decade of my life writing about pro wrestling? I love it like a fat kid loves cake, but when stuff ain't right I'm gonna complain about it. It is what it is. I encourage discussion & even disagreement, in fact the more I get of each the more likely it is that Larry will continue posting my columns & podcasts.
---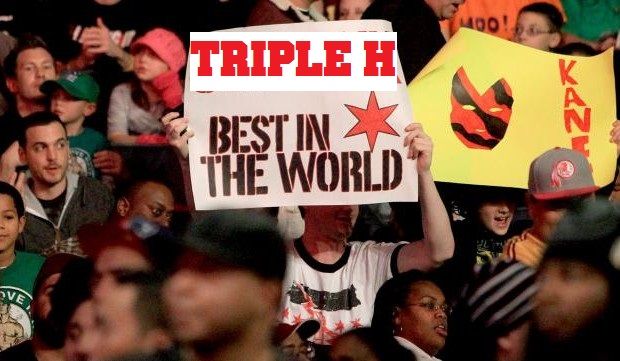 WWE MONDAY NIGHT RAW: CM WHO?
Raw is in Omaha tonight. This is the part where I'd make a Peyton Manning joke, but I don't mock the dead.

Quick Talky Thing: Randy Orton opens the show. The Omaha fans start chanting the name of a wrestler no longer with us, but Orton is rushing through his promo a lot faster than usual. Seriously, I've never heard this guy talk so fast. He's like an auctioneer out there. I kinda like it. Here comes the Authority, and Stephanie is also talking a lot faster than usual. No "dramatic" pauses, just getting to the point. Holy hell, even Triple H is talking kind of fast. Steph says that Orton will face all of the Elimination Chamber competitors leading up to the PPV, including Daniel Bryan tonight! She even implies that if Bryan wins, they may have to re-consider who the Face of WWE is! Triple H does the hand motions with the YES chant, leading to fears that the YES chant will become unpopular.

Nice quick promo work here, and booking Bryan against the champ tonight should help keep the rabble rousers quiet. I'm all for crowds voicing their opinions and if they want to spend the whole night chanting for CM Punk that's their prerogative. Me, I wouldn't waste my vocal chords. Just my opinion.

Rating (1-10): 7.0

The Shield vs. Rey Mysterio, Kofi Kingston & Big E Langston : Add Kofi to the growing list of people I want to see Seth Rollins have a singles match with. It'd be spotastic, but it'd be fantastic. Rollins seems to be taking the lions' share of the work in Shield matches lately, which not only helps the quality but helps his standing as "Architect of the Shield". US title is now trending on Twitter & the announcers discussed how it's never defended, so maybe Dean Ambrose will finally get on that. A commercial happens & now Mysterio is playing Ricky Morton. What the hell will WWE do to fill time on these shows once they break up the Shield and can't have these awesome 6-man tags anymore? I guess they're hoping the Wyatts fill the void, but I don't think it'll be quite the shame. Time for Big E to kill people, and man he does a good job of it! Reigns got busted open during all of this and it's craziness abound! Superman punch! Ambrose tags in before Reigns can hit the spear, hits his unnamed move & wins!

Reigns is unhappy, Ambrose is yelling as usual, Rollins is trying to keep the peace. And then we have a Wyatt Family cut-in! It's a damn shame this feud will only last a month. Luke Harper is the Roman Reigns of the Shield. I'm pretty convinced of that. Maybe not in having the sexy looks that make the girls and the dudes that care about a wrestler's look drool, but that dude will get over huge. Mark my words.

Rating (1-10): 7.5


The Seahawks tweeted at Daniel Bryan. Good stuff.


Bad News Barrett wants some decorum! He runs down the people for eating too much during the Super Bowl. Jerry Lawler has some Bad News for Barrett…hopefully next week he won't be around! Is Lawler feeling up to a match? Interesting.


WWE Network commercial!

Christian vs. Jack Swagger : Christian & Swagger have had several solid matches in the past & have good chemistry with each other, so I'm looking forward to this one. What I'm not looking forward to is the split of the Real Americans. Tag teams are splitting up all over the place these days, which is really disappointing. Swagger does have all the tools in-ring, and it really shows against a solid pro like Christian. I still find myself calling the Killswitch the Unprettier after all these years. Christian eeks out the win, and Cesaro & Colter are not pleased! No slapping by Zeb this week. Solid little match. Christian was the wily vet that used his wits to find victory, while Swagger looked good doing what he does. Not much more you can ask from these guys.

Rating (1-10): 7.0


Last week Brock Lesnar killed the Brotherhood because he could.


Betty White will be on next week's Raw! Since she was on the best SNL in years I'm expecting the same from next week's episode of Raw. Although, one must be skeptical since I think they may have been waiting for Mae Young to pass before bringing Betty on.

Tag Team Championship Cage Match: New Age Outlaws vs. The Brotherhood : Yes, the Outlaws are theoretically heels that play to the crowd. They've always done that, and you can't teach an old dog new tricks. It is what it is. This is not one of those cage matches where you win by escaping the cage, which is A-OK with me. Road Dogg asks Billy what they're dong in here during the match, which is a damn good question. Cody gets worked over for a bit, apparently he injured his left elbow at some point so he's not as Dashing as usual. The announcers are talking about 3MB & Los Matadores, who at this rate will be the top two contending tag teams for the straps when the Usos win them. Interesting crowd by the way. Half of them want to cheer for the Rhodes, half want to cheer for the Outlaws, and all of them want to cheer for CM Punk. Cody goes insane, tells Billy to suck it and starts climbing the cage…MOONSAULT! That was a mess. I don't think it hit Road Dogg very well if at all but he went down, and Billy Gunn hit the Famouser to win the match and kill any pop the whole thing might have gotten. Strange stuff. It was a solid match and all 4 guys put in the effort, but it just wasn't connecting with people and that finish was a piece of blah.

Rating (1-10): 6.0

Zack Ryder vs. Titus O'Neil : Titus has this weird new theme that I swore would be for Aleksander Rusev from NXT. Ryder has some nice new long trunks for his jobbing here. The Miz makes his way to the announce position to complain about Ryder putting O'Neil over instead of him. I have no idea why that's a legit complaint, but whatever. I guess he's supposed to be mocking Punk based on the Internet reaction. Awesome. JBL spends the match burying Darren Young, which makes sense because he's a Republican. Titus eventually gets the win. This was a match and it was here. Poor Zack Ryder. I hate to give something involving him a bad rating, but it is what it is.

Rating (1-10): 3.0


WWE celebrates Black History Month with some clips of Ernie Ladd. Tough to knock the Big Cat.

Dance-Off: Fandango (w/Summer Rae) vs. Santino Marella &… : Santino says that he is outhorsed here, and says that somebody in the audience should take on Summer Rae. This leads to Emma making her official in-ring debut. SHE GETS HER NXT THEME TO DANCE TO. The crowd rules Emma the winner. I think this would have gotten over better at Full Sail University.

Rating (1-10): 3.0


So the Legends House will actually make air. I…I don't know what to make of this.


Sheamus vs. Curtis Axel (w/Ryback): I am totally shocked a CM Punk chant broke out 30 seconds in. Well, not really. They do pop for Sheamus's forearms though. I dunno, as much as I'm supposed to hate Sheamus and his character hasn't been great, I do enjoy watching the guy in wrestling matches. He's giving Axel a lot here too. Way too much actually. Especially considering his match with Daniel Bryan is SET IN STONE at WrestleMania, WTF Sheamus? Kill this clown already! And he does. I think we're building to a Sheamus vs. Ryback match at WrestleMania here. Why not? The looks those guys are giving each other…there's potential there!

Rating (1-10): 5.0 (which is awesome for a Curtis Axel match not involving Dolph Ziggler)


That Shawn Michaels DVD commercial just pisses me off because he won't be wrestling Daniel Bryan this year.

BATISTA TALKS : I do still like Batista's theme music. Sue me, Saliva did some good stuff for theme songs. I liked their theme for Chris Jericho that he never used. Alberto Del Rio is mad at Batista. Being famous doesn't make you a champion, cajones make you a champion! ADR cheap shots Batista, but that doesn't last long before ADR retreats. Play some Saliva!

Rating (1-10): 4.0


Mark Henry will be back next week! Somebody gonna get their wig split.

Dolph Ziggler, R-Truth & Xavier Woods vs. The Wyatt Family : A lot of people liked Dolph's promo on the WWE App. He put a lot into it, but he has this issue of either talking way too quiet or way too loud. If he can ever find the medium I think he'll find himself. Rowan & Woods are not the people I would have picked to start the match, but I guess it gets them out of the way for later. The fans want some Ziggler. I gotta pop every time Ziggler hits that Heartstopper elbow. Harper clotheslines Ziggler out of his boots. Ziggler gets finished off because his partners are nowhere to be seen.

Now it's time for the Shield to cut a promo! Ambrose is insane. Rollins calls Wyatt a figment of his own imagination. Reigns says we should believe in the Shield. Wyatt laughs. He encourages this war. I love this.

Rating (1-10): 6.0


I mean…this whole show could be the Shield & the Wyatts doing shit & talking junk and I'd be a happy camper.


Rusev hits, Rusev crush. The Rusev legacy starts now. Sounds fun.

Naomi vs. Aksana: AJ Lee has come out to do commentary & bury the rest of the Divas. I believe that's Layla in Aksana's corner but don't quote me on that. The main thing I'm taking away from this is that my comparison I made on a Man Cave podcast that hasn't been posted yet of AJ to Katie Nolan is completely wrong…AJ isn't near Katie's league. Naomi gets the win. Tamina had one of her best performances yet of just standing there. Hope everybody enjoyed their piss break! And apparently Naomi injured her eye sometime during this debacle but she still finished the match because she's more hardcore than Sin Cara. What a mess the 2014 pro wrestling scene is.

Rating (1-10): 3.0


Daniel Bryan vs. Randy Orton : They are making entrances with a ton of time left on this show. If they want to go that long I don't mind at all. THAT'S WHAT SHE SAID. The good thing about this match is that the fans have an obvious favorite and an obvious villain. I think Bryan needs to bring back "I HAVE TIL FIVE, REFEREE!". People loved chanting it in ROH and I think WWE fans would like it too. Bryan getting a lot of offense here, not quite able to put Orton away. And the crowd is still obsessed with Punk, which is what I think Punk wanted all along. You really think Punk is happy with Bryan being the Internet favorite? Fuck no! I could have sworn that the Yes Lock was different from the Crossface at some point, but maybe I'm wrong. Orton kicks out of the flying head butt, Kane runs down, Bryan fights them both off, delivers the Bushiaku flying knee, it gets the 3 count! YES YES YES! FACE OF THE WWE! Kane & Orton beat Bryan down afterwards. Even Michael Cole is outraged! Kane choke slams Bryan! So much for them being in cahoots…which is bad for Kane's future from where I sit.

Rating (1-10): 8.0


End scene.


Thanks for reading.



The Tirade



This was going to be an interesting show all the way around. Odds were that the crowd would be cheering Punk from beginning to end because people want to be rebels. WWE did their best to fight that, though there were parts that couldn't be helped. I would have to say that the show was not hijacked by the crowd. Was it a good show? Eh…it had some good parts. Had some bad parts too. I think they survived, which I think they will be happy with this week. I expect more next week.

Show Rating: 6.5

As a reminder, I will be going by the 411 scale…

0 - 0.9: Torture
1 - 1.9: Extremely Horrendous
2 - 2.9: Very Bad
3 - 3.9: Bad
4 - 4.9: Poor
5 - 5.9: Not So Good
6 - 6.9: Average
7 - 7.9: Good
8 - 8.9:Very Good
9 - 9.9: Amazing
10: Virtually Perfect

The final rating is not simply an average of the rated segments above. The rating takes them into account as well as the segments that are small but not scored, the flow of the show, the overall booking, build to PPV, crowd reactions, and so on and so forth.




---
Have you checked out the Csonka Podcasting Network? If you haven't, you should We run anywhere from 15-20 shows a month, discussing pro wrestling, the world of MMA, the NBA, general sports, popular TV series of the past, bad movies, battle rap, interviews, MMA & Wrestling conference calls and more! Around 10 different personalities take part in the various shows, which all have a different feel; so you'll likely find something you like. All of the broadcasts are free, so go ahead and give a show a try and share the link with your friends on the Twitter Machine and other social media outlets! Running since May of 2011, there are currently over 400 shows in the archive for you to listen to.



Steve Cook is a Gemini and enjoys drinking the occasional alcoholic beverage or nine, long walks on the beach, objectifying women and winning fantasy football championships. He graduated from the University of Louisville in 2006 & has a B.S. in Political Science with a concentration in Law & Public Policy. He has been a wrestling fan since 1990 and has been writing for 411 since August 14th, 2004; contributing nothing but headaches & utter frickin' chaos to the site. He is a living legend & the last of a dying breed.

Your heart is free. Have the courage to follow it…TO CSONKA'S TWITTER!
Follow Cook as well, it's a good time.

http://www.twitter.com/411wrestling
http://www.twitter.com/411moviestv
http://www.twitter.com/411music
http://www.twitter.com/411games
http://www.twitter.com/411mma
comments powered by